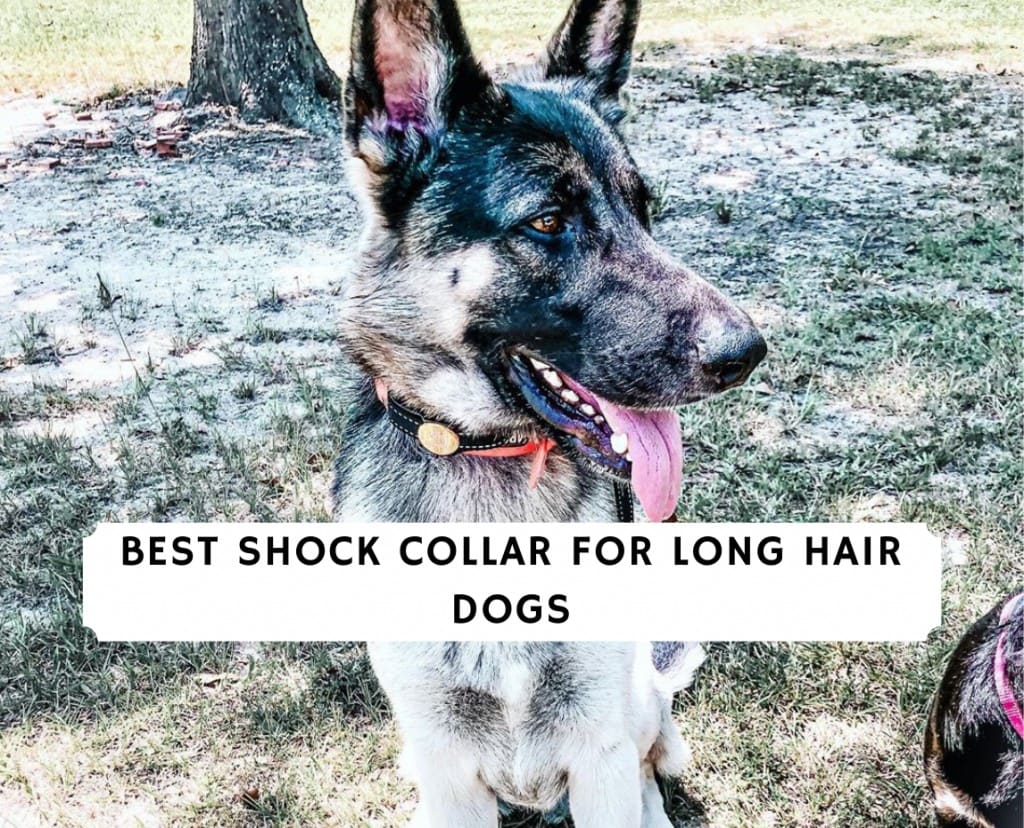 Training your dog can be a challenge and it takes persistent effort with consistent reinforcement to be successful. Some dogs are more stubborn than others and you may need to consider additional accessories for training purposes.
Shock collars for dogs were designed to be a training tool. You certainly don't want to abuse the use of a shock collar, but it could be helpful for training, including barking, jumping, and aggressiveness. The key is to choose a humane shock collar that can be adjusted for your needs. In addition, one of the major problems with shock collars is that long hair dogs sometimes do not fit many collars. Moreover, the way that shock collars work it won't work as intended for dogs with long hair.
There are a lot of e-collars out there so it can be challenging to decide which collar might be best for you and your long hair dog. We've done a significant amount of research for you and narrowed down the playing field to the best shock collar for long hair dogs. We will share with you relevant information that you need to know in order to make a fully-informed decision.
In a rush? Here are our top 3 picks:
Image
The 8 Best Shock Collars for Long Haired Dogs Reviewed
Building on the success of the original Pet Resolve training system, the company has recently made some exceptional upgrades to bring the product up to speed with all the top-priced electric training systems available on the market. This shock collar provides the same excellent value for the money as its predecessor at a fair price.
The original system offered versatile features of varying levels of shock and vibration, with a beep option too and the luxury of being able to use 3 receivers on one remote. The upgraded option retains these excellent original features but now also offers a Night LED mode for night walking, 3/4 of a mile range, stand-by mode removed so that the system is ready to go when you need it. This shock collar also has extra-long prongs that are specifically designed for long-haired dogs.
All of these features as well as the addition of anti-bark mode and retaining the waterproof receivers so your dog can swim with no worries of the system failing on you mean you really do get excellent value for your hard-earned money. A quick look at the product on Amazon will reveal excellent customer reviews about not only the quality of the product but also the customer service team who ensure no customer is left unsatisfied with their purchase.
The My Pet Command is a really good long range shock collar if you live on a large area of land. You get a wireless remote and a collar that you can train your dog from a distance of up to 6,600 feet or 1.25 miles. You can actually sync the remote to handle up to 3 collars as well if you have multiple pets. The shock collars and the remotes are rechargeable so you don't have to worry about having spare batteries on hand.
This e-collar is equipped with beacon flashing lights as well in case you lose sight of your dog. It has the ability to do a remote shock, vibration, or tone for training your dogs. It was designed for training hunting dogs out in the field, but you could use it for any training purposes as necessary.
This package comes with a dog whistle as well. The battery life is intended to have a long battery life in case you're out in the field for a long time. This is a premium kit that does cost a bit more than some options out there but it is highly-rated and very well-made. The collar is IPX7 waterproof and can stay in up to 3 feet of water for an extended period of time.
This is one of the best overall options for shock collars for hairy dogs and any other kind of dog as well since the e-collar is adjustable with various prongs. Regardless of whether your dog has thick or furry hair around their neck region, this shock collar will work as intended.
The Pet Spy shock collar for thick-haired dogs is another premium option that is both well-made and highly-rated across the board. This item comes with 2 collars that allow beeping, shock, or vibration for training purposes. If you don't have two dogs, you can always keep one of the shock collars as a spare.
These shock collars are suitable for dogs 10 to 140 pounds and the wireless remote is simple to work with. Each setting of correction has 16 different levels so you can find what truly works best for you and your dog. This e-collar is of top-notch quality and is covered by a lifetime replacement warranty.
The collar range is up to 650 yards and you will receive a free dog training guide to help you with the process as well. The collars are waterproof for swimming and submersion but the total level is unclear.
This control is set up so you can operate it blindly with touch control as well. This shock collar works well with thick-haired dogs because it has prongs that are adjustable. In addition, the technology used this e-collar doesn't depend on the length of hair around a dog's neck.
Pet Safe is a brand you are probably familiar with since they make a ton of different accessories. This option is a great choice for a shock collar for thick-haired dogs. It is another premium option that is highly-rated and even labeled as "Amazon's Choice".
This particular dog shock collar has a 300-yard range but the brand also offers 100, 600, and 900 yard ranges that you can choose from as well if you want to potentially save on battery. The quality and details will be similar on the different ranges, but it won't transmit as strong as signal.
There are 3 correction options that include static, tone, and vibration. Then there are up to 15 levels of correction so you can figure out which works best to train your dog. The training collar is also waterproof and won't be ruined if you dog goes for a swim. The remote and the collars are also rechargeable which will save you money on batteries long term. If you need customer care, this company operates out of the United States which is helpful.
This collar is one of the best cheap shock collars for big dogs. It is designed primarily for bark training so it doesn't have a separate remote for other forms of correction. This training collar has beeps, vibration, as well as a no-harm shock. Additionally, there are 5 sensitivity adjustments that you can make.
This e-collar has been updated in order to prevent false triggering, which was a problem on some past models. However, they improved the collar and it is now highly-rated and it is a shock collar if you're on a budget.
There is a protection mode incorporated into this bark shock collar as well. The mode gives a warning signal and then gives a break so it's not constantly shocking your dog for repeated barking. Moreover, this collar is waterproof and rechargeable. The charge lasts for up to 12 days per charge. This collar works great for long hair dogs because it has one of the largest the collar can accompany a large dog's neck and is easily adjustable.
Here is a simple shock collar for thick-haired dogs that is simple and unique. It's an affordable option that ranks as one of the best cheap shock collars for dogs. This one is designed for training and not just barking. The e-collar comes with a wireless remote that is more stylish compared to the other shock collars on our list.
The Bousnic shock collar offers beep, shock, or vibration settings. You can adjust up to 16 levels between these settings so you can train as needed. This also is a long prong shock collar so it's great for thicker haired dogs.
This collar offers up to a 1,000-foot range, so you have plenty of functionality available. You can let your dog roam at the dog park and still be in control. This collar is IPX7 waterproof so your dog can swim and play with plenty of safety and flexibility. Lastly, this training collar also has a long battery life relative to the other shock collars on our list.
Next on our list of shock collars for furry dogs is a great option with a rechargeable collar and remote. This premium collar is pretty affordable and it is highly-rated across the board. You can use vibration, shock, or beep training as needed and there are plenty of adjustable levels for any sized dog.
The remote is designed for blind operation design so you can easily function with the touch of a button as needed. The collar has a range of up to 1100 yards which is also sufficient for most yards. You will also receive a training guide as well as training videos to get you going. The shock collar is easy to use, but training always helps speed up the learning process.
The e-collar for furry dogs is also 100% waterproof so swimming is totally fine and the collar can stay in place. Use the training collar to achieve whatever you need with plenty of flexibility and versatility. It's a premium collar and it is really easy to use and figure out overall.
Finally, we have another remote dog training collar that is well-made and simple to use for long hair dogs. This particular option is designed for 1 collar but you can also purchase a set of up to 3 collars if you need more than one.
This collar has beeping, static, and vibration modes to train your furry dog. It is designed for large dogs so it may be a little stronger than some of the other shock collar options out there. Like most e-collars, this one is rechargeable and offers a long-range. The remote is intuitive and easy to operate with only a few buttons.
You get multiple levels of each correction type so you can adjust the settings as needed. The range is up to about 2,700 feet. In addition, the prongs are plenty long which means the collar will be effective for long hair dogs.
How to Choose a Shock Collar for Long Hair Dogs
We've shared some really great collar options here, all of which could be effective for long hair dogs. There are some things to keep in mind as you try to pick out the best shock collar for thick-haired dogs.
Prong Length
When you're working with a long hair dog, the prong length is important on the shock collar. The prongs need to be able to reach through the hair and to the skin in order to really be effective. If the prongs can't be felt through their hair, then the dog will not be affected by the correction. This is the most important aspect with you're choosing a shock collar for long hair dogs.
Functionality
You probably want your collar to offer a bit of versatility for you. Not every dog responds the same to every correction type and setting. Some dogs are more stubborn than others and may require a more challenging correction than other dogs.
The best shock collars will have a range of options. Many of them include a minimum of beeping and vibration. However, there are some that offer beeping, vibration, and shock to help you train your dog. It can be advantageous to have a multitude of options.
Additionally, you will want a variation of levels so you can adjust them based on your dog's needs and size. You may need to start low and adjust to a higher level until your dog adjusts accordingly Your needs may vary and you want some flexible functionality.
Collar Sensitivity
Another thing to pay attention to is how sensitive the shock collar is. There are two sides to this. There are some shock collars that simply won't be strong enough for the most stubborn dogs and there are collars that will be too strong for your dog even on the lowest setting.
Some dogs are more resilient to the stimulus of the collar and therefore will need higher settings to really get through to them. Just know your dog and try to understand just what you will need for your dog. It also usually depends on the size of your dog, as larger dogs are less sensitive to a small amount of shock.
Your Training Needs
There are collars that are designed for the ultimate training, there are collars designed for hunting training, and there are collars designed for bark training. You need to know just which category your needs fall into.
If you have a dog that never stops barking, you could invest in a barking collar and potentially save some money compared to the full-spectrum collars that work on far more than just barking.
If you're training for hunting, then you will probably need to plan to spend a bit more so that you get the longer range that you need for letting the dog go out on a hunt and training them as needed.
Then there are collars that have a shorter range and are best for use around your home. These are used for training things like digging, chewing, jumping, or barking. They are simple corrections that can make a significant difference.
What Do You Use a Dog Shock Collar For?
There are several training aspects that a shock collar can be used for. It's also simple to learn how to use them as most remotes come with only a few buttons. However, we do recommend that you make a genuine effort to truly understand how the collars are best used for training purposes.
You want to understand how to use the shock collar effectively or you may be disappointed.
Here are some benefits that a shock collar might help with.
Teach obedience
Keep dog calm
Train multiple dogs at one time
Reduce aggressive behavior
Monitor your dog at a distant
Rest assured that shock collars are safe for your dogs. The shock will be slightly uncomfortable but overall it will provide the expected benefit. The discomfort they may feel will be short-lived and will teach them that the behavior the correction was received for was unacceptable.
Additionally, the settings are adjustable so you can figure out what setting will work for your training. You can start with one setting and adjust as your dog's behavior improves or they become accustomed to it.
We always recommend that you start at the lowest level to see how your dog reacts. Test using the lowest level of chock and see whether or not it works. Find the level that truly works for your dog and stick with that. Adjust from there as your dog improves.
Conclusion for Best Shock Collar for Long Hair Dogs
No matter what your needs are, you are certain to find a reliable shock collar for a long hair dog based on our research. We made an effort to offer a variety of choices to meet any kind of needs. Whether you need a wide range, barking correction, or standard training, there is bound to be something that will be right for you here.
Be sure you take all of the important characteristics into consideration before you make a decision. Look for an option that will meet your needs and don't focus on finding the most expensive option or the option that everyone else is buying. For long hair dogs, prong length is one of the most important aspects to ensure that the shock collar will work as intended. Here's to a well-behaved dog!
Other articles you might like:
Garrett loves animals and is a huge advocate for all Doodle dog breeds. He owns his own Goldendoodle named Kona. In addition, he volunteers at the Humane Society of Silicon Valley, where he fosters dogs and helps animals. Garrett enjoys writing about Doodles and believes that dogs can teach humans more about how to live than humans can teach a dog.
Why Trust We Love Doodles?
At We Love Doodles, we're a team of writers, veterinarians, and puppy trainers that love dogs. Our team of qualified experts researches and provides reliable information on a wide range of dog topics. Our reviews are based on customer feedback, hands-on testing, and in-depth analysis. We are fully transparent and honest to our community of dog owners and future owners.