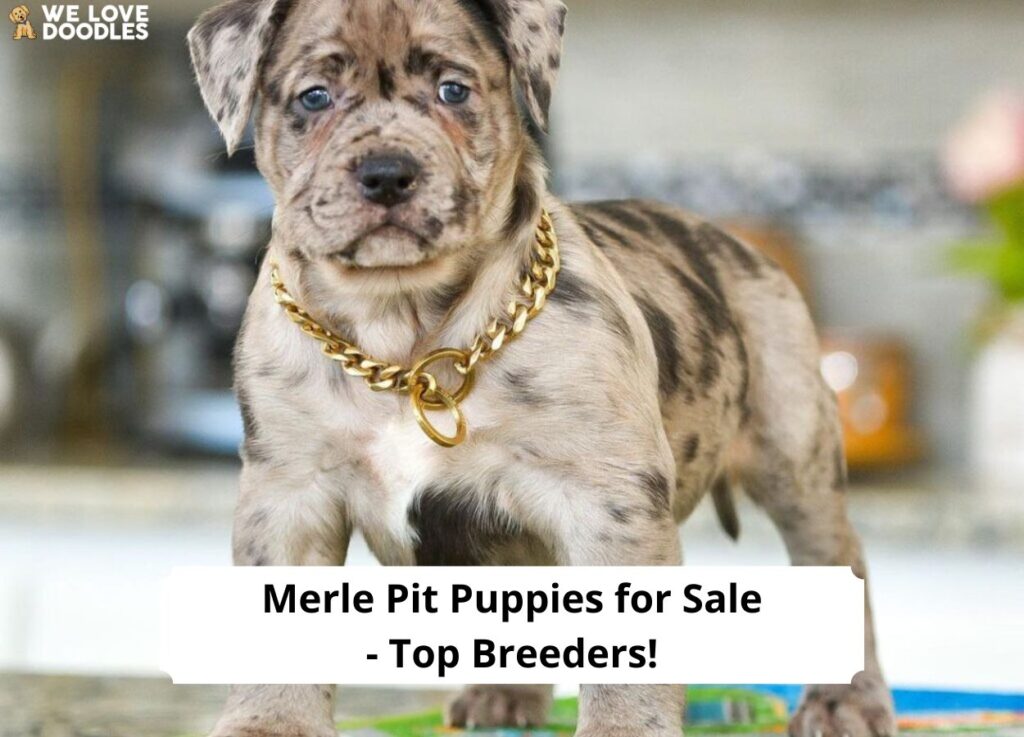 There are merle Pit puppies for sale all over the United States. The American Pitbull is a popular dog and breeders all over the country are offering Pitbull puppies for sale. There are some breeders who specialize in color genetics and offer puppies with rare coloration. This is the case with the merle Pit puppies.
Not every Pitbull breeder breeds for color, but those who do pride themselves on their vast knowledge of genetics and the use of foundation bloodlines from the largest and highest quality dogs in their kennels. Merle-colored dogs are not registrable in the UKC, but due to the rise in popularity of this coloration, we hope it won't be long before they are.
If you've decided that you need a merle Pitbull puppy in your life, you can expect to pay top dollar for one. Breeders of these beautiful dogs command high prices for them. Owners overwhelmingly feel they are worth every penny.
There is added value in the commitment breeders make to the life of the dog, building relationships with buyers, and providing training and health support as well as committing to taking the dog back or rehoming it should the buyer's life circumstances change in the future.
Here we have a list of the top seven breeders with merle Pit puppies for sale.
Before scrolling down this list of breeders with merle Pit puppies for sale, check out: 27 Best Names for Blue and Merle Dogs! (2023) and Merle Bully Puppies for Sale – Top 4 Breeders! (2023).
1. Crumps Bullies
Based out of Georgia, Crump's Bullies breeds Pitbulls from standard size to XXL. Crump's Bullies has 40 years of experience in breeding dogs and also specializes in rare color genetics in addition to blue nose Pits, they breed for size and a variety of unusual colors including blue and red merle and tri-colored.
The process to reserve a puppy is to be an approved buyer from the breeder, then pay a $500 deposit to reserve your dog from the next litter. If you wish to have the first pick of the available puppies, you can double your deposit.
If you wish to have your dog shipped internationally, your deposit will be $2,000. The remaining balance will be due by the time your puppy is ready to come home at nine weeks of age.
Crump's Bullies does ship dogs both domestically and internationally. All Crump's Bullies dogs will go home current on their shots and with a health certificate and guarantee by the breeder's veterinarian.
Merle Pit Puppy Details:
Bred for calm temperament
Raised to be family dogs
Retired breeding dogs available for adoption to pet homes
Bred for size as well as color
Puppies go home with vaccines and a health guarantee
Crumps Bullies Details:
2. Swag Kennels
Swag Kennels is one of the most famous and prestigious of all American Pitbull and merle Pit breeders in the United States. They specialize in breeding both for size and color. Their dogs are also famous for their athleticism, winning awards for competition in pulling heavy weights.
They offer merle Pit puppies with family-friendly temperaments in addition to beautiful and rare colors. There isn't a color combination you will not find in this kennel.
These hefty dogs come with a hefty price tag. Swag Kennels merle Pitbull puppies start at $2,500 and can go as high as $25,000. Females are more highly-priced than males. These dogs are reserved at six weeks of age with a deposit. You can reserve the first pick of the litter for a higher deposit. Swag can ship domestically and internationally for an additional fee.
The website did not have readily available information on health guarantees or certificates, nor the amount of the deposit required to reserve a puppy. They do recommend that you contact them directly for more information via the website contact us link.
Merle Pit Puppy Details:
Specializes in standard to XXL Pitbull puppies
Merchandise available on the website
Bred for calm temperament
Family-friendly dogs
Swag Kennels Details:
3. Hoggline TX Bullies
Located in central Texas, Hoggline TX Bullies is a family-oriented breeder of XL and XXL American Pitbulls. They have developed a passion for breeding merle Pit puppies and boast the best bloodlines and pedigrees in their dogs' backgrounds. They breed and raise their puppies with socialization and interaction and lots of affection.
Hoggline TX sends all of their puppies home with a registered puppy packet, ears are cropped and pups are up to date on deworming and vaccination. They are cleared by the breeder's veterinarian. This breeder ships domestically at the buyer's expense.
A deposit is required to pick a puppy, and the final cost starts at $2,500. Merle Pitbull puppy pricing starts at $6,000. The deposit is non-refundable unless your pick is not born.
Hoggline TX bills itself as a family-friendly breeder with the goal of breeding top-quality dogs that have calm temperaments and will be great family companions for life. They keep track of their customers and do their best to build a relationship for the dogs' lifetime which is evidenced by their repeat customers.
Merle Pit Puppy Details:
XL and XXL pups of all color types
Red and blue merle Pitbulls available
Well-socialized puppies
UTD on vaccines and ears are professionally cropped
Prices start at $6,000
Hoggline TX Bullies Details:
Location: Central Texas
Phone Number: 512-484-1277
Website: Hoggline TX
4. Burrnationsk9s

Burrnationk9s breeds American Pitbulls and Bullies of world-class quality in all colors including the highly sought-after red and blue merle Pitbull puppies. Located in Little Rock, Arkansas, they specialize in XL and XXL bullies as well as the standard sizes.
In addition to breeding and selling Bully pups, Burrnationk9s offers training from puppy classes teaching obedience, to specialized training dogs for show, protection, and companion dogs. These top-quality dogs have done well in shows and have excellent structure and temperament. They are raised to be well-rounded, well-socialized, family-friendly dogs.
Burrnationk9s requires a 50% deposit to reserve a dog and will ship their puppies to all 50 states as well as Canada and Mexico. If the price of the puppy is less than $4,000, the deposit is $1,000. Puppy selections are made when pups are six weeks old. All fees must be paid in full by the time the pup is seven weeks of age. Puppies go home at eight weeks.
Merle Pit Puppy Details:
Rare tri-merle pups available
Bred for health, temperament, color, and size
Pups go home at 8 weeks
Breeder will ship
A $1,000 deposit is required to reserve a pup
Burrnationsk9s Details:
5. Showtime Bullies
Located in Florida, Showtime Bullies is a proud breeder of XL Bullies in the United States. They run a clean and professional facility where they produce quality dogs of all color types including the sought-after merle Pitbull puppies. Customers rave about the attention to their satisfaction and the great job this kennel does in updating them on their chosen puppy's development and growth via videos and photos.
The breeders at Showtime Bullies are knowledgeable about their breed and keep a knowledge base on their website for easy access to common questions and concerns. Subjects like feeding a raw diet and clipping your dog's nails are included for educational purposes.
There is no information on deposit fees on the website but the Showtime Bullies kennel invites you to join the mailing list in order to be notified by email when new breedings are scheduled.
The kennel does show the puppies from the previous litters on the website and there is a price listing for each pup including a link to make a deposit. Prices start at $3,000 and go up to $12,000.
Merle Pit Puppy Details:
Merle puppies are available
For sale on the website
Ears cropped by the breeder
Join the waitlist for info on future breedings
Showtime Bullies Details:
6. Manmade Kennels
This interesting breeder of standard to XXL Pitbulls has family owner/breeders all over the United States and produce excellent quality dogs of all colors including merle Pitbull puppies. They have large frames, big personalities, and also huge hearts.
These dogs are bred to be pets and show dogs. In fact, Manmade Kennels has bred the largest Pitbulls in the entire world.
The ideal Pitbull puppy is the one you can't live without, and while looking at all of the mere Pit puppies available for sale, you'll be able to find the perfect pup from Manmade Kennels.
There is no information on the process of getting a pick on the website. Interested buyers are encouraged to call the breeder for details including deposits and pricing. They do mention a health guarantee for their puppies and that the breeding pairs are health tested.
Merle Pit Puppy Details:
Largest bully puppies available
Health guarantee
Pups can be hand-delivered in the U.S. and shipped worldwide
Owners are carefully screened
Manmade Kennels Details:
7. Monster Bully Kennels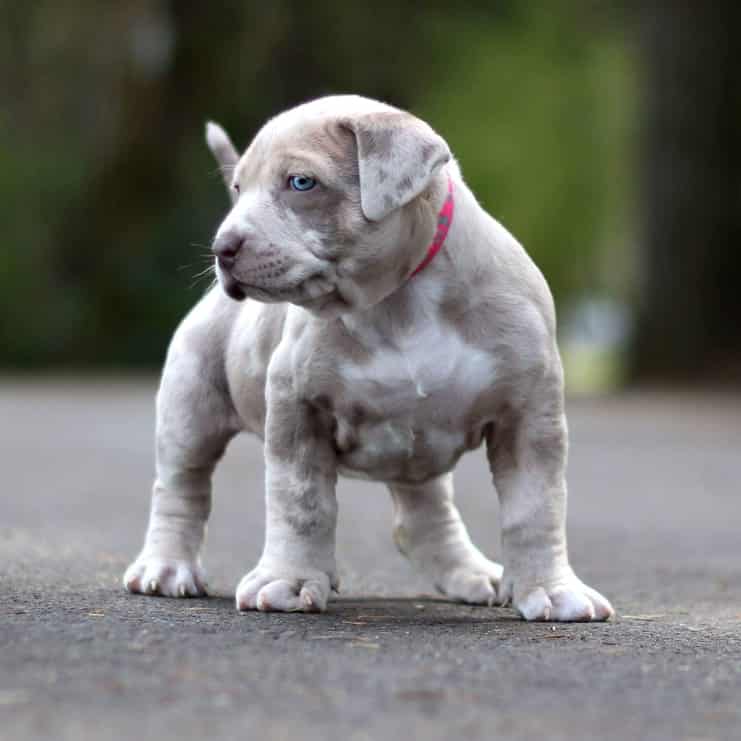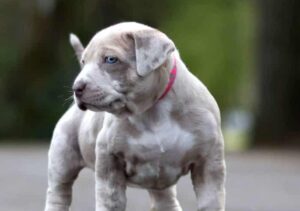 Monster Bully Kennels is another XL Pitbull kennel that has several owners/breeders around the United States. Their headquarters is in Portland, OR, with breeders in the East and in the West. They emphasize health, pedigree, and temperament for these huge, beautiful dogs.
They also have merle Pit puppies for sale. This kennel does DNA testing on their breeding pairs and sends their puppies home with a puppy pack, health guarantee, sale contract, and UTD on all shots and dewormers.
The puppies on the site show gorgeous coloring, and with the right breeding pair, both blue and red merles are present, including sought-after tri-merles. This prestigious operation breeds some of the largest Bully puppies you'll ever find, and with the big dogs comes a big price tag.
You can see the pricing on the website from around $6,000 to get a 7th or 8th pick, up to $50,000 for the first pick of the litter.
Monster Bully Kennels recommends that you contact them via the website to get information on how to purchase one of these amazing merle Pit puppies. They pride themselves on producing quality dogs with the size, pedigree, and temperament you want for your family.
Merle Pit Puppy Details:
Size, color, and temperament are present
Pups go home with a contract and health guarantee
Sign up to get info on the next breeding
A lifetime commitment to the dog and owner
Monster Bully Kennels Details:
Frequently Asked Questions
How much is a merle Pitbull worth?
On the low end, you can expect to pay $2,000 to $3,000 for a merle Pit puppy.
Are merle Pitbull puppies rare?
As reflected in the price for a puppy, Merle Pits are quite rare.
Are merle dogs healthy?
While merle dogs are generally okay, there is a heightened risk with double merles. These dogs can be deaf or blind, and as a result, breeding two merle dogs is highly discouraged.
Conclusion for "Merle Pit Puppies for Sale"
When you know what you want and are willing to pay the price, you can't go wrong with any of the merle Pitbull breeders on our list. They all strive to produce healthy, calm, colorful dogs that make great family companions, guardians, or show dogs.
Take a look at the dogs on the websites we've mentioned and sign up for the mailing lists. You're sure to find an adorable merle Pit puppy that tugs at your heartstrings.
For more guides similar to this list of Merle Pit puppies for sale in the US, check out:
Before bringing home a merle Pit puppy from a breeder in the US, learn more by watching "What Is A Merle Pitbull???" down below: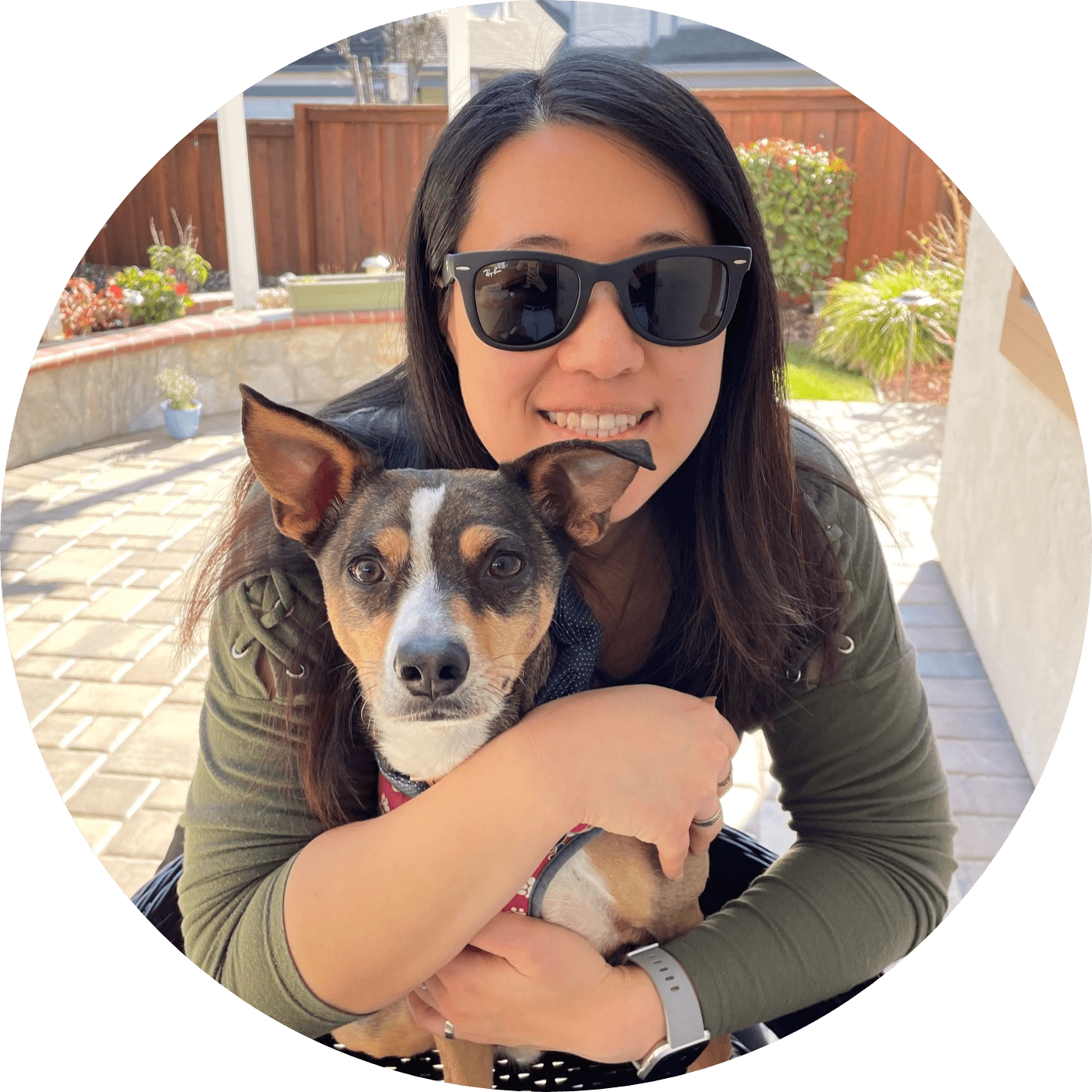 Dr. Sabrina Kong graduated from the Royal Veterinary College in England in 2016 and has been working at a small animal clinic in Northern California since then. She grew up in the Bay Area and got her bachelor's degree from Cal Poly San Luis Obispo. She also became a Certified Canine Rehabilitation Practitioner through a program at the University of Tennessee.
When she isn't in the clinic taking care of her four-legged patients, she enjoys traveling and trying new foods with her friends and her three-legged dog, Apollo. She adopted Apollo from her clinic when he was a puppy with numerous health issues. Dr. Kong truly cares about taking care of animals.