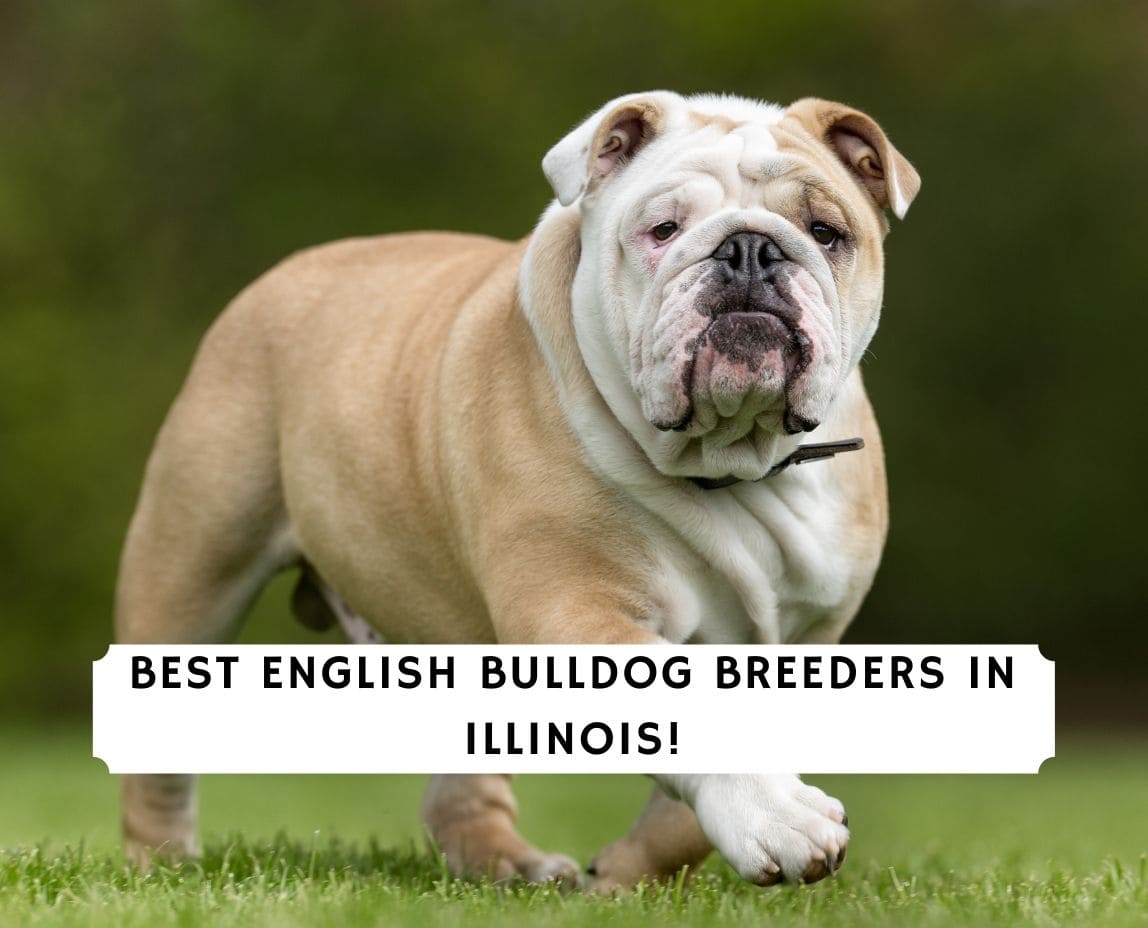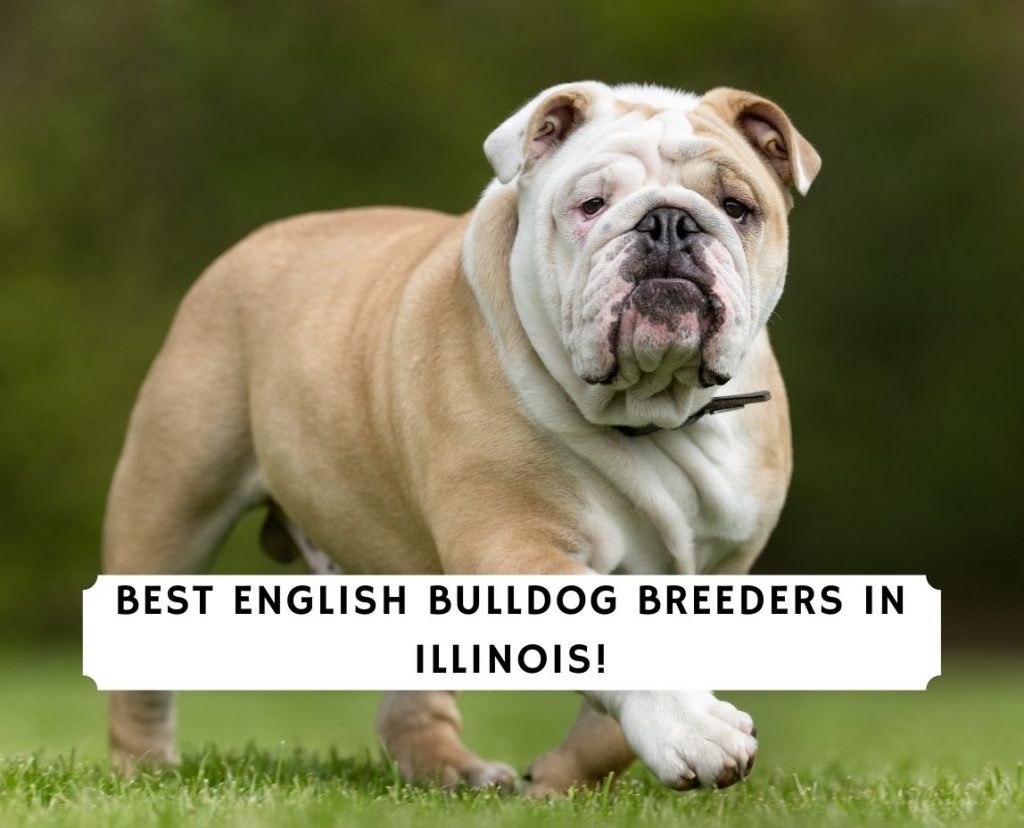 If you're searching for the best English Bulldog breeders in Illinois, then there's a little history that you should know about this dog breed. Way back in the 13th century, when the harsh, grisly sport of bull-baiting was a popular activity between dogs and tethered bulls, the stout bulldog was bred as an attack dog that used the underbite as their form of assault due to their stocky, low to the ground builds.
Their face wrinkles were bred into them to stop the blood from getting into their eyes. Fast forward into modern times, and the unmistakable features of a pushed-in nose, wrinkled face, friendly, and goofy charm of the English Bulldog has gained them the number six spot on the American Kennel Clubs (AKC) list of 197 popular dog breeds. It's no surprise you'll find tons of English Bulldog puppies for sale in Illinois. However, you need to choose a reputable breeder.
Check out these other articles: Cane Corso Breeders in Illinois and Corgi Breeders in Illinois.
English Bulldog Puppies For Sale in Illinois
When searching for a new English Bulldog puppy in Illinois, you'll want to avoid puppy mills and backyard breeders. Typically, reputable breeders will health- and genetically test their dogs. Additionally, they will socialize their English Bulldog puppies from a young age in order to avoid temperament and personality issues. Take a look below for a list of English Bulldog breeders in Illinois.
1. It's A Bulldog Thing
The first on the list of English Bulldog breeders in Illinois is "It's a Bulldog Thing." The kennel has 20 years of passion, pride, and devotion to breeding the very best of traits into their English Bulldogs. All of their English Bulldogs are treated as a part of the family, from the moment of birth, so they can receive the best care, training, and love that all dogs deserve.
The English Bulldog puppies in Illinois go to their new homes well-socialized while having had lots of interactions with other dogs, people, and animals. Their dogs also possess the strength, beautifully patterned coats, and happy personalities expected from the English Bulldog breed.
If you have any questions about the breed, you can discover answers to them on the "It's a Bulldog Thing" website.  A full rundown of their breeding couples' pedigrees can also be reviewed as well as pictures of their current and past litters. If you wish to purchase an English Bulldog puppy from them, you'll have to make a $400 non-refundable deposit. Make sure to contact the breeders as soon as possible to get the pick of the litter.
It's A Bulldog Thing Details
2. Blackhawk Bulldogs Illinois
In McNabb, Illinois, you will find the finest English Bulldogs bred to the highest of standards by Blackhawk Bulldogs. Jacki Musser, the owner of Blackhawk Bulldogs, has quite a history in breeding and raising animals. In 1989, she began raising champion Arabian horses. She then found herself getting out of horse breeding and into breeding Australian Shepherds in 2013, when she got American Kennel Club H.E.A.R.T certified. In 2017, she saw her first English Bulldog litter born on her farm. These puppies are socialized with other animals like rabbits and ducks.
Needless to say, at Blackhawk Bulldogs, you will find breeders who are in love with the animal kingdom and raising quality animals so that other families may join in their love of animals too. This is a hands-on facility where all English Bulldog puppies in Illinois are reared with as much adoring attention that can possibly be given. Standard colored Bulldog puppies, which are fawn, red, piebald, and brindle. The English Bulldog puppies for sale range in price between $2,800 to $3,500. Purchases of a rare color of the breed such as blacks, blues, chocolates, and lilacs will see prices falling between $3,800-$10,000. Merle colors will be a bit higher, priced at $4,500 – $20,000.
All dogs require a $1,000 non-refundable deposit and will come with limited AKC registration, including a spay/neuter clause. Yes, these are high prices for puppies; as stated on Blackhawk Bulldogs' website, there are many reasons why a Bulldog is so expensive. One reason is that this breed has to be artificially inseminated and delivered by C-section, which requires many vet visits. Much human interaction is given to this breeder's litters to make sure the English Bulldog puppies are healthy and well cared for. 
Blackhawk Bulldogs Details
3. "Angels" English Bulldogs IL
After 27 years of breeding dogs, starting with the harlequin colored Great Dane and more than 25 years of breeding the English Bulldog, the husband and wife team of AKC registered "Angels" English Bulldogs are reputable breeders. They are all about placing breed line enhancement at the top of their breeding program list, closely followed by health and temperament. The sires and dams Bulldogs have champion bloodlines specifically chosen to be passed on to the puppies that come from these pairs.
Each English Bulldog litter that is born into their home-based breeding operation is nurtured as a cherished part of the family with hand-raised care, attention, and love. These English Bulldog puppies go to their new homes with a health guarantee, up-to-date vaccinations, a veterinarian bill of health, and the breeders' lifetime support should new families need it. Re-homing options for older Bulldogs are available as well. They are listed, along with currently available puppies, on the website linked below. Contact the breeders to get on the current waitlist for your next furbaby.
"Angels" English Bulldogs Details
4. Enzeroth's West Central Bulldogs Illinois
Last on our list of English Bulldog breeders in Illinois is Enzeroth's West Central Bulldogs. Family environments, constant opportunities to work on socialization skills, and unconditional affection are the methods applied to raising the puppies born into Enzeroth's Olde English Bulldogges litters. Since 2019, owners Chad and Dawn have been passing on their fondness of the Bulldog breed to all lucky families who have received a puppy from them.
Much pride is taken at Enzertoth's English Bulldog Puppies. It is backed up by many reviews that have claimed these breeders are kind, caring, easy to work with, and transparent, all the while producing dogs with wonderful, playful personalities. Along with a quality English Bulldog, all new families will receive a one-year health guarantee, a veterinarian bill of health, de-worming, and appropriate shots for their ages.
A Buyer/Seller contract will need to be signed before any puppy is released from the breeder. Contact Chad or Dawn for more information you may need to decide about this breed of puppy or get a space on their waitlist.
Enzeroth's West Central Bulldogs Details
More Information About English Bulldog Puppies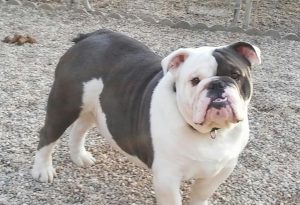 Even though the bulldog, which can go by either English or British Bulldog, can get up to 50 pounds in weight, they still enjoy a good snuggle on the laps of their humans. English Bulldog puppies are an amiable breed trained to distinguish friend from foe and become a wonderful guard dog.  Though they are family-friendly, Bulldogs dislike being poked, prodded, and pinched, so families with small children should teach them to be kind to these dogs and not bother them when they are in the process of eating.
The English Bulldog breed can live anywhere from eight to 10 years and has common health concerns. Due to their pushed-in nose and flat face, they can be prone to Brachycephalic Airway Obstruction Syndrome, which causes labored breathing issues. This physical feature also creates those cute little folds on the Bulldog's face. Still, those folds need to be continually cleaned to avoid bacteria build-up that might cause irritation, inflammation, and disease. Another common issue with this breed's pushed-in nose is heatstroke.
Additionally, English Bulldog puppies in Illinois should not over-exert themselves in heat and humidity as it can become difficult for them to breathe. They absolutely need exercise for health, but when it is hot outside, let them rest, relax and cool off in an air-conditioned space. The Bulldog is definitely a gentle, loveable breed prone to snoring, snorting, slobbering, and being very gassy, which is usually entertaining to those who enjoy these fun-loving dogs. Reputable breeders of Bulldog puppies should be raising their breeding stock with health issues in mind.
This breed is not cheap to raise. English Bulldogs normally require cesarean section births due to their head and shoulder size, artificial insemination due to their structures, and testing done for the aforementioned health concerns. Be ready to pay anywhere from $1,500-$4,000 for a Bulldog and know that they may require more vet visits than other breeds throughout their lives. Please get to know your breeder to determine whether they're a good fit for you.
Look into their socialization practices and the temperaments they are breeding into their puppies. Disreputable breeders have been irresponsibly breeding Bulldogs, creating more aggression in the breed that would, otherwise, be a docile, friendly dog.
Conclusion For English Bulldog Breeders in Illinois
Bulldogs can be stubborn at times, but they can also be the best of friends that stay loyal and true to their human family for years and years to come. Familiarize yourself with the breed's special requirements and ensure that taking care of those health needs will fit into your budget and lifestyle.
Research your English Bulldog breeders, too, and verify that you are not supporting backyard breeders that do not take pride in breeding for quality but rather breed solely for monetary gain. Take the steps, know your breed, so complete satisfaction is had in making that final decision to purchase your Bulldog puppy.
If traveling to these English Bulldog breeders in Illinois is out of the way, you can check out our recommendations from other states:
To learn more about the English Bulldog, watch "Top 10 Things To Know Before Buying an English Bulldog" from House of Wrinkles: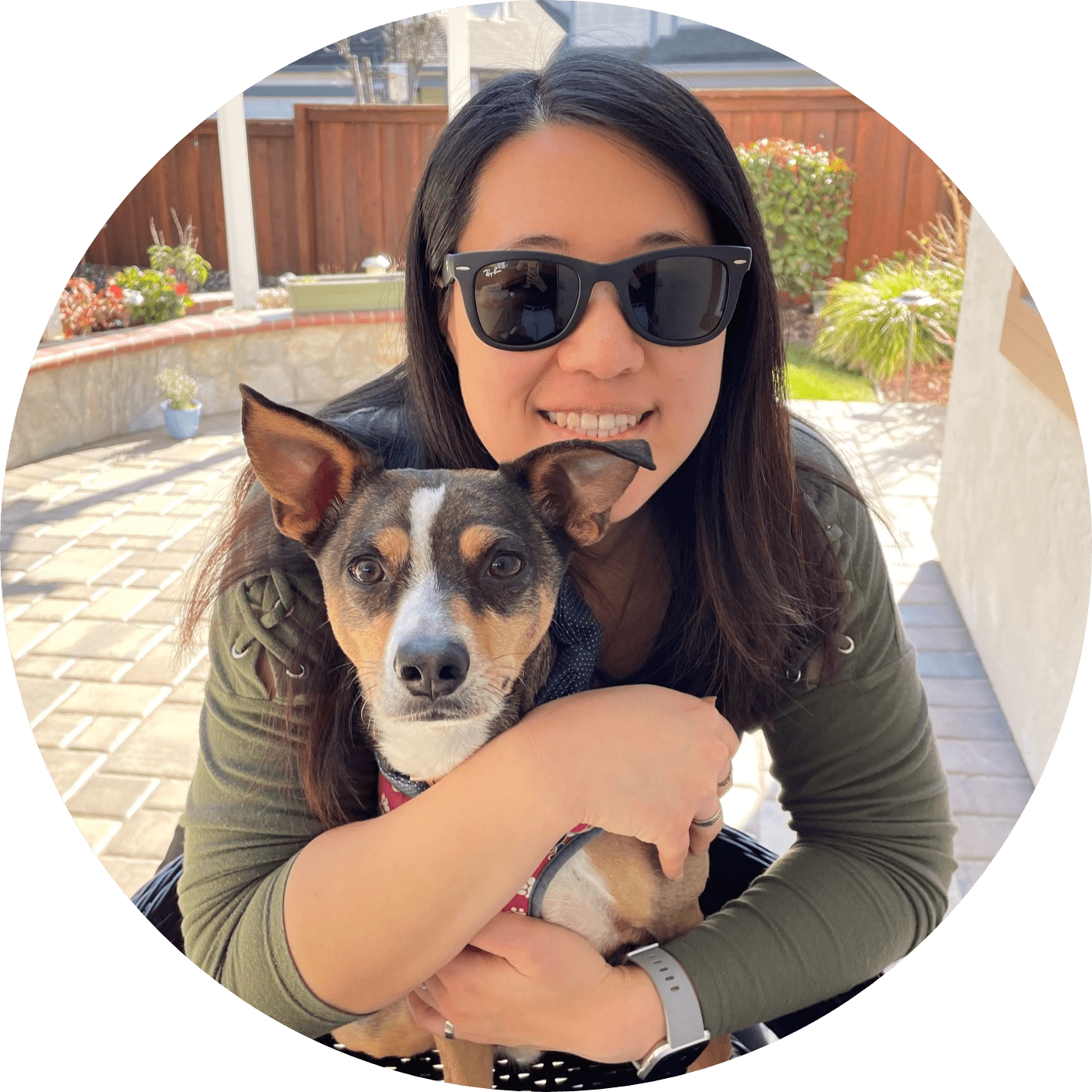 Dr. Sabrina Kong graduated from the Royal Veterinary College in England in 2016 and has been working at a small animal clinic in Northern California since then. She grew up in the Bay Area and got her bachelor's degree from Cal Poly San Luis Obispo. She also became a Certified Canine Rehabilitation Practitioner through a program at the University of Tennessee.
When she isn't in the clinic taking care of her four-legged patients, she enjoys traveling and trying new foods with her friends and her three-legged dog, Apollo. She adopted Apollo from her clinic when he was a puppy with numerous health issues. Dr. Kong truly cares about taking care of animals.