Corgis are one of the most recognizable dog breeds in the world. You'll see tons of Pembroke and Cardigan Corgi puppies throughout the state of Illinois. If you've been looking for one of these puppies you've come to the right article. One of the most difficult challenges that new dog owners face is finding reputable Corgi breeders in Illinois.
Ultimately, you do not want to buy from a puppy mill or backyard because they won't sell you a healthy puppy. Remember, Corgis live for 10+ years and they are an investment as a companion pet. Choosing the right breeder in Illinois is very important in terms of socialization, health testing, and genetic testing.
Best Corgi Puppies For Sale in Illinois
We've done our own research to help you find a Corgi breeder in Illinois. Our goal is to help you narrow down a list of places that you can purchase your next puppy. We always recommend that you visit any potential breeder in person and ask them several questions before putting your deposit down.
1. Thomas Acres Illinois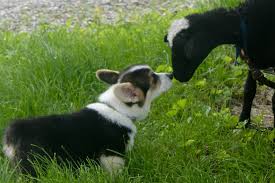 This Corgi breeder is located on a small family farm where they raise a minimal number of puppies with love and attention. They specialize in breeding healthy Pembroke Welsh Corgis in Illinois. Thomas Acres also adheres strictly to AKC standards of breeding purebred Corgis.
They enjoy a close relationship with their dogs and even keep up with them and their new families after purchase. All their Corgi puppies in Illinois are health-tested, vaccinated, and sired by champion bloodlines to give prospective new owners only the best that the breed has to offer. Feel free to reach out to them or visit their website if you have any additional questions.
Thomas Acres Details
2. Sunny Garden Farm IL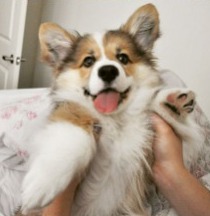 This small-town Corgi breeder has been dedicated to raising the best corgi puppies for 18 years. For what it's worth, this is one of the oldest Corgi breeders in Illinois we could find.
They do a significant amount of health testing on their parent dogs including for DM, EIC, and VWD. Health is a top priority with these breeders so you can ensure that you will get a healthy Corgi puppy. Emphasis is also placed on DNA testing to avoid genetically transmitted flaws. Overall, the welfare of the Corgi puppies in Illinois and the ultimate satisfaction of the new owners is what they are most passionate about, and hope to secure.
Sunny Garden Farm Details
3. Riverwind Kennel
This breeder is based in Wisconsin and has been raising only Pembroke Corgis for over 27 years. They are within driving or flying distance to the state of Illinois. The aim is to provide the best of the best, well-mannered, good-tempered, playful, lively fun, and healthy Corgi puppies that would light up any home. Corgis are a passion for this breeder, who desires nothing but to spread that love to as many people as she can. All successful buyers walk away with a lifetime of support and health care guidance for their new Welsh friends.
Vaccinations, dewormings, health tests, and clearance certificates for both offspring and parents are also a priority of the breeding process here. The Corgi puppies are raised, nurtured, socialized, and trained in the home. It is important to know that if you want to get a Corgi from this breeder, you will be vetted just as much as you are going to question the puppy you want. With this kennel, money is not as important as making sure that the puppies are going to new homes where they would be as loved and nurtured.
Riverwind Kennel Details
4. Bramblyhedge Corgis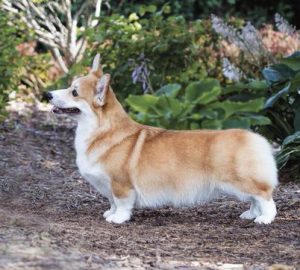 This Wisconsin Corgi breeder is driven to breed strong, agile, and athletic dogs who can give other dogs a run for their money at any dog competition. They are closeby to Illinois and are a reputable Corgi breeder.
All their Corgis have OFA and CERF health tests are carried out for both parents and puppies. For this AKC-approved breeder, raising Corgis is a thing of passion and they leave no stone unturned to make sure buyers get only the best of the breed. If you're willing to travel a short distance outside of Illinois, you should consider this breeder!
Bramblyhedge Corgis Details
More Information About Corgi Puppies in Illinois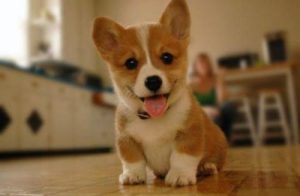 Corgi is the nickname of the dog breed known as the Welsh Corgi. However, the Corgi is split into two separate breeds: the Pembroke Welsh Corgi and the Cardigan Welsh Corgi. Both puppies are named after two separate counties in Southwest Wales. Not much aside from folklore is known about their true origins, especially the Pembroke Corgis, which are said to have come from a fairyland. The consensus, however, is that the Welsh dogs were created and served as herd dogs for old-time European farmers. They performed this role by nipping on the heels of the cattle to prompt them to move.
In earlier times, the Welsh dogs were regarded and even judged in competitions, as one breed. It was not until 1934 that the Kennel Club began to acknowledge and treat them as separate breeds. The Pembroke Corgi became the more popular of the two, especially during post World War II in the United Kingdom. Eventually, both corgis became rarer and rarer until they were added to the list of the most vulnerable native breeds at different points.
The Pembroke picked up again in 2016 largely due to its social media popularity, especially on Instagram. The first of the Welsh Corgis to land on United States soil arrived in 1933. The American Kennel Club (AKC) registered its first Corgis in 1934. By 1988, the Pembroke had become the 37th most popular dog breed in the United States.
Pembroke Corgi vs. Cardigan Corgi
Both Corgis breeds share a lot of traits in common as well as several differences, from physical appearance to temperament and personalities. Their coats are both water-resistant and can shed often depending on the season. They are also both dwarf dogs with short legs and bodies close to the ground.
The Pembroke Corgi male stands at 10 to 12 inches shoulder height which is the same as a female. However, males weigh 24 to 31 pounds and females weigh 24 to 28 pounds. They come in black and tan, red, sable, black and white, and fawn. Their average lifespan is about 12 to 15 years.
The male and female Cardigan corgi stand at 11 to 13 inches. They also both weigh an average of 31 to 37 pounds. Their coats come in a variety of colors with and without white marks. Their average lifespan is 12 to 16 years. The easiest way to tell the difference between a Pembroke and a Cardigan is their tails. The Pembroke has a docked tail, while the Cardigan flaunts a long tail.
The Welsh Corgis are intelligent dogs with amiable personalities. Developed originally for herding, they still serve as work dogs today, albeit they are now more popular as house pets and domestic companions. Their herding instincts are, however, still there and sometimes they are caught nipping on furniture, humans, and other items like they were thought to do with cattle. Both the Cardigan and Pembroke make good watchdogs due to their alert nature. However, the Cardigan is a little less accommodating of strangers and a lot more territorial with its owners. Both are relatively easy to train but have dominant personalities by nature and should not be expected to be subservient.
Pembrokes are food lovers, which makes them very prone to obesity if their intake levels do not match their activity levels. Food can be a great motivator for training or getting them to do something. Both dogs have known barkers, especially if they suspect something is dangerous or a threat to their families. Early socialization is a prerequisite for this breed to get them accustomed to strangers, other pets, and children.
Corgi Breed Information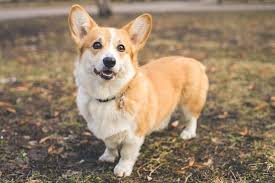 Health
In terms of health, Corgis are a relatively strong and healthy breed of dogs but can find themselves at risk for obesity, intervertebral disk disease, hip dysplasia, progressive retinal atrophy, and more. Credible breeders are expected to have health clearances from the Orthopedic Foundation for Animals (OFA) and the Canine Eye Registry Foundation (CERF) of both parent breeds and their puppies. You have every right to request these clearances as a potential owner, along with other due diligence to make sure you only bring a healthy puppy home.
Feeding
The standard feeding recommendation is about ¾ to ½ cup of dry food daily, separated into two meals. The way you feed your dog, however, should largely depend on how much you have studied and know their activity patterns and, thus, how much food they require. Variables like size, build, metabolism, energy levels, age, and so on should always be considered when deciding how much to feed your dog.
The Pembroke, for instance, will demand more food but should not be overindulged since they are prone to obesity and heart diseases. Snacks and treats should be regulated and not overdone. The most important thing is to make sure to get high-quality feed for your dogs to keep them full for longer periods and nourish them far better.
Grooming
Their seasonally high levels of shedding require both the Pembroke and the Cardigan Corgis to be brushed very often – daily during seasons they may have excess shedding. Regular bathing with warm water helps control heavy shedding. This is not a dog for people who may have allergies to fur, for obvious reasons.
Teeth should be brushed weekly, ears wiped with a cotton ball to keep clean and avoid smell or infections. Nails should be trimmed monthly to avoid tearings and injuries as well. The grooming process should also involve checking for things like rashes, sores, infections, redness, or discharges of any sort. You might also detect some inflammation, tenderness, and other early signs of possible ailments that will enable you to act proactively.
Conclusion for the Best Corgi Breeders in Illinois
Corgis are agile, intelligent, intuitive, and hardworking dogs. They can serve in a variety of roles – from herd dogs to cowboy assistants, to watchdog and rescue dogs, guard dogs, house pets, and loyal family companions. Their potential is astonishing, and it also helps that their beautifully colored double coats make them easy on the eyes.
Getting your new Corgi from the right breeder in Illinois is the most important thing to do as a prospective dog owner. Ensure all due diligence is carried out to guarantee that you bring the right dog home. The above list offers an array of options in the Illinois area as well as its environs. Pick up the phone and make that call to book your Welsh puppy today.
For other locations similar to this list of Corgi breeders in Illinois, visit our other recommendations:
If you're still deciding on a dog breed in Illinois, here are other recommendations from WeLoveDoodles:
To learn more about this awesome Corgi breed, see this video down below:
Garrett loves animals and is a huge advocate for all Doodle dog breeds. He owns his own Goldendoodle named Kona. In addition, he volunteers at the Humane Society of Silicon Valley, where he fosters dogs and helps animals. Garrett enjoys writing about Doodles and believes that dogs can teach humans more about how to live than humans can teach a dog.
Why Trust We Love Doodles?
At We Love Doodles, we're a team of writers, veterinarians, and puppy trainers that love dogs. Our team of qualified experts researches and provides reliable information on a wide range of dog topics. Our reviews are based on customer feedback, hands-on testing, and in-depth analysis. We are fully transparent and honest to our community of dog owners and future owners.