Dog owners often use diapers on their dogs if they have an underlying health condition that causes them to urinate involuntarily. For instance, your dog may mess the floor accidentally due to urinary incontinence. Additionally, many dog owners put diapers on their dogs during heat to prevent the house from getting dirty. However, wearing a dog diaper can cause skin irritation or diaper rash.
If you don't treat your dog's diaper rash early, it will make them uncomfortable and result in skin inflammation. Fortunately, we've listed some preventive measures that will help you tackle your pet's diaper rash.
Before scrolling down this list, you might like: My dog's urine has a strong odor. What does this mean?
Using Diapers on Your Dog
Diapers can help if your dog suffers from urinary incontinence, are in heat, or you're house training a puppy. But before you get one for your dog, make sure you can pinpoint the cause of the issue. Only use dog diapers when your veterinarian recommends them. Sometimes, regularly taking your dog outdoors is all they need to manage accidental urination. However, older dogs may have issues with incontinence in which diapers can help.
In some cases, the dog may only need herbal remedies with long-term effects. Opting for herbal remedies is a great choice because they promote bladder health and tighten the sphincter muscles. However, if you can't remedy urinary incontinence using herbal products, then you should prevent diaper rash by learning how to use diapers on your dog properly.
Tips to Prevent Diaper Rash: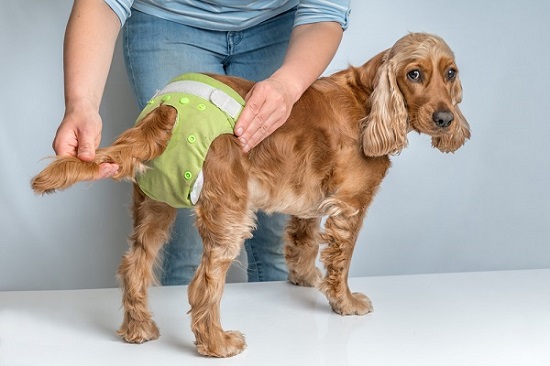 If you must use diapers, ensure that the dog diapers you purchase are softly lined.
Go for diapers that can fit your dog's body perfectly. But they don't have to be too snug.
Make sure the hairs around your dog's genitals are trimmed. You can get a professional to help you with that if you can't do it by yourself.
Change your pet's diaper frequently, especially when he has defecated. Doing this will reduce the risk of bacterial infections that can travel up your dog's urinary tract.
Wipe the area around your dog's genitals with high-quality baby wipes.
Before you put on the diaper, dust the area surrounding your pet's genitals with a hypoallergenic powder.
If you notice that the powder does not agree with your dog's skin, discontinue use immediately.
In case your dog already has a diaper rash, apply specially formulated antibiotic ointment for pets to kill infections that are present and soothe the skin.
If your dog wears diapers throughout the day and night, ensure to wash his genitals at least three to four times daily.
How to Deal with Incontinent Pets
It is better to take your dog outdoors more often when managing urinary incontinence than to rely on diapers. While at home, you should always take your dog out 30 minutes after they have drunk water or eaten food. That's the time when his body will likely get rid of urine. You need to exercise patience when living with dogs that are incontinent since this condition does not come with behavioral issues.
You may want to reprimand or punish your pets when they urinate accidentally. But don't punish them because it won't solve the problem. Whatever you do, always consult your vet to know if there's a way to reverse the condition.
Always give your dog lots of water to drink even if they urinate often. Drinking a lot of water will help your dog avoid developing serious urinary tract infections such as a urethral blockage.
How to know if your dog is suffering from urine burn or diaper rash?
Urine burns in dogs may vary in their appearance. Your dog may have a diaper rash or a more severe rash that contains open sores. A dog's urine burn can become severe when you fail to treat the early signs properly.
How do you avoid diaper rash and dog urine burn?
Your pet's skin can become chafed, red, and sore, just like that of a human infant. Exposing your dog to belly bands or urine-soaked diapers for long can do that. One of the best ways to tackle dog urine burn is to always keep your dog clean.
Make sure you bathe your dog every day.
Go for super absorbent belly bands that have comfortable waist areas. Ensure that they are not too tight to avoid skin irritation
You should change your pet's diapers frequently or whenever you deem it necessary.
Here's what you should do when you notice early signs of diaper rash or dog urine burn on your pet:
Step 1: Use a mild shampoo or soap to wash the burned area
Step 2: After washing, dry your dog's skin thoroughly
Step 3: Use a dog-friendly ointment or moisturizer to soothe your dog's skin. Some people make the mistake of using their baby's diaper rash on their dog. That puts your dog at risk of ingesting zinc oxide – a toxic compound present in baby diaper rash.
Always consult a veterinary professional for assistance.
With these tips, you will be on top of your dog's condition by preventing infections and complications that could occur due to urine burn. If your dog gets infected, it will impair the healing process and bring back skin irritation. Make sure you purchase the best dog belly bands or dog diapers on the market to give your pal the care and comfort they need. It's an excellent way to avoid having diaper urine burns.
Go for sewn-in super absorbent pads that do not need to be disposed of. You can easily wash them, rinse, and dry them. No need to touch disgusting soiled inserts. What a great way to keep your dog clean and healthy!
It's important that you go for products that will make your pet's life happier and healthier. Don't hesitate to consult your vet at any time if you have questions about your dog's diaper rash. They will provide useful information and recommendations for your fur buddy.
Conclusion for Dog Diaper Rash
Your dog may suffer from skin irritation if they wear diapers to avoid involuntary urination. One of the best ways to tackle dog diaper rash is to always keep your dog clean. Bathe your pet regularly and apply dog-friendly ointments if skin irritation occurs. With the tips above, you will be on top of your dog's hygiene and effectively tackle irritation.
Frequently Asked Questions
Can I use diaper rash cream on my dog?
You can use diaper rash cream on your dog. However, you need to make sure that they do not ingest the cream. Oftentimes, after you put cream on an irritating spot, your dog will want to lick the area. This can be a huge issue because many diaper rash creams contain chemicals like zinc oxide which will cause issues for your dog's digestion. We recommend that you check all the ingredients to make sure that the diaper rash cream you want to apply won't be harmful to your dog. Alternatively, we suggest using a cone to prevent your dog from licking the cream.
Can dogs get diaper rash?
Yes, dogs can get diaper rash. In fact, it's relatively common for dogs to get diaper rash if their diaper isn't changed often enough and they are exposed to urine or feces for too long. Alternatively, any type of irritation from excessive movement or a bad movement will cause dog diaper rash.
You will also like:
Garrett loves animals and is a huge advocate for all Doodle dog breeds. He owns his own Goldendoodle named Kona. In addition, he volunteers at the Humane Society of Silicon Valley, where he fosters dogs and helps animals. Garrett enjoys writing about Doodles and believes that dogs can teach humans more about how to live than humans can teach a dog.
Why Trust We Love Doodles?
At We Love Doodles, we're a team of writers, veterinarians, and puppy trainers that love dogs. Our team of qualified experts researches and provides reliable information on a wide range of dog topics. Our reviews are based on customer feedback, hands-on testing, and in-depth analysis. We are fully transparent and honest to our community of dog owners and future owners.