When dogs nibble, it is called cobbing. Dogs do this by gently nibbling at another dog or a person with their front teeth. This is a gentle action that is not the same as nipping or biting.
It is instinctual for puppies to cobble, and is not meant to be aggressive. Cobbing is a puppy behavior that stimulates milk production. To help with teething pain, they will also nibble on their littermates during play.
Below, we'll cover this behavior in-depth and explain how to put a stop to inappropriate cobbing.
Before you read an in-depth answer to this guide, "Cobbing Dogs: What It Means & Why Dogs Do It," check out: Why Does My Dog Nibble Me? (And Tips for Preventing) (2023) and Why Does My Dog Bite My Cat's Neck? 5 Reasons! (2023).
Why Does My Dog Nibble Me With His Front Teeth?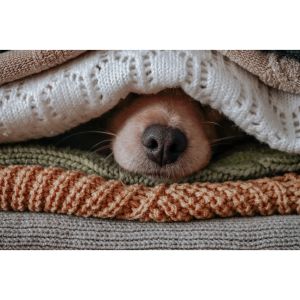 The act of nibbling at another dog is common when a puppy is born, and it can continue to occur as the dog grows older for various reasons, including boredom or fear.
Normal Puppy Behavior
The purpose of cobbing is to stimulate the mother's milk production.
For milk to be released, puppies nibble at the teat. In addition to playing with their littermates, they also nibble to show affection and relieve teething discomfort.
Telling You They Want to Play
Cobbing could be your dog's way of getting your attention so it can play. To play and socialize, puppies nibble at each other. Some dogs respond to their owners with the same instinct.
Signs of Affection
A dog will nibble its owner or another dog to show affection.
The feeling of a dog nibbling is similar to that of a hug. The behavior shows your dog is comfortable around you and wants to be near you at all times.
Way to Relieve Stress and Anxiety
Dogs may use cobbing as a way to calm their nerves when they are stressed or anxious.
If a habit forms, a dog's nibbling can cause an injury or infection. Dogs can nibble themselves or another dog until they break the skin. A dog can also damage an object or his teeth if it nibbles excessively.
After traumatic experiences, dogs can suffer from PTSD. The trauma could be caused by an accident, abuse, neglect, chronic hunger, dehydration, or a combination of factors.
PTSD in dogs manifests as hyperawareness, skittishness, potty problems, aggression, and more. Biting out of fear is also likely to cause these dogs to gnaw or nibble on you or others.
Curiosity
Dogs are naturally curious. Consequently, they need to come up with inventive methods to explore, and they use their mouths to do so. A dog investigates everything with his snout (and mouth).
There is a possibility that the nibbling is his way of exploring the situation. They may be trying to find a certain smell or may just be familiarizing themselves with you or they are around you.
Form of Grooming Behavior
When dogs groom themselves, they often use cobbing. Fleas, ticks, and matted fur can be removed from their fur with their front teeth. As well as nibbling, they can also use their paws to relieve pain or itching.
Often, mother dogs cob their puppies to keep them clean, while adult dogs may cob other dogs for grooming.
Marking Territory
When a dog puts its mouth on you, it is claiming ownership of your body. A very gentle approach is usually used and there is no aggressive nature to it. The tendency to become possessive is normal and healthy, but if the behavior starts to become aggressive, you may want to consider curbing it.
Demonstrating Bite Inhibition
Some dog bites are painful and harmful, regardless of whether the bites are out of aggression or anxiety. When dogs cobble, their bite inhibition and self-control are demonstrated as they control their instincts.
Calming
Dogs can find comfort by nibbling, especially if it's a behavior they exhibited as puppies. When a child nibbles, it's similar to them sucking their thumbs or kneading together their paws.
As a result, the behavior reminds the dog of what it was like as a puppy being comforted by its mother. Due to the fact that you have become the puppy's new parent, you have become the new comfort zone.
It's Scared
When dogs are frightened, they often bite or nip. This is especially true for those with backgrounds characterized by abuse or neglect. There are some challenges to breaking this fear response habit, but it is not impossible. Having a lot of patience and contacting a professional may be necessary.
Dental Problems
Pain in the teeth stinks regardless of species. The act of a dog biting, gnawing, or mouthing can indicate underlying oral issues. There are several conditions that can cause irritation and discomfort, including cavities, gingivitis, and periodontal disease.
This causes your dog to become agitated, leading him to mouth or nibble on your hands and/or fingers to alleviate his frustration. The severity of dental problems (infections, oral tumors) can vary widely. The veterinarian should be consulted if you suspect that you may have an oral problem.
Is Cobbing Okay for Dogs?
There is nothing inherently wrong with cobbing or nibbling. This behavior may actually help your dog stay calm if it is not chronic and does not appear to be harming dogs, property, or other dogs. It may be necessary to stop the behavior if the dog does seem to be hurting himself or others.
How to Stop a Dog From Cobbing
If your dog is cobbing and you want to stop it, there are a few things you can do.
Establish the Alpha Position
There may be excessive cobbing and aggressive behavior shown by your dog in order to gain your attention.
By giving your dog lots of affection and attention when they're behaving well, you're setting yourself up to be the leader of the pack, and this will make them feel more secure and calmer.
Thus, they will learn that trying harder isn't necessary. The rewards you give them will always be based on how well they behave. Your reward will be withheld if they misbehave.
Walk Away
You will be much more successful at stopping your dog from corn cobbing by walking away instead of yelling at it.
You will only make your dog more anxious and confused if you yell at him, so it will want to bite more often. The best course of action is to walk away and ignore the behavior until it ceases.
You should not pay any attention. Reward your dog immediately when it stops looking at you. It will learn that stopping the behavior leads to good things.
Use Positive Reinforcement
Treats or games can be used as positive reinforcement to encourage good behavior instead of taking away things they enjoy in punishment for bad behavior.
If your dog chews its toys rather than chewing the couch, reward it with treats. By doing so, they'll learn which actions earn rewards, thereby making them more inclined to perform them. Give treats or play games to reinforce good behavior, rather than taking things away when they behave badly.
Teach Bite Inhibition
We recommend teaching your dog bite inhibition with chew toys, rolled-up socks, or even an empty bottle. When your dog bites too hard, say "Ouch!" Take the object out of the dog's mouth and remove it. Once they've let go, give them a treat.
Whenever your pet bites or nibbles hard, don't play with them. Keep your approach consistent. Then they'll learn that they get what they want by acting this way.
What Does It Mean When a Dog Nibbles You?
A dog's instinctive behavior to nibble or cob with its front teeth is an instinctual behavior. As a group, puppies learn nibbling behavior, and like to play with each other by gently biting each other.
Puppies will choose you as their next favorite toy if they aren't near any siblings. Earlier in the puppy's life, it engaged in affectionate play with its mother, which it remembers from when it was a puppy.
Teething behaviors like this are instinctive and also common during teething. The same is true with puppies! When they are teething, they will gravitate toward anything that could relieve their pain.
The importance of playing in a dog's life is evident from the time it is a puppy to the time it is an adult dog. When its owner leaves, a dog with separation anxiety will probably nibble. Unless you're a professional dog trainer, you might not have seen this behavior before.
Puppies and adult dogs chew more when they're anxious, and if there's no chew toy nearby, nibbling is just as effective. This allows them to vent their anxiety through their mouths.
Why Do Dogs Nibble Each Other?
Typical reasons for nibbling include grooming. Your dog may scratch, itch, or clean itself of parasites, dirt, and seeds. As the name implies, allogrooming refers to a situation in which one dog remains passive while the other actively grooms them. Allogrooming is common whether the dogs are related or not, they live together in the same house, or are mother and pup.
It is important for dogs to groom themselves as a way to show affection. Nitting is a type of allogrooming that occurs when dogs nibble on people. There is a common expression among dog owners that refers to this as corn-cobbing, and we think that is pretty accurate.
It is impossible to groom us like their dog friends since we do not have fur like them. In spite of this, they nibble to promote social bonding and show you how much they value you.
Frequently Asked Questions
Why is my dog cobbing my blanket?
Dogs may chew or cob a blanket out of boredom, interest, or separation anxiety. The act of cobbing can comfort them.
Why is my dog nooking?
While you may not have heard of the term "nooking," you've probably seen it. This is when a dog suckles on an object as a calming behavior.
Why does my dog bite me gently?
Puppies and even adult dogs tend to lightly bite or nibble their owners for attention. It's best to avoid giving any sort of physical or auditory reaction that can reinforce the dog's behavior.
Conclusion for "Cobbing Dogs: What It Means & Why Dogs Do It"
We've covered the main reasons why dogs engage in cobbing and how to curb their behavior. Remember to be positive and redirect cobbing, rather than punish your dog — it's a natural tendency, after all.
It's also important to make sure everyone in the house is on the same page. If your puppy gets mixed signals on whether or not nibbling or cobbing is okay, it will be difficult to make the training stick.
If you find this guide, "Cobbing Dogs: What It Means & Why Dogs Do It," helpful, check out:
Learn more by watching "Why Does My Dog Nibble With His Front Teeth?" down below:
Garrett loves animals and is a huge advocate for all Doodle dog breeds. He owns his own Goldendoodle named Kona. In addition, he volunteers at the Humane Society of Silicon Valley, where he fosters dogs and helps animals. Garrett enjoys writing about Doodles and believes that dogs can teach humans more about how to live than humans can teach a dog.
Why Trust We Love Doodles?
At We Love Doodles, we're a team of writers, veterinarians, and puppy trainers that love dogs. Our team of qualified experts researches and provides reliable information on a wide range of dog topics. Our reviews are based on customer feedback, hands-on testing, and in-depth analysis. We are fully transparent and honest to our community of dog owners and future owners.