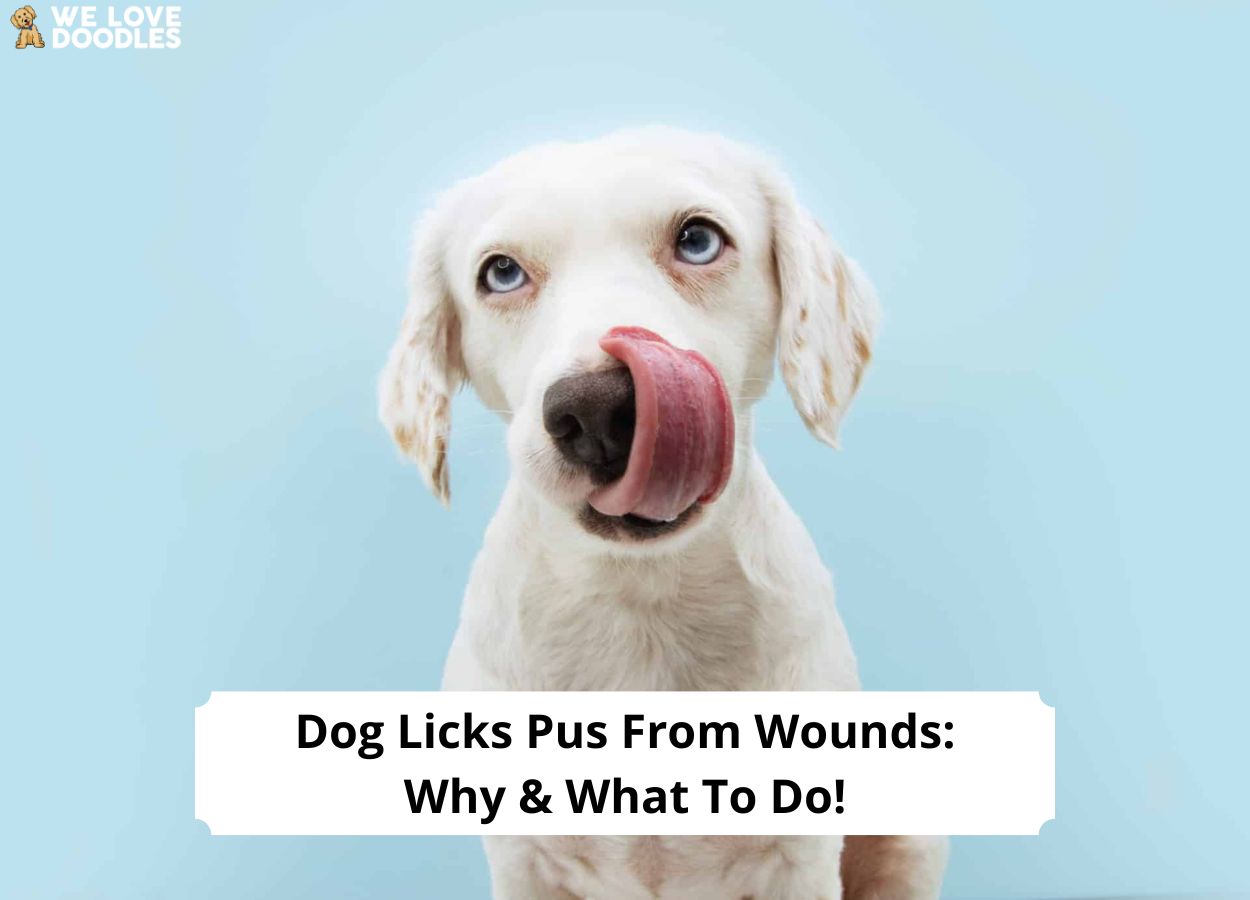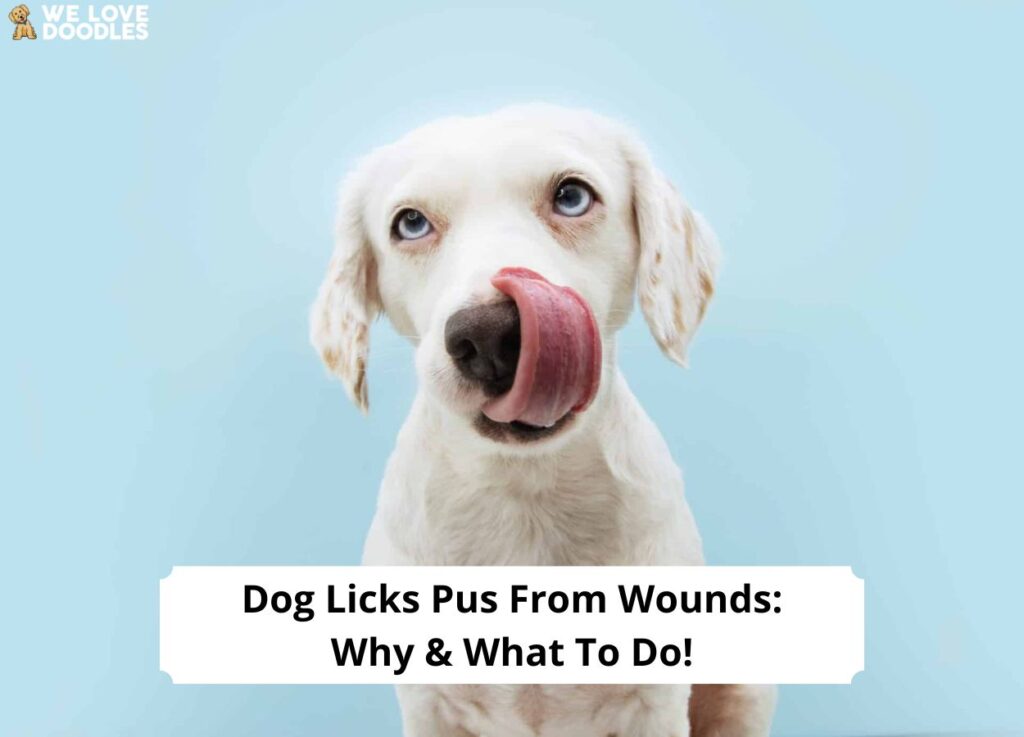 The idea that a pet gains something from licking a wound is one of the most widespread misunderstandings among owners. Small wounds go untreated because the owners believe their dog will "lick itself better." Saliva from dogs is not as therapeutic as some owners would think. So, let's find out why your dog licks pus from wounds and what steps you can take.
Simply put, when a dog licks a wound, a region of the brain that normally inhibits pain is temporarily activated. The pet may also be licking the wound to try to clean it of debris and infections. If the wound has been there for a while, the behavior may have become compulsive.
For more information on the answer, continue reading below.
Before you scroll down to a more in-depth answer to this guide, "Dog Licks Pus From Wounds: Why & What to Do," check out: How to Treat Shock Collar Wounds For Dogs! (2023) and What to Do If My Old Dog is Coughing and Gagging? (2023).
Why Do Dogs Lick Wounds?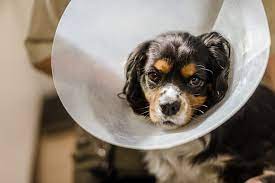 It's normal for pets to lick their wounds, and dogs are naturally predisposed to do so. The dog will start licking the sore area right away if it has been hurt, wounded, or has had surgery. Even at a vet's office, it can be challenging to stop a dog from licking its wound.
Similar to how a person might instinctively scratch an itch, dogs try to lick. Even though the animal is incapable of understanding it, their frequent licking will obstruct proper recovery.
Have you wondered why skin lesions heal far more slowly than mouth lesions, though? Surprisingly, canine saliva includes a number of chemicals, including antiviral and antibacterial compounds, which can accelerate healing. Saliva contains a protease inhibitor that helps accelerate wound healing. Saliva contains painkillers as well, which can aid the healing process.
Dog saliva is an amazing substance. It guarantees that a pet can consume and digest food, and it can strengthen the immune system, helping in the battle against illnesses that already exist inside the body.
When a dog is hurt, dirt and debris frequently go into the wound. The dog removes this debris from the wound by licking it while also promoting blood flow. Such behavior has certain advantages. For stray or wild animals, this is unquestionably the best method of disinfecting a wound.
However, we can provide our pets with cutting-edge medical treatment, and there are far more efficient (and secure) ways to speed up the healing of their wounds.
Dogs in the wild would not often lick their wounds extensively since they have other responsibilities, such as roaming, foraging for food, and defending their territory. Pets have a tendency to lick often, which will delay recovery.
What Causes Dogs to Lick Pus?
Dogs lick their wounds or pus to remove pathogens or dirt. If you currently have a dog, you know that when you are hurt or have an open wound, your dog will come over and begin licking.
Is it safe? In general, you shouldn't let your dog lick an open wound if you have one since the germs in his mouth might cause infection.
Although not a rule, it certainly is a possibility. It is easy to encourage the growth or overgrowth of other bacteria by licking pus from wounds. Although some people claim that canine saliva has modest antibacterial properties, this does not necessarily indicate that it is effective against all types of germs that may develop on a lesion.
Before we move on, let us look at the cleanliness of a dog's mouth.
How Clean Is a Dog's Mouth?
Some data suggests that a dog's mouth produces chemicals that can fight illness. In actuality, all animals have these chemicals. Saliva almost universally contains enzymes that aid in preventing infection.
And a pet's mouth is no better than a person's mouth. This misconception most likely originated in the medical literature. Older research has demonstrated that wounds from human bites are more susceptible to infection than wounds from pet bites.
This has caused many people to think that a dog's mouth has fewer bacteria than a human mouth. This view has been refuted by more recent studies for two reasons. First off, whereas a dog's mouth contains canine-specific germs, a human's mouth consists primarily of human-specific bacteria. Humans are far more likely to get human bacterial infections.
Some individuals believe a pet's mouth to be more sterile than a human mouth. In actuality, the bacteria that reside in the mouths of various biological species are so dissimilar from one another that they cannot be compared.
Can a Dog Hurt Himself by Licking a Wound?
Licking a wound excessively might cause discomfort since it can lead to a lot of localized pain and inflammation. Dogs frequently lick themselves so hard that fur breaks off, skin becomes thin, and the area around the incision bleeds. Additionally, by adding bacteria, your dog is making matters worse and increasing the risk of painful infections and sluggish recovery.
Though some dogs have more than others, all dogs contain dangerous germs in their mouths. The mouth cavity of a pet with dental problems is positively overrun by dangerous microorganisms. Saliva containing the same germs will invariably cause infection and pus formation in the wound.
The dog's paws, genitalia, and anus — which might be licked while a pet grooms itself — are another source of dangerous microorganisms. Feces traces are frequently seen in the mouth and consequently in saliva. They could make it harder for wounds to heal.
What Causes Dog Wounds to Worsen?
The most frequent sort of injury in domestic dogs is wounds. Lacerations, bruises, knife wounds, gunshot wounds, and animal bites are just a few examples.
Infection results from inadequate or inappropriate care of the wounded region. White blood cells and bacterial growth combine to cause purulent (pus-producing) lesions to form on the animal. These lesions need specific attention, treatment, and prescription medication. Veterinary clinical expert care is required for infected wounds.
The following are the causes of wound suppuration:
Lack of sanitation during the wound's management and dressing
Improper or delayed care for the afflicted area
Low immunity
Vitamin deficiency and poor nutrition
When an injury occurs, like a dog bite, bacteria enter. The quantity of germs that is "injected" into the skin from the mouth of the other dog causes these wounds to likely become suppurative.
Infected or purulent wounds take more time to heal than normal wounds of any size. Dogs may have a variety of symptoms, including lethargy and apathy, a rise in body temperature, and occasionally abscesses, severe tissue inflammation, the infection spread, and sepsis.
It is crucial to pay close attention to the pet's injuries and get quick medical assistance from a veterinarian. The results of letting your dog lick the pus from their incision might be unpleasant.
How to Quickly Heal a Dog Wound
Every homeowner should have a first aid kit at home, which should include a variety of medical equipment they may use to treat animals. Bandages, antibacterial plasters, a tourniquet to block the blood flow, a collection of disinfectants, and healing ointments are typically included.
The first step to take when a dog is hurt is to maintain your composure. It is important to put a tourniquet over the incision area as quickly as possible if the bleeding is excessive; nevertheless, it should not be left on for more than two to 2.5 hours (and if it is not feasible to use a tourniquet, the blood flow can be paused with a tight bandage).
The wound has to be treated right away. Dirt and other foreign objects need to be eliminated from the wound prior to disinfection using a cotton pad or swab.
To prevent hair from falling on the wound area, trim the hair around the wound with shears or gently shave with a safety razor. After that, apply salt water to the wound. Take your dog to the vet right away after treating the wound and bandaging it if the dog's wound is wide or deep, has ripped edges, or you fear that tendons were hurt.
You should take your pet to a veterinarian clinic for further assistance. If the wound gets moist, pus begins to drain from it, or the tissues close to the incision become heated. These signs indicate the wound is infected. In fact, a veterinarian should assess any major wound.
Is it Possible to Stop Dogs from Licking Wounds?
Dogs can be trained to do practically anything, and they are creatures motivated by food. Did you know that puppies as young as eight weeks old can learn the most basic commands? You should make every effort to be ready for the training and socializing phases.
But trying to have a dog not indulge in behavior that comes naturally to them is very different from training them to execute a particular trick. So, is it possible to stop dogs from licking? Read on to find out more about ways to stop your dog from licking the wound.
Please be aware that the options below may or may not be suitable for your dog. Again, be sure to see your veterinarian first in case you have any questions.
1. Inflatable Collar
The purpose of this collar is to prevent a dog from turning around and licking bodily areas.
They are widely regarded as being efficient and waterproof. Your dog might wear the collar for a longer period of time, even when you are away from home. When you arrive home, you can take off the collar and expose the wound so it can breathe.
2. Elizabethan Collar
When it comes to dog care, the Elizabethan collar is perhaps one of the most well-known collars. This collar is frequently used following various procedures and is meant to prevent your dog from licking wounds.
The Elizabethan collar, sometimes referred to as the e-collar or "cone of shame," is frequently used to deter dogs from licking. A similar collar is used to prevent bandages from being removed.
Despite the widespread use of this plastic item, you should pay attention to obtaining collars that are not too heavy. Make sure you have the Elizabeth collar that will suit your dog the best because there are numerous dog products available on the pet market.
If you want more help selecting one, be sure to take the dog's size, age, and general mobility into account. When the collar is on the dog's neck, it should be long enough to cover the dog's snout. While some dogs might appreciate soft plastic cones, if your pet is a large dog breed like a Greyhound or Doberman, you should be aware that they typically struggle with cones.
Frequently Asked Questions
Can I use Neosporin on my dog?
While a small amount of Neosporin should be safe for your dog, there are some risks as the product was developed for humans. Consult your vet before using any antibiotics to be on the safe side.
What should I do if my dog licked my open wound?
After being licked, you should wash your wound with soap and water to help prevent infection.
How can you tell if a dog wound is infected or healing?
Redness, swelling, and pain are signs of infection. A healing wound will develop new soft pink tissue.
Conclusion for "Dog Licks Pus From Wounds"
Dogs frequently lick the parts of their bodies that are hurting. They are actually helping themselves feel better by doing this. Although they are negligible, the antibacterial properties found in dog saliva can sometimes be useful.
Make sure to schedule a visit with the vet if you see your dog licking pus.
If you enjoyed this guide, "Dog Licks Pus From Wounds: Why & What to Do," check out:
Learn more about treating dog wounds by watching "Treating Open Wounds on Your Dog – PET | TAO Holistic Pet Products" down below:
Garrett loves animals and is a huge advocate for all Doodle dog breeds. He owns his own Goldendoodle named Kona. In addition, he volunteers at the Humane Society of Silicon Valley, where he fosters dogs and helps animals. Garrett enjoys writing about Doodles and believes that dogs can teach humans more about how to live than humans can teach a dog.
Why Trust We Love Doodles?
At We Love Doodles, we're a team of writers, veterinarians, and puppy trainers that love dogs. Our team of qualified experts researches and provides reliable information on a wide range of dog topics. Our reviews are based on customer feedback, hands-on testing, and in-depth analysis. We are fully transparent and honest to our community of dog owners and future owners.