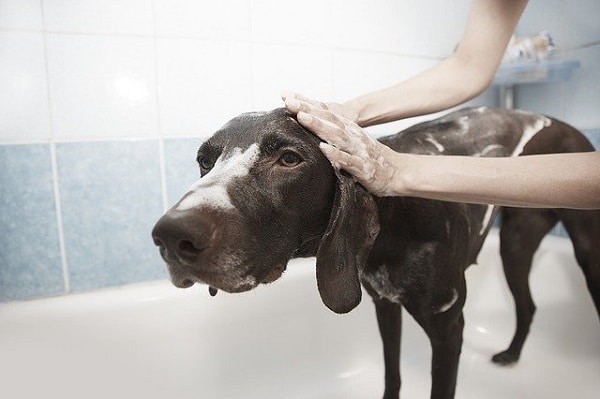 We all love our dogs, and therefore we don't want to see them in any pain or discomfort. Yeast infections are more common amongst dogs than you may think and can sprout on any part of your dog's body, causing relentless itching, hair loss, and an undesirable odor. 
For many dog owners, they don't even know that this is a possibility for their pets and so they don't take the preventative measures to avoid yeast infections.
To avoid yeast infections in your dogs, you can keep skin irritation at bay by using moisturizing or sensitive shampoos instead of abrasive ones, keeping their coats short in hot weather, and preventing skin folds by keeping them at a healthy weight. 
However, you cannot always keep a yeast infection away from your puppy, which is when dog shampoos for yeast infections can help. 
Yeast infections can be difficult to get rid of, and they are more likely to come back if your dog has experienced one before. This is why it's important to incorporate yeast infection shampoos into your typical bathing routine. You can use these formulas as both a treatment and a preventative measure. 
Below we'll be looking at the top five dog shampoos for yeast infections so that you can get to eradicating the issue as soon as possible and your dog can get back to their normal, happy selves.
In a rush? Here are our top 3 picks!
Product
Best Natural Solution
We Love Doodles Shampoo
Budget Pick
Veterinary Formula
Image
First on our list is the We Love Doodles dog shampoo. Compared to the other shampoos on our list, this is a more natural approach to getting rid of your dog's yeast infection. You won't find another shampoo on this list that is 98.25% derived from natural resources and USDA certified organic. The other shampoos contain significantly harsher chemicals that may have adverse health effects on your dog long term.
The We Love Doodles shampoo is affordably priced and will effectively kill the spore-producing fungus that causes yeast infections. This product is created, formulated, and tested by one of the largest dog shampoo manufacturers in the United States. It contains ingredients that will not only effectively clean your dog, but also leave them smelling great.
The We Love Doodles shampoo has a 100% satisfaction guarantee so if it doesn't get rid of your yeast infection or you aren't happy with the product, you will get a 100% refund. If you're looking for a more natural solution to get rid of your dog's yeast infection, we highly recommend this shampoo.
Second on our list is a medicated shampoo from Veterinary Formula Clinical Care, who uses veterinary-grade ingredients within their formulas to offer you and your dog the best care for the best price. 
This shampoo features salicylic acid, coal tar, and micronized sulfur in a bid to treat a plethora of problems, including parasitic, fungal, and bacterial infections. This also includes yeast infections.
In addition, there are oatmeal and allantoin to keep the skin moisturized and soothed throughout the treatment process. Many professional vets will suggest using this shampoo to help get rid of and prevent future yeast infections, as it doesn't feature any parabens, soaps, or dyes. This also helps to prevent drying out your dogs skin.
You can safely use this medicated shampoo with flea and tick medicines. Also, the pH balance in this shampoo is optimal for your dog's skin as it is not as harsh as other alternatives. Veterinary Formula Clinical Care offers a great price for a reasonably sized bottle, which is always a plus!
The Curaseb shampoo comes equipped with Chlorhexidine and Ketoconazole as the main active ingredients, which together make a killer fungal treatment suitable for both cats and dogs. This shampoo is also highly efficient at tackling bacterial infections, so overall this is a great multipurpose shampoo that will get rid of yeast infections and help prevent them in the future.
This strong shampoo is gentle enough for sensitive skin and will remove odors without causing any pain to your dog. The formula offers zero parabens and soap, keeping it suitable for irritated skin from too much itching.
You can choose between an 8 and 16 ounce bottle, both of which are reasonably priced and much less expensive than veterinary medicines. What's more is that BEXLEY LABS offers a Paws Promise that offers your money back if you're not satisfied with the product. This is our runner-up choice for the best dog shampoo for yeast infections.
Arava has created their Medicated Dog Shampoo with 28 different active natural ingredients, including dead sea minerals to ease inflammation and redness. Each of these active ingredients offers different benefits, including anti-fungal and anti-bacterial properties.  
This shampoo is free of chemicals to prevent unnecessary harsh ingredients coming into contact with your dog's sensitive skin. Arava has developed the formula under strict FDA approved guidelines, so you can trust using it on your beloved pets. 
There are plenty of impressive components on the ingredient list, but one that sticks out to us is kelp. This is very helpful for speeding up the recovery process, soothing itchy patches, and boosting the immune system so that it can fight the infection. 
There are essential oils within the formula to give your pet a nice scent, and Arava also offers a 30-day money-back guarantee. This is by far the best shampoo for dogs with a yeast infection on our list.
Next up is the Benzoyl Peroxide Shampoo, which is very effective in helping heal problems such as dermatitis and yeast infections. It works by opening the hair follicles and flushing them to remove fungal spores and other roots of the problem. 
Not only is this a great treatment option, but it also excels at keeping greasy coats at bay. Therefore, it does its job as a shampoo for cats and dogs. Coats that keep grease locked in may be contributing to the yeast infection as fungus thrives in moist places, so this might be the most beneficial aspect of the shampoo. '
There are natural moisturizers included within the formula to help soothe your dog's skin while they're healing, to make the process a little easier on them. The manufacturer offers in-depth instructions in which you should leave the shampoo on for five to ten minutes. 
Last but not least is the Medical Shampoo from VetMD, which is excellent for bacterial and fungal ailments. You tackle two problems at once as this shampoo cleans and moisturizes your dog's skin and coat, as well as targeting the yeast infection and helping to remove it. 
The active ingredients are all clinical and proven to reduce the effects of fungal and bacterial issues. VetMD suggests that you leave this shampoo on your dog's fur for five minutes before rinsing it for the best results.
There are no colors, parabens, and harsh chemicals within the formula and you can rest assured that it is a cruelty-free shampoo. You can also use it alongside flea and tick preventative measures. Lastly, you can choose to purchase this formula in either a shampoo form or spray form. 
Best Dog Shampoos for Yeast Infection Buying Guide
Now that we've had a look at five of the best dog shampoos for yeast infections, let's remind ourselves of the factors to consider before choosing the shampoo. Yeast infections aren't pleasant for any person or pet, so you don't want to be wasting time by using the wrong shampoo on your dog. 
Once you've received the confirmed diagnosis from your veterinary practice, you'll want to treat the issue as fast as possible. Using the basic knowledge that we're about to outline will allow you to choose the best shampoo for your pet in record time, so it's definitely worth taking the time to read through our buyers guide. 
Active Ingredients
Active ingredients are the most important aspect of the shampoo that you choose as this is what will fight and get rid of the yeast infection. Common ingredients to look for are fluconazole, ketoconazole, and miconazole nitrate, but these are not the only active ingredients that will help your dog, so make sure you check the ingredients list. 
Don't worry about not being able to find them, as the brand will often showcase these as the main ingredient of the shampoo. The main active ingredients are what's going to help your dog heal from their infection. 
Another thing to consider is how much of the active ingredient is used within the formula, as there needs to be enough of the ingredient to eradicate a yeast infection. There is not much use in using a shampoo that doesn't have enough of the active ingredient within it to make a difference. 
While this may be slightly harder to determine if you're not a professional vet, we'd suggest reviewing the comment section to see if any other dog owners have had an issue with the shampoo not working. If they have, this might indicate that there is not enough of the active ingredient in the formula.
That being said, some dogs may be experiencing different types of fungal infection and at varying levels of severity, which may cause the shampoo not to work for them. Don't only go off one comment regarding this matter, we'd suggest only following this advice if there are an overwhelming number of customers stating that it doesn't work. If you're still worried about your dog, always consult your veterinarian.
Other Ingredients
Sometimes, the other ingredients in dog shampoos for yeast infections are just as important as the active ingredients. While they are not directly helping fight the infection, they can help keep your dog more comfortable throughout the healing process. 
Below we'll have a look at a few of the most beneficial types of other ingredients that you can find in the yeast infection shampoos. 
Cooling ingredients
Cooling ingredients will help towards soothing the irritation that comes from constant scratching or itching. Unfortunately, many dogs don't understand that scratching makes the infection worse, so you need to prevent the itching from occurring. Failure to stop itching will cause hot spots that get an infection if not monitored or treated properly.
The best cooling ingredient is aloe vera, and luckily this is in many dog shampoos on our list. Aloe vera is great for soothing inflammation and will certainly help your dog feel more comfortable and not notice their irritated skin as much. 
Moisturizers 
Keeping your dog's skin moisturized and hydrated is again important in the healing process of a yeast infection. That being said, it can be difficult to apply moisturizer to your dog's skin, especially if they have a double coat. 
Moreover, one of the most important aspects of healing a yeast infection is keeping your dog's skin dry, but not too moisturized. Applying a moisturizer to their infection will give the fungus the optimal place for it to grow, so you need to use moisturizer in a different form. 
For this reason, moisturizing agents in dog shampoos are very beneficial and important for treating a yeast infection. The most common and effective moisturizing ingredients include shea butter, coconut oil, and aloe vera. You don't want your dog to itch their skin, but you also don't want to provide an area for the yeast infection to expand.
Essential Oils
Essential oils are another great ingredient for dog shampoos for yeast infections as they often include helpful anti-fungal benefits. These oils are often only added for fragrance and nourishing purposes, so they're often included in only small quantities. Having said that, they're still a helpful addition to the ingredient list.
Natural ingredients
The majority of the ingredients in the dog shampoo for yeast infections that you choose need to be natural, as you don't want to put any harsh chemicals over the top of an infection that could potentially further irritate the problem. 
You want to steer far away from alcohol and parabens in the ingredients list, as these are the two worst things to include in the formula. 
Instructions
You should pay attention to the instructions of the dog shampoo that you're looking for. These can indicate how effective the shampoo actually is and how much research has gone into making the product itself. 
This is because medicated shampoos need time work on your dog's skin, so if the instructions don't include a sufficient amount of waiting time before you rinse the product off, you might want to be wary of how effective the shampoo actually is. 
For the best results, make sure that you leave a medicated shampoo lathered on your dog for five to ten minutes, unless the shampoo says longer. Read the instructions properly before settling on one shampoo, as you don't want to purchase a low-quality product unwillingly. 
Price
The price of dog shampoo for yeast infections can differ greatly depending on the different active ingredients. For the most part, the price of these types of shampoos are generally reasonably priced and therefore won't need you to take out a second mortgage on your house. 
That being said, make sure that you check the size of the shampoo bottle that you're getting. You don't want to pay more for a smaller bottle if the product is no better than a bigger bottle for the same amount of money. 
Conclusion for the Best Dog Shampoos for Yeast Infections
Yeast infections aren't pleasurable for either you or your dog. You'll usually see your dog itching uncontrollably, there may be a musty odor, and you'll notice that your dogs skin is flaking. Yeast infections are a common skin fungus that is found in dogs. Using a good dog shampoo will not only help get rid of your dog's yeast infections, but it will also help to prevent against future yeast infections.
Other articles you might like:
Frequently Asked Questions 
Does vinegar kill yeast on dogs? 
Apple cider vinegar is an effective home remedy to treat yeast infections in dogs. The acidity of this particular vinegar, as well as the healing aspects, will help to kill some of the fungi. That being said, it's best to do this after using a medicated shampoo as vinegar may not sufficiently kill all of the spores. 
Simply mix one part apple cider vinegar to one part water and spray it onto your dog's coat after a bath. Remember to avoid irritated spots where your dog may have scratched already as the solution in an open wound will hurt them. 
Is a yeast infection contagious in dogs? 
Yeast infections are not contagious, they most likely got the infection through an underlying health condition or trapped moisture on their body. They cannot transfer the infection to you or another dog, so feel free to treat it properly and efficiently without hesitating that you might catch it. 
Garrett loves animals and is a huge advocate for all Doodle dog breeds. He owns his own Goldendoodle named Kona. In addition, he volunteers at the Humane Society of Silicon Valley, where he fosters dogs and helps animals. Garrett enjoys writing about Doodles and believes that dogs can teach humans more about how to live than humans can teach a dog.
Why Trust We Love Doodles?
At We Love Doodles, we're a team of writers, veterinarians, and puppy trainers that love dogs. Our team of qualified experts researches and provides reliable information on a wide range of dog topics. Our reviews are based on customer feedback, hands-on testing, and in-depth analysis. We are fully transparent and honest to our community of dog owners and future owners.