Whether you already enjoy working Cocker Spaniels or are considering getting one for the first time, you must be curious about how long they live. The life expectancy of the Cocker Spaniel is influenced by lifestyle, genetics, medical issues, and nutrition.
On average, Cocker Spaniels have a lifespan of 10 to 15 years. Nevertheless, if you provide a great lifestyle that includes a balanced diet, frequent check-ups, and plenty of exercise, this can be extended.
You'll find more details below regarding the average lifespan of a Cocker Spaniel and what you can do to ensure your dog enjoys a long and healthy one.
Before scrolling down this guide, "How Long Do Working Cocker Spaniels Live," check out: 10 Best Cocker Spaniel Breeders in the United States! (2023) and How Long Do Cockapoos Live? (2023).
Life Expectancy of Working Cocker Spaniels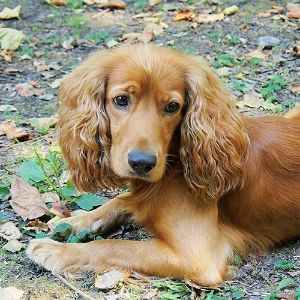 The Cocker Spaniel has a 10- to 15-year lifespan on average. Your working Cocker Spaniel can live up to 15 years or more depending on how you care for their health care, exercise, mental stimulation, food, and dental care needs.
On the flip side, accidents, unforeseen illnesses, genetics, and poor breeding practices can all shorten your dog's lifespan.
How Can I Make My Working Cocker Spaniel Live Longer?
You may help your Cocker Spaniel live longer by doing the following:
Give Him a Balanced Diet
As Cocker Spaniels genuinely enjoy food and are likely to form strong bonds with those who feed them, it's crucial that you keep an eye on their weight. It is advised that you feed your dog high-quality, nutrient-rich food. When deciding how much food to give your Cocker Spaniel, take into account their size, age, and degree of activity.
When weighing the food for your dog, follow the instructions on the food packaging. Ask your veterinarian how much high-protein food you should give your dog to meet its needs.
Make sure the ingredients are organic, high-quality, and safe for your dog by paying close attention to the ingredient list. Your Spaniel's food trials should begin with dog food that contains chicken and rice, but you should also take into account their needs, preferences, and dietary sensitivities.
Lean protein, good fats, complex carbohydrates, vitamins, and minerals should all be included in a well-balanced and complete diet. This will make sure your Cocker Spaniel's immunity is maintained and improved, allowing your dog to avoid health issues associated with poor diet.
Training and Exercise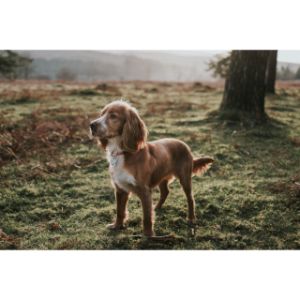 Cocker Spaniels are intelligent and eager to learn, which makes training them fun. Positive reinforcement and obedience training have good results. Start recall training early on, along with other puppy training. This will help your Cocker Spaniel develop appropriate behavior and make sure they are secure off-leash.
Because of their sensitivity to harsh handling and loud noises, Cocker Spaniels should be socialized as early as possible to ensure that they are prepared for unforeseen circumstances like attention from young children and crowds.
Cocker Spaniels must be gently exercised for the first six months of their lives, and then you may start including more interesting walks in their regular routine. Start gradually by adding more activities in small, reasonable increments. As an adult, your Cocker Spaniel should exercise for around one hour every day.
Cocker Spaniels require a lot of mental stimulation during play because they are clever, active, and inquisitive dogs. This will prevent them from getting into trouble.
When bored, Cocker Spaniels may engage in undesirable or harmful behaviors, including chewing, whining, and scratching, as a method to let off steam. Interactive games like fetch and walks where they may discover new smells are the best ways to keep a Cocker Spaniel occupied.
Visit the Vet
Your Cocker Spaniel will live longer if you follow a regular health care routine. This entails frequently taking them to the veterinarian. When diseases are discovered in their early stages, they can sometimes be managed or even prevented.
By bringing your Cocker Spaniel in for routine physicals and lab tests, you can make sure that any health issues are identified early and treated as needed. The veterinarian can also advise you on the best time to neuter or spay your Cocker Spaniel.
Your Cocker Spaniel will receive all the necessary vaccinations during visits, ensuring their continued immunity against illnesses.
The veterinarian might perform a physical examination to see whether the animal's height and weight are appropriate for its age. This ensures that they are not having any problems with their weight or growth.
Brush Your Cocker Spaniel's Teeth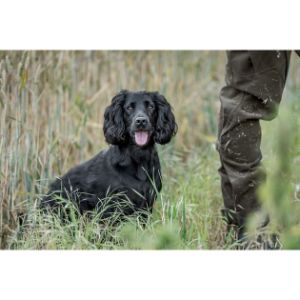 In order to maintain the health of their gums and teeth, Cocker Spaniels should have their teeth routinely brushed. This will prevent plaque and tartar from building up. If you don't brush your dog's teeth, they can develop dental problems, including tooth decay, which can cause an infection and raise your dog's risk of heart disease.
Your dog's teeth should only be brushed for five minutes using a dental spray or a small toothbrush. Starting young will ensure that they become accustomed to the practice as adults, making grooming a simple effort. It is recommended that you brush your dog's teeth at least three times weekly.
Cleaning your dog's teeth and gums with raw meaty bones and raw vegetables like carrots is another great way to ensure your dog has a long and healthy life.
Lifespan of an English vs. American Cocker Spaniel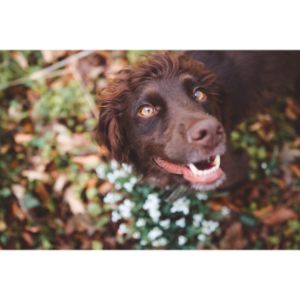 The English Cocker Spaniel often has a longer lifespan than the American Cocker Spaniel.
With the right care, both Cocker Spaniels have been reported to live into their late teens. The American Cocker Spaniel has a life expectancy of 10 to 14 years, whereas the English Cocker Spaniel has a life expectancy of 12 to 15 years.
Both types of Cocker Spaniels are happy-looking, with huge, bright eyes and luxurious, long ears. They develop strong attachments with their owners and have caring, amiable attitudes. As a result, they are more likely to experience separation anxiety when left alone for an extended period of time.
Yet, due to their ancestry, the English Cocker Spaniel is more lively and has a greater prey drive, whereas the American Cocker Spaniel is more laid back.
Overweight Cocker Spaniels Have Shorter Lives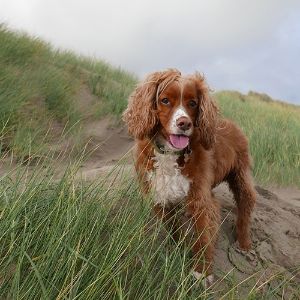 Compared to Cocker Spaniels with ideal body weights, overweight dogs are prone to shorter lives. This is due to the fact that obesity in dogs is linked to health issues like joint pain, heart disease, diabetes, and breathing difficulties, all of which can shorten their lifespans and degrade their quality of life.
Your Cocker Spaniel may put on extra weight as a result of poor eating practices and inactivity. If you give your dog more food than needed, they will store the extra as fat. Also, not having a feeding plan permits your dog to eat food whenever they like, making it challenging to control how much they consume.
Maintaining a healthy weight for your Cocker Spaniel will help prevent obesity and guarantee that its lifespan is not shortened. Feeding your dog the correct amount, avoiding giving them table scraps, and giving them enough exercise are a few strategies you may use to keep your dog at a healthy weight.
Do Mixed Cocker Spaniels Live Longer Than Purebred Dogs?
Mixed Cocker Spaniels typically live longer than purebred Cocker Spaniels because they are generally healthier. This is due to the higher genetic variety of mixed Cocker Spaniels. Yet, with the help of genetic testing methods, breeders of purebred Cocker Spaniels can improve the bloodline of these dogs.
Half of the genetic material from the father and half from the mother are passed on to the puppies during breeding. The likelihood of passing down genetic abnormalities rises over decades of breeding for purebred Spaniels, meaning purebred puppies have a higher risk of hereditary health issues that could shorten their lives.
On the other hand, when a new breed is incorporated into an existing lineage, the undesirable, faulty genes are by nature excluded. Yet a dog's life expectancy is not solely influenced by heredity.
Regardless of whether a dog is purebred or mixed-breed, other elements, including exercise, nutrition, and socialization, can influence its lifespan.
Explaining Cocker Spaniel Age Groups
Cocker Spaniels go through the following stages of development:
Puppy
Up until six months, Cocker Spaniels are regarded as puppies. At this age, your puppy experiences all the fundamental stages of growth and development, including teething, learning to stand, and opening of the eyes and ears.
Since puppies readily accept others in their surroundings as family and friends, this is the ideal age to socialize them.
At this point, they can be adopted and begin a new life with their adoptive families. They will begin displaying aggression, fear, and territorial concerns between the ages of four and six months, so it's critical that you establish your authority early on.
Juvenile & Teenager
Your Cocker Spaniel is in the juvenile period and is regarded as a teenager between the ages of six and 12 months.
There will be a lot of emotional immaturity in your dog at this point, and females will experience their first heat. Now is the time to discuss spaying or neutering your Cocker Spaniel with your veterinarian.
Your dog has a lot of energy and is particularly interested in interacting with people and pushing limits. Thus, make sure your dog is mentally and physically stimulated through activities with toys and games.
Adult
By the time they are between 12 months and two years old, your Cocker Spaniel will have grown to adult height and weight.
Your Cocker Spaniel is regarded as an adult once they have grown to their full weight and height. When your dog is an adult, the main objective is to give them enough nutrition in accordance with their level of activity to avoid any excessive weight gain.
They require different nutrients than when they were puppies, hence their diets change. This is due to the shift in emphasis towards facilitating energy restoration and consumption.
Senior
By the time your Cocker Spaniel reaches the age of eight, they have entered their senior years.
Due to a decrease in their ability to carry oxygen, your dog's level of performance declines as they age. At this point, it's crucial to keep an eye on how much food and activity your Cocker Spaniel receives.
As they age, your dog may have joint problems and require specific care. By providing them with the appropriate nutritional supplements, joint function can be enhanced.
Frequently Asked Questions
What is the most common cause of death in a Cocker Spaniel?
The leading cause of death in Cocker Spaniels is heart failure.
Is thirteen old for a Cocker Spaniel?
With a lifespan that usually ends at 15 years, 13 is considered old for a Cocker Spaniel. At this point, your dog is a senior.
How much walking does a Cocker Spaniel need?
An hour of daily exercise should be enough for Cocker Spaniels. For instance, two to three short walks and some playtime with a toy.
Conclusion for "How Long Do Working Cocker Spaniels Live"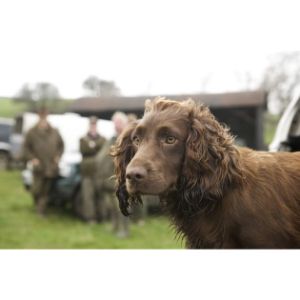 Every pet owner fears the day when their companion will no longer be with them, but Cocker Spaniel owners should have a lot of time with their pet before that happens.
You can prevent any health issues from attempting to reduce the lifespan of your Cocker Spaniel by providing exceptional care and keeping a close check on them.
If you find this guide, "How Long Do Working Cocker Spaniels Live," helpful, check out:
Learn more by watching "Cocker Spaniel: The Pros & Cons of Owning One" down below:
Garrett loves animals and is a huge advocate for all Doodle dog breeds. He owns his own Goldendoodle named Kona. In addition, he volunteers at the Humane Society of Silicon Valley, where he fosters dogs and helps animals. Garrett enjoys writing about Doodles and believes that dogs can teach humans more about how to live than humans can teach a dog.
Why Trust We Love Doodles?
At We Love Doodles, we're a team of writers, veterinarians, and puppy trainers that love dogs. Our team of qualified experts researches and provides reliable information on a wide range of dog topics. Our reviews are based on customer feedback, hands-on testing, and in-depth analysis. We are fully transparent and honest to our community of dog owners and future owners.