Are you searching for a dog and trying to avoid breeds that frequently whine? If so, this article is for you! In order to help you choose the ideal breed, we'll discuss the chattiest kinds of dogs.
Although some dogs have a natural propensity for excessive barking, others may do so as a result of poor training, trauma, or a lack of excitement. An adult dog who has been properly socialized since it was a puppy becomes less likely to bark at every dog it sees.
Let's look at some dog breeds that whine a lot.
Before scrolling down this list of dog breeds that whine a lot, you can check out these guides: 6 Best Dogs That Don't Bark or Shed! (2023) and Why Does My Dog Cry When Carrying Toys? 7 Reasons! (2023).
Dog Breeds That Whine a Lot
Different dog breeds are more likely than others to whine. Border Collies and Australian Shepherds, for instance, frequently whine to interact with their human companions. While chasing or following a scent, dogs like Beagles and Basset Hounds often whine. Yorkshire Terriers and Chihuahuas are two examples of toy breeds that occasionally whine when excited or upset.
Let's check out a few dog breeds that frequently whine.
1. Foxhound
Hunting dogs known as "foxhounds" were first developed in England. You can identify them by their high-pitched, characteristic whining bark, which they use to locate the game. Foxhounds are also able to quickly traverse great distances.
Foxhounds can hunt, but they are also well-liked as companions. They form strong bonds with their owners and are devoted and friendly pets. Foxhounds are generally low-maintenance pets, but in order to keep them happy and content, they do need frequent exercise. Although they are brilliant and easily trainable, foxhound pups can be independent and strong-willed.
Foxhounds are wonderful pets for energetic people who love the outdoors. However, because of their potential for training difficulty and their need for patience and consistency, they are not the greatest choice for first-time dog owners. Make sure to do thorough research and locate a trustworthy breeder if you are considering bringing a foxhound into your home.
2. Alaskan Malamute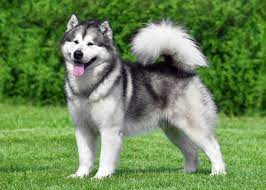 The huge Spitz-type dog known as the Alaskan Malamute was initially developed to pull sleds. This is a tough breed, with a lot of stamina, and it's used to working hard. Malamutes are genetically linked to Samoyeds and Siberian Huskies and resemble their appearance. Although this breed has existed for a very long time, it is astonishing how little has changed about its features or look.
They are lively canines who require a lot of room to explore. Alaskan Malamutes can be quite demanding, requiring constant attention and company from their owners. By design, the Alaskan Malamute can tolerate the harsh cold. It has a thick double coat, so you should prepare to clean up dog fur throughout the entire year.
They require much training and attention, particularly when they are puppies. Early on, regular and strict training will help you manage your puppy's excessive activity and whining propensity. Your Alaskan Malamute will become the dominant figure in the household if you do not devote a lot of time and effort to him and allow him to rule whenever he pleases.
3. German Shepherds
As the name implies, German Shepherds are indigenous to that country. They are generally service dogs and go by the name Alsatians as well. Their excellent trainability, intellect, and endurance have allowed them to be utilized as patrol, search and rescue, and disability service dogs in addition to their original purpose of herding sheep.
Their coats are either black and brown or fully black. They might be small, medium-sized, or huge, and their overall length is always greater than their height. Brown eyes are a given in German shepherds.
They make great watchdogs and bark as soon as something goes wrong. Their noisy disposition makes them wonderful watchdogs, but if they are not properly taught as puppies, expect a lot of whining and pointless barking.
German Shepherds are extremely engaged and ready to learn. They form loving and devoted family companions when properly socialized and taught from a young age.
4. Bloodhound
Scent hounds, called bloodhounds, are thought to have come from Belgium. They are huge canines, and their prominent feature is a pair of oversized, drooping ears. They frequently bay, howl, or whine. Bloodhounds have an incredible sense of smell and a tracking sense.
The police frequently employ them as tracking dogs. However, this characteristic can be a little challenging to manage because they will disregard your directions at the first indication of a strange smell. Taking care of a bloodhound as a pet may be quite difficult. They are large, loud, and awkward, and they like to gnaw on household goods.
To successfully train a bloodhound, you need to have a great deal of patience. Additionally, they are highly loving and get along very well with both kids and animals. Bloodhounds have a very strong sense of independence. This adorable goofball needs to be trained precisely if he is to properly follow his owner's instructions; otherwise, he will naturally follow his instincts and become easily side-tracked.
5. Yorkshire Terrier
Yorkshire Terriers, often referred to as "Yorkies," are small-sized terriers. They are originally from Yorkshire, as the name suggests. They may weigh up to 15 pounds, and their lengthy, silky coats are what make them famous. The breed is somewhat hypoallergenic, and its hair is frequently sleek and lustrous.
Yorkies are incredibly energetic and inquisitive. They are little dogs, but they have enormous personalities, and they are always up for an adventure. They also tend to howl or whine excessively, but you can address these behaviors with the right training.
Yorkies prefer to amuse themselves at home, but they also require a lot of activities and regular walks to keep them interested. This breed is obsessed with attention and will do everything to obtain it. They are extremely trainable, thanks to their intellect and desire to please.
6. Dachshund
Dachshunds are yet another service dog breed from Germany. They go by numerous nicknames, such as "wiener dog" and "sausage dog," because of their distinctive look.
Have you ever heard someone refer to them as badger dogs? That's because their primary purpose was badger hunting. Dachshunds were able to locate and flush out badgers, rabbits, and other creatures that resided in burrows because of their long noses and excellent sense of smell.
They may weigh anywhere between 9 and 32 pounds. They can also have wiry, lengthy, or shorter coats, as well as a long torso. Despite being little dogs, dachshunds are very courageous. They frequently attempt to fight off larger dogs or animals. They make good security dogs since they bark a lot. Particularly for families living in flats, the barking or whining might be a nuisance.
Although they are fairly independent and devoted to their family, Dachshunds may be challenging to train. If you wish for them to coexist with kids or other animals in the house, training is crucial.
7. Basset Hound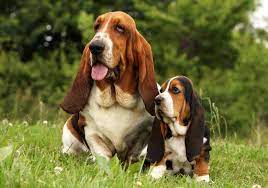 Short scent dogs, Basset Hounds can grow to a max height of 15 inches. Their large torso is supported by tiny legs, and they sport a wrinkled face with floppy ears. They were developed as working dogs to hunt rabbits, and they have incredible tracking skills. Their short-haired coats often come in two or three popular colors.
Basset Hounds crave social interactions and get along well with both youngsters and other animals. They are quite intelligent yet a little resistant, which makes teaching them a fun task.
The main problem with owning Basset Hounds is that they enjoy burrowing and love to howl or scream. Additionally, they have a strong prey drive, so if they aren't busy enough at home, they could try to go hunting alone.
Thankfully, they don't require much grooming. For Basset Hounds, early and continuous training is crucial, particularly if you plan to keep one as a pet.
8. Chihuahua
Chihuahuas are among the tiniest dog breeds ever and are well known for being lap dogs. They have the name of a Mexican state. Their greatest height is 10 inches, and they weigh four to six pounds. They might have long, smooth coats or shorter, nearly bald coats.
Due to their high activity level, chihuahuas want frequent company. They require a lot of care and are very devoted to their owners. They occasionally become loud or "yippy." Chihuahuas are prominent examples of smaller canines being noisier than larger ones.
Because of their size, they may snap when around strangers because they feel intimidated. Although they can become protective of their families, chihuahuas are too little to be proper guard dogs. They may have a molera, which is a soft place in the center of their cranium. Like other small-sized dogs, they have a lengthy lifespan and can live up to 14 years.
9. Beagle
Scent hounds include Beagles. Although much smaller in size, they resemble Foxhounds in looks. Their sharp noses and superb tracking skills came in handy while rabbit hunting or "beagling." They have become some of the most commonly liked dogs.
This is due to the fact that they are kind, smart, and less susceptible to serious health issues. They get along nicely with kids and have strong pet social skills as well. They are favored by pet owners due to their tranquil demeanor and disposition.
Based on their gender and height, beagles can grow to a maximum size of 16 inches and weigh 20 to 25 pounds. Beagles were developed as hunting dogs, so people frequently forget that they require a lot of activity.
They require a lot of walks and wide spaces they may freely roam in safety. Because they like following trails and have keen senses of smell, beagles need access to a sizable, fenced outdoor area where they can amuse themselves.
10. Pomeranian
Spitz dogs are called Pomeranians after the German province of the same name. They are a toy breed, and over the years, they have belonged to a number of prominent people, notably Queen Victoria.
Spitz stand 10 to 11 inches tall and weigh only three to seven pounds. They possess a double coat, flat, medium-length fur, and their ears are constantly erect. They stay warm thanks to the somewhat wooly coat on their bodies. Pomeranians are energetic and like barking a lot.
They grow to their full size in around seven to 10 months and, in general, survive for 14 to 16 years. Poms regularly engage in physical altercations with much larger dogs because they are unaware of their small size. They must have some exercise each day. They can be a little obstinate or have a little bit of an independent streak, but they are simple to train since they want to please their humans.
11. Siberian Husky
In Siberia, Siberian Huskies were developed as sled-pulling dogs. They have several traits in common with Alaskan Malamutes. Siberian huskies are incredibly tough, having endured extremely severe weather conditions. They have a great deal of energy and endurance, which, as with most service dogs, has to be put to efficient use.
They may grow to a maximum height of 23.5 inches, and their double coat is extremely thick and hairy. The coat is designed to shield them from the frigid climate of their home country. They occasionally have striking blue eyes, or heterochromia, in which each eye has a distinct color.
Siberian huskies require a minimum of 45 to 60 minutes of daily exercise. They can't survive in extremely hot climates. Although they are sociable and get along well with others, they are also incredibly intelligent and self-reliant. To ensure that they will obey you as adults, you must train them carefully while they are pups.
12. Australian Shepherd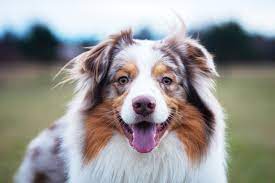 Although it's believed that Australian Shepherds are descended from herding dogs brought from Australia and New Zealand, they are really American in origin. They weigh around 35 to 70 pounds, and their height ranges from 18 to 23 inches. The Australian shepherd is a medium-sized dog breed.
They are very lively and like mingling with others. Aussies are a great choice if you have another pet or kids in the house because they get along with both. They have strong protective instincts because they are shepherd dogs. Although they are normally not an aggressive breed, they like protecting their family and barking at any disturbance.
They have medium-length hair and luxuriant coats. They shed an average quantity of hair, which is either straight or somewhat wavy. Australian shepherds don't need a lot of grooming.
Frequently Asked Questions
What should I do when my dog whines?
The important thing is to avoid giving a dog attention when it whines. Otherwise, you might be inadvertently "rewarding" this behavior. Try to turn away from and fully ignore a whining dog who is seeking attention. For further reading, consult these tips from the ASPCA.
Should I yell at my dog for whining?
It's natural to want to yell at your dog to knock it off, but this reaction is likely to backfire. Shouting can cause stress, and it's also possible that your dog will become even more energized.
Can dogs control their whining?
There are many reasons why dogs whine, and when it's anxiety-induced, they may not be able to control their whining. Generally speaking, training, stimulation, and exercise can help curb whining.
Conclusion for "Dog Breeds That Whine a Lot"
Some dog breeds are particularly noisy and enjoy howling, baying, whining, and barking as ways to communicate. Although training might somewhat reduce this tendency, it is always in their nature to be outspoken. Having a boisterous dog inside the home might be challenging, but noisy breeds also make great watchdogs.
For more guides similar to this list of dog breeds that whine a lot, you can check out:
You can learn more about dog whining by watching "How to stop a puppy whining in the crate IMMEDIATELY." down below:
Garrett loves animals and is a huge advocate for all Doodle dog breeds. He owns his own Goldendoodle named Kona. In addition, he volunteers at the Humane Society of Silicon Valley, where he fosters dogs and helps animals. Garrett enjoys writing about Doodles and believes that dogs can teach humans more about how to live than humans can teach a dog.
Why Trust We Love Doodles?
At We Love Doodles, we're a team of writers, veterinarians, and puppy trainers that love dogs. Our team of qualified experts researches and provides reliable information on a wide range of dog topics. Our reviews are based on customer feedback, hands-on testing, and in-depth analysis. We are fully transparent and honest to our community of dog owners and future owners.