Are you looking for Corgi puppies for sale under $500? If so, then you've indeed come to the right blog. This article will list some of the most reliable and affordable sources where you can get Corgi puppies for $500 or less.
With their furry bodies and adorable tiny legs, Corgis have seen a renewed surge of popularity in the UK and USA since 2018. Popularized by the late Queen of England, these small dogs are loving, intelligent, and loyal dogs that are a treat to be around.
Whether it's their association with royalty or the recent surge in popularity, Corgis don't come cheap! The average cost for a Corgi varies between $700 and $3000, a price many cannot afford. Luckily, you can find Corgi puppies for as low as $500 if you know where to look, and this article lists all the possible secret spots!
Before you scroll further down this guide, you can check out these other Corgi-related articles from our team at We Love Doodles: Best Corgi Breeders in the United States! (2023) and Best Corgi Rescues for Adoption in the United States! (2023).
1. Lancaster Puppies
The first treasure trove of puppies under $500 is Lancaster Puppies – an excellent online forum that connects puppies with loving families.
Lancaster Puppies is neither a breeding service nor a rescue organization sheltering puppies; it is an advertising agency helping puppy sellers find appropriate buyers to adopt their puppies and raise them in loving homes.
If you're interested in adopting a dog from Lancaster Puppies, browse through the website, and you can easily find a wide variety of dog breeds for sale by their breeders. The overall cost for these puppies is generally low as you buy directly from a breeder.
You can also select the "Under 500" option from the website's homepage to be redirected to a page that will display all puppies priced under $500. You can then connect with any breeder who has your ideal puppies.
If you find a puppy you'd be interested in adopting, click on the puppy's profile to find information regarding their AKC registration, date of birth, temper, and other characteristics. You will also find the seller's contact details on the left side of the page. So, you can email or call the seller to set up a meet-and-greet with the puppy to kickstart the adoption process.
But before you initiate the process, inquire about the puppy's vaccination and de-worming status. If everything checks out, you can then bring your puppy home!
Although every dog seller on Lancaster puppies is expected to provide 30 days health guarantee for the dogs they are selling, we still recommend being cautious. Ask the breeder whether they offer a health guarantee against genetic defects or other illnesses prior to adoption to avoid risk.
Lancaster puppies have strict rules against breeders involved in unethical dog husbandry, and those who go against state breeding guidelines. If such a case is reported to the management, they will expel and ban the said breeder from the platform after a thorough investigation.
Lancaster Puppies Details:
2. Adopt-a-Pet
One of the largest non-profit organizations, Adopt-a-Pet is another reliable forum that helps pet owners rehome or adopt their pets. With 20 years of experience, the organization has 15k+ rescues registered animal rescues on their websites and has successfully made 223k adoptions happen!
You can easily find any dog breed in any location you desire if it's available for adoption. All you have to do is open the website, click on the find a pet option, then click on the find a dog option, enter your location, the age of the ideal puppy you're interested in adopting, and the breed, and you will have your desired results!
You can then view the pictures of the dogs and their relevant details. Click on any dog's profile that intrigues you. Adopt-a-Pet allows you to adopt pets from different sources such as rescues, shelters, and even directly from dog owners.
However, dog shelters often have a requirement that demands you to visit the shelter before adoption. Rescues also often have strict selection criteria. For example, they may conduct a home visit and require you to fill out an adoption application.
Dog rescue organizations also often have an adoption fee which helps them cover the medical expenses of the pets under their care. You can also choose to adopt directly from the dog owner, a less extensive process.
Adopt a Pet Details:
3. Use Social Media
From Facebook groups dedicated solely to helping people find free or discounted puppies to Instagram posts where you can easily connect with people giving out their puppies – social media applications don't just keep us connected with the entire world, but they're also excellent marketplaces. In short, social media allows you to find Corgi puppies for sale under $500 easily.
Social media applications such as Facebook are filled with dog owners or breeders who want to give their puppies for adoption. You will find people posting information regarding the dogs they're adopting, such as their breed, age, vaccination status, and pictures.
If you find any dogs you'd be interested in adopting, you can contact the owner directly or reach out to the account or group admin. Some Facebook groups you can find Corgi puppies for sale are as follow:
Free Only Pets in Illinois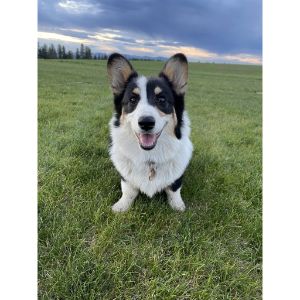 Free Only Pets in Illinois is a Facebook group dedicated to matching dogs with the right people. The group aims to save dogs from ending up in shelters and helps them find their forever homes. The group has a zero-fee policy. So, you will not find any posts of breeders or dog owners demanding a rehoming fee.
However, since it's a private group, you must request to join before being allowed to browse through the posts. Moreover, you will also need to dedicate your time to finding Corgi puppies since the group is not breed-specific, and a variety of dog breeds are listed for rehoming.
Free Only Pets in Illinois Details:
Free to Good Home and For Rehoming: All Animals
Another excellent option to consider if you're looking for free Corgi puppies or Corgi puppies under $500 is the Facebook group Free to Good Home and for Rehoming. The group has countless posts from dog owners or breeders giving away their pets for free or a low rehoming fee to interested buyers who will raise these pets in a secure and comfortable environment.
You can browse the group for posts regarding Corgi puppies. However, beware of any scams, and always prefer to connect with a buyer from within your state to adopt your puppies. This way, you can arrange a meet-and-greet before adoption and meet your potential future furry friend.
If that's not possible, try video calling the owner before adoption to see how healthy or active the puppies are before you welcome them into your home. We also recommend inquiring about the pet's vaccination, de-worming, and spay/neuter status from the owner before you go ahead and adopt a puppy online.
Free to Good Home and for Rehoming: All Animals Details:
If Facebook does not work out for you and you still find yourself looking for your ideal puppy online, turn to Instagram and search the hashtag "CorgiPuppies" or "Corgipuppiesforfree."
4. Use the Power of Google
Several websites offer puppies for under $500, and browsing the web for suitable options will help you find your desired breed at a more affordable rate. To do this, open any search engine such as Google and search "Free Corgi puppies Near Me" (Near me being your location or state), or you can also type in "Corgi puppies for under $500 Near Me."
You will see several links to websites offering Corgi puppies at discounted rates. Browse through these options and check which website seems the most reliable. However, the website you're browsing should also be trustworthy, and the information provided for any dog owner or breeder should be authentic.
To save yourself from scams, always talk to the dog owner through a phone call and, if possible, arrange a meet-and-greet with the puppy before you adopt. During the meet-and-greet, do not hesitate to inquire about the puppy's health and temperament and ask why the puppy is being sold at a lower price. Possible reasons usually include some health defects. So, beware!
5. Try Asking Your Local Vet
Another excellent way to find Corgi puppies for sale under $500 is to ask your local vet. Who can help you better than your local vet in finding a pet nearby? So, pay a visit to your local vet and ask them if they have any clients looking for potential adopters.
You can also inform them beforehand that you're only interested in adopting Corgi puppies. So, they keep an eye out for anyone adopting Corgi puppies and notify you promptly.
Frequently Asked Questions
How much is the cheapest Corgi puppy?
The cheapest Corgi puppy would come from an rescue or a shelter. Typically, you would just need to pay for the adoption and rescue fee which is usually under $200, depending on where you live.
If you're looking to buy a Corgi from a breeder, it's rare that you will find one under $1,000, especially if the breeder is reputable.
Conclusion For "Where Can You Find Corgi Puppies for Sale Under $500"
Corgis are small dogs with big personalities. They look like Golden Retrievers but weigh as much as a French Bulldog, making them the perfect dog for city dwellers. While they tend to be slightly stubborn, Corgis are usually low-maintenance dogs that make happy puppies in all circumstances.
Whether you want to cuddle on the couch with your Corgi on a lazy Sunday or take a long jog in the park early in the morning, a Corgi would do it all with you!
While dogs bring unmatched joy and a unique companionship into our lives, they're still living beings that require maintenance, care, and attention. So, it is understandable if you do not want to spend a fortune to bring a puppy home.
However, know that dogs come with maintenance costs, such as regular vet check-ups, vaccination costs, and grooming costs. So, make sure you can afford to care for the puppy you're bringing home before its adoption.
We hope you find your Corgi puppies for sale under $500 easily! If all else fails, you can also try paying a visit to your local animal shelters, asking around your friends and family, and checking your local newspaper for any advertisements!
If you find this guide, "Where Can You Find Corgi Puppies for Sale Under $500" informative and helpful, you can check out these other dog-related articles from our team:
Before you find a Corgi puppy for sale under $500, you can learn more about this dog breed by watching "Pembroke Welsh Corgi Facts Dogs 101" down below:
Garrett loves animals and is a huge advocate for all Doodle dog breeds. He owns his own Goldendoodle named Kona. In addition, he volunteers at the Humane Society of Silicon Valley, where he fosters dogs and helps animals. Garrett enjoys writing about Doodles and believes that dogs can teach humans more about how to live than humans can teach a dog.
Why Trust We Love Doodles?
At We Love Doodles, we're a team of writers, veterinarians, and puppy trainers that love dogs. Our team of qualified experts researches and provides reliable information on a wide range of dog topics. Our reviews are based on customer feedback, hands-on testing, and in-depth analysis. We are fully transparent and honest to our community of dog owners and future owners.