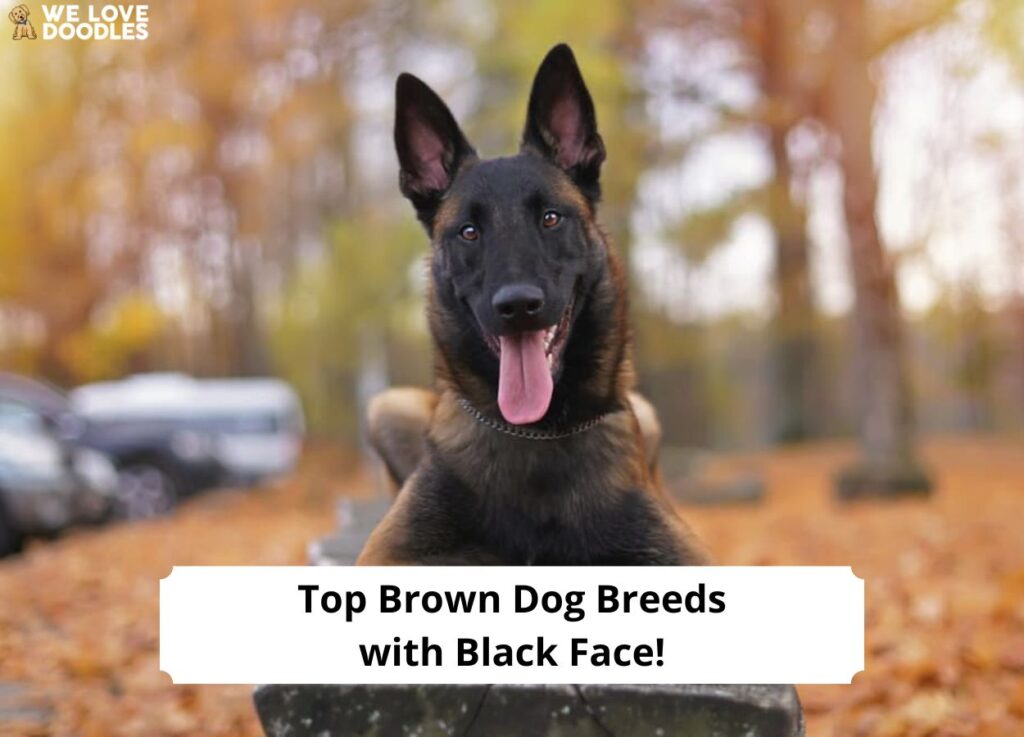 Brown dog breeds with black faces have an uncommon look. Of course, many breeds can "accidentally" display this trait, but there are several brown dog breeds that naturally exhibit black coloration on their face. In this guide, we'll take a look at a few of them so you can choose which is best for your lifestyle.
You can choose to adopt from a reputable breeder or take advantage of the shelters in your area. Whichever you choose, it's best to visit the facility in person, if possible.
Speak to the breeder or shelter staff to get a good idea of your dog's history and of how he or she was cared for. Then, take your pup to the vet for that clean bill of health within a few days of adoption.
Are you ready to find a unique new family member? Let's get started!
Before you scroll down this list of the brown dog breeds with a black face, check out: Bernedoodle Colors (2023) – Tricolor, Black, White, Brown, etc. and The 100 Best Black and Brown Dog Names! (2023).
1. Belgian Malinois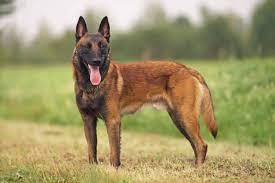 The Belgian Malinois is first on our list of brown dog breeds with a black face. This dog is well-known for its work in the police force and in the military, and the breed isn't right for everyone. To properly care for a Belgian Malinois, you'll need to use firm training techniques, making it absolutely clear to your dog that you are the pack leader.
It's not a bad idea to enroll your puppy in obedience classes from a very early age. There, he'll learn his manners and learn how to obey basic commands. In turn, you will learn how to define your role within your relationship. Make no mistake about it: these dogs are big and their bites pack a hefty punch. An ill-trained Malinois can be a recipe for disaster.
Plan to bathe your Belgian Malinois every other week or so. Brush his hair daily, and plan for a trip to the groomer for a blowout every now and then, too. The dogs shed a lot, and this spa treatment will help protect your home from a carpet of dog hair.
2. Chihuahua
Next on our list of brown dogs with black faces is the Chihuahua. As you may know, your Chihuahua can be any one of a number of colors. One color combination frequently exhibited within the breed is black with brown markings.
Chihuahuas have a reputation for being small and "yappy" but this isn't always the case! Your puppy or adult dog can be trained to be a docile little companion, only barking when there's a legitimate threat. Of course, your Chihuahua isn't a wonderful guard dog. Let your pup alert you to danger, then escort her to a safe place. Chihuahuas think they're much bigger than they really are, and may attempt to protect you.
The Chihuahua is a relatively low-maintenance pup. You'll need to groom your dog once each week or so, and bath frequency will depend upon the time your dog spends outdoors. Plan to bathe your dog about once each month, and don't forget to bring your pup to the groomer for a nail trim, ear cleaning, and gland expression.
3. Doberman Pinscher
The Doberman is another breed that requires owners to tread lightly. They adore their human companions but can be aggressive if provoked. Do your research before adding a Doberman Pinscher to a family with children or with other dogs. They're extremely loyal and can latch on to one human, which can be a wonderful trait or a dangerous one.
A male Doberman can weigh up to 100 pounds, and his strength matches his size. The dogs have, on average, a bite force of over 300 pounds per square inch. That's enough to seriously harm. Dobermans are breed-restricted in many HOAs and apartment complexes, so be sure you obtain written permission before bringing a Doberman Pinscher into your neighborhood.
Don't let us scare you away from the breed, though. The Doberman Pinscher is highly intelligent and will learn commands and good behavior quickly. Given the right environment, these dogs are loyal, faithful, and even cheerful companions.
4. German Shepherd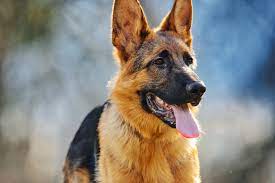 As you'd expect from a dog with its name, the German Shepherd is a herding and working dog. The breed is frequently employed in police work and in the military; they're extremely intelligent and loyal with an even-tempered disposition. Even in crisis or stress, the dogs aren't prone to act out.
German Shepherds have brown and black coloration, and it's easy to find a German that's brown with a black nose! They shed year-round, however, which means your light-colored furniture may also become black and brown. Blow out your pup occasionally and brush her frequently to mitigate indoor shedding.
The German Shepherd is happiest when she's working. Keep your pup entertained and busy with tasks and exercise. A fence is necessary if your dog will be spending time in your yard. The breed can jump up to six feet from a standing position, so a short fence will be an easy obstacle. Speak to a trainer if you need guidance regarding keeping your pup confined.
5. Miniature Pinscher
The Min Pin looks a lot like a Doberman Pinscher in mini form. However, the two breeds aren't related and will have different requirements for care. The friendly little dogs are playful and alert, and they make fantastic family members for seniors and for households with children.
Miniature Pinschers are the class clowns of small dog breeds. They have a fantastic sense of humor, and won't hesitate to chase you around or climb on your shoulders while you watch TV. They have a stubborn streak, so a firm voice and unmistakable commands are necessary to keep your Min Pin under control.
Miniature Pinschers are extremely loyal, and your dog will follow you everywhere. Thanks to their toy size, you can easily fit your pup in a crate to take along with you in the car, on the plane, or just to the dog park for a romp with new friends. Your dog is an extrovert, and making puppy pals will be easy for him.
6. Rottweiler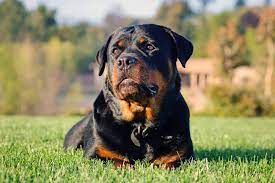 The Rottweiler is a regal, majestic, and absolutely lazy breed. You'll love their personalities if you like to spend Saturday afternoons lying in the sun. Your Rottie is large and muscular with a commanding presence, but at heart, the pups are gentle giants that are lovers, not fighters.
Rottweilers have the intelligence and loyalty to become the guardians of your family. They're easily trained to know when is and when is not a good time to bark or protect. On one hand, your Rottie can be playful with a case of the zoomies. Then, when necessary, your dog will be alert and cautious around strangers who may, in their view, harm their pack.
Despite their lazy nature, your Rottweiler will need at least two hours of exercise each day. If you have a great deal of land, your dog will thrive on simply exploring your yard. If you're in a smaller space or don't have your own property, you should plan to walk your dog several times a day.
7. Airedale Terrier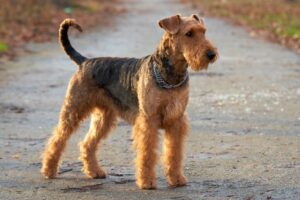 Most Airedale Terriers you meet will have a characteristic brown face, with black markings on the body. But in some cases, you can find one of these brown dogs with a black face, making for an adorable look. The dogs will grow to between 45 and 65 pounds and will stand around two feet tall at the shoulder.
Airedale Terriers are the largest in their category, and they're known for athleticism. The dogs can jump, so make sure their outdoor enclosure is secure. Young kids may feel intimidated by this breed, as the energy they possess can sometimes come across as hyperactivity. But if you have the time to help your pup work out his zoomies, this may be a good fit for your family.
Airedale Terriers don't excessively shed, but you'll need to brush his hair regularly. The texture of your dog's hair makes him prone to matting, and this is especially true if you bring your pup outdoors often. Bathe your dog every other month or so, and keep his hair clipped in the style that's most convenient for you. Your Airedale will look cute with a puppy cut, or you can let his locks grow a bit longer.
8. Beauceron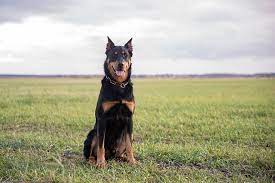 Last on our list of brown dogs with black faces is the Beauceron. This isn't one of the most common dog breeds outside its native France, but the pups are recognized by the American Kennel Club and can be registered, bred, and shown.
The Beauceron is quite a striking dog. Its genes give her alert ears, bright eyes, and a noble posture. The breed generally has a life expectancy of around a decade, but some dogs will live longer. Bring your pup to the vet for regular exams, as heart trouble and other issues may affect your pup. Early detection is key to giving your dog a long and healthy life.
The Beauceron is a smart dog, and he's very loyal to his pack. Training your pup is easy, but be gentle. Your dog will not react well to having commands shouted but instead prefers that you take a gentle but firm approach to teach him his manners.
Worth noting is that the Beauceron can be difficult to find in the United States. If you'd rather adopt a purebred than adopt from a shelter, your best bet is likely to take a look at the breeders on the AKC Marketplace. These responsible breeders adhere to high standards of care and will assist you in any way possible as you search for your dog.
Frequently Asked Questions
What dog breeds have a black mask?
The Akita, Boxer, Leonberger, Pekingese, Pug, and Rhodesian Ridgeback are examples of dog breeds with black masks.
What dogs have a black mask?
The Chow Chow and Chinese Shar-Pei are examples of dog breeds with black tongues.
What dog breed has hair covering its face?
The Old English Sheepdog is famous for its hair-covered face.
Conclusion for "Top Brown Dog Breeds with Black Face"
There's something so endearing about brown dog breeds with a black face. The unique characteristic can be found in many breeds, and whether you're looking for a tiny pup to carry along on adventures or a watchful guard dog to protect your family, you'll find it on this list.
This guide covers only the most common instances of black and brown markings. Keep in mind that you can change the life of a brown dog with a little black face by checking local shelters and rescues, too.
Check out these other lists of dog breeds from our team:
Learn more by watching "The Meaning Behind 21 Strangest Dog Behaviors | Jaw-Dropping Facts about Dogs" down below: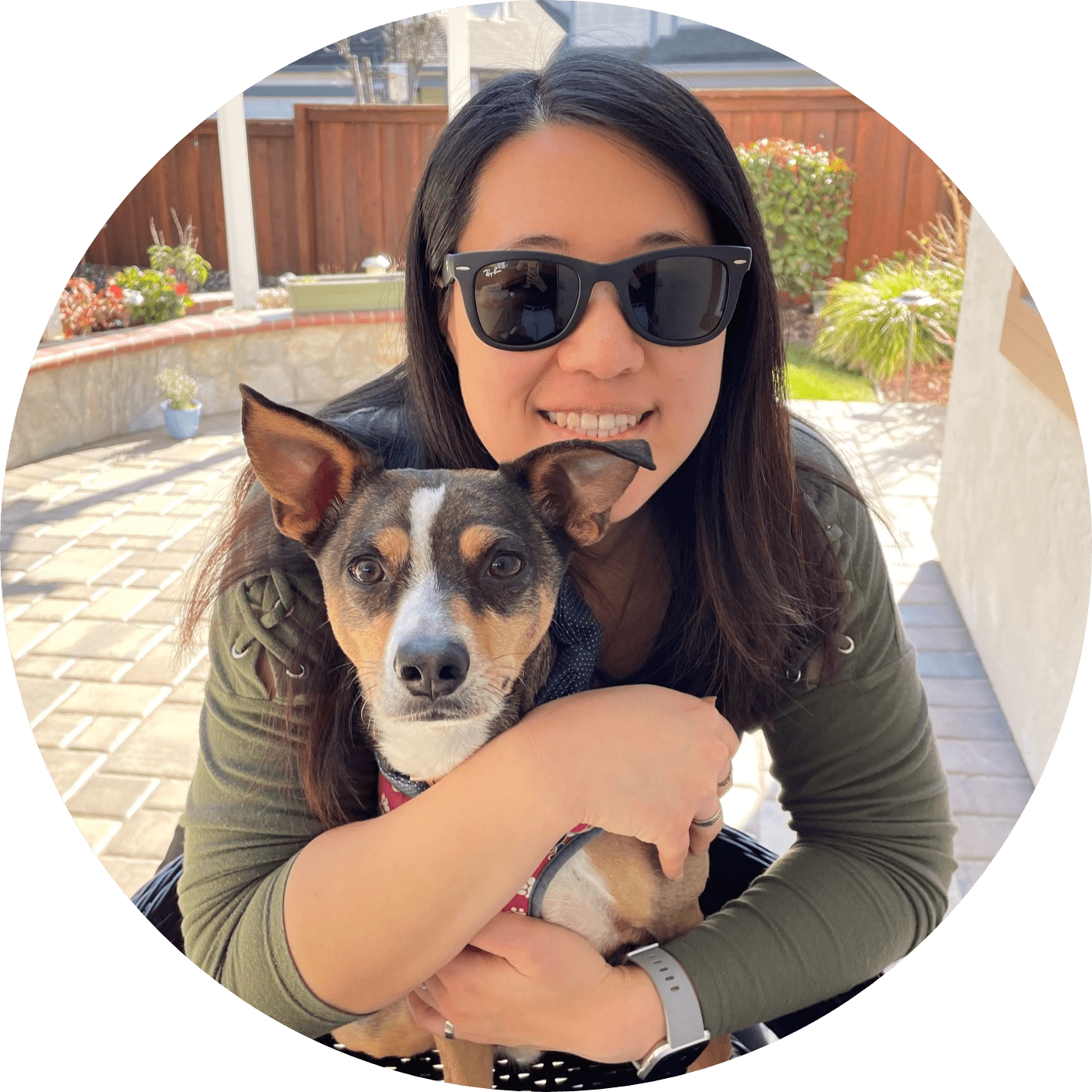 Dr. Sabrina Kong graduated from the Royal Veterinary College in England in 2016 and has been working at a small animal clinic in Northern California since then. She grew up in the Bay Area and got her bachelor's degree from Cal Poly San Luis Obispo. She also became a Certified Canine Rehabilitation Practitioner through a program at the University of Tennessee.
When she isn't in the clinic taking care of her four-legged patients, she enjoys traveling and trying new foods with her friends and her three-legged dog, Apollo. She adopted Apollo from her clinic when he was a puppy with numerous health issues. Dr. Kong truly cares about taking care of animals.