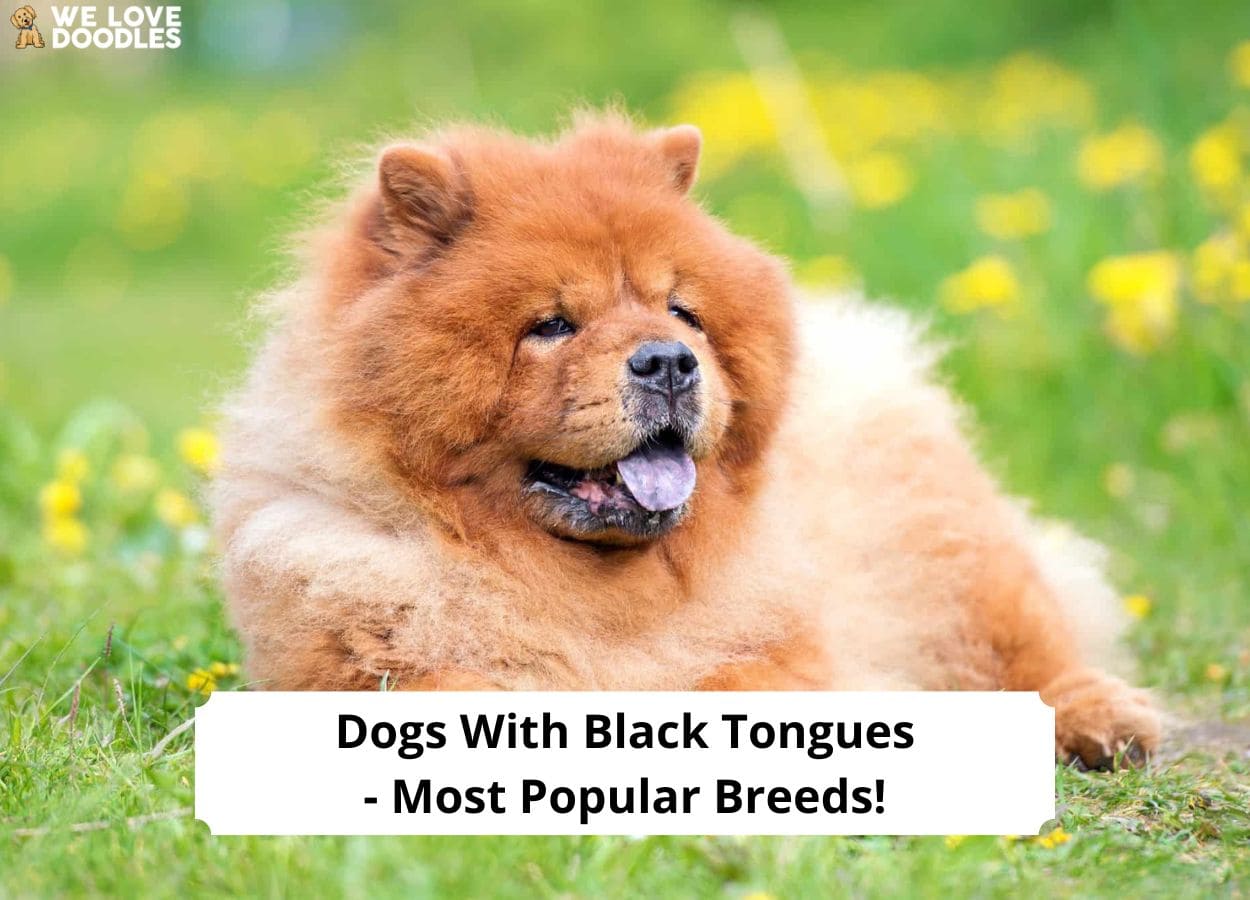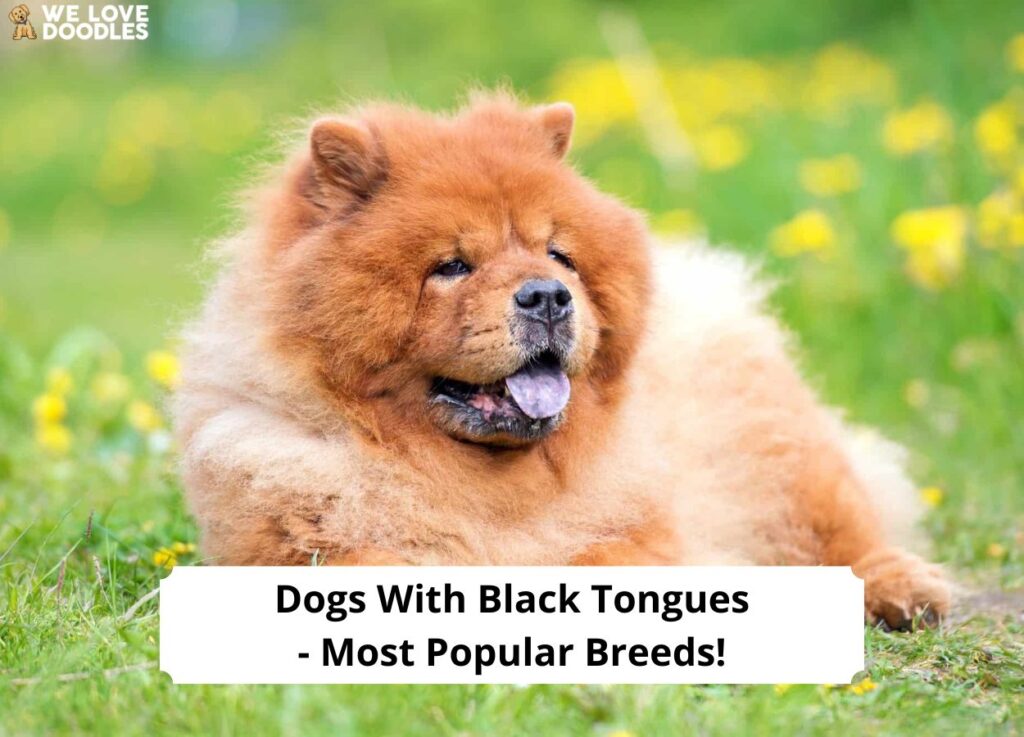 Have you noticed that in addition to fur and eye color, dogs' tongues vary in coloration? Dogs with black tongues are more common than you may think. While the Chow Chow is the most recognizable dog with this trait, there are plenty to choose from if you're interested in adopting a black-tongued dog.
We'll cover each of the dogs with black tongues within our guide. However, it's important to note that not all breeds should have a black tongue.
Before we dive into the dog breeds that carry this gene, let's first take a look at when a black or spotted tongue is cause for concern.
Before you scroll down this list of dogs with black tongues, check out: 7 Best Barn Dog Breeds For Farms & Outdoors! (2023) and Dog Breeds That Can Be Left Alone For 8 Hours! (2023).
Health Conditions That Cause a Black Tongue
Whether you purchase your puppy from a reputable breeder or adopt one through a rescue, your dog will have been checked by a vet from an early age. Part of this checkup will include an oral exam, in which the vet will check out your pup's tongue, teeth, and gums.
Some puppies are born with black or spotted tongues, but others shouldn't have this coloration. Your vet will let you (or your breeder) know whether a black tongue is normal or whether your puppy will need further care and attention.
Oral Melanoma
Oral melanoma is a serious condition that can cause your dog's tongue to turn black. It can be fatal if left untreated. Thankfully there are surgeries and vaccines that can help improve your dog's quality of life and extend his lifespan.
Oral melanoma is usually caused by something called an immunogenic tumor. A vaccine can treat the disorder. Unfortunately, the vaccination can't be used for prevention. Your dog will need to be diagnosed first, then the treatment will be administered.
Speak with your vet about your dog's prognosis. Depending on the stage of the disease, your dog will have varying survival rates and times. Oral melanoma doesn't have to mean hospice for your dog, but you'll need to begin exploring your options as soon as possible.
Niacin Deficiency
Niacin deficiency is another cause of black tongues in dogs. It is an important nutrient for dogs, but you should speak to your vet about the correct amount necessary for your dog. It will vary based on your dog's weight and breed, and there's certainly such a thing as too much niacin.
Quality dog food will usually give your pet the niacin she needs, but if your dog's body isn't using the vitamin correctly it may cause black spots on her tongue.
Black spots on your dog's tongue are just one symptom of niacin deficiency. If left untreated, your dog may show signs of anorexia, diarrhea, and other ailments. Left untreated, a niacin deficiency can be fatal. Seek medical attention from your vet and find an appropriate supplement to give your dog to treat the problem.
Tongue Necrosis
Tongue necrosis is a catch-all term referring to the death of cells on the tongue. There are several reasons your dog may be exhibiting black spots as a result of tongue necrosis. Most commonly, your dog has been exposed to a toxin, has experienced severe heat or cold, has a limited supply of oxygen to his blood, or has a bacterial infection.
Only your vet can determine the cause of your dog's tongue necrosis. If you notice discoloration of your dog's tongue that's not breed-specific, seek attention immediately. While the spots may not be harmful at all in some cases, other causes will warrant medical attention.
Dogs With Black Tongues
Now that you're familiar with a few unnatural causes of black tongues on dogs, let's look at some dog breeds that have naturally black tongues. The coloration on these breeds' tongues is no cause for concern, and will give your dog a unique aesthetic that you'll love!
Chow Chow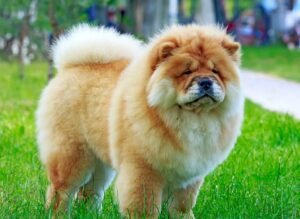 The Chow Chow is the most commonly recognized dog with a black tongue. The tongue coloration is a breed standard, and the American Kennel Club has specific requirements for show dogs' tongue color.
Chow Chows are regal dogs, loyal to their families but not as friendly to strangers. They make wonderful watchdogs and will protect their pack when they feel threatened.
They tend to take on a dominant role, so early training is important. You'll need to establish yourself as the pack leader to avoid aggression in these dogs. Only a well-trained Chow Chow should be introduced to families with small children.
The Chow Chow isn't only known for his bluish-black tongue, but also for his thick, fluffy double coat. These dogs are heavy shedders, so quite a bit of grooming will be required in order to keep your dog comfy and your home clean. Blow out your dog's coat twice a year for the best results.
Akita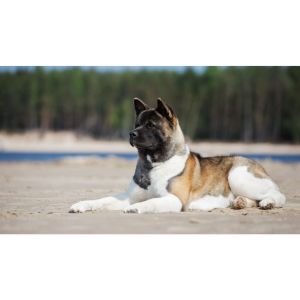 The Akita's tongue color can vary, but it's not uncommon for this breed to have a colorful tongue. There's no cause for medical concern in most cases. It's normal for your Akita to have blue or black spots against the pink of her tongue.
The Akita is another dog breed that doesn't love the company of strangers. Like the Chow Chow, they are a loyal breed and will usually latch on to one member of your family. If that happens to be you, enjoy your luck! Your Akita will shower you with affection, but will also tend to follow you around like a shadow.
The American Kennel Club recognizes the Akita, and these dogs are quite large. This fluffy breed can grow to 110 pounds as an adult. It does not get along well with other dogs, so be sure to introduce an Akita to your home gradually if you have other pets already.
Shar-Pei
The Shar-Pei is Chinese in origin and they're known for their bluish-black tongues. Their little tongues will take on a purple hue as they grow, and spots or full coloration of the tongue should cause no concern. That said, if you notice the color of your dog's tongue changing, please seek veterinary assistance as this may be a sign of a medical issue.
The Shar-Pei isn't just recognizable because he's a dog with a black tongue. You'll also notice his wrinkly little head and shoulders. Your dog will grow to be around 45 pounds as an adult, and the breed is classified as medium-sized.
Shar-Peis can make good family dogs, as they'll generally get along with kids and with other animals. Because they're so steadfastly loyal to their humans, a slow introduction is recommended if you're adopting an adult dog. Should you choose to purchase a Shar-Pei puppy, he will usually fit right in on Gotcha Day.
Pomeranian
If you're adopting a Pomeranian, you'll either get a dog with a black tongue or a dog with a pink tongue! The pink coloration is more common, but there's no need to be concerned if your dog or puppy has blue or black spots on his tongue, provided he is determined to be otherwise healthy by your veterinarian.
Pomeranians are exceptionally smart dogs that are quite the little party animals. Your dog will love being the center of attention whether it's at home with you and your family or in a large gathering. Poms do tend to get a little "nippy" if disturbed, so ensure that your small children are aware of your dog's personal boundaries.
Pomeranians bark — there's no getting around it. It's critical to your dog (and to your own sanity) to train them early so that there's a time to make noise and a time to stay quiet. Note that the Pomeranian is a stubborn little dog, so it's best to begin training as a puppy. Socialize your dog with other animals and humans to help mitigate the incessant yapping that these pups are known for.
Tibetan Mastiff
The Tibetan Mastiff is an absolutely gorgeous beast, and his 100-pound size is even more noticeable when you take all the fluffy hair into account. Female dogs can grow to stand over two feet tall at the shoulder, and males can reach two and a half feet. Of course, they've made our list because they're another dog with a black tongue, though some individuals will have a pink tongue.
There are a few Tibetan Mastiff facts you should know before you decide to adopt. First, the dogs shed massively. You'll need to plan to blow out your dog at least once a year, depending on the climate in which you live. Adopting a Tibetan Mastiff is almost invariably a recipe for disaster if you have dark-colored furniture and don't brush your dog frequently.
If you're thinking of adopting a guard dog for your family, the Tibetan Mastiff is a dream. They're gentle, comfortable and even lazy when they're hanging out with their families, but will be quite an intimidating presence in the company of unwanted strangers. Thankfully, the dogs are very intelligent and eager to please, so it will be fairly easy to teach your dog manners.
Eurasier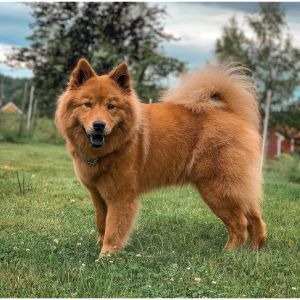 The American Kennel Club has recognized the Eurasier since 2010 and the breed is another with a "signature" tongue. Your dog's tongue could be pink, black, or spotted — all these colorations are recognized as acceptable by the AKC, even for a show.
Of course, you'll need to keep an eye out for unusual markings on your dog's gums or inside her mouth. As you know, this could be a sign of a health condition.
The Eurasier is a shedding dog, and you'll need to plan a trip to the groomer for a blowout at least twice a year. Alternatively, you can do this at home — outside, preferably — if you have the right equipment. You'll need to brush your dog daily between blowouts, too. Use a bristle brush and a slicker brush to keep your dog's coat looking healthy.
Your Eurasier will likely have a calm and gentle disposition. However, they don't take well to apartment life, and they don't like to be left alone. If you work long hours or travel frequently, your dog may get into trouble while you're away. Humans who can commit to providing plenty of exercise and attention are the best match for the Eurasier breed.
Thai Ridgeback
Last on our list of dogs with black tongues is the Thai Ridgeback. This dog will grow from an adorable, chubby puppy to an athletic hunting dog before your eyes. As an adult, it's natural for your dog to have a blue tongue, black tongue, or spotted tongue.
The Thai Ridgeback is long and lean, and makes a wonderful watchdog for your family. They're generally even-tempered, but they tend to be pretty stubborn! Because of their independent nature, you'll need to use firm commands with your Thai Ridgeback. Establish yourself as the pack leader when your dog is still young to avoid confusion and unwanted behavior later.
Unlike some of the other dogs with black tongues in our guide, the Thai Ridgeback requires minimal grooming. Her hair is short and she won't shed much. Using a slicker brush or curry brush will help you remove dead hair from your dog between shedding seasons. There's good news for allergy sufferers, too: these dogs have no undercoat which makes them less likely to spread dander around your home.
Frequently Asked Questions
Do purebred dogs have black tongues?
Chow Chows and Chinese Shar-Pei are both AKC-recognized breeds with black tongues.
Does the color of a dog's tongue mean anything?
Depending on the breed, a pink tongue is a sign of a dog's health.
What deficiency can cause a black tongue in a dog?
Niacin deficiency can cause a tongue to turn black or form spots.
Conclusion for "Dogs With Black Tongues – Most Popular Breeds"
As you now know, there are several medical reasons that would cause a dog to exhibit black or blue coloration on its tongue. Niacin deficiency, tongue necrosis, and oral melanoma are just a few of these. If your pup is showing abnormal spots or markings in his mouth, please see a vet! These conditions can be serious — even fatal — and treatment is critical to your dog's health.
In some cases, though, dogs with black tongues are perfectly normal. This guide describes seven dog breeds that most commonly possess this unique trait. Several of the breeds on this list have black, blue, or spotted tongues, while others display the characteristic rarely.
In any event, it's important to know when a black tongue is normal and when it's cause for concern. Regular vet checks are a must for any dog, and they can help keep those puppy kisses as healthy as possible.
Enjoy these picks? Check out even more dog breeds with these fun lists:
You can learn more about a dog's tongue by watching "👅9 THINGS you did not know about your DOG's TONGUE" down below:
Garrett loves animals and is a huge advocate for all Doodle dog breeds. He owns his own Goldendoodle named Kona. In addition, he volunteers at the Humane Society of Silicon Valley, where he fosters dogs and helps animals. Garrett enjoys writing about Doodles and believes that dogs can teach humans more about how to live than humans can teach a dog.
Why Trust We Love Doodles?
At We Love Doodles, we're a team of writers, veterinarians, and puppy trainers that love dogs. Our team of qualified experts researches and provides reliable information on a wide range of dog topics. Our reviews are based on customer feedback, hands-on testing, and in-depth analysis. We are fully transparent and honest to our community of dog owners and future owners.