Chow Chows can be extremely loyal and adorable companions. Owing to their protective personality and high intelligence, some dog parents wonder whether a Chow Chow can make a good service dog.
We don't typically consider Chow Chows as an appropriate breed to be service dogs. This is because they are often deemed inflexible, distant, and even unfriendly toward strangers. However, with patience and early training, Chow Chows can become excellent service dogs.
Training may seem like a tedious process, and it often is. But we will share some tips and tricks for training a Chow Chow to be a service dog.
Before scrolling down this article "Can a Chow Chow Be a Service Dog," check out these guides: Can a Labradoodle Be a Service Dog? and Can a Goldendoodle Be a Service Dog?.
What Are Service Dogs?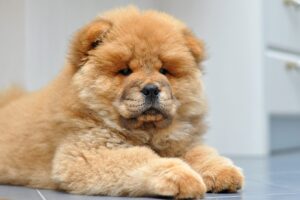 Before discussing Chow Chows as service dogs, it is essential to know what a service dog entails.
Service dogs learn to ease their handler's physical, cognitive, behavioral, intellectual, or mental symptoms. For example, they assist people with autism, seizures, and blindness.
It is important to note that service dogs differ from working dogs, therapy dogs, and emotional support dogs. Service dogs are responsible for specific tasks — for instance, fetching the inhaler. Other kinds of dogs only bring comfort through their companionship.
Can Chow Chows Be Good Service Dogs?
Their tenacity and demeanor can make Chow Chows quite challenging to train. Their reputation also carries the risk of many trainers not taking up Chow Chows since they require more time and patience compared to other inherently friendlier breeds.
With their owners, however, Chow Chows can form meaningful bonds just like any other dog. They can come to accept their families as part of their pack. Not every Chow Chow is the same and each one will develop its own personality.
In fact, many Chow Chow owners believe their dogs lack these characteristics and would make excellent service dogs. If a Chow Chow enrolls in training from a young formative age when their behaviors can be easily molded, they can go on to become an incredible service dog.
Can You Train Your Chow Chow Yourself?
For a Chow service dog, they must have no history of aggressive behavior or trauma that could affect their socialization with their future companions. Training a service dog, particularly a Chow Chow, is not a walk in the park. Well, it may be, if you are taking a full round of Central Park. If you want to train your Chow Chow yourself, it is not just your willingness that matters.
You will need prior experience in training service dogs before you handle a Chow Chow. It is also advised to avoid using negative reinforcement tactics in your training. A stubborn dog like Chow Chow is likely to only become further stubborn when not dealt with care.
You might also want to make sure that the training is not repetitive. Chow Chows can have a very independent attitude and a dignified mind, and they might abandon the training completely.
You can start with basic commands such as "sit" or "shake hands," take your dog to different places where they can socialize with other animals such as dog daycare or with other people such as in parks, and choose the niche you are going to work toward. For instance, training your Chow Chow to be a service dog for blind people.
As said earlier, you need to make sure that your Chow Chow is in training from an early developmental age so they don't have rigid habits that are too difficult to change.
Typically, a service dog can be trained for anywhere between six months to two years but since we are talking about Chow Chows, we know they certainly need more than six months to be adequately trained.
Should I Get a Chow Chow?
Chow Chows live up to around eight to twelve years of approximate age. They are not built to be your running or bike partner due to their hefty frame and unnaturally halted stride. Regular strolls will do. There are two coat types, though, and the silky-coated Chow is frequently more energetic than his coarse-coated sibling.
They are extremely clean dogs and are often compared to cats. Therefore, you will have to deal with little to no dog smell. Chow Chows are great companions for people who are not first-time dog owners and are equally tenacious to match their temperament.
Remember to be careful with a Chow Chow — they may even come to dominate you and assume ownership if you let them. Untrained, they start to turn against authority when they reach adolescence. Chow Chow puppies, therefore, need to be gently and regularly educated from an early age when they are normally non-destructive and submissive.
Chows are very independent dogs, so they may not like to constantly cuddle or receive pats from their owners. Having said that, like any other dog, Chow Chows are affectionate compared to other animals and will stick by you. Chow Chows are typically not a good choice for families with children since they tend to stick to one owner and develop an affinity with them.
Long-term Factors to Consider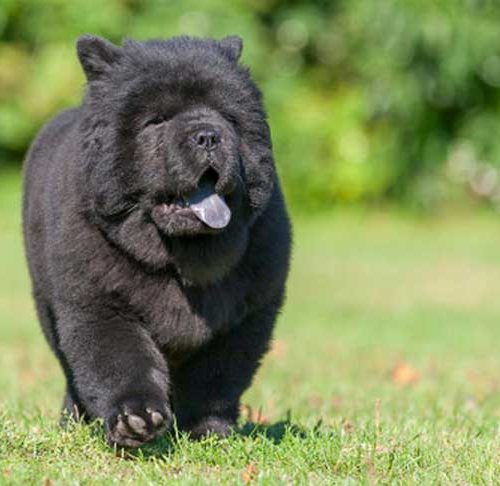 It might be useful to know that Chow Chows shed a lot about twice a year and require regular brushing and combing to avoid matting and tangling. Since they are not receptive to new people, a grooming visit may not work for your Chow Chow.
Shaving their coats to save time, cost and energy is a huge no and if you feel like you might not be able to commit resources to extensive care, Chow Chows may not be suitable.
Chows are often healthy but can suffer from chronic conditions. Hip dysplasia and entropion are two common health issues. Hip dysplasia affects 50% of the Chow Chow population at some time in their lives. To reduce discomfort and stiffness, a Chow with this ailment will require care and attention.
Your breeder should be ready to offer you at least a two-year guarantee against hip dysplasia if you plan to acquire a Chow puppy. As such, you should carefully take into account the potential care and financial resources you will have to invest in your Chow Chow before adopting one.
Is Chow Chow a Smart Dog?
Chow Chows hold a reputation for being "dumb" compared to other breeds of dogs. This is mostly because they are stubborn and aloof. So if you tried to make your Chow Chow learn how to spin but they keep sitting, blankly staring at your face, it is not because they are ignorant. They simply cannot be bothered to learn what you want them to.
If you would like your Chow Chow to be more traditionally "intelligent," it is crucial that their puppy years are spent socializing in environments where they are well-trained to take cues.
It does make sense that Chow Chows are not considered to be the smartest of the dogs, but they are certainly not dumb. Chow Chows consistently rank above other dog breeds in instinctive intelligence.
Instinctive intelligence essentially measures a dog's ability to perform duties it was originally bred to do. Chow Chows were first bred for guarding, hunting, and sled pulling — tasks they are still quick to pick up today.
Can a Chow Chow be a Guard Dog?
Guard dogs are a popular and age-old phenomenon. These dogs guard property and people by either alerting or frightening a potential threat. One of the most popular dog breeds among households for the guard dog is the Chow Chow. They have the aptitude and instincts necessary to serve as effective security dogs.
They have evolved keen hunting abilities as a result of their extensive hunting and protecting history, and in fact, share several genetic traits with wolves. Chow Chows originated in China as guarding and hunting dogs for the temples of the Han Dynasty. While a Chow looks like a harmless teddy bear, it will certainly keep you safe if you have developed a close relationship.
The nature of Chow Chows makes them suitable for this job. For one, they are cautious of strangers, so when they come across a potential threat, they are easily able to sense it. Moreover, Chow Chows are very territorial — they don't like anyone near their space or people.
Frequently Asked Questions
Can service animals be any dog breed?
The Americans with Disabilities Act does not restrict specific dog breeds.
Are Chow Chows good dogs?
Any breed can be "good" or "bad" depending on their circumstances. For Chow Chows, there are some considerations to keep in mind, including their lack of patience and aloofness.
How do you show that a dog is a service animal?
Legally, a service animal must be trained to assist a person with a disability.

Special identification like a tag or vest is not required, though it is unlawful to misrepresent a dog's training as a service animal in certain states like California.
Conclusion for "Can a Chow Chow Be a Service Dog"
Chow Chows can prove to be effective companions for people who are on a similar wavelength to the breed. For example, someone living alone who doesn't require excessive physical touch might find Chow Chows to be the best service dog there could be.
At the end of the day, it is partially a matter of preference and how well a Chow Chow or any other dog has been trained to be of service.
If this guide helped inform you about your Chow Chow being a service dog, check out:
To learn more about this dog breed, you can watch "Chow Chow – Top 10 Facts" down below:
Garrett loves animals and is a huge advocate for all Doodle dog breeds. He owns his own Goldendoodle named Kona. In addition, he volunteers at the Humane Society of Silicon Valley, where he fosters dogs and helps animals. Garrett enjoys writing about Doodles and believes that dogs can teach humans more about how to live than humans can teach a dog.
Why Trust We Love Doodles?
At We Love Doodles, we're a team of writers, veterinarians, and puppy trainers that love dogs. Our team of qualified experts researches and provides reliable information on a wide range of dog topics. Our reviews are based on customer feedback, hands-on testing, and in-depth analysis. We are fully transparent and honest to our community of dog owners and future owners.