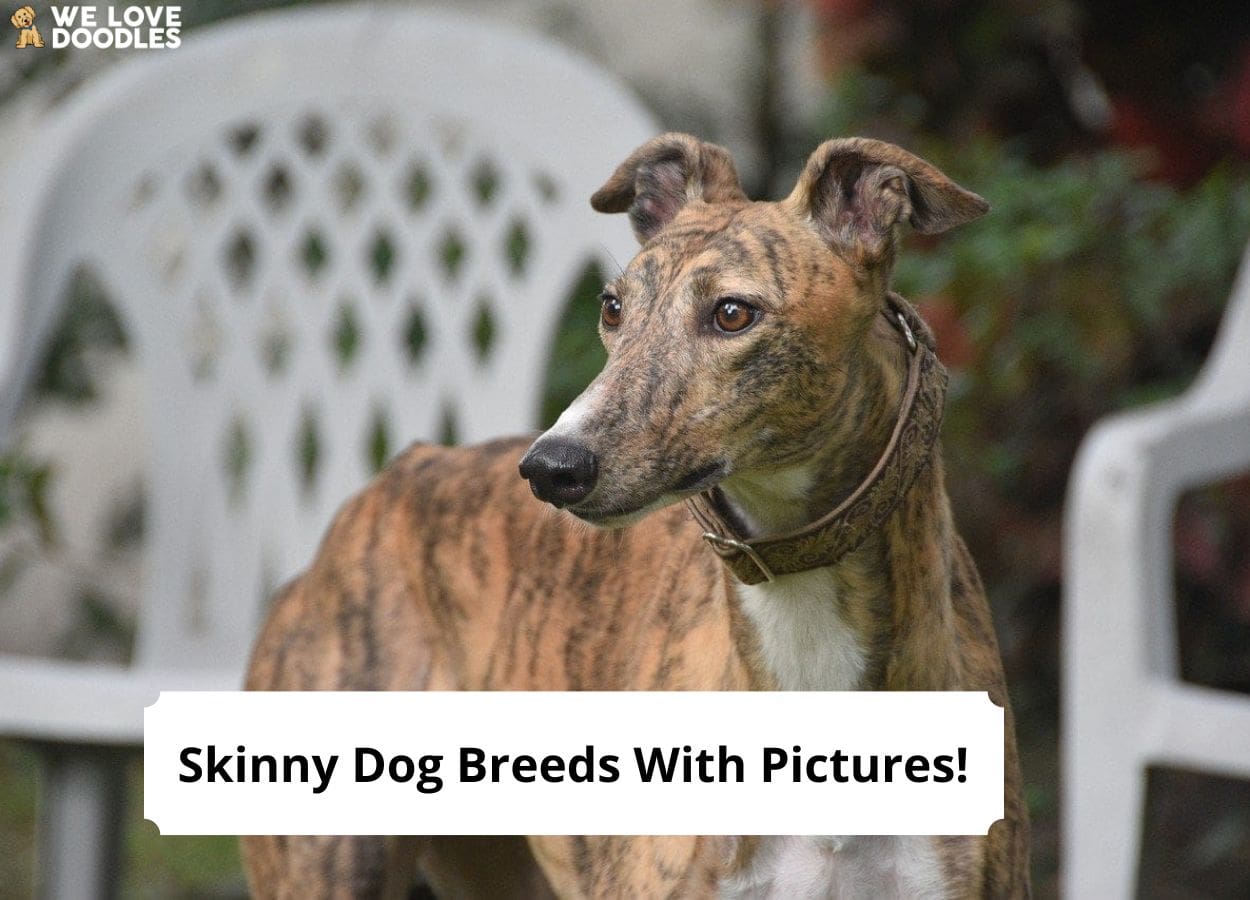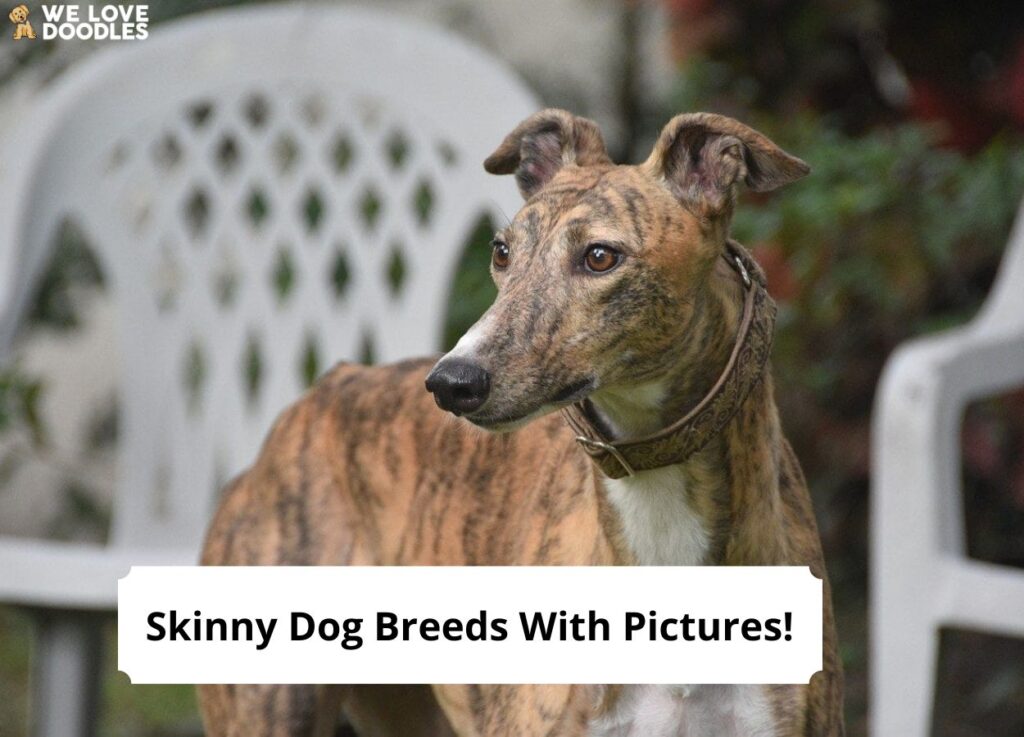 There are various breeds of dogs that are referred to as skinny. Some dogs have a unique body shape that is more similar to that of a standard-looking dog, while others have different proportions, which are considered lanky dog breeds.
While the most popular skinny dog breeds may not be among the most miniature breeds around, they each have their own merits and quirks which set them apart. This blog will show you thirteen dog breeds, typically known as skinny breeds.
Before you scroll down this list of the skinny dog breeds, you can check out these other dog breeds covered by our team: Dog Breeds That Don't Smell or Shed and Mop Dog Breeds.
1. Afghan Hound
Afghan hounds are tall skinny dogs because their shape makes their hip bones visible. Afghan hounds are so slender that you should be able to feel their ribs even through their thick coats.
Afghan Hounds were first bred in Afghanistan's western regions in the 19th century. The breeds quickly became popular with American owners after they were shipped overseas from their native country in the second half of that century.
Some claim that Afghan Hounds were employed as guard dogs and herd dogs, which were compatible with the breed; however, others used them for hunting purposes instead of guarding or herding livestock.
They are known for their silky coat and distinct features, including a long face, thin snout, and large ears. This is an active dog that needs ample room to run around outside every day.
Active families wishing to spend more time outside and interact with one another can consider an Afghan Hound a pet because they make great home pets, thanks to their positive attitudes toward people.
2. American English Coonhound
The American English Coonhounds are among the most powerful and athletic dog breeds. They have muscular and slender physiques as a result of their athleticism. These dogs are well-known for their ability to run long distances at high speeds.
The American English Coonhounds are a breed of dogs that originated in the United States. They are one of the oldest breeds and were used for hunting raccoons by scent.
Although it has been said that the colonists brought these breeds' ancestors from England to America, most historians think the breed is an American development from native hunting dogs.
Due to their high activity level and natural hunting instinct, training these dogs to become valuable family pets will require a lot of patience.
They have a straight tail which they carry high while running or walking but tuck when sitting down. These canines are pretty appealing with their dark brown eyes, hanging ears, and multicolored medium-length coats.
3. Azawakh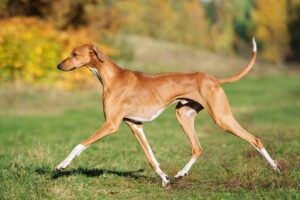 Azawakhs are long skinny dogs that naturally reveal their bone structure and musculature. The bones under the skin of these dogs, which have a short, thin coat and relatively long legs, are visible. They have a short, fine coat with various colors and patterns.
The Azawakh breed originated in the Azawakh Valley of the Sahara desert and was a great hunter and friend to the tribes. It has long served as a protector, hunter, and companion to the Saharan tribes. The Azawakh dogs are regal-looking hunters who are slender and quick.
They are a dog breed that might be a perfect addition to a tiny apartment because they are relatively skinny. Additionally, this kind of dog prefers warm regions and dislikes the cold. They make excellent running companions because regular exercise is crucial for their body and mind development.
4. Doberman Pinscher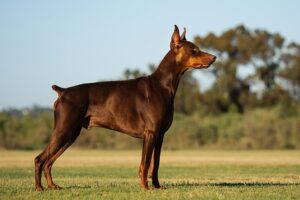 The Doberman Pinscher has a tall, narrow head, a short, sleek coat, and a robust, compact frame. It is considered one of the big skinny dogs due to its athletic physique.
The Doberman Pinscher is a breed of domestic dog originally developed around 1890 by Karl Friedrich Louis Dobermann, a tax collector from Germany.
Doberman Pinschers are incredibly loyal to those they love and will be devoted to the end if adequately trained. They need plenty of exercise daily to stay happy, healthy, and well-mannered.
They make great family pets but do not like being left alone for long periods, so they may not be suitable for everyone who wants their pet canine companion.
5. Greyhound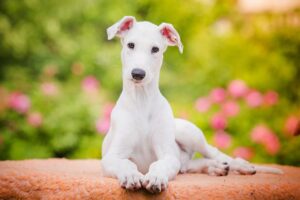 When wondering, "What is the really skinny dog breed?" You're probably thinking of the Greyhound. It is a winner for being tall and slim, and its coats are short and sleek.
This breed of dog is one of the fastest, thanks to its build. The Greyhound is a natural speedster bred for greyhound racing and game coursing. It is also considered the slimmest dog in its category.
Greyhound is an old breed that originated in Egypt around 3000 B.C. It was developed as a hound for hare, fox, and deer hunting.
If you're looking for a dog best suited to live in a condo or small house, it may be worth considering the Greyhound. It doesn't typically bark, either. You can get by with a quick daily walk because it is more like a sprinter than a long-distance runner.
6. Ibizan Hound
The Ibizan has a striking appearance because of its large, upright ears, which can point in any direction, and flesh-colored pigment on the snout and eye rims. Its robust build and slender frame make it one of the dogs that are skinny.
The Ibizan Hound is still revered in Spain today since it was developed on the Balearic island of Ibiza for hunting rabbits and other small animals.
This breed likes to run and hunt over anything else, even though several other hounds enjoy relaxation. Its keen sense of smell, which makes it a member of the hound family, aids in hunting. The Ibiza also makes a great companion for an active family because it is mellow, submissive, and affectionate.
This dog is available in reddish brown and white. Consider an Ibizan Hound if you want a dog with the elegance of a deer. A short, smooth coat covers the Ibizan Hound.
7. Italian Greyhound
The Italian Greyhound certainly has a lot of athleticism for such a small dog. Running is one of his favorite activities; he likes to play indoors and outdoors.
The Italian aristocracy helped the Italian Greyhound become well-known throughout the Renaissance. However, more than 2000 years of ancient artwork from the Mediterranean region contains proof of the existence of this race.
The short, glossy coat of the Italian Greyhound is silky to the touch and possesses elastic skin. The most common colors of this breed are blue and gray, with various coat colors and marking styles.
8. Kanni
The development of Kanni as a hunting dog results in its slim build and short legs. The Kanni dogs were primarily used for coursing competitions, which caused them to be a slender breed.
Kanni, which in Tamil means "pure," is named for its loyalty and sincerity. In India, they have been recognized as a royal indigenous breed. South India's Tamil Nadu is where the breed is indigenous.
Many of the physical traits of the Greyhound are present in the breeds of slender dogs. They only appear in black and tan or black and sable color schemes and have short coats.
Kanni is an intelligent and trainable breed. This breed of dog is generally shy but loyal and protective to its family. They are not destructive if their exercise requirements are met. On the brighter side, they're intelligent, faithful dogs and comparably easy to train.
9. Pharaoh Hound
The ears of the Pharaoh Hound are astonishingly large and pointy. This dog can run at extremely high speeds and has a noticeably muscular body. This dog also has a keen sense of smell, amber eyes, and a thin brown coat.
Its name dates back to the early days since kings utilized it for hunting animals like gazelles. The Pharaoh hound and the Ibizan hound are sometimes mistaken for one another because of their similar appearances; however, the Pharaoh hound is smaller.
These friendly, loving dogs are swift and persistent on the hunt for scent and blend in well at home. Pharaohs are sleek, aerodynamic coursing dogs built for high-speed, rugged terrain prey pursuit.
10. Saluki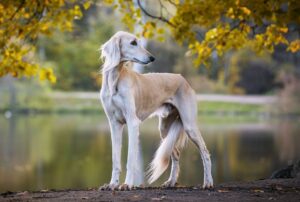 Salukis have long noses and fuzzy coats in various sections of their bodies and are mainly used for hunting. They have a reputation for being swift hunters in the highlands and deserts.
One of the oldest and most expensive canine breeds, the Saluki was the hunting hound of choice for royalty and monarchs. In the past, they have taken down foxes, snakes, bunnies, goats, and squirrels. It is an Afghan hound-related Middle Eastern thin dog breed.
It has long, silky hair on its ears, toes, tail, chin, and legs and is a skinnier, more angular-looking dog. Despite having bony legs, they appear sturdy and supple and are strikingly balanced and symmetrical.
11. Sloughi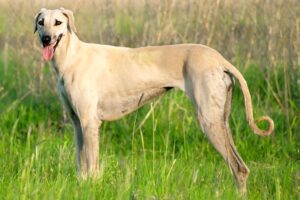 The Arabian Greyhound, also known as a Sloughi, is renowned for its speed and aptitude for hunting. The North African deserts have been the hunting grounds for this breed, which originates there.
Their hair can be any shade of sand, from light to red, with or without a black overlay. The Sloughi has a longer head than body proportion. It has a long, elegant face. The nose is black, and the eyes are dark. The tummy is usually tucked in, and the neck is long and flat.
These canines are exceptionally affectionate and intelligent. Because Sloughis form strong bonds with their families, finding new homes can be challenging.
12. Vizsla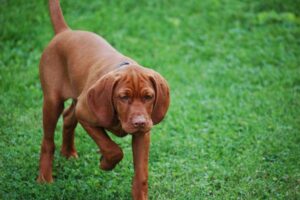 The Vizsla has a dignified, proportionate appearance. It has a thick, smooth coat. Its pendant-shaped ears dangle down to the side of the face, and the skin is taut and free of wrinkles.
Hungary initially bred the Vizsla dog to work as a hunter, pointer, and retriever. Friendly Vizslas adore exercising outside, hunting, or running with their owner.
They are medium-sized and have robust, muscular frames. Typically, these dogs have one of three coat colors such as red, golden rust, or golden.
13. Whippet
Whippets are excellent at lure coursing, racing, and agility competitions. These skinny racing dogs enjoy running and chasing, and their elegant frames make climbing and jumping easy. Whippets have a hereditary characteristic that enables them to be lean and athletic.
Hound breeds known as whippets were created in England in the middle of the 19th century to pursue small prey for use in arena sports. It is a hunting dog breed for taking down tiny prey like rabbits.
This dog is less aggressive and gentler, making it an excellent addition to any family. In addition, whippets make great apartment dogs since they are reticent and rarely bark.
They feature deep chests, long, thin legs, and a narrow waist. They have a low-maintenance, occasionally shedding short, lustrous coat.
Related Questions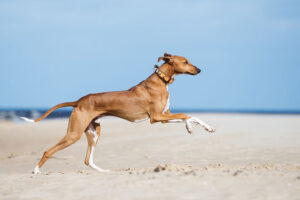 The following are some related questions that will help you understand more about skinny dog breeds.
What is a sighthound, and what makes it skinny?
ighthounds are a dog that hunts prey not by scent but by sight and speed. The alternative name for this breed of dog is the gazehound.
Sighthounds are excellent for racing competitions in addition to being used for hunting. Their tendency to be an active dog breed accounts for their slender appearance. Their quick metabolism also helps explain their lean build.
What is the skinniest dog breed?
The Greyhound is the skinniest dog breed due to the low body fat on its frames. However, their unique and athletic build makes them powerful and impressive racing dog competitors. The Greyhound is a natural speedster thanks to its long legs, flexible spine, and slender bones.
What dog looks like a Whippet?
Whippet-like features can be seen in Italian Greyhounds. Their genetic Sighthound heritage is the cause of their physical similarity. They have similar sleek and lean bodies and a lightning-fast sense for pursuing. These canines have similar traits since they both possess energy and a refined appearance.
Conclusion For "Skinny Dog Breeds"
If you're interested in owning a skinny dog, do your research first. The more you know about the breed, the happier you will be. And if you're seriously considering adopting a skinny dog, find out what type of care it requires and whether or not it's the right pet for you.
Skinny dog breeds have a completely different body structure and metabolism than fat dogs, so keeping them fit is challenging.
These slender dog breeds require extra care and attention and a proper diet to avoid health issues caused by obesity. These dogs need a lot of physical activities, making running and playing with them essentially.
You can check out these other lists of dog breeds from our team at We Love Doodles:
Learn more about the many different types of skinny dog breeds by watching "9 Small Skinny Dog Breeds | DogVela" down below: