From the kinky curls of the Bichon Frise to the frizzy fluff of a Newfoundland, dog coats come in lengths and textures. Perhaps one of the most unique, though, are those puppies that sport coifs more akin to a floor cleaner than a canine companion.
If you're considering having one of these mop dogs as your companion or work dog, you're in the right place. We've rounded up nine best mop dog breeds, including the corded-coat Komodor, the triple-layered Bergamasco, and the crimped Barbet. Ready to meet your new best friend? Let's get started.
Before you scroll down this list of the best mop dog breeds, you can check out these other dog breeds covered by our team at We Love Doodles: Best Medium Non-Shedding Dog Breeds and Cutest Dog Breeds.
List of the Best Mop Dog Breeds
Our team at We Love Doodles compiled this list of the best mop dog breeds for you to check out.
More Dog Breeds: Friendliest Dog Breeds with Images and Dog Breeds That Insurance Won't Cover.
1. Barbet
There's no denying the Barbet's similarity to Goldendoodles, as they both have dense, wavy coats and a good-spirited nature that makes them hard not to love. These purebred athletes are a duck hunter's dream, given their keen retrieving ability and natural love for the water.
The Barbet's coat only adds to its qualifications as an outdoorsman's ideal companion, as it is watertight, allowing this mop dog breed to spend his days swimming out to fetch his owner's fallen waterfowl without his coat getting weighed down.
One would think that this avid adventurer is a high-energy housemate, but Barbets are relatively calm when their working day is over. Their intelligence and amiability attract dog lovers who work hard, play hard, and know the value of relaxing after a long day.
2. Bergamasco
Confident Bergamasco is 70-80 pounds of pure enthusiasm that loves spending their days working, exploring, and demonstrating their unflappable loyalty. They make excellent family dogs, as they develop very different relationships with each member.
Playful tikes will delight the Bergamasco's natural patience, lovability, and playfulness. At the same time, parents will appreciate their zest for life and that they use aggression only as a last resort when their protective instincts are alerted.
They're also cute, as their naturally wavy coat creates a distinctive eyebrow, mustache, and beard that harkens back to their history as rugged Italian Alpine herding dogs. These harsh working conditions are the reason behind their triple coat that consists of a "dog," "goat," and "wool" layers.
The first appears when puppies are puppies, but the dense, curly outer layers grow at around a year old. Owners are tasked with a few hours "tearing" their wool layer into mats, allowing all three layers to wrap around each other, forming flat cords.
That said, once the Bergamasco has its breed-standard mats, there's no need to worry about hair maintenance. You'll never have to spend time brushing or re-matting, and they don't shed at all. They only require a few baths yearly, as the cords eliminate dirt, debris, and bacteria.
3. Havanese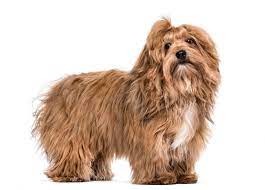 These Cuban cuties are the definition of charming, with wavy locks that perfectly frame their teddy bear-like faces. Most Havanese sport their natural, silky coats, but it's not uncommon for owners to capitalize on the texture to create soft cords.
At a mere ten pounds, it wouldn't seem like this toy breed could handle the extra heavy appearance of corded hair, but if maintained, they are soft and lightweight. Owners must ensure that they are carefully dried after bathtime to ensure their coat stays healthy.
As companion animals, Havanese don't require additional layers of protection like most working mop dogs. Fortunately for this royal pooch, their charisma and sociability make it easy to rock just about any hairdo.
Related: Havanese vs. Maltipoo Dog Breed Comparison and Best Havanese Breeders in the United States.
4. Komondor
You'll want to watch your step around the Komondor. When this energetic herder takes a break, it's easy to mistake this dog's dreadlocks for a pile of Libman-style mop heads. It's the archetype of corded-coat dogs, and they look particularly silly when they take a swim, with their lightweight rolls of fur fanning out atop the water.
Similarly to the Puli, Koms are Hungarian Hounds, though they lack their canine cousins' eager obedience and petite size. These whip-smart puppies have a fiercely independent streak and, up to 100 pounds in size, need a firm hand if you want to be the alpha of your home's pack.
That said, they are by no means ill-mannered dogs. They are playful, affectionate, and empathetic, delighting in positive attention. They are excellent companions for families with older children who won't fall for Kom's mischievous whims.
5. Lhasa Apso
If you're looking for mop dog breeds that scream, "I'm one spoiled, pampered pooch," look no further than the Lhasa Apso. They hail from the Himalayan Mountains, where they hold dominion over monasteries with a fiery, protective personality.
Often sporting a middle part in their lavish coats, Lhasa Apso is an exceptionally affectionate breed with a low tolerance for strangers. They act much bigger than their diminutive size would suggest, especially if they sense trouble, but will eagerly curl up in the lap of their beloved owners when the home is peaceful.
While you wouldn't expect their mop of hair to be very allergy-friendly, Lhasa Apso is a hypoallergenic dog. You'll want to spend some time combing out their coats daily, though, as they are prone to tangles.
Related: Best Shampoos For a Lhasa Apso and Dog Breeds That Look Like Ewoks.
6. Old English Sheepdog
It's hard to resist the charm of an Old English Sheepdog, thanks to its luxurious double-coat mop of hair and effervescent personality. They can be a bit sneaky but are exceptional at following directions until your back is turned.
It's all done in the spirit of fun, though, and never malice. Despite ranking among the most popular dogs of the herding breed group, Old English Sheepdogs are unique in their relatively laid-back personality.
They are happy to spend their days lazing next to you on the couch but can spring into action at a moment's notice should you require their services rounding up a wayward flock member.
Old English Sheepdogs are also lower-maintenance than many other mop dog breeds, but their coats still require plenty of grooming. Their adorably messy hairdo should receive daily brushings to reduce the immense amounts of shed and tangles.
Related: Best Old English Sheepdog Names.
7. Poodle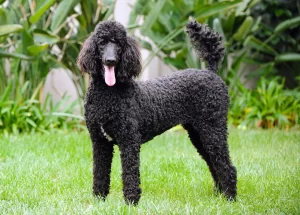 Poodles may be best known for their piles and piles of incredibly kinky curls, but many avid owners are opting for a more off-beat look by twisting these spirals into cords, putting them firmly in the rankings for a best mop dog breed.
Elegant and aloof in the presence of strangers, Poodles have, historically, been hailed as prissy puffballs, but any owner knows that this aristocratic companion is intelligent, athletic, and incredibly loving.
These French dandies offer equal shares of protection and playfulness, from the tiniest toy to the stately standard size. They love to work, requiring plenty of activity in the form of agility training, tricks, and exercise, but they don't mind curling up with their owners for a night on the couch.
For potential Poodle owners drawn in by the personality but wary of their high-maintenance coats, cording their curls can take a bit of the pressure off. These locks don't require hours of grooming to untangle, as the kinkiness of their coats locks tightly.
Related: Important Facts About The Moyen Poodle and Poodle Rescues For Adoption in the United States.
8. Puli
The agile and hardworking Puli is well-known in its native Hungary for its ability to crowd massive control herds of sheep, despite the enormous mop of corded hair it sports all over its muscular body.
Pulik are closely related to the Komondor, but at around 30 pounds, it's a much smaller option for families who want to welcome mop dogs into their homes. Just be prepared for a bundle of energy with a strong herding instinct that will happily spend every moment by your side.
Owners who suffer from allergies will appreciate the Puli's low-shed coat, but grooming can be challenging for even the most experienced dog enthusiast. While it's safe to cut this loveably bossy puppy's dreadlocks after they start growing in at around two, breed standards require carefully hand-twisted cords that sweep the floor.
9. Spanish Water Dog
Like the Havanese, Spanish Water Dogs don't naturally grow corded coats. Instead, they develop medium-length, kinky curls that are the perfect texture for owner-assisted twisting to create those distinctive dreadlocks.
These ancient puppies from the Iberian Peninsula are medium-sized, weighing around 40-50 pounds when fully grown, and look more like stuffed animals than their vigilant herder, retriever, and home security system.
Spanish Water Dogs are loving, lively, and absolute balls of energy that require a vigorous daily regimen of exercise to exhaust their limitless drive.
Owners who neglect to stimulate their dog through agility and obedience training will live to regret it, as these puppies will make their fun if necessary. If you're willing to put the work in, Spanish Water Dogs are loyal companions that will work tirelessly for little more than love and affection.
Related: Big Dogs That Don't Shed.
Why Do Mop Dogs Exist?
In addition to looking cute, these doggy dreadlocks serve a purpose – protecting the dog from the elements. Many mop dog breeds are herders who have an essential job regardless of the weather.
Owners work hard to carefully hand-roll their cords once their adult coat is entirely in place, and it works as an insulating layer that helps protect the puppy from extreme heat, cold, rain, and snow.
How Much Does a Mop Dog Cost?
The cost of a mop dog will depend on the breed and the breeder. The price will be higher if you're looking for a high-quality show dog. The Barbet is one of the most expensive, between $2,500 and $4,000. Owning a Poodle is more affordable and can set you back from $600. The other breeds cost between $1,000 and $1,500.
Related: Weird Dog Breeds with Pictures.
Tips for Grooming Mop Dogs
Unlike short-haired dogs or smooth-textured long coats, most mop dog breeds require additional considerations to maintain healthy, handsome cords. It's typically a full-day affair, as the thick locks need a little extra help to dry.
When grooming your mop dog, follow these steps for the best results:
Start by setting the tone for a positive experience. Avoid grooming if you already have a lot on your plate that day or woke up on the wrong side of the bed. The happier and more optimistic you are, the less stressed your dog will be.
Sit with your puppy, and while speaking calmly, separate their cords to pull out leaves, grass, and other debris. It's easiest to make this part of your daily routine to avoid the coat becoming overwhelmingly messy.
Once the larger pieces of debris are removed, move on to bath time. Place your dog in the tub, rinse them off with water, and work shampoo through their hair and skin. Carefully separate the cords, running your fingers between them to ensure you wash away all the dirt and germs.
Rinse, rinse, and rinse some more. Those doggy dreadlocks can soak up soap like a sponge, so you'll want to continue pouring water through their coats until it runs completely clear Leaving soap behind can dry out or irritate their skin.
Wring out the cords, tightly squeezing out any excess water. You can work in patches rather than individually, as long as you do this for each piece of hair long.
Using a fluffy, absorbent towel, work your hands through their hair as close to the skin as possible. Then, pat dries the top of their fur. Be careful not to rub the cords, as this can make them loose and curly.
The next step depends on whether or not you have access to a doggy hair dryer. Letting your puppy air dry is fine, but be cautious about sending them out in frigid weather. It can take hours and hours for the cords to dry completely, so investing in a grooming dryer might be the best option.
Trim the cords and shorter, non-dreadlocked hair on the paws and belly. Carefully trim your dog's nails, keeping a close eye out for the quick. Shining a bright light up from the underside of the nail can help you stay away from the blood supply.
Reward your pet with plenty of pets and an extra special treat for a job well done.
Related: Funny Dog Breeds That Will Make Your Day.
Conclusion For The "Best Mop Dog Breeds"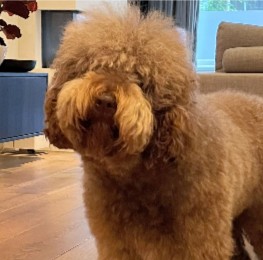 Mop dog breeds aren't ideal for pet owners who don't have experience working with long-haired canines, but that doesn't mean you can't learn. In return for your willingness to keep their coats clean and healthy, you'll be rewarded with plenty of love, snuggles, and adventures once your puppy establishes itself as part of your family.
You can check out these other lists of dog breeds from our team at We Love Doodles:
Learn more about the many different types of mop dog breeds by watching "6 Unique Dog Breeds with Dreadlocks" down below: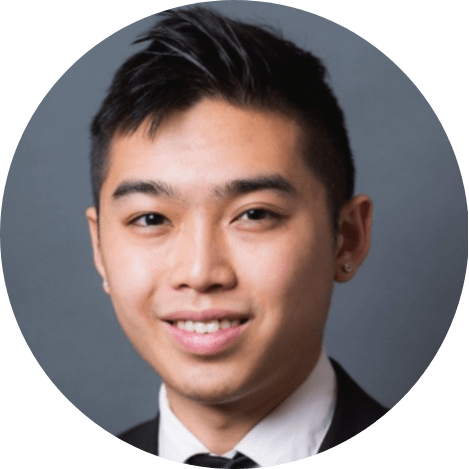 Andy is a full-time animal rescuer and owner of a toy doodle. When he's not saving dogs, Andy is one of our core writers and editors. He has been writing about dogs for over a decade. Andy joined our team because he believes that words are powerful tools that can change a dog's life for the better.
Why Trust We Love Doodles?
At We Love Doodles, we're a team of writers, veterinarians, and puppy trainers that love dogs. Our team of qualified experts researches and provides reliable information on a wide range of dog topics. Our reviews are based on customer feedback, hands-on testing, and in-depth analysis. We are fully transparent and honest to our community of dog owners and future owners.