The Lhasa Apso is a beautiful dog breed, and like all dogs, they need to be groomed correctly to stay healthy and look their best. This buying guide will help you choose the best shampoo for your Lhasa Apso, considering their unique coat type and needs.
With so many dog grooming products out for the aspiring at-home dog groomer, it can be tough to decide what to buy. This is especially true when it comes to shampoo; with all of the different types, scents, and ingredients, how can you know which one is best for your Lhasa Apso? Here are a few things to keep in mind while shopping around.
The first thing you should consider is your dog's coat type. Lhasa Apso's have long, thick, and often oily coats, so you'll want to look for a shampoo that can address those specific needs. You'll also want to find a formula that won't strip away the natural oils in your dog's coat, as this can lead to dryness and irritation.
You should also take into account any skin conditions your Lhasa may have. If they suffer from allergies or other sensitivities, you'll want to find a hypoallergenic shampoo that won't irritate their skin. Alternatively, if your dog tends to get dirty and smelly quickly, you may want to invest in a shampoo designed to fight odors.
In a rush? Here are the top dog shampoo picks!
Product
Best Overall
We Love Doodles Shampoo
Runner Up
Espree Silky Show Shampoo
Best Dry Shampoo
kin+kind Dog Shampoo
Image
The We Love Doodles dog shampoo is a 4-in-1 product that cleans, conditions, detangles, and moisturizes the coat. It is also safe for use on Lhasa Apso puppies and adult dogs of all ages. This organic pet shampoo features a natural surfactant for foaming, solubilization, and emulsification. It also comes with a 100% money-back guarantee if you don't like this dog shampoo.
The We Love Doodles dog shampoo is crafted with no parabens, no drug ingredients, no alcohol, and dyes and is also soap-free, gluten-free, and pH balanced. This is a vet-recommended pet shampoo that is used by professional groomers in the United States.
Most pet shampoos feature sodium laurel sulfate, which is a known irritant. We Love Doodles Lhasa natural dog shampoo is free of all toxic ingredients, so you can feel good about using it on your Lhasa Apso. Here's the takeaway:
Features
4-in-1 holistic, eco-friendly dog shampoo
Deodorizing and moisturizing formula
100% certified organic ingredients
Suitable for pups 12 weeks and older
Works with all dog breeds and life stages
Affordable for multi-Lhasa homes
No harsh chemicals
This continues to be a popular choice for pet parents looking to keep their pets healthy and free of pests. The active ingredients in this shampoo include coal tar, salicylic acid & micronized sulfur to help relieve skin scaling. 
This shampoo helps with seborrhea and relieves mange and parasitic infections, and is safe to use on dogs and puppies 12 weeks of age or older. We like this formula for itchy skin because it's a paraben, dye, and soap-free pet shampoo and will not remove topical spot-on flea & tick treatments. This product has over 49,900 positive reviews.
Features
Medicated antiparasitic and antiseborrheic shampoo
Veterinary-grade ingredients
Contains oatmeal and allantoin
Antifungal
Bestseller with over 49,900 positive reviews
Crafted with coal tar, salicylic acid, and micronized sulfur 
Helps with inflamed scalp, greasy or waxy skin, red skin rashes, bald spots, itch, and flaky skin 
Most affordable medicated pet shampoo
Espree Silky Show Shampoo is made with natural ingredients safe for all coat types and is best when diluted 16:1 with water. The shampoo is gentle and effective, leaving the coat looking shiny and soft. It is ideal for dogs who need a little extra shine and softness in their coat. 
Espree Silky Show Shampoo is made with silk proteins and natural oils that help to moisturize the skin and coat while gently cleansing away dirt and debris. We like this shampoo for the Lhasa because it features 100% organically grown aloe vera and improves coat texture, shine, and manageability in all coats. This is also a cruelty-free pet product used on pups 12 weeks and older.
Features
Gentle formula
Formulated with natural silk protein and safflower oil
Crafted with 100% organic aloe vera
Uses recycled plastic
Eco-friendly pet grooming product
Crafted with coconut and plant-derived cleansers
Made in the US
As one of the top-selling dry shampoos for dogs on the market, Kin+Kind's Waterless Shampoo for Dogs is a safe and natural way to eliminate itch and odor. 
Formulated with witch hazel, essential oils, coconut, and olive oils, this dry pet shampoo is gentle on your dog's skin and coat. Additionally, it is made in the USA and free of harsh chemicals. Spray on your dog's coat and brush through to cleanse. Use Kin+Kind's waterless shampoo for dogs once a week or as needed for best results.
Features
Natural almond vanilla dog dry shampoo
Rinse-free foam 
Crafted with organic ingredients 
Natural sweet, nutty fragrance 
Certified Leaping Bunny, cruelty- a free pet product
Made in the US
Healthy Breeds Lhasa Apso Oatmeal Shampoo with Aloe is a 16-ounce shampoo that contains oatmeal, aloe vera, and other natural ingredients to soothe and cleanse your dog's skin and coat. 
This shampoo is safe for dogs of all ages and can be used every week to help keep your dog's coat and skin healthy. This breed-specific shampoo for the Lhasa Apso breed relieves itchy, scaling, and sensitive skin. Healthy Breeds Lhasa Apso shampoo can also be used on dogs with allergies.
Features
Breed-specific pet shampoo
Hypoallergenic
Mild oatmeal and aloe formula
pH balanced
Gentle and soap-free
Made in the US
Features an extensive array of pet shampoos
4-in-1 Pet Shampoos
Some other things to keep in mind is the scent of the shampoo (many people prefer unscented formulas for their dogs), any allergies your dog may have, and whether you want a 4-in-1 shampoo/conditioner formula like the We Love Doodles organic pet shampoo to save time and money!
With all of these factors in mind, here are our top picks for the best shampoo for Lhasa Apso's. But first, let's delve into more detail about the Lhasa Apso coat type and show you how to correctly groom your furbaby with a how-to groom your Lhasa Apso video.
Grooming Guide – Lhasa Apso Pet or Salon Trim – Pro Groomer
The Lhasa Apso
The Lhasa Apso, also known as the Abso Seng Kye, comes from Tibet and is part of the AKC and UKC Non-Sporting Group. This breed is one of three breeds native to Tibet.
They have been around for centuries in monasteries and temples. In 1933 the first Lhasa Apso's came to the US by being gifted by the Dalia Lama to an American naturalist visiting Tibet. The Tibetan breed name for the Lhasa is Apso Seng-Kyi, which loosely translates as "bearded lion dog."
The American Kennel Club ( AKC) adds, "The lavishly coated Lhasa Apso is a thousand-year-old breed who served as sentinels at palaces and monasteries isolated high in the Himalayas. Smart, confident, and complex, Lhasa's are family comedians but regally aloof with strangers." These tiny Tibetan watchdogs are known as "mountain dogs" because they can survive in high altitudes. Lhasa's home turf is some 13,000 feet above sea level with extremely thin 40% less oxygen than found in the lowlands. The Lhasa often worked together with the Tibetan Mastiff.
Lhasa coat
This is a compact, muscular breed with a flowing double coat of any color. The coat is heavy, straight, and long. The Lhasa also has abundant hair in the head that falls over the eyes. There are also whiskers and a darling beard on this magnificent breed. The legs have heavy feathering, and the neck, legs, and tail. The hair is also parted from the nose to the dog's tail. The Lhasa coat was made to conserve heat on subzero Himalayan nights. 
The AKC adds that "The dense, weatherproof coat provides warmth on snowcapped mountaintops and acts as a sun shield in the blazing midday sun of the valleys." They explain that "The feathered tail arching over the back is a parasol providing extra protection from the sun, and the lavish facial hair shields the eyes from dust and thistle." While "The feet are round and large, ensuring traction in snow and on treacherous, icy slopes."
Frequently Asked Questions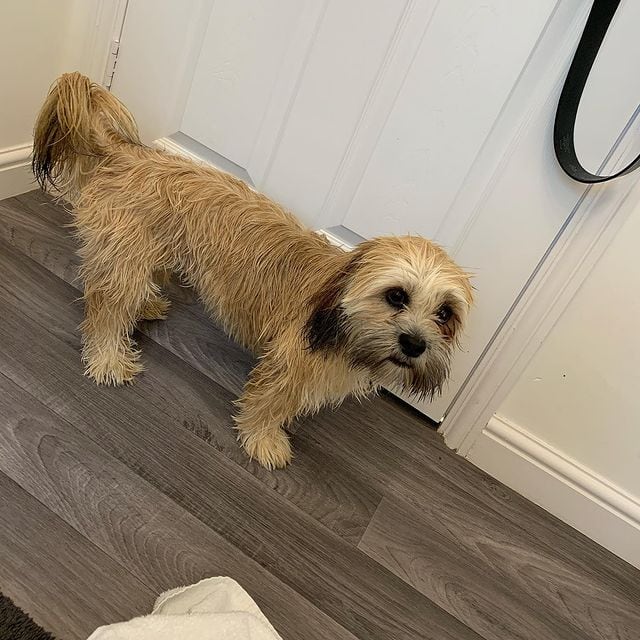 What is the best shampoo for Lhasa?
The best shampoo for the Lhasa Apso is the 4-in-1 We Love Doodles all organic shampoo. This shampoo will cleanse, condition, detangle and add shine to their coat. Not only does this shampoo moisturize, but it detangles as well! 
The We Love Doodles dog shampoo is crafted with no parabens, no drug ingredients, no alcohol, and dyes and is also soap-free, gluten-free, and pH balanced.
Do Lhasa's require a lot of grooming?
Yes, the Lhasa Apso does require a fair amount of grooming. Their long, dense coat needs to be brushed several times a week to avoid matting and tangles. A full brush out 2 to 3 times a week is best, with baths every week. 
Never brush a dry coat; continuously lightly mist with a hydrating spray to avoid breakage. If your pup is clipped and sporting a " modern coat," bathing and brush-outs are every 2 to 3 weeks.
Is it necessary to trim Lhasa hair?
While you don't have to trim your Lhasa Apso's hair, many people choose to do so. Trimming their hair can help to keep it tidy and can also help to prevent matting and tangles. 
Many pet parents keep their Lhasa Apso's clipped in a "puppy cut," a shorter clip that is easy to maintain. You can talk to your groomer about the best trimming options for your dog.
What is the best way to groom a Lhasa Apso?
The best way to groom a Lhasa Apso is to brush their coat regularly with a soft bristle brush. The Lhasa coat should be mat and tangle-free. The coat must hang straight in a light and airy manner. 
The Lhasa Apso also has an eyefall too, it is essential to pull the eyefall back using barrettes or clips to keep it from getting into the eyes. 
The Lhasa Apso's nails should be trimmed short regularly to prevent them from getting too long. It is also essential to clean their ears regularly to avoid infection. 
You should also trim their nails and clean their ears regularly. It is important to bathe your Lhasa Apso every few weeks to keep their coat clean and healthy.

Claudia Bensimoun is a writer who specializes in dog content and veterinary topics! Aside from writing for We Love Doodles, Claudia also writes for other major dog blogs like Fido Friendly, Animal Wellness Magazine, and the United States Dog Agility Association (USDAA). She has a ghostwritten over 50 different dog e-books. Her passions include animal welfare, veterinary research, and wildlife conservation.
Why Trust We Love Doodles?
At We Love Doodles, we're a team of writers, veterinarians, and puppy trainers that love dogs. Our team of qualified experts researches and provides reliable information on a wide range of dog topics. Our reviews are based on customer feedback, hands-on testing, and in-depth analysis. We are fully transparent and honest to our community of dog owners and future owners.