This guide created by our team at We Love Doodles will teach you the differences between a Havanese vs. Maltipoo. Havanese and Maltipoo may look very similar because of their size and long fur, but they are very different. If you are planning to bring a new pet into your home and are trying to decide between the Havanese vs. Maltipoo, consider all these ways. They are the same and different.
Before you scroll down for an in-depth dog breed comparison between the Havanese vs. Maltipoo, you can check out these other dog breed comparisons from our team at We Love Doodles: Toy Poodle vs. Maltipoo Dog Breed Comparison and Maltese vs. Maltipoo Dog Breed Comparison.
About The Havanese
There is only one breed of dog native to Cuba, this cheerful little one. Originally from Cuba, Havana was the capital city of the Havanese. Keeping the breed separated them from the lower social class and gained them the greatest favor from royalty and wealthy farmers.
Maltipoo dogs first appeared in the early 600s and were around until 300 BC. Havanese dogs are more recent. Cuba's first Havanese were likely brought to Cuba by Italian sea captains or Spaniards during the 1600s. According to the Havanese bloodline, the Bichon Frise and the Maltipoo were the forerunners of the breed.
To develop the lively breed of dog we know today, Havanese were crossed with Poodles during the time they were enjoyed by Cuban royalty. Due to its long, silky hair, the Havanese was once called the Blanquito de la Habana (Havanese silk dog). Poodle blood is also credited with the dog's name, the Spanish Silk Poodle.
A few famous individuals who owned these adorable puppies include Charles Dickens and Ernest Hemingway. As Cubans fled Fidel Castro's revolution during the communist takeover, the Havanese was introduced to the United States in 1959. Upon arriving in the United States, the Havanese became highly popular around the globe. Nowadays, many pet owners prefer Havanese as lap dogs.
About The Maltese
The American Kennel Club recognizes the Maltese as an ancient breed whose history goes back to 600 to 300 BC. Malta is located south of Sicily, Italy, where the Maltese are said to be from. A thriving trading station and a famous trading center, the island was already a thriving trade station in 3500 BC.
Dogs are believed to have been introduced to Malta by the Phoenicians thousands of years ago. Maltese are believed to have been imported from Egypt and Southern Europe. It is generally agreed that the breed gets its name from Malta, where it was born.
According to history, the Egyptians worshiped Maltese as healers to bring health. Maltipoo has a religious significance in Egypt, as shown by ancient representations in Fayum, Egypt, depicted in hieroglyphics. The Maltese fascinated the Greeks in the 4th and 5th centuries BC, so they depicted them in art.
Several tombs were erected for ancient Greece and Rome's "Melitae Dog." The miniature dog appears on Golden Age ceramics. The Romans turned the Maltipoo breed into a fashion symbol by calling them "Ye Ancient Dogge of Malta.". History suggests that Claudius had a Maltese dog as a pet so that he couldn't escape this breed's charm.
In the aftermath of the fall of Rome, Maltese history took a darker turn. While Europe was in the Dark Ages, Chinese breeders preserved the breed. During this preservation period, breeders in China interbred them with native breeds and eventually sent them to western countries. Since ancient times, the Maltese have been loved as lap dogs.
About The Poodle
Even though today's Poodles seem to embody the lifestyle of leisure and luxury, remember that these are real dogs bred to perform real tasks. Despite what you might think when you see a primped-up Poodle in the show ring, the breed was originally meant for retrieving waterfowl and fish for hunters and fishermen. In France, the Poodle evolved into its distinct breed, according to most historians.
Appearance Differences Between a Havanese and a Maltipoo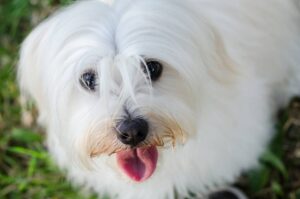 A Maltipoo has lustrous, long hair and is white. It is not uncommon for their ears to be lemon-colored or tan-colored. Their height and weight range from 7-9 inches and under 7 pounds, respectively. Their noses are black, their eyes are intelligent and dark, and their tail is long-haired. There is a possibility that Maltipoos' fur may discolor as they age around their faces.
Havanese dogs come in various colors, including bronze, gray, red, blue, and white, as well as brindles and sables. There were many possible colorings, including cream, Irish pied, parti Belton, parti-color, silver, silver, and tan points. It is estimated that these puppies weigh between 7-13 pounds and reach heights of 8.5-11.5 inches.
Furthermore, their tails are plumed, their ears are long and floppy, and their eyes are brown. Generally, Havanese are slightly larger and heavier than other breeds. The colors and textures of Havanese hair are more diverse. There is no difference in size between the two dogs. It could indicate irresponsible breeding, or it could indicate irresponsible breeding.
Health complications may be more prevalent in puppies bred to fit smaller sizes. For their sizes, there is no doubt that the Havanese and Maltipoo make excellent lap dogs, but generally, the Havanese are bigger than the Maltipoo. Both of these dogs are considered toys or small dogs, but let's take a closer look at how big they are.
Related: Maltipoo Colors with Pictures and Maltipoo Size Guide.
How a Havenese and a Maltipoo's Temperaments Differentiate
In addition to being gentle and affectionate, the Maltipoo is also fearless. A lively personality and a love of human companionship are two traits that make this breed popular, as well as the breed's affection for humans. Children of all ages may find them to be friendly and sweet pets.
Considering how small and fragile they are, they are not a good fit for homes with small children. Toddlers should never be left alone with them. In addition to being affectionate and playful, Havanese are also very sweet. In addition to being intelligent, they are also widely regarded as docile.
People are a big part of the Havanese culture, and they thrive when they receive a lot of attention. It is possible for them to be delicate, just like Maltipoo. The breed is more suitable for family homes with children as they tend to be sturdier and more easygoing.
Related: Maltipoo Pros and Cons – Should You Get This Breed?
Is a Havanese or a Maltipoo Easier to Train?
The Maltipoo breed is known for its intelligence and ability to respond to humans. Despite their stubborn nature, they can respond well to positive, consistent training. Besides being athletic, they are excellent at agility and obedience sports. In addition to being outgoing, Maltipoo needs to be socialized well.
A Havanese is eager for pleasure and sharpness, but they are also very sensitive. The best way to train either of these breeds is to use positive reinforcement rather than scolding them. Dogs of this breed need to be socialized early and trained gently.
Although they tend to be more outgoing and easier to train than Maltipoo, their personalities make them more capable of learning. Don't skimp on socialization, even if your dog is small and friendly. Havanese and Maltipoo dogs are roughly equal in intelligence. There is no difficulty in training either of them.
Watchdogs can be trained of them to be good watchdogs if they have enough intelligence. As long as you understand the concept of training them with triggers and rewards, you should be able to teach them relatively simple tricks like "hand," "sit," "stand," or even "jump."
An example would be to give them a biscuit after they finish sitting down by using a voice command such as "sit." Remember not to carry them to the potty when potty training them. Your hands should more often be used to guide them rather than making them walk themselves. This is the owners' most common mistake regarding small dogs like Havanese or Maltipoo.
Related: How to Train a Dog with a Shock Collar and Best Puppy Potty Training Sprays.
Do Havaneses and Maltipoos Have Different Activity Levels?
Despite their abundance of energy, Maltipoo dogs are moderately active. Probably all they need is a walk every day and a fence around their yard or even just a few minutes spent inside. Regarding activity, Havanese need moderate activity and enjoy walks and playtime daily. Ensure that your Havanese doesn't overexert itself.
If your dog starts panting, they are overexerting, and it is time to stop. Having a small dog makes exercising them easier. Make sure to play with them sufficiently regardless of bad weather. It's important to keep in mind that they thrive when their family surrounds them. You will need to exercise with them, so plan.
Related: Best Dog Fitness Trackers.
Health Problems of a Havanese and a Maltipoo
Approximately 12-15 years is the average lifespan of a Maltipoo. Approximately 14-16 years is the expected lifespan of a Havanese. Among the heart issues that Maltipoo can suffer from are patent ductus arteriosus and heart murmurs. They can develop hernias or cleft palates.
Idiopathic cerebellitis and White Shaker Dog Syndrome are both known to affect white-coated dog breeds. Young dogs with white coats experience tremors, which worsen as stress increases. Several gastrointestinal problems may affect Maltipoo dogs, including glycogen storage disease, inflammation of the bowels, and micro venous dysplasia (liver shunt).
They can get encephalitis, a neurodegenerative disease that is inflammatory and autoimmune. A luxated patella and Legg-Calve-Perthes Disease are two orthopedic issues that may arise for them. In contrast, to reverse sneezing, collapsed tracheas are respiratory concerns.
Medical treatment is rarely needed when reverse sneezing occurs. They may still experience genetic eye disorders, even though they aren't at risk. Be aware of breeders who attempt to produce Maltipoo puppies with more brachycephalic heads. Consequently, Chiari malformations can occur on our skull's back, impairing blood flow to the spinal cord and causing additional health problems.
Maltipoo puppies or lines bred to have low blood sugar tend to be prone to hypoglycemia until they are three or four months old. A Maltipoo may also suffer from dental problems around the eyes and tear stains from time to time. Maltipoo puppies are usually not adopted until they are 12 weeks old from responsible breeders.
Separation anxiety is reduced, and socialization is improved. Though most Havanese are healthy, there are a few genetic abnormalities they can suffer from. These include shortened forelegs and hips, heart disease, mitral valve trouble, a condition in which the testicles do not descend, dental problems, and cancer.
It is common to find the same conditions in Maltipoo dogs, such as deafness, liver disease, a shunt, patellar luxation, or heart murmurs. There is a link between the two breeds regarding cataracts and cherry eyes. Besides dysplasia of the spine and hip, Havanese also suffer from hypothyroidism, hyperthyroidism, and sebaceous adenitis (degeneration of the sebaceous glands).
Related: How Long Do Maltipoos Live?
Which Dog Between the Havanese and Maltipoo is Louder?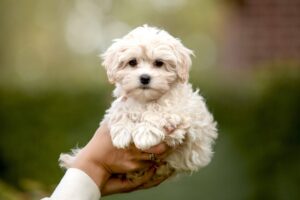 Most Maltipoo bark less than Havanese. It is important not to confuse barking with friendliness, however. The friendliness of these two people will be compared later. Generally, Havanese bark at strangers who pass by your house. They have a good watchdog potential, which may be due to their instinct. However, Maltipoo also has an excellent ability to watch despite generally barking less.
Related: Best Bark Collars For Small Dogs.
Conclusion For "Havanese vs. Maltipoo: Dog Breed Comparison"
Most Havanese people are very child-friendly, making them one of the most popular races in the world. It is a big plus for owners with kids who usually get along well. The Havanese breed is unique, so it is important to observe whether your Havanese can get along well with your children.
When considering Havanese and Maltipoo dogs for those with kids, Havanese can often be more suitable simply because they are smaller than Maltipoo. Compared to many other breeds, Havanese have a good temperament.
It's one of the many reasons why they're loved by so many. Pets like cats get along pretty well with them in general. Compared to other pets, the Maltipoo dog breed is less friendly. The Havanese is probably a better pet for those with another pet at home, such as a cat or another pet.
If you find this dog comparison guide, "Havanese vs. Maltipoo," helpful, you can check out these other dog breed comparisons from our team at We Love Doodles:
You can learn more about these two dog breeds by watching "Havanese vs. Maltese Puppies and Full Grown Dogs" down below: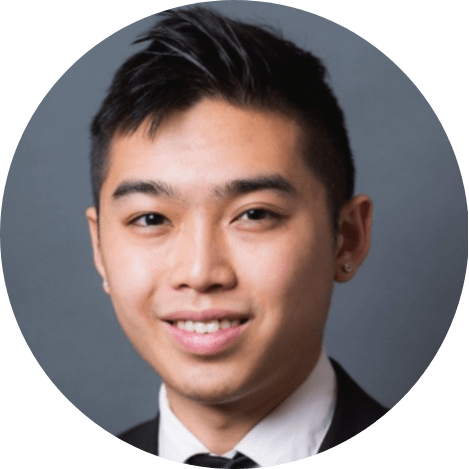 Andy is a full-time animal rescuer and owner of a toy doodle. When he's not saving dogs, Andy is one of our core writers and editors. He has been writing about dogs for over a decade. Andy joined our team because he believes that words are powerful tools that can change a dog's life for the better.
Why Trust We Love Doodles?
At We Love Doodles, we're a team of writers, veterinarians, and puppy trainers that love dogs. Our team of qualified experts researches and provides reliable information on a wide range of dog topics. Our reviews are based on customer feedback, hands-on testing, and in-depth analysis. We are fully transparent and honest to our community of dog owners and future owners.