The Maltipoo is a designer canine breed that combines two incredibly popular breeds: the Maltese and the Poodle. They are known for being very loving and friendly, but they are definitely not a breed for every home. Like every dog breed, the Maltipoo has a lot of positives and a few negatives. 
Please remember that this article is meant to help you decide if this breed is right for your home, but you should definitely do a bit more research before deciding if this is the right dog for you. Think of this as more of a checklist of considerations that will help you to conduct a more detailed search on what's great about the Maltipoo and why it may not be the right breed for you. Without further ado, here is our comprehensive list of Maltipoo pros and cons.
Other articles you will like: Maltipoo Coat Colors and Maltipoo Rescues for Adoption – Top 7 Picks!
A Quick Look at What the Maltipoo Is
Breeders mixed the Poodle and Maltese in an effort to combine some of the most desirable traits of both. Malteses are fantastic little dogs that look like living, stuffed animals, and Poodles are an incredibly intelligent, hypoallergenic dog that has long been a companion to people. Generally, a Toy or Miniature Poodle is the Poodle parent to ensure that the dog will be small. 
A problem with designer breeds is that they may have the health ailments of both parents, or they may have fewer health issues. This is a problem that you should keep in mind if you are considering adopting any kind of designer breed. There is less certainty about the dog's personality, temperament, and health as they are less predictable with a designer breed, but sometimes that is exactly what people want. Sometimes a bit of a wild card makes the adoption that much better. 
Pros of a Maltipoo
Mostly Nonshedding
Because of their Poodle parentage, there is a good chance that the Maltipoo will be hypoallergenic. Keep in mind, it is not guaranteed, but even if your Maltipoo isn't hypoallergenic, they probably won't shed as much. If you are allergic to dog dander, that means you will have much less of an allergic reaction. It's important to note that the term hypoallergenic doesn't mean that you won't have any reaction to the breed, just that it will be a much more muted reaction than to most other dogs. Most people who have Maltipoo pets don't have much of a reaction – and some don't have any. If nothing else, you will probably have a lot less fur to clean up on a regular basis.  
Small Size
If you want a small dog that doesn't have a stereotypical small dog personality, the Maltipoo could be a fantastic match. You can expect your adult Maltipoo to be between 10 lbs (4.5 kg) and 20 lbs (9 kg). At this size, they are great regardless of the size of your home. Their small stature means they can cuddle up in your lap after a short, brisk walk and be perfectly content. Smaller dogs also tend to live longer, although you do need to make sure you know the dog's parental health prior to the adoption so that you can lower the risk of genetic problems and increase the likelihood that your dog will live longer. Both parental dog breeds have well-known genetic ailments, so you can ensure your puppy is far less likely to have problems by checking that the parents have been tested for genetic problems and that they are in very good health. 
Friendly Dog Breed
Maltipoos are an incredibly friendly breed, even if they do like to bark up until the point that they get to say hi to another dog or person. Since neither breed is aggressive, it is unlikely that your Maltipoo will be (unless the dog has been through some traumatic experiences). Some of them can be territorial, so you may need to train territorial behavior out of your puppy, but when you are outside of your home, your dog will probably be as friendly as you would expect from a live, stuffed animal. 
Low Maintenance
They are low-maintenance dogs when it comes to getting adequate exercise. Their small stature means that a good 20-minute walk will keep your dog happy, healthy, and tired. Since they tire quickly, you aren't going to need to set aside a lot of time in your schedule to take your dog outside. However, you will need to make certain you take your Maltipoo out often enough to use the bathroom, but in terms of your dog's exercise needs, you will have a very easy job in front of you. 
Easy to Find a Maltipoo Breeder
They are a popular designer breed, which means they are much easier to find than many other types of designer dogs. This can be quite helpful as it is more likely that you can find a breeder near you. If you do, you will be able to more easily check out the pups to decide which one is right for you and your home. 
Beautiful Looks
The most obvious reason that people want to bring home a Maltipoo is that adorable look. When they bounce around, it is simply endearing, and they remain like that all their lives. But, being so sweet is really one of the biggest attractions and the reason you need to know what could make them less than a good fit in some cases. 
Cons of a Maltipoo
The good points are really the Maltipoo's selling point, but the downsides can be enough to make you look for another dog breed. 
High Cost
For example, since they are a popular breed, they have a much higher cost, with $2,000 for a single dog being a perfectly normal price. Given how relatively new the breed is, it is somewhat unlikely that you will be able to find a Maltipoo at your local animal shelter or nearby rescue group. They are very unlikely to be found except through a breeder. If you want to rescue a dog, you probably won't be getting a Maltipoo. 
Unknown Genetics
All designer breed dogs are a bit of a wild card. There is no way to know what you are going to get because there are two different parent breeds and you don't know which traits, genetics, and temperament your dog will have as an adult. With so little data available about the dog, you may encounter unexpected health problems, and this is why it is absolutely essential to make certain that both of the parents have good genetic backgrounds, have been tested for known genetic issues, and are healthy dogs – if the parents are healthy it is much less likely your Maltipoo will have health problems. 
Separation Anxiety
Maltipoos are prone to separation anxiety, so they do not do well on their own. Being left home alone for hours at a time (even if just for regular school hours) can make them extremely anxious. In the worst cases, it can make them destructive. Therefore, if you or a family member can't be home most of the time, you probably should not adopt this breed. 
Barking
They do have the small dog tendency to be vocal – very vocal. The breed has been around for a little over two decades, and they have come to be known as one of the most vocal breeds, so you will likely hear your dog barking all of the time. Often there will not be any obvious reason for them to bark. Some of them also like to growl, which can be very disconcerting. While they aren't aggressive, growling can make them seem difficult. If you have a lot of time and patience to dedicate to training your Maltipoo, that's fine. If not, you will want to find a quieter breed, especially if you live in an apartment. 
Difficult to Train
Maltipoos are not an easy dog to housetrain. A quick look online will show you that there are many websites dedicated to this training because Maltipoos are difficult to train not to use your home as a toilet. 
Grooming
They may not shed much, but you will need to spend a lot of time grooming your dog. Because of their long fur, matted fur tends to form easily, so brushing will be a daily chore to keep the coat looking clean and free from dirt. 
Can Become Overweight
It is remarkably easy to overfeed a Maltipoo. The combination of their small size, low exercise needs, and love of eating means that you are going to need to be careful not to feed your Maltipoo too much. Don't let those adorable eyes sucker you into feeding your Maltipoo people food. They will survive just fine on the established diet, in fact, they will survive longer if you don't give them more calories than they need every day. Yes, that can be as much of a chore watching your dog's diet as your own, but it is necessary to keep your dog healthy. 
Conclusion for Maltipoo Pros and Cons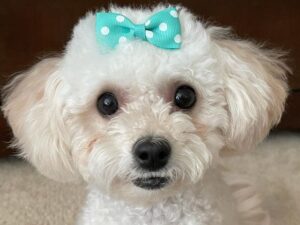 There is a lot to love about the Maltipoo. They can be incredibly affectionate and loving, and they will want to stay by your side when you are home. They can be quite an investment of time, but because of how companionable they can be, they are often more than worth the effort – that's one reason why they don't often end up needing to be rescued. With a lifespan that could be close to 20 years, you will want to make sure that you have the time in the first few years to really train your dog to be the way you want them to be. That will give you a wonderful companion for a long time to come. 
You will also like:
Garrett loves animals and is a huge advocate for all Doodle dog breeds. He owns his own Goldendoodle named Kona. In addition, he volunteers at the Humane Society of Silicon Valley, where he fosters dogs and helps animals. Garrett enjoys writing about Doodles and believes that dogs can teach humans more about how to live than humans can teach a dog.
Why Trust We Love Doodles?
At We Love Doodles, we're a team of writers, veterinarians, and puppy trainers that love dogs. Our team of qualified experts researches and provides reliable information on a wide range of dog topics. Our reviews are based on customer feedback, hands-on testing, and in-depth analysis. We are fully transparent and honest to our community of dog owners and future owners.