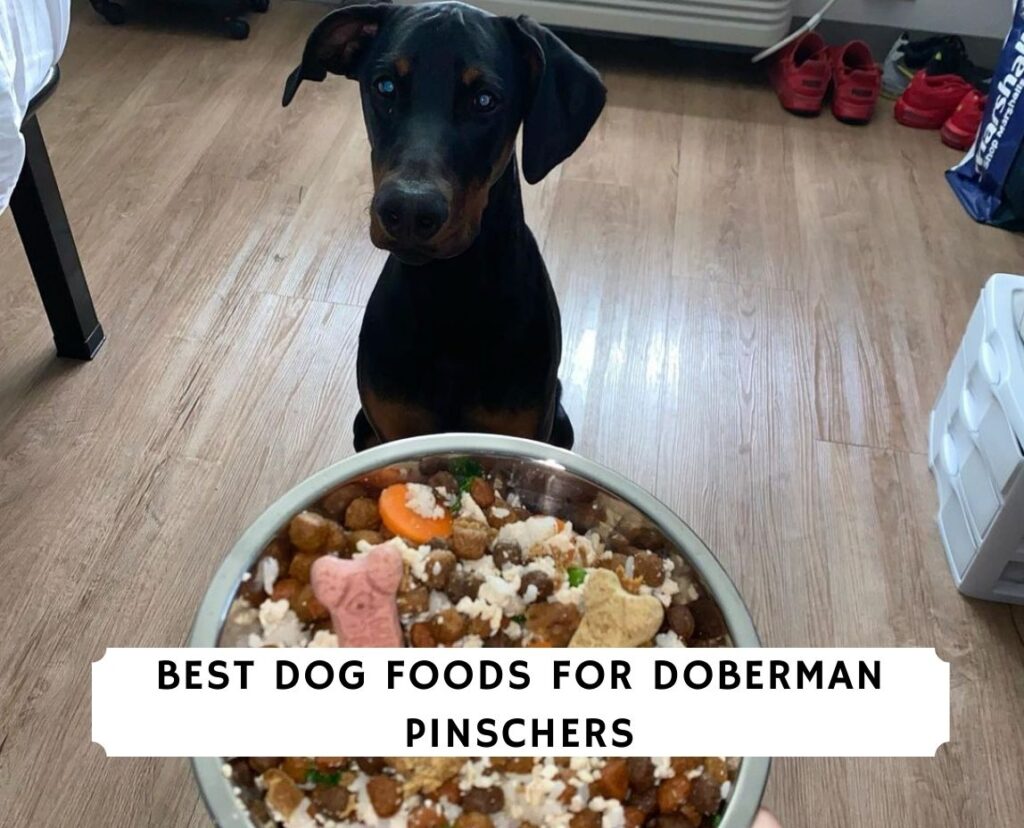 Dobermans Pinschers are sleek, loyal, and powerful dogs with particular needs. In this review, we're going to discuss the 10 best dog foods for Doberman Pinschers. The American Kennel Club(AKC) describes this breed as "Elegant in appearance, of proud carriage, reflecting great nobility and temperament. Energetic, watchful, determined, alert, fearless, loyal, and obedient." 
They also go on to add that "Feeding an excellent-quality dog food throughout his lifetime is critical for the Doberman. The Doberman puppy should be fed an age-appropriate diet approved by the dog's breeder or veterinarian."
Feeding high-quality dog food throughout your Doberman's life is essential for your Doberman. That said, it's important to always communicate with your veterinarian to discuss diet and nutrition. With each veterinary visit, you should do the following:
Discuss the brands and formulas that you're feeding as well as your feeding schedule. This is important, especially for dogs with health conditions that may be directly affected by their diet.

The American Veterinary Medical Association (AVMA) adds that you should also discuss your pet's weight with your vet, discuss your pet's overall health, and get recommendations regarding weight, diet, and exercise.
Benefits of Keeping Your Doberman at a Healthy Weight
The AVMA explains that by keeping your dog at a healthy weight, you're lowering his risk for the following:
Diabetes

High blood pressure

Respiratory disease

Kidney disease

Some forms of cancer
If you keep your Doberman at a healthy weight throughout his life, you're also increasing his life expectancy by more than two years. The AVMA explains that "If your pet has arthritis, keeping him/her at a healthy weight makes it easier to manage the discomfort associated with joint pain. Because excess weight can reduce your pet's life expectancy by more than two years, keeping your pet trim gives them the best chance of a longer, healthier, and pain-free life."
In a rush? Here are the top picks!
Product
Best Overall
Blue Buffalo Life Protection Formula Natural Senior Dry Dog Food
Runner Up
Acana Singles Limited Ingredient Dry Dog Food
Editor's Choice
ZIWI Peak Air-Dried Dog Food
Image
Blue Buffalo Life Protection dog food for seniors features glucosamine and chondroitin to help support joint health and overall mobility. This formula is crafted with essential proteins and carbohydrates to help maintain energy requirements for a healthy lifestyle.
We like this formula because it's holistic and features a combined blend of antioxidants, vitamins, and minerals carefully selected by holistic veterinarians to support optimal immune system health.
Features
 Immune system health

 Meets life stage requirements

 Holistic

 Supports joint health & mobility

 Includes vital minerals

 Senior dog life stage
This lamb recipe features complete and balanced nutrition. The Acana Singles Lamb & Apple formula now includes more meat with 65% grass-fed lamb ingredients, complemented with tasty, whole red apples, providing your dog with the protein and nutrients. 
We like this formula for Dobermans because there are numerous single protein recipes to choose from, like grass-fed lamb or free-run turkey. The first five ingredients include deboned lamb, lamb meal, lamb liver, sweet potato, and whole chickpeas. WholePrey ratios of meat, organs, and cartilage are complemented with delicious red apples.
Features
65% protein-rich premium animal ingredients (protein-rich recipes)

35% veggies/fruit

No artificial flavors, colors, or preservatives

Complete & balanced nutrition

Peak health support

Good for all life stages
Ziwi Peak is a New Zealand brand that uses ethical and sustainable sourcing. They employ free-range grass-fed farming methods. The Peak Prey recipes are crafted with up to 96% meat and provide highly digestible sources of protein and essential amino acids. 
We like this brand because it delivers a high-quality dehydrated, air-dried dog food containing free-range lamb, organs, bone, and New Zealand green mussels. It's also grain-free with a low carbohydrate content.
Features
 Superfood blend of tripe, green mussels & kelp for a nutritional boost

 Air-dried

 It can be used as a toper or as a complete meal

 Suitable for all life stages

.Limited ingredients formulas
This formula is part of a specialized product line and is made for dogs with sensitivities. It contains real salmon or lamb as the first ingredient and is fortified with live probiotics for digestive and immune health. 
It's also available in specialized formulas for adults, small breeds, giant breeds, and puppies, and you have the option of a no chicken and no egg formula. Purina is one of the most reasonably priced dog food brands that is well-trusted in the pet world. This formula used to be called FOCUS Sensitive Skin & Stomach Salmon & Rice Formula.
Features
Fortified with guaranteed live probiotics for digestive and immune health

Over 17,700 positive reviews

Guaranteed live probiotics

New optimized formula for sensitive skin & stomachs

Salmon is the first ingredient.
Diamond Naturals Skin & Coat actual salmon formula for dogs has over 8,800 positive reviews for all life stages. This formula is priced well, so it's excellent for multi-pet households. It also features high-quality protein made with wild-caught salmon and zero grains. This brand provides complete holistic nutrition, and all their formulas are enhanced with superfoods and probiotics.
Features
Over 8,800 positive reviews

Priced well

Holistic and formulated for all life stages (puppy-adulthood)

Includes wild-caught

salmon and zero grains

Best Diet Dog Food Formula (weight management formula)
The Hill's Science Diet Chicken recipe for dogs helps to maintain perfect weight in adult dogs. Over 70% of dogs lose weight within ten weeks of using this formula. Hill's is a veterinary-approved brand, and this specific formula has over 4,900 positive reviews. It's an excellent formula for your Doberman if you're trying to get him to lose some weight. Hills' features no chicken by-product use in any of their recipes and donates to shelter pets.
Features
Vet approved weight management nutrition for dogs

Clinically approved antioxidants vitamin C and E

Over 70% of dogs lose weight

Priced well

Over 4 900 positive reviews

Best Large Puppy Formula
You can feed Royal Canine large puppy dry dog food to your Doberman puppy up until 15 months and then switch over to their adult formula. This is a tailor-made formula for large breed puppies with an expected adult weight of 56-100 lbs. 
It promotes healthy growth for your Doberman's bones and joints through a specialized blend of minerals. We like this brand because each formula is designed for a breed's specific life stage.
This diet comprises of precisely balanced nutrients that supply the most effective nutrition for dogs of different weights and life stages.
Features
 X-small to giant formulas 

 Affordable

 Tailored for lifestage & size

 Complete & balanced nutrition

 Good feeding manual

Topper/Meal Mixer
This formula has over 10,600 positive reviews and is minimally processed raw food. You can use this as a topper or meal mixer to entice your Doberman to eat if he's a picky eater. Just add a scoop of meal Mixers Dog Food topper to dry food or kibble for a raw boost of nutrition & taste.
 This formula features a combo of mixers' consisting of 95% grass-fed beef, organs, bone, and organic fruits & veggies. Every small batch of Meal Mixers freeze-dried raw dog food toppers is crafted in Stella & Chewy's own USA kitchen.
Features
Over 10,600 positive reviews

Natural and minimally processed

Contains no added hormones, antibiotics, grains, peas, lentils, or potatoes 

100% complete and balanced for all life stages

Easy to add on to dry food
SquarePets is a new premium veterinary formulated dog food formula that is terrific. Dogs love this formula because of its flavorful taste. It's an alternative to hydrolyzed protein veterinary diets.
If you're looking for natural sources of glucosamine and chondroitin in dog food, Square Pet New Active Joints formula (ask your vet) with chondroitin and glucosamine is protein-rich nutrition that supports lean muscle mass. It also features L-Carnitine that is beneficial for the metabolism of fatty acids for energy. Even the fussiest dogs will enjoy all their formulas.
Features
 Veterinarian formulated

 Hydrolyzed protein

 Limited ingredient diet

 Omega 3 & 6 fatty acids
Another favorite among pet parents with over 29,000 positive reviews. This formula is available in different recipes like fish, chicken, and lamb. This is a high-quality protein formula made from natural lamb that helps your Doberman build and maintain healthy muscles. This formula contains wholesome whole grains, garden veggies, and fruit.
BLUE Life Protection Formula adult dog food contains essential proteins and carbohydrates to help meet the energy needs of adult dogs and features omega 3 & 6 fatty acids to promote a shiny coat and healthy skin.
Features
 Natural ingredients enhanced with vitamins & minerals

 No by-product meals, corn, wheat, soy, artificial flavors, or preservatives

 Holistic

 Enhanced with LifeSource Bits

 Crafted with wholesome whole grains

 Numerous formulas

 Over 29,000 positive reviews
How Do I Put My Doberman on a Diet?
The AVMA says that there's no one-size-fits-all approach or magic remedy to help your pet shed excess pounds. What works for one dog may not work for another. They add that reaching and maintaining a healthy weight means being committed to a healthy lifestyle and should be done by achieving a balance between the calories that your dog consumes and the calories used for normal body functions and exercise.
Feed Your Doberman a Nutritious and High-Quality Diet
The AVMA explains that you should always feed your pets a high-quality diet and eliminate table scraps and fattening high-quality treats. If you need to slow down your Doberman's food consumption, then you should use a slow feeder or food puzzle that makes it more difficult for them to gulp down their food. They also add that sometimes smaller, more frequent feedings may benefit your pet's health.
Put Your Doberman First
If your Doberman is overweight, you should work together with your veterinarian. You should also check if any health conditions have been caused or made worse by being overweight. You should always focus on your pet's health first and do what's best for your Doberman by working with your veterinarian to ensure optimal health and long life. The most important thing to do is get nutritional advice for your dog, especially if he has a health condition.
How Much Dog Food Should I Feed My Doberman?
The recommended feeding amount on the pet food label may not be the appropriate amount to feed your Doberman if he's either underweight or obese. In this case, you should consult with your veterinarian to check the amount and frequency of feedings to ensure that it's right for your Doberman.
Rapid Weight Loss Dangers for Dobermans
If your Doberman is overweight, you should not embark on a rapid weight loss program. The AVMA adds that "Rapid weight loss can result in serious health problems, so ask your veterinarian for recommendations for healthier eating and exercise that will produce a reasonable and safe rate of weight loss based on your pet's overall health." You should always work together with our veterinarian to develop realistic goals to reduce your dog's weight healthily.
How to Switch Your Doberman's Food Without Your Dog Getting Sick?
According to data from the Association for Pet Obesity Prevention, half of all cats and dogs in the US are overweight. Purina One advises that it's best to transition your pet's food slowly to avoid stomach issues and allow your dog's digestive system to adjust to the new ingredients slowly. Purina has a 7 –day transition plan on switching your dog's food that shows you how to gradually increase the new food and slowly decrease the old food.
Lifestage Nutrition for Dobermans
The Pet Nutritional Alliance defines life-stage nutrition as "Feeding animals foods designed to meet their optimal nutritional needs at a specific age or physiologic state (e.g., growth, reproduction, or maintenance) is known as life stage nutrition." The life stage nutrition concept explains that feeding below or above an optimal nutrient range can have a negative impact on biological performance and health.
They add that the life stage concept differs from "all life stages" feeding and explains that nutrients are added at levels to meet the highest potential need, usually for growth and reproduction. By reaching out to your veterinarian, you'll be able to work together to do the following:
Feed for ideal health

Performance

Longevity
The Pet Nutritional Alliance sums it up by saying that "it is preferable to feed foods designed to diligently meet the individual patient needs. This philosophy is the central tenant to lifestage nutrition and preventive medicine. "
The Doberman Pinscher
The Doberman Pinscher is a large, squarely built, compact dog breed. This breed has a long, blunt, wedge-shaped head with a long tapering muzzle. The Doberman has medium-sized ears which are high set. The Doberman has a glistening coat with red, black, blue, red, fawn, or rust markings.
The dark eyes are almond-shaped, and the ears are cropped erect or medium-sized. Known as a loyal breed that is active and devoted to family, the Doberman makes for an excellent watchdog as well as a sporting dog breed. This is an intelligent and super active breed that is highly trainable. 
That said, there are possible health concerns that need to be considered throughout your Doberman's life. These include the following:
Cardiomyopathy

Osteosarcoma

Hypothyroidism

Von Willebrand's Disease

Wobbler syndrome
The AAFCO adds that you should feed pups a minimum of 22 percent protein for growth and 18 percent protein for maintenance in adult dogs. 
Dobermans do not have any special dietary requirements, but you should watch their protein levels since they are prone to hip dysplasia. Make sure the Doberman dog food you choose has healthy protein sources and does not contain fillers. If you're unsure as to how much dog food to feed your Doberman, you should reach out to your veterinarian to see how many calories are needed based on the following:
Age

Weight

Activity

Other factors including existing health conditions
Dobermans also require the correct amount of fat. However, do not choose an excessively high formula in fat since this can result in weight gain and obesity, leading to several health issues.
Vegetables and fruits are an essential part of your Doberman's diet. They provide dogs with fiber, antioxidants, and vitamins. Look for dog food formulas with added vegetables and fruits.
Puppy food is dog food specially formulated to include the nutrients needed by puppies to stay healthy. It will contain more protein and calcium than dog food since it needs to support optimal growth.
Dobermans are large dogs that require high-quality dog food to maintain their weight and health into old age. This dog breed does best with dog food high in animal protein, provided from whole meat sources. 
Dogs are omnivores and need to have their diet balanced between plant-based products as well as meats. For this reason, pet parents need to choose dog foods that use premium ingredients to ensure their dog is getting the best nutrition.
If you want to protect your Doberman's joints, make sure dog foods use glucosamine in dog food. Do not use dog foods that have 'by-products' in the ingredients list; instead, opt for formulas with meat meals or whole meats listed as top ingredients. All in all, you should never choose dog food based on calorie content. Instead, you should consider the following:
Lifestage

Health conditions

Complete & balanced
When looking at the life stage, here's what to consider:
Recognized life stages are: 
Gestation/lactation

Growth

Maintenance

All life stages
For each life stage, there are different ratios and the number of nutrients needed. In many ways, feeding a high-quality dog food means understanding more about life stages and choosing a good food that supports your dog's life stage. 
It's also OK to switch diets and introduce your Doberman to a variety of foods. You can also introduce your Doberman to a raw food diet with a wide variety of different meats, combine wet canned and dry food, or even home cook for your Doberman. This is quickly done by adjusting the protein levels in your dog's diet and combining commercial pet food with fresh home cooking with meats and more fruits and vegetables. Here's the takeaway:
Frequently Asked Questions
Do I need to pay special attention to my Doberman pup's diet?
A high-quality diet is essential for your Doberman's overall health. Dog food should be rich in proteins and contain various vitamins, minerals, and other nutrients. Dobermans are known for their large size and, when properly taken care of, can live up to 13 years or longer. 
They need dog food rich in proteins and nutrients to live up to their full potential. You should pay attention to what dog food you are giving your Doberman pup. There are many dog food brands available, but not all of them are made with high-quality ingredients. Dobermans are a large dog breed that requires balanced and complete nutrition to support their size and maintenance.
What dog food do I need to give my Doberman pup?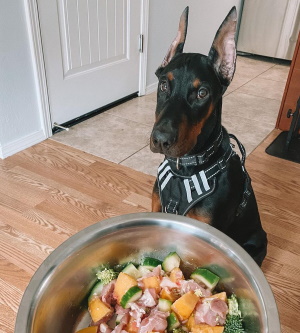 It would help if you looked into puppy food from well-known brands. You can search online to find the puppy foods that are best for your large breed Doberman puppy. You should also check the label to see how much protein is in each serving and compare it with other puppy food labels.
What should I look for in my Doberman's food?
Look for dog food that has the right amount of protein

Does not have fillers

Features omega-fatty acids

Crafted with fruits, vegetables, and healthy proteins such as beef, lamb, and chicken.

Contains animal fat

Features minerals, vitamins & antioxidants

Natural healthy ingredients that optimize immune health

Senior dogs should have glucosamine & chondroitin in their formulas

Stay away from fillers or artificial ingredients
How often should I feed my Doberman puppy?
Doberman puppies should be fed three to four times a day until they are five months old. After that, you can feed your puppy twice a day. It's best to provide smaller meals spread out throughout the day. Keep in mind that puppy food has a high caloric content. This will keep your puppy active and healthy.
You should divide your dog's daily food intake by the number of times you decide to feed them each day to stay healthy. Always read the feeding instructions on the packet because each brand is different. Muscle function and heart development, as well as healthy skeletal growth, are essential in puppy development. Always feed a puppy formula to puppies!
Should I feed a grain-free diet to my Doberman?
A grain-free diet is an excellent option for Dobermans with a sensitive stomach. Dobermans are prone to digestive issues. However, they may have food allergies, and not feeding certain ingredients like grains may be a good idea. You should always reach out to your veterinarian for the best advice.
Do Dobermans suffer from gastric dilation and volvulus?
Gastric dilatation and volvulus, also called GDV or bloat, affect dogs with deep, narrow chests. This means that your Doberman is more at risk than other breeds. When a Dobie suffers from bloat, his stomach twists on itself and fills with gas. The twisting cuts off the blood supply to the stomach and sometimes the spleen. 
Keep in mind that males are twice as likely to bloat as females. If you ever suspect that your Dobie has bloat, you should take him to your vet for emergency care. Bloat can be deadly in a short amount of time. Don't exercise your Doberman an hour before and an hour after feeding.
Still curious on what Dobermans should eat? Check out this video: 

Claudia Bensimoun is a writer who specializes in dog content and veterinary topics! Aside from writing for We Love Doodles, Claudia also writes for other major dog blogs like Fido Friendly, Animal Wellness Magazine, and the United States Dog Agility Association (USDAA). She has a ghostwritten over 50 different dog e-books. Her passions include animal welfare, veterinary research, and wildlife conservation.
Why Trust We Love Doodles?
At We Love Doodles, we're a team of writers, veterinarians, and puppy trainers that love dogs. Our team of qualified experts researches and provides reliable information on a wide range of dog topics. Our reviews are based on customer feedback, hands-on testing, and in-depth analysis. We are fully transparent and honest to our community of dog owners and future owners.