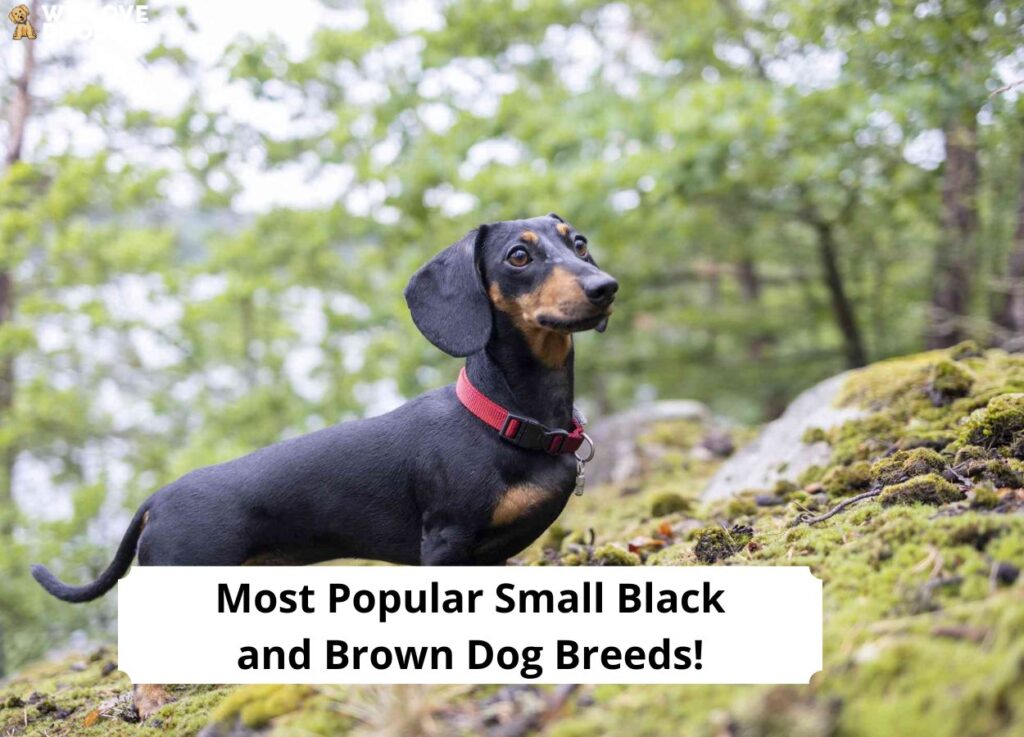 Finding the perfect dog for your home can be challenging. Sometimes you know what size and color you want, but you can't decide on a breed. At We Love Doodles, we understand your challenge. Each breed has something different to offer, even though they may look similar! That's why we've put together this guide to the most popular small black and brown dog breeds.
We hope you find the best dog breed to fit your lifestyle by reading this list. Let's dive in!
Before scrolling down this guide, "Most Popular Small Black and Brown Dog Breeds," check out these other lists from our team at We Love Doodles: Most Dangerous Dog Breeds in the World and Most Aggressive Small Dog Breeds.
15 Most Popular Small Brown and Black Dog Breeds
Several small dog breeds have brown and black coats. That means dog owners who prefer this coloring have many different choices! Popular small black and brown dog breeds include:
Australian Terrier
Beagle
Cavalier King Charles Spaniel
Chihuahua
Daschund
Jagdterrier
Lancashire Heeler
Manchester Toy Terrier
Miniature Pinscher
Russian Toy Terrier
Silky Terrier
Tibetan Spaniel
Toy Fox Terrier
Yorkshire Terrier
In the following sections, we'll look closely at each of these popular dog breeds, covering all the essential details to help you decide which is best for you.
1. Australian Terrier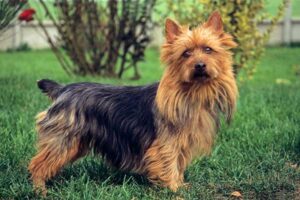 One popular Terrier with black and brown coloring is the Australian Terrier. Although it comes in other colors, black and brown are typical of this breed. The Australian Terrier is affectionate, spunky, curious, and confident, making it a terrific choice for many homes.
The Australian Terrier has a long torso, a lengthy neck, and a coarse coat. Its personality is lively. This breed makes a terrific watchdog due to its innate alertness and curiosity. The Australian Terrier also maintains its ancestors' herding instincts, which means it loves to chase small animals and dig around outside.
2. Beagle
Beagles are small to medium dogs with black and brown coats, typically mixed with white. They are well known for their hunting background and enjoy the company of other animals and people. Beagles are extremely curious and have a happy-go-lucky nature, making them perfect for many households, including those with children.
The Beagle has sorrowful eyes and long floppy ears, giving them the iconic puppy-dog look that dog owners can't resist. This dog breed has a dense double coat that sheds twice a year during seasonal changes. Its coat is smooth but requires regular brushing to minimize shedding indoors.
3. Cavalier King Charles Spaniel
The Cavalier King Charles Spaniel is originally from England. Initially, people bred them as royal lap dogs. These dogs provide the companionship and affectionate nature of a small breed. They are gentle, graceful animals that still possess many of their ancestors' sporting qualities.
Although this breed comes in various colors, the brown and black combination is one of the more popular options. Cavalier King Charles Spaniels have moderate to high grooming needs compared to other small black and brown dog breeds, which may deter some dog owners who want a low-maintenance pet.
4. Chihuahua
The Chihuahua is perfect for potential pet parents searching for a toy breed with a spunky and affectionate personality. This breed won't typically grow larger than six pounds. But they carry a large personality with them everywhere they go! The Chihuahua's large eyes and apple-shaped head are two of its trademark attributes.
There are two Chihuahua coat varieties: smooth and long-haired. Thankfully, black and brown colors are prevalent in both coat types. This breed can be fragile, making them unsuitable for homes with small children or other animals who engage in rough play.
5. Daschund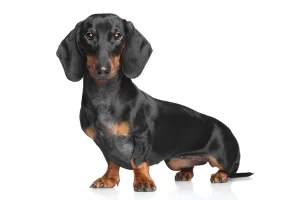 For dog lovers wanting a small black and brown dog breed, the Daschund is a terrific choice. This breed is iconic for its long body and short legs. Many refer to this breed as the "wiener" or "sausage dog" because its body resembles a hot dog.
Dachshunds are available in standard and miniature sizes. They have three different coat types and numerous colors, including brown and black. Daschunds are spunky, friendly, curious, and loyal to their owners.
6. Jagdterrier
The Jagdterrier is a typical Terrier in every sense. The breed possesses a tenacious and curious drive, meaning they're hardworking, intelligent, and courageous.
Although you can find some Jaggdterriers with gray coloring, most are the standard black and brown. Some members of this breed also sport white markings throughout their coats.
These dogs are reliable and highly trainable because they love to please their owners. Jagdterriers are incredibly social and affectionate. They're also terrific hunting dogs, which stems from their German ancestors. This breed needs moderate grooming to ensure its coat is clean and hassle-free.
7. Lancashire Heeler
The Lancashire Heeler is an excellent choice if you're on the hunt for a small but sturdy brown and black dog. This short dog is keen to follow its owner anywhere, and its high intelligence makes it excellent for training.
The available colors for Lancashire Heelers include black and brown, liver, and tan only. They have short, hard, dense, weather-resistant coats.
This low-maintenance dog breed allows dog lovers to take their pets on adventures in any weather. However, Lancashire Heelers require plenty of mental stimulation and regular exercise to help expend their excess energy.
8. Manchester Toy Terrier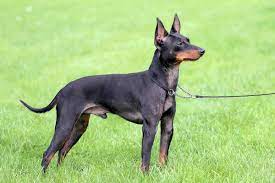 The Manchester Toy Terrier is a popular brown and black dog breed that is agile, graceful, and alert. In addition, this breed possesses a sleek body composition and makes a terrific runner thanks to its Terrier instincts.
Manchester Toy Terriers are only available in a rich, jet-black with mahogany brown markings. They have smooth, tight coats. This breed is intelligent, low-maintenance, and adaptable to homes of various sizes.
9. Miniature Pinscher
One breed that demands attention is the Miniature Pinscher, one of the most famous small black and brown dog breeds. These compact dogs are fearless, proud, and have a unique high-stepping gait similar to a horse's trot.
The Miniature Pinscher comes in several colors, but brown and black is a favorite combination for many breeders. This breed's sleek, smooth coat requires minimal maintenance, making it an excellent choice for some pet owners.
10. Rat Terrier
Dog owners searching for lovable brown and black dog breeds will enjoy having a Rat Terrier in their home. These energetic and affectionate dogs provide an easy-going and playful companion for dog lovers of all ages. In addition, they are tough and muscly, giving them the sturdiness they need to run and play regularly.
You can find Rat Terriers in miniature and standard sizes, with various color combinations, including the traditional black and brown with white patches. They have a short, dense coat of hair that requires minimal maintenance.
11. Russian Toy Terrier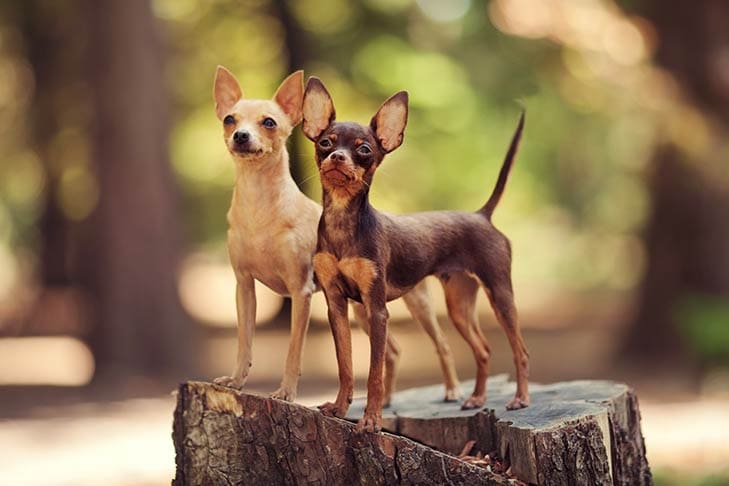 You may confuse the Russian Toy Terrier with the Chihuahua, as some of their characteristics are similar. However, this dog breed is unique for its delicate bones, long legs, and lean muscles. Although they have alert ears and large eyes, the Russian Toy Terrier possesses a semi-long or smooth coat with feathering, giving it a distinct appearance.
Brown and black are some of the more prominent color choices for Russian Toy Terriers. They are intelligent, eager to please, and love to spend time with their humans.
12. Silky Terrier
This Silky Terrier originates from Sydney, Australia, and is dynamite in a small package. Although they have many similar characteristics to other Terriers, the Silky Terrier's soft, straight coat is silky, smooth, and glossy – hence the name!
The Silky Terrier is not a yappy breed but will quickly alert you when something is amiss. This dog is approachable and friendly, with attractive almond-shaped eyes and erect v-shaped ears that complement its face shape. Although they look similar to the Yorkshire Terrier, the Silky is slightly larger.
13. Tibetan Spaniel
Dog lovers who seek playful and spunky small black and brown dog breeds will find the Tibetan Spaniel a terrific choice. Unlike other popular dog breeds, this dog has a short muzzle, a lion's mane of hair around its neck, and a plumed tail that gives it a unique look. In addition, it sports a flat silky coat in several colors, including brown and black.
Although they have the Spaniel name in their breed, these are not Spaniels. Instead, the Tibetan Spaniel falls under a similar class of Pugs, Lhasas, and other Ancient Asian dog breeds.
14. Toy Fox Terrier
The Toy Fox Terrier is another popular small dog breed with black and brown coloring. This small American breed comes from combining several breeds, including the Miniature Pinscher and Chihuahua, with Fox breeds. As a result, Toy Fox Terriers are lovable lap dogs with tenacious Terrier personalities.
These dogs have tight satin coats and sturdy bodies, which means minimal grooming. They are happy to follow their active owners or laze around on the couch. The Toy Fox Terrier is also intelligent and affectionate, making it an excellent and playful companion that is easy to train.
15. Yorkshire Terrier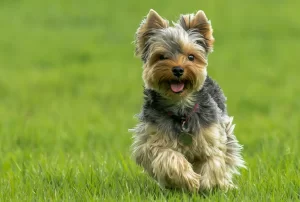 The Yorkshire Terrier is a small black and brown dog breed with a longer coat. It's known for its silky floor-length coat that emulates grace and charm. Although it seems dainty, the Yorkshire Terrier still possesses many Terrier traits, giving it a spunky nature that can charm many dog lovers.
Although this breed is also available in gold and blue hues, the classic black and brown combination is popular. Its coat closely resembles human hair, making the Yorkie the perfect companion for owners with allergies to dog dander. Many individuals also keep their Yorkshire Terrier's coat trimmed short for a more low-maintenance pet.
Frequently Asked Questions About Popular Small Black and Brown Dog Breeds
What breed of dog is small and black and brown?
Several small dog breeds come in black and brown, meaning you have many options! Some popular small black and brown dog breeds include the Yorkshire Terrier, the Australian Terrier, the Beagle, the Chihuahua, the Tibetan Spaniel, and the Miniature Pinscher, to name a few.
What is the most popular small dog?
The most popular small dog breed in the United States is the French Bulldog.
What is a black and brown dog pattern called?
A mixed black and brown fur color on a dog is also called a "brindle" pattern. It is a highly popular color choice for many breeders and pet parents.
Choosing Among the Most Popular Small Black and Brown Dog Breeds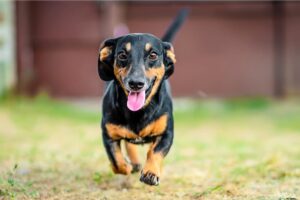 A dog can provide a home with companionship and love, no matter its color or size! However, if you are looking for a small black and brown dog breed, consider the 15 we discussed today. Potential dog owners should explore each and examine which traits fit their needs and lifestyle.
While some small brown and black dog breeds have minimal grooming requirements, others may demand more attention or time. Remember that anytime you add a dog to your home, you are committing to years of pet ownership, and it is not a decision to rush into. So, be sure to carefully consider your situation and pick the best breed for your family.
For more guides similar to this list of the most popular small black and brown dog breeds, you can check out these other dog-related articles from our team:
You can learn more about small dogs by watching "10 Surprising Facts About Small Dogs (#6 is Baffling)" down below:
Garrett loves animals and is a huge advocate for all Doodle dog breeds. He owns his own Goldendoodle named Kona. In addition, he volunteers at the Humane Society of Silicon Valley, where he fosters dogs and helps animals. Garrett enjoys writing about Doodles and believes that dogs can teach humans more about how to live than humans can teach a dog.
Why Trust We Love Doodles?
At We Love Doodles, we're a team of writers, veterinarians, and puppy trainers that love dogs. Our team of qualified experts researches and provides reliable information on a wide range of dog topics. Our reviews are based on customer feedback, hands-on testing, and in-depth analysis. We are fully transparent and honest to our community of dog owners and future owners.