We've compiled a list of the best Yorkshire Terrier haircuts so you can pick one that suits your pet's personality and preferences.
Cute, fun, loving, and energetic best describe Yorkshire Terriers. It's no surprise they're among the most popular dog breeds. And with their big personality and small size, they make the perfect companion for any household.
But like any other breed, they require grooming. If left untrimmed, a Yorkie's hair will grow too long, causing discomfort when sitting or lying down. Their coats also need regular brushing to keep them from matting.
Before you scroll down this list of Yorkshire Terrier haircuts, check out: How Much Does a Yorkshire Terrier Cost? (2023) and How to Cut Your Yorkies Hair at Home? Step by Step Guide! (2023).
Teddy Bear Haircut
As the adorable name suggests, this style resembles a teddy bear in looks and personality. It's one of the most appropriate Yorkshire Terrier haircuts, especially in the winter when your pup needs extra warmth.
Typically, the groomer trims the fur to two to three inches throughout the body, except on the face, where it's cut in a circular pattern giving your furry friend a teddy bear illusion. The hair length, however, may vary depending on your preferences or the groomer's style.
While the haircut is super cute, it requires regular grooming to maintain the ideal hair length and brushing to avoid tangles. Nevertheless, this one is perfect if you're looking for a cuddly style that gives off a warm and fuzzy feeling.
Puppy Haircut
If you're into simplicity and neatness, this should be your go-to hairstyle. Like its namesake, the puppy haircut mimics the appearance of a puppy's coat, giving your Yorkie a youthful and playful look.
The style is achieved by cutting the entire body hair, including the face, to roughly one to two inches. Some stylists may leave the face hair longer but trim particular areas around the head and body shorter for a puffy finish.
Besides being simple, a puppy haircut allows your pet to roll in the mud and have fun without worrying about ruining their lovely locks. You only need a quick brush or rinse to maintain their coat tangle-free and healthy.
Schnauzer Trim
The schnauzer clip is another timeless haircut that mirrors the look of another dog breed, the Miniature Schnauzer. It's one of the trickiest styles to achieve, requiring precision and expertise.
To nail this elegant look, the groomer leaves the hair around the legs, chest, and chin longer while the rest of the body is cut short. Oh, and it doesn't stop there. The fur around the chest, ears, and top of the head is trimmed to achieve a beard-like shape.
While the first haircut may not be perfect, several trips to the groomer and trust will pay off. Remember to keep up with regular brushing and grooming to keep your furry friend's coat in good condition.
Show Cut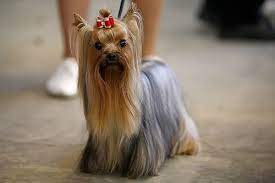 The show cut embodies elegance, sophistication, and grace. This style is ideal for Yorkies who want attention and stand out among other dogs.
The hair is left silky and long, almost to the floor, with a knot on the head. The show cut gives your dog a royal feel. However, the show cut is not for busy and impatient owners.
Unlike other haircuts, this style requires many hours of maintenance. You'll have to wash, comb, and groom your Yorkie frequently to avoid mats and tangles. In addition, the hair may take too long to grow, making the style impractical.
That's why the haircut is only seen at American Kennel Club-sponsored dog shows and exhibits. Still, for those willing to put in the time and effort, this style defines dainty and refined.
Lamb Haircut
Nothing screams "cute and fluffy" like a lamb haircut. The style is inspired by the lamb's short and curly hair. Groomers trim the fur around the chest, torso, and chin, leaving most of it on the legs.
A lamb cut is a year-round style. You don't have to worry about changing your Yorkie's haircut as the seasons change. The extra hair, especially around the legs, keeps your Yorkie's limbs warm during the colder months.
Plus, it's perfect for pets that shed less, making it easy to maintain and clean. You only need a quick brush, bath, and rubdown to keep your Yorkie's coat shiny and smooth.
Kennel Haircut
A kennel haircut is another popular choice among pet parents, particularly in the summer. It's simple yet charming, letting your furry companion roam with their newfound freedom.
The style involves clipping the body hair short, typically half an inch or less, except for the head, legs, and tail, which are left a little longer. Furthermore, the ears and mustache are cut to the same length as the body fur. The paws are sculpted into round points for a balanced look.
If your Yorkie enjoys spending time outdoors, there's no better way to keep them cool than this universal favorite. You'll love how easy it is to clean up after playtime.
Poodle Haircut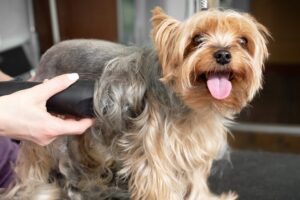 Poodles are a popular dog breed recognized for their intelligence, devotion, and athletic abilities. Besides these qualities, they offer a unique haircut that you can copy for your Yorkie.
Typically, the groomer trims the body fur short while leaving the legs, tail, and neck long. A top knot is also left on the head, giving your pet a dignified appearance reminiscent of royalty. The style may vary depending on your preferences, but it generally takes this form.
Expect regular grooming to maintain the long fur and frequent brushing to avoid tangles. If you don't mind the upkeep, this is a great pick.
Full Shave Haircut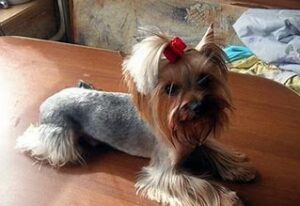 Simplicity doesn't always equate to poor taste, and this style is a testament to that. With its near invisibility, the full-shave haircut offers your Yorkie a clean and sophisticated look.
The style is just what the name implies — the hair is shaved short to the skin except near the face and head, where it's left long and shaped. You can customize the style to suit your dog's hair pattern.
There are no specific concerns for this cut, but regular clipping is necessary to maintain the correct length.
Westie Style
West Highland White Terriers, often known as Westies, are medium-sized dogs with dense, wiry, water-resistant coats. With such desirable features, it's only natural that their hairstyle is highly sought after.
Like the Schnauzer cut, the Westie style involves leaving the body fur short while shaving the mustache and eyebrows just enough to make the nose and ears appear longer.
There is no better option for Yorkies who like to spend some quality time outdoors. It's low maintenance, so your pup always remains stylish and tidy.
Pekingese Cut
The haircut evokes the look of the Pekingese dog breed.
To achieve this style, trim the body fur to mid-length but leave the legs slightly longer. Make sure to shape the Yorkies' long ears and hair locks for a stunning transformation.
The Pekingese haircut requires frequent grooming since the long hair can easily get tangled. Nonetheless, this one will do wonders if you're looking for a style that best matches your pet's breed.
Spanish Water Dog Style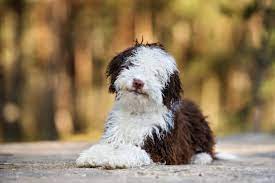 The haircut practically requires you to do nothing, making it ideal for busy dog owners who don't want to spend hours washing and drying their Yorkies.
All you have to do is let your furry friend's hair grow to a mid-length while keeping it uniform. Don't brush with a comb, or any other hard materials, to avoid damaging the look. The result is an "out of control" look with curly fur.
It'll stay put until the next hair-trimming session if there are no knots and tangles. Your Yorkie will undoubtedly feel like they're living in their world, not caring about their appearance.
Lion Haircut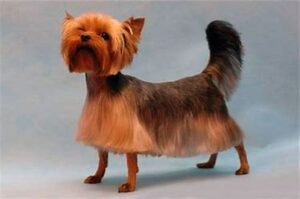 Lion trim gives off a wilder and more natural vibe compared to others. If your Yorkie likes being the center of attention, this is the perfect hairstyle for them.
With its signature mane, the lion trim creates the illusion that your Yorkie has come straight from the savannah. The body hair is shaved down to the skin, leaving just enough hair to give your pup a healthy-looking mane.
But be warned, this is not a low-maintenance look. It will require brushing the mane frequently to prevent matting.
Three-Layered Stack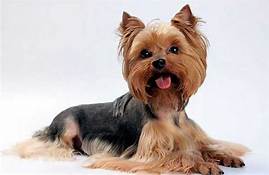 The three-layered stack is a conservative and classic choice among Yorkshire Terrier haircuts. Plus, it's perfect for dogs with thick coats since it leaves enough hair on the body to keep them warm.
It features three layers of hair trimmed at uneven lengths to create texture. The top layer is left short, while the rest are cut slightly longer. You can also ask your groomer to blend the layers to look more natural.
But be careful! If you pick the wrong length, you might end up with a fuzzy mess. And if you're looking for something low-maintenance, this isn't it. You'll still have to groom your Yorkie regularly to get rid of knots and keep its coat healthy.
Designer Cut
A designer haircut is all about the groomers showcasing their artistic abilities. Using scissors, clippers, and shears, they can create just about any shape or form, giving your Yorkie a custom hairstyle.
The groomer may involve different lengths, asymmetrical designs, and varied patterns to produce the desired effect. With so many options available, there's no telling what your pet could look like.
While the cut is every pet parent's desire, it's pricey and demands a high level of grooming.
Summer Trim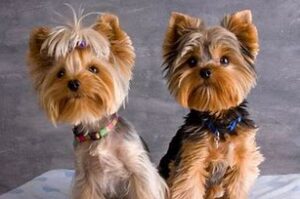 If your Yorkie overheats or sweats profusely in the summertime, consider getting them a summer trim. With their thick coats shaved, they'll stay cool even if they're running or playing outside.
They'll also look stylish with less hair sticking to their back and hindquarters. Longer nails will be easier to clip since there will be less or no hair clogging up the grinder.
However, limit your pups' exposure to sunshine to avoid sunburn. Also, keep them hydrated by offering plenty of water before, during, and after play.
Long Length Cut
If you're bored of short-length cuts and are looking for something different, try this hairdo. It allows your Yorkie to show off its attractive features, such as color placement, markings, and patterns.
The hair is left to flow freely down the body's back and sides, and the face is trimmed close for a neat look.
With this hairstyle, expect to spend more time brushing and grooming your Yorkie to prevent mats. But if you're up to the task, this look's relaxed, natural vibe will be well worth it.
Squared Puppy Style
Another summer favorite is the squared puppy style. With this haircut, your Yorkie can easily breathe, boosting its stamina while playing outdoors. It also looks great with any coat type — curly or sleek — making it perfect for dogs of all ages.
Like the puppy cut, this one involves cutting the main coat short while leaving about one inch of hair on the forehead. The facial fur is then trimmed cleanly to create a square across the muzzle. Some owners may choose longer facial hair to create a top knot for an extra eye-catching look.
This style could be ideal for you and your pup if you want something stylish yet easy to manage.
Short Flared Haircut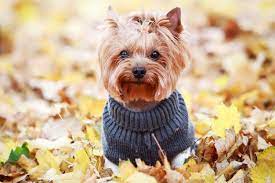 The short-flared trim gives your pup a classy yet edgy look. Although it may look intimidating at first glance, the cut is easy to manage with minimal shedding and matting.
The style is achieved by clipping the dog's main coat short and leaving long hair on the legs where they flare out at the bottom. The facial hair is squarely trimmed to give your pup a clean and uniform appearance to complete the look.
With various styles and low maintenance requirements, this hairdo is ideal for any busy owner.
Frequently Asked Questions
What is the best haircut for a Yorkshire Terrier?
Balancing looks with upkeep, the puppy haircut is a popular choice for Yorkies.
Are you supposed to cut a Yorkie's hair?
You should trim your Yorkshire Terrier or take them to a groomer every four to six weeks.
Should you trim the hair around a Yorkshire Terrier's eyes?
If your dog's hair is long enough to block their vision, you should carefully trim it back.
Conclusion for "Best Yorkshire Terrier Haircuts"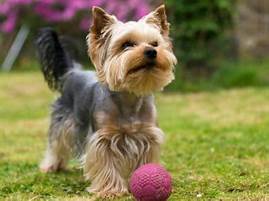 We hope you found this list of the best Yorkshire Terrier haircuts exciting and inspiring. If you're looking for the perfect haircut for your pup, one of these styles will hopefully work for you. Your pet is a part of your family and only deserves the best.
For more guides similar to this list showing Yorkshire Terrier haircuts, check out:
If you find these Yorkshire Terrier haircuts interesting, you can learn more about grooming by watching "Full Grooming Yorkshire Terrier – From Start to Finish" down below:
Garrett loves animals and is a huge advocate for all Doodle dog breeds. He owns his own Goldendoodle named Kona. In addition, he volunteers at the Humane Society of Silicon Valley, where he fosters dogs and helps animals. Garrett enjoys writing about Doodles and believes that dogs can teach humans more about how to live than humans can teach a dog.
Why Trust We Love Doodles?
At We Love Doodles, we're a team of writers, veterinarians, and puppy trainers that love dogs. Our team of qualified experts researches and provides reliable information on a wide range of dog topics. Our reviews are based on customer feedback, hands-on testing, and in-depth analysis. We are fully transparent and honest to our community of dog owners and future owners.