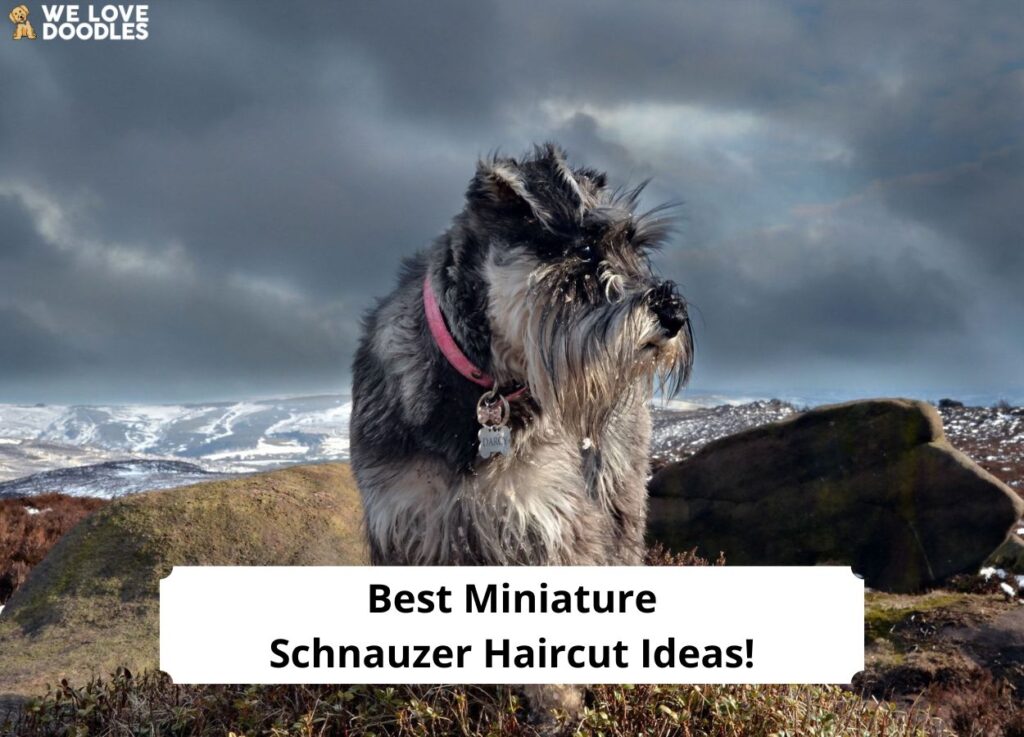 Miniature Schnauzers are lively, friendly little dogs that grow to be around 20 pounds. The breed has a signature haircut that gives their little faces an adorable teddy bear look. But you may be looking for cute new Miniature Schnauzer haircut ideas.
We're here to provide you with a bit of inspiration before you take your dog back to the groomer. We've put together some Miniature Schnauzer haircut ideas — choose the style you love the most for your pup and enjoy your dog's tidy new 'do!
Before scrolling down this guide "Miniature Schnauzer Haircut Ideas," check out: 12 Best Miniature Schnauzer Breeders in the USA! (2023) and Best Shampoo A Miniature Schnauzer – Top 7 Picks! (2023).
Your Miniature Schnauzer: Grooming Tips
Not all Mini Schnauzer pet parents bring their dogs to the groomer regularly. Your Schnauzer has long hair, making it prone to tangles and mats, and those groomer bills can add up quickly.
It's a good idea to bring your dog to a pro from time to time. Your pup will get a full spa treatment, from toothbrushing and ear cleaning to anal gland expression and nail trimming. But in the interim, it's perfectly fine to groom your Mini Schnauzer on your own.
Before you begin, you'll need to ensure that you have quality clippers and scissors. You'll also need a great shampoo and conditioner; these will give your dog a sleek look and will make detangling easier. If you like, you can invest in a blow dryer for your dog to expedite the grooming process.
Use a pin brush in combination with a dog comb to carefully and gently untangle any knots in your dog's hair after it's dry. Combing out wet hair can be painful to your pup, and can damage your dog's hair as well.
Finally, have a picture nearby, if possible, of the style you're trying to achieve. This will make it much easier to visualize what you'd like the end result to look like, and to match the haircut in your image.
Ready to get grooming? Here are some of the best haircut ideas for Miniature Schnauzers.
Natural Cut
Particularly in the winter months, there's absolutely nothing wrong with leaving your Mini Schnauzer's hair completely natural! You'll want to trim it up a bit, and you'll need daily brushing to keep the mats and tangles away. But just a shampoo, conditioner, and a quick pass over with the scissors will leave your dog looking beautiful and healthy.
To maintain this haircut, you'll need to occasionally trim the hair between your dog's paw pads, around his bottom, and in his ears. It's also a good idea to invest in a conditioning spray that's designed for dogs. Whether you have a couch potato or a pup who loves to romp in the yard, his long, flowing hair will seem like a magnet for dirt, burrs, and tangles. A conditioner will make combing much easier.
Of course, your pup will still need regular "maintenance" such as anal gland expression, nail trimming, and tooth brushing, so a visit to a professional will be a must from time to time.
Short Cut
If you live in a warm climate, if it's summer, or if you just like a clean look for your pup, the short cut is a great Miniature Schnauzer haircut option. This cut is excellent for dogs that love to run and play outside. Whether your dog spends time in the backyard or loves being your hiking buddy, keeping his hair cut short is a great way to keep it tangle-free.
You'll need clippers to achieve this doggy 'do, as well as a good conditioner. Before you begin it's important to comb out your dog's hair thoroughly. Removing tangles and mats will ensure that your clippers don't pull your dog's hair — that's painful!
Once your pup is brushed out and his hair is smooth, determine whether you'll need to trim his hair with scissors first. This can be helpful in grooming Miniature Schnauzers with long hair — no need to get it perfect as you'll be using your clippers anyway.
Finally, attach the appropriate guard to your clippers for the desired length and trim away. Many Miniature Schnauzer owners choose to keep their dog's hair longer around the mouth for a cute teddy bear look.
Teddy Bear Cut
The teddy bear cut is a popular one with many dog breeds including the Miniature Schnauzer. As you can probably imagine from the name, this cut is designed to make your little buddy look like a cuddly stuffy. The entirety of your dog's body will be clipped to somewhere between a half and one inch, and a little extra "fluff" is kept around his mouth.
The teddy bear cut is simply adorable, but what's great is that it's super low-maintenance. You'll need to brush your pup regularly to keep tangles and knots at bay, and to remove dead hair. Schnauzers don't shed much, but regular combing or brushing can all but eliminate the problem of dog hair on your clothes and furniture.
Traditional Miniature Schnauzer Haircut
If you like to stick to the classics, tell your groomer you'd like to give your pup a traditional Schnauzer haircut. Generally speaking, all groomers will know what you mean, but do note that some groomers have "signature" looks so you'll need to be clear in explaining what you'd like.
A traditional Schnauzer haircut keeps your dog's body closely trimmed down to the "skirt," a section of longer hair around the belly. Your pup's little face will sport longer hair resembling an angled beard.
As with any dog, your Schnauzer may be susceptible to sunburn when his hair is cut super short. Fortunately, there are sunblocks specially formulated for dogs. If your pup spends a lot of time outdoors be sure to apply sunscreen daily. Choose a formulation that will moisturize your dog's skin if possible.
Puppy Cut
The puppy cut is one of the most popular for a lot of dog breeds, and for good reason! It's easy to DIY, so even if you're not an experienced groomer, you can still achieve the puppy cut look. It's easy to maintain — you'll have to keep up with washing and brushing, of course, but there's little risk of the puppy cut beginning to look uneven. Finally, it's awesome for active dogs, particularly those who like to play outside.
A puppy cut is a uniform length of hair over your dog's entire body. For your Miniature Schnauzer haircut you may wish to make an exception and keep a bit of a beard. Use scissors to trim around your dog's snout until it's the length you prefer.
Use a slicker brush or a pin brush on your dog regularly to pick up dead hairs that may be present. Then, just shampoo and condition your dog regularly for a shiny, clean puppy cut.
Haircuts for Your Schnauzer's Face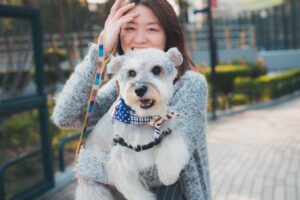 You're lucky to have a dog with such long, styleable hair! However, depending upon the dog (and pedigree) your pup's hair may have curly, wavy, or pin-straight hair. The texture of your dog's hair may determine how you choose to style your pup's facial area.
Some Schnauzers look super cute with eyebrows — this is especially true if your dog has long, straight hair. You can style the brows long and tapered, or cut them short and fluffy. Don't be afraid to experiment! Hair grows back!
Your Schnauzer's beard is another facial feature you can't ignore. Keep the beard long and cavalier, or short and playful. Or, if you like, there's nothing stopping you from giving your little friend a close trim. Schnauzers have precious little faces that love to be shown off!
Finally, your dog's top knot is an area that can be styled in a number of ways. Keep the hair around your pup's crown long and luxurious, or trim it down to match his body. A top knot isn't the most popular option for the Miniature Schnauzer breed, but it's not unheard of.
Frequently Asked Questions
How often do Miniature Schnauzers need a haircut?
Try to brush your Miniature Schnauzer several times per week and take them to the groomer every five to eight weeks.
What is the most popular Miniature Schnauzer color?
The American Kennel Club recognizes three distinct colors for Mini Schnauzers: black, black and silver, and salt and pepper.
How often should Miniature Schnauzers get a bath?
As a puppy, you may need to bathe your Miniature Schnauzer as often as weekly. Later in their life, try not to go longer than four to six weeks between baths.
Conclusion for "Best Miniature Schnauzer Haircut Ideas"
Your purebred or mixed-breed Miniature Schnauzer might have hair that's curly, straight, or somewhere in between. Regardless of your dog's genetics, you'll want to keep him looking sharp and well-groomed!
The Miniature Schnauzer haircuts on our list are ideas you can bring to your groomer or execute yourself, and will leave your pup looking fresh-faced and gorgeous.
For more guides similar to this list showing Miniature Schnauzer haircut ideas, check out:
If you want to learn more about this breed, watch "Miniature Schnauzer Dogs 101: Everything You Need To Know – Is It the Right Dog for You?" down below:
Garrett loves animals and is a huge advocate for all Doodle dog breeds. He owns his own Goldendoodle named Kona. In addition, he volunteers at the Humane Society of Silicon Valley, where he fosters dogs and helps animals. Garrett enjoys writing about Doodles and believes that dogs can teach humans more about how to live than humans can teach a dog.
Why Trust We Love Doodles?
At We Love Doodles, we're a team of writers, veterinarians, and puppy trainers that love dogs. Our team of qualified experts researches and provides reliable information on a wide range of dog topics. Our reviews are based on customer feedback, hands-on testing, and in-depth analysis. We are fully transparent and honest to our community of dog owners and future owners.