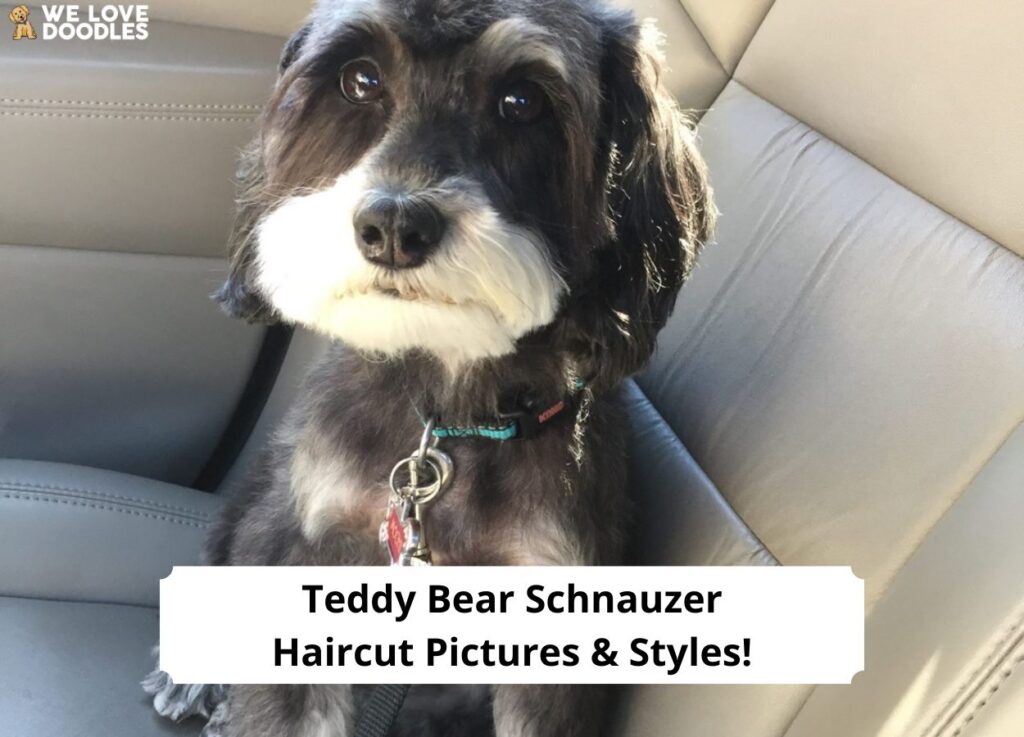 With their double coat, Schnauzers are a breed that requires regular grooming. Prospective owners might be surprised to learn they need a trim at least once every two months! Besides keeping your pup's coat looking healthy, a Schnauzer puppy cut gives your companion a unique look. Read on to learn more about the Schnauzer teddy bear haircut and other options.
Before scrolling down this guide "Teddy Bear Schnauzer Haircut Pictures & Styles," check out these articles: How Much Do Dog Groomers Make? (2023) and How Long Does Dog Grooming Take? (2023).
Schnauzer Grooming 101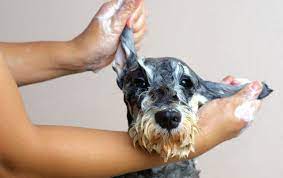 Whether you adopt a Miniature, Standard, or Giant Schnauzer, you should prepare yourself to care for a pet with specific grooming needs.
Schnauzers have a double coat with a soft undercoat and a wiry or curly topcoat. Due to its coarse texture, the topcoat can easily form knots and mats. Ideally, you should brush your Schnauzer daily to prevent mats and remove dirt and debris caught in the double coat.
Your Schnauzer will also need a bath at least once a month. You should pay special attention to their beard which can trap food crumbs and other debris that can lead to bacteria growth.
Because Schnauzers don't shed much, trimming their hair is important to help with body temperature regulation in the summer. Haircuts can also help prevent matting and keep your pet comfortable.
You should plan on giving your Schnauzer a haircut once every two months, but your pet might require more frequent trims if you live in a hot area.
Schnauzer Puppies and Grooming
Most puppies have a soft coat at birth. This coat falls out at around six months of age before the adult coat comes in. You can help your Schnauzer puppy blow its coat by brushing regularly and using a de-shedding shampoo.
Since Schnauzers have a soft puppy coat, your pet can do without a Schnauzer puppy haircut until they grow their adult coat.
Why Should You Give Your Schnauzer a Haircut?
From an aesthetic perspective, dog hairstyles can emphasize the natural features of a breed. For instance, Schnauzers have majestic beards and long eyebrows that give the breed its recognizable look.
Haircuts also have a functional purpose. They can reduce hair length in areas where mats are likely to form, such as the underbelly or behind the legs.
You can also reduce hair length in areas that will help your pet regulate its body temperature, such as the head, legs, and hips where hot spots are likely to form.
What Is the Best Haircut for a Schnauzer?
Groomers have a few go-to options for trimming and shaping your pet's hair. The best haircut can depend on a dog's breed, its hair type, the current weather, and the owner's preferences.
There are a few haircuts that are popular for Schnauzers:
The traditional Schnauzer cut is a short trim that leaves your dog with a long beard to emphasize this unique feature.
A long pant cut is an ideal option due to the Schnauzer's wiry coat.
The lamb cut is another popular option for dogs with curly hair. This cut leaves some length on the top of the head and tail.
If you're looking for a practical option, a kennel clip or shaved cut can be a great way to help your dog regulate its body temperature.
A Schnauzer puppy haircut is ideal for young pets. This cut is an even clip but there is more length compared to a kennel clip.
Lastly, the teddy bear cut is a popular trend among Schnauzer owners since it looks adorable and emphasizes the unique features of this gorgeous breed.
What Is a Schnauzer Teddy Bear Cut?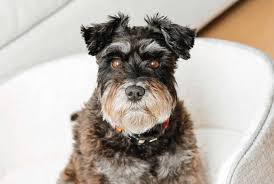 The teddy bear cut emphasizes the wiry or curly texture of a dog's hair while shaping its hair to create the appearance of a cute and cuddly teddy bear.
It's a popular haircut for Poodles, Poodle mixes, Pomeranians, Shih Tzus, and many other breeds.
The groomer will typically start creating a round shape by trimming around your dog's face and ears. This cut entails shortening the ear hair to give the impression that the ears sit higher on the head and have a rounded shape.
The length is even for the rest of the body and can range from one to two inches. You can ask for a shorter cut if you want a hairstyle that is closer to a puppy cut or kennel trim.
A talented groomer can add more details, such as creating a round shape at the end of the tail or trimming paw tufts to create round shapes.
The teddy bear cut is a highly customizable style. You can ask your groomer to adjust the body hair length, and your groomer will adapt the cut to match the elongated head shape of your Schnauzer. You can also ask your groomer to leave some length in the beard and eyebrows to emphasize these unique features.
Can a Schnauzer Get a Teddy Bear Cut?
Many Schnauzer owners are partial to the teddy bear cut for the following reasons:
The short hair length on the body is practical, prevents mats, and helps your pet regulate its body temperature.
The rounded shape on the face makes your pet look adorable and photogenic.
This cut brings out the wiry hair texture and beard that give Schnauzers their unique look.
However, there are a few downsides to consider:
This haircut requires regular maintenance. You'll have to use the round scissors to maintain the shapes you created on your dog's face as the hair starts growing back.
Many owners feel that working with clippers and scissors is intimidating.
Creating even shapes can be difficult, especially if it's your first time giving your pup a haircut.
Are Schnauzers Good Candidates for the Teddy Bear Cut?
A teddy bear cut is an excellent option for grooming a Schnauzer, but you'll have to make a few changes to this popular haircut to match the unique features of the breed:
You can cut the body hair shorter than one inch to help your Schnauzer regulate its body temperature.
Achieving a rounded ear shape is difficult since Schnauzers have V-shaped ears with a forward fold.
Instead of trying to make the entire head look round, most professionals shape the beard to create a rounded muzzle when grooming Schnauzers.
Unless you have a Schnauzer with a docked tail, obtaining a round tail shape will be difficult.
How Do You Do a Teddy Bear Haircut on a Schnauzer?
Grooming your Schnauzer at home can be cheaper. It's also a good option if you want to give your pet regular trims between grooming appointments.
However, it's important to keep grooming sessions stress-free for your pet. Take your time, use safe tools, and offer plenty of treats.
You'll need a few supplies:
Brush and comb
Shampoo (optional)
Round scissors
Blending shears
Pet hair clipper with adjustable length
Start by thoroughly brushing and combing your pet's hair. You need to remove any knots and debris caught in the hair to get an even result.
You might also want to shampoo your dog's hair before the haircut. Working on wet hair tends to be easier but you can shampoo after the cut if you prefer working on dry hair.
Here's how you can give your Schnauzer a teddy bear haircut at home:
Use the pet hair clipper to trim hair to an even length everywhere on the body. You can leave one to two inches.
You can then start working on the face. Use the clipper to trim hair to a length of three to three and a half inches between the eyes, around the ears, and on top of the head.
Use the round scissors to trim the beard and create a round shape.
Trim the eyebrows with round scissors to get a softer shape.
You can use the round scissors to create a round shape on the paw tufts.
Create a tapered effect by trimming the tail with the blending shears.
Add the finishing touch by using the blending shears to hide any harsh lines between the head and the rest of the body.
Schnauzers with Teddy Bear Cuts
Social media is full of cute pictures of dogs with fresh teddy bear cuts. These images of Schnauzers with teddy bear haircuts will give you a better idea of what this popular style looks like on this breed.
Teddy the Mini Schnauzer
Don't let its small size fool you, Teddy is an Instagram star. This miniature Schnauzer sports a teddy bear cut on most of its pictures and this fun account is an excellent resource for seeing what the cut looks like from different angles.
Instagram Video Tutorial
This short video shows the process of creating a round face shape on a young Schnauzer. It will give you a better idea of how to trim the hair around the eyes and on the sides of the face. We can't guarantee your pet will be as well-behaved as the one in the video!
Schnauzer Puppies
This gorgeous photograph shows two Schnauzer puppies with a teddy bear cut. It's an excellent example of what the round face shape should look like once you trim your pet's beard.
Before and After
A good trim can leave your pup unrecognizable! This before and after photo illustrates how much shaping your pup's facial hair can change their appearance. The groomer left some length in this Schnauzer's beard to emphasize this feature, but the eyebrows and overall face shape are a good example of what a teddy bear cut looks like.
Clean Shapes
This groomer has mastered the art of the teddy bear cut. This pic is a perfect example of how clean the rounded face shape can look if you use the right scissors and can get your pup to stop moving long enough.
Teddy Bear Cut With Beard
This Instagram post shows how you can customize the teddy bear cut to accommodate a Schnauzer's beard. This pet owner decided to leave some length in the beard while trimming the hair around the eyes.
The result creates an aesthetic contrast that brings out this dog's gorgeous beard.
Frequently Asked Questions
How often should a Schnauzer be groomed?
In addition to daily brushing, it's recommended to groom your Schnauzer every five to eight weeks.
What is the difference between stripping and clipping a dog?
Dogs with wiry coats, like Schnauzers, may need to be hand stripped.

This time-consuming process involves pulling out excess hair from their coat (so the new coat has room to grow) as opposed to clipping, which involves cutting off the top layer.
How do I keep my dog's head from moving during grooming?
Aside from training your dog to be more comfortable with grooming equipment, you may want to invest in a grooming restraint to help keep them still.
Conclusion for "Teddy Bear Schnauzer Haircut Pictures & Styles"
A teddy bear haircut isn't the easiest doggy hairstyle to create at home. However, this cut has many advantages, from preventing mats to making your pet look adorable.
We recommend finding a local groomer who can create this cut or practicing with simple hairstyles until you feel confident enough to attempt a teddy bear haircut at home!
For more guides similar to this list showing teddy bear Schnauzer haircut style, try these topics:
If you want to learn more about Schnauzer grooming, you can, by watching "Step by step on how to groom a Schnauzer tutorial" down below:
Garrett loves animals and is a huge advocate for all Doodle dog breeds. He owns his own Goldendoodle named Kona. In addition, he volunteers at the Humane Society of Silicon Valley, where he fosters dogs and helps animals. Garrett enjoys writing about Doodles and believes that dogs can teach humans more about how to live than humans can teach a dog.
Why Trust We Love Doodles?
At We Love Doodles, we're a team of writers, veterinarians, and puppy trainers that love dogs. Our team of qualified experts researches and provides reliable information on a wide range of dog topics. Our reviews are based on customer feedback, hands-on testing, and in-depth analysis. We are fully transparent and honest to our community of dog owners and future owners.