When you think of a Poodle, the first thing that often comes to mind is fancy hairstyles. With its typical stylish grooms, this instantly-recognizable dog breed has graced dog shows globally for decades.
Besides being a popular staple on dog shows, Poodles make fantastic pets. While these dogs don't shed, you still need to groom them to keep their coats short and healthy. With the breed boasting such distinctive and versatile hair, there are a plethora of dapper short Poodle haircuts.
Read on to learn the best short Poodle haircuts to match your dog's personality – whether you have a Standard, Miniature, or Toy Poodle.
Before you scroll down this list, check out these other Poodle grooming guides: Best Slicker Brush for Poodles and Best Dog Clippers for Poodles.
1. German Trim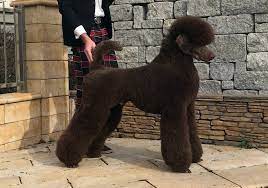 The German trim, also known as "The Terrier Poodle Cut," is a popular, low-maintenance, and stylish haircut for your four-legged friend.
The haircut offers a sleek alternative to the traditional Poodle look, with shaved ears and the body similarly cut short. Conversely, the Poodle's legs are left with long hair, and the tail doesn't feature a pompom, making it ideal for an active dog.
However, there are two tail haircut styles in the German trim: the carrot tail and the shaved look. The carrot tail style, which looks like an upside-down carrot, is more prevalent among Poodle owners who fancy the German trim. On the other hand, the shaved tail look completely shaves off the hair on your dog's tail, leaving it with a 'rat tail' appearance.
The German trim often requires the groomer to use hand scissors and clipper blades with snap-on blade attachment combs to produce sharp angles that highlight the Poodle's beauty. Since the haircut features shaved ears, it is ideal if your Poodle is susceptible to ear infections, ear matting, or enjoys swimming.
So, if you seek a fancy yet laid-back haircut style for your Poodle, the German trim could be right for you.
2. Modern Trim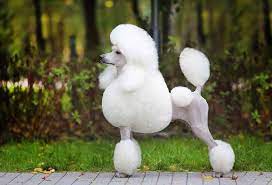 If you are an avid devotee of canine shows and modern trends, you have likely heard of the modern Poodle trim. This Poodle haircut, also called the European or European trim, is among the simplest yet most aesthetic styles for your Poodle, accentuating your furry buddy's natural features and athleticism.
The modern style aims for a meticulous and professional finish. It's an aesthetically pleasing cut that is also quite natural. It contours to the body's form, highlighting your Poodle's head, ears, and tail.
The silky, rounded topknot of the modern trim blends seamlessly into the neck. The chest is rounded, with straight-cut front legs and the hind legs trimmed somewhat short to emphasize the dog's shape.
While the modern trim is one of the more elegant haircuts on this list, it is also a very low-maintenance Poodle cut, which is ideal for many owners. This haircut requires excellent grooming abilities, so it is essential to visit a professional groomer to get the best results.
3. Bikini Cut
A bikini cut is fitting if you seek to give your fuzzy pal a smashing look for the summer. The bikini cut, also called the Miami cut, is a perfect blend of simplicity and elegance. This style features a pompom look on the tail and the legs.
The length of the body coat can vary depending on your preferences. But the bikini cut remains one of the shortest trims for Poodles and is ideal for warmer areas, which explains its "Miami cut" name.
This cut is an excellent choice for routine grooming since it keeps your Poodle clean and prevents heat strokes. Also, the bikini cut is the best fit if your Poodle is allergy-prone since the short coat allows easy skin access when you're applying medicine. While it's not the easiest to maintain, it is excellent for those who wish to retain the famous French Poodle flair.
4. Sporting Cut
Another fan favorite and frequent feature in dog shows is the sporting cut. Also known as the Dutch cut, this excellent haircut style is ideal for owners who want a unique, exciting look for their Poodles.
In this style, your fuzzy companion gets the same hair length throughout the body and legs, except for the topknot and tail. The tail gets a pompom, and the rounded topknot is left as long as possible.
The uniform hair length for the cut makes it one of the most straightforward Poodle hairstyles to rock. Also, the sporting cut is easy to maintain, making it ideal for a companion dog. This haircut is versatile and well-fitting for all variants and sizes of Poodles.
5. Puppy Cut
Ignore its name – the puppy cut is not exclusively designed for young Poodles. Regardless of your pet's age, this style can give them a charming, fluffy look. In this natural-looking style, your Poodle gets a uniform cut, approximately 1-2 inches throughout the body, while the head receives a rounded top. The groomer can modify the length to your liking, so you can go fluffier in the winter and shorter in the summer to protect your fuzzy buddy from excess heat.
Also, the hair around your Poodle's paws is left long to create a bear paw look, which explains the cut's "teddy bear trim" nickname. You can experiment with different lengths and customize the haircut to match your Poodle's personality. This haircut is extremely popular for Poodles of all ages and sizes.
6. Summer Cut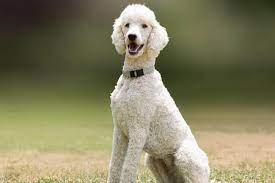 Many dog owners wonder if it is safe to give their double-coated dogs a haircut for summer. This isn't a concern for Poodles because they boast a single coat. Therefore, your Poodle can relish in the comfort that comes with haircuts like the summer cut. This Poodle haircut features uniform short hair throughout your furry companion's body, with slightly longer hair on the tail and head.
Besides giving your dog a refreshing experience during the hot summer months, the summer cut offers the aesthetic of a short-haired dog. That's why this haircut is popular in regions that experience hot summer weather.
The hairstyle is easy to maintain and great for dogs that enjoy being active. While the haircut is applicable for all variants of the Poodle breed, it is one of the most popular Standard Poodle haircuts.
7. Short Cut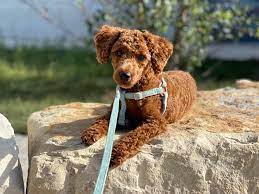 Last on our best short Poodle haircuts compilation is a more uncommon style: the short cut. This haircut is an excellent option if you seek a low-maintenance haircut for your dog. As the name suggests, the short cut features short hair throughout the body, tail, and head. This style helps to avoid the formation of tangles, knots, mats, and dirt in your Poodle's coat.
All Poodle types and sizes can rock the short cut style. It is a perfect fit if you live in a hot area. The short cut is also an excellent choice for Poodle owners who can't visit the groomers frequently.
You can create this haircut at home without the help of a professional groomer. You will need to cut the Poodle hair in the same manner throughout the body using professional clippers and scissors.
However, it is important to note that short cut styles won't protect your Poodle from the cold during winter. Consider avoiding this haircut during colder months or get a dog jacket for your Poodle to ensure they stay warm and protected.
How Often Should a Poodle Be Groomed?
To achieve the trademark sleek look for a Poodle, you must pay attention to your pup's grooming needs and follow best grooming practices.
Unlike many dog breeds, Poodles have hair similar to human hair instead of fur. Therefore, your Poodle's coat doesn't stop growing, nor does it shed like other dog breeds. This can make them hypoallergenic, but it also means that you have to groom your Poodle often.
You should groom your Poodle every 6 to 8 weeks to avoid mats and tangles. However, this frequency varies with the lifestyle of your dog. For example, if your dog leads an active lifestyle with lots of outdoor activity, you will need to visit the groomer more often.
It's important to note that if you don't cut your Poodle's hair, it will overgrow and become matted or build up knots over time. Overgrown coats can cause overheating, among other health issues.
You should brush your puppy's hair frequently between visits to the groomer. It's especially essential if your short Poodle haircut features pom poms and more extended portions on the legs, tail, or head. Remember, the more often you brush your Poodle's hair, the simpler it will be to maintain a healthy grooming regimen.
However, it is essential to note that there's more to grooming your Poodle than maintaining a healthy coat. There are other critical steps to integrate into your grooming regimen, including the following:
Ear Cleaning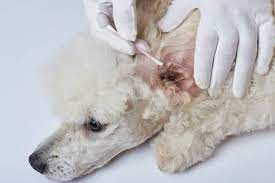 Poodles typically have long, floppy ears, making them susceptible to ear infections. You can prevent such infections by incorporating ear cleaning into your grooming routine.
Only use a veterinary-approved ear cleaning product on a clean cloth or cotton to clean your Poodle's ear canals. Also, consider cleaning your Poodle's ears every time they go swimming to steer clear of a moist ear environment that's a breeding spot for bacteria.
Teeth brushing
Dental care is also essential to your Poodle's grooming routine, especially for Miniature Poodles, which are most prone to dental issues. Brush your dog's teeth thrice a week using dog toothpaste and a pet toothbrush. If your Poodle is young, consider using a finger brush to introduce your companion to teeth brushing in a friendly way.
Nail Trimming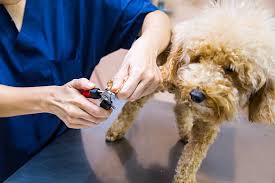 Another essential part of your Poodle grooming schedule is nail trimming. When your dog's nails are too long, they may cause injuries, including irreversible damage. Consider trimming your dog's nail tips every 4-6 weeks to keep them comfortable and healthy.
Your Poodle's First Haircut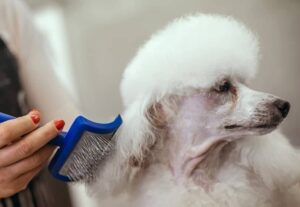 When your Poodle is young, their mother takes care of all their grooming needs. But as it grows older and is weaned, you assume the role of grooming the pup. Most first-time dog owners find it hard to determine the right time to start grooming their young Poodles.
The rule of thumb is to start grooming after your puppy has had its first vaccination. Taking your young Poodle to the groomer before it gets all vaccination doses may expose them to diseases.
The ideal age for the first haircut is around 12 weeks. This is essential for getting your four-legged companion used to the grooming procedure, making the subsequent grooming tasks more manageable.
Remember not to postpone taking your Poodle to the groomer for the first time. Getting your dog used to grooming early on will prevent future anxiety and fear when going to the groomer.
Frequently Asked Questions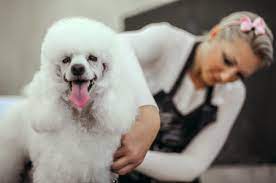 Do you still have some questions about the best Poodle short haircuts? Let's look at some frequently asked questions about Poodle grooming.
What length should Poodle hair be cut?
Typically, the ideal Poodle hair length for easy maintenance is 0.5-0.75 inches. However, if you are able to groom your Poodle often, you can keep the hair length at 1-2 inches.
What is the easiest Poodle cut?
The short cut is the easiest Poodle cut as it doesn't require a professional groomer to execute.
All you need to do is maintain a uniform hair length throughout your Poodle's body, legs, and tail. Be careful not to cut the hair too close to the skin to minimize the possibility of sunburns during hot weather.
Do Poodles need summer cuts?
No, Poodles don't need special summer cuts to help them cool during warmer months. Unlike other breeds, Poodles have a single layer of hair, which isn't as dense as double-layered breeds. However, a summer cut is easy to maintain, making it a popular dog cut among Poodle owners. Though a Poodle doesn't require a special summer cut, you should still get your Poodle groomed regularly so their hair doesn't overgrow.
Conclusion For "Best Short Poodle Haircuts"
There you go – the best short Poodle haircuts for your pet. Whether you want Toy Poodle short haircuts or low-maintenance styles for your large Poodle, you can always find a haircut that expresses your style and your dog's personality.
Remember, the short haircut style options for your Poodle or Poodle mix are virtually endless. So take your fuzzy companion to a professional groomer and try the hairstyles above today.
For more guides similar to this list of short Poodle haircuts, check out these other dog haircut articles:
If you find these short Poodle haircuts interesting, you can learn more about grooming your companion by watching "How to groom a Poodle puppy" below: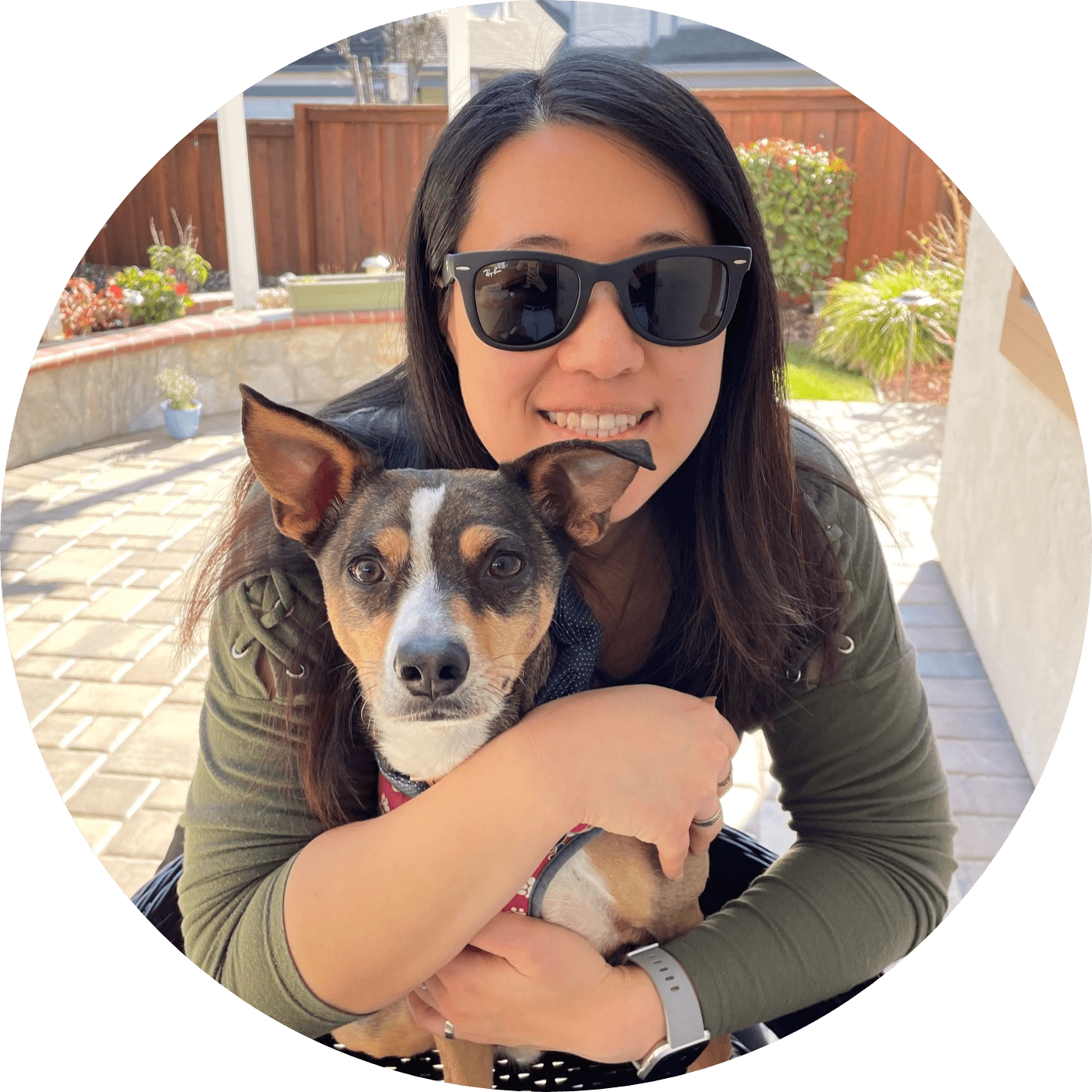 Dr. Sabrina Kong graduated from the Royal Veterinary College in England in 2016 and has been working at a small animal clinic in Northern California since then. She grew up in the Bay Area and got her bachelor's degree from Cal Poly San Luis Obispo. She also became a Certified Canine Rehabilitation Practitioner through a program at the University of Tennessee.
When she isn't in the clinic taking care of her four-legged patients, she enjoys traveling and trying new foods with her friends and her three-legged dog, Apollo. She adopted Apollo from her clinic when he was a puppy with numerous health issues. Dr. Kong truly cares about taking care of animals.