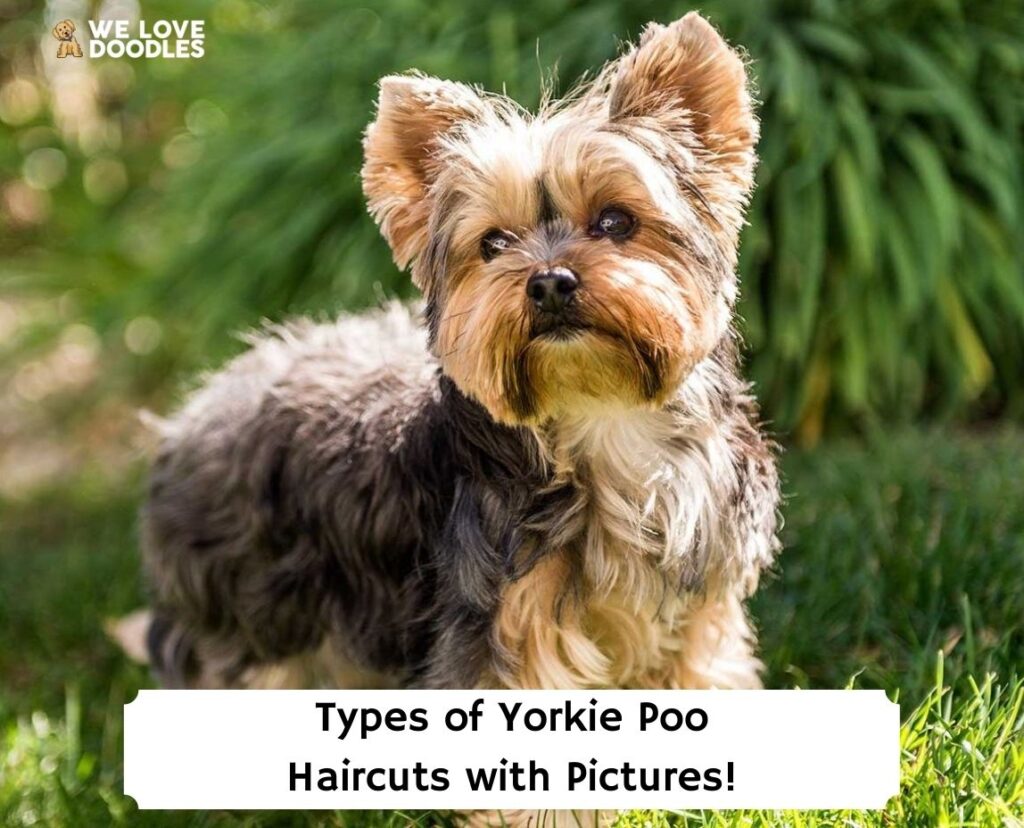 Are you curious about what the different types of Yorkie Poo haircuts look like? Yorkie Poos are a combination of two adorable dog breeds — the Yorkshire Terrier and the Poodle. Because of this, they have various standout features that naturally make them cute, without the owner having to try very hard.
However, like most dogs, grooming is something you want to do if you have a Yorkie Poo. And given all their hair and the versatility of the styles you can achieve, there are several types of Yorkie Poo cuts haircuts that you can try. In this article, we'll describe the best types of Yorkie Poo haircuts so that your Yorkie Poo can look groomed, stylish, and cute as ever in no time.
Before you scroll down this list of pictures of the types of Yorkie Poo haircuts, you can check out these other Yorkie Poo guides from our team at We Love Doodles: Best Brushes For a Yorkie Poo and Yorkie vs. Yorkie Poo Dog Breed Comparison.
1. Puppy Cut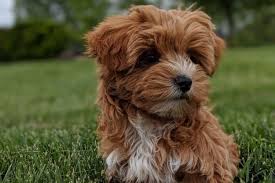 The Yorkie Poo puppy cut is the most popular haircut for this dog breed because it's the easiest haircut and the most feasible to execute on your own. All you do is cut the body hair short and cut the hair around the face slightly longer than the body hair. The result is a completely adorable and endearing Yorkie Poo look.
It is also arguably one of the lowest maintenance hairstyles, so if your Yorkie Poo hates haircuts these days, you may want to opt for this style. Save a trip to the groomer while keeping your Yorkie Poo looking fresh and well-groomed, with just enough well-loved shagginess.
2. Schnauzer Cut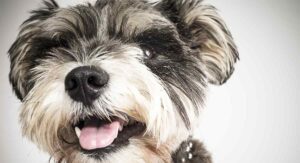 Your Yorkie Poo will look adorable with a haircut typically done for Schnauzers, a German dog breed known for its refined and elegant look. Schnauzer cuts give the appearance of a well-groomed skirt.
This haircut can take your Yorkie Poo from looking "cute" to "regal." To do a Schnauzer cut, you will trim the back hair and make that hair very short while allowing the hair on his legs, neck, and face area to stay longer.
The main downside of this Yorkie Poo haircut is that the well-groomed look doesn't come easy. It takes an extraordinary level of practice to get it right, and even when you get good at it, it still takes relatively more effort to maintain than other Yorkie Poo hairstyles.
3. Teddy Bear Cut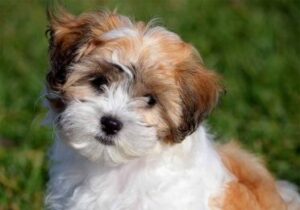 If you love your Yorkie Poo's hair and don't want to cut it too short, but still appreciate the groomed look of the puppy cut, then you'll love the teddy bear cut. With the teddy bear cut, you'll cut the hair short on the body but keep it longer than the puppy cut. Then, the hair around the face is a little longer still.
This style is almost as easy to achieve and maintain as the teddy bear cut, although it may take some practice to get the exact length you prefer and make sure hair is even throughout. Additionally, you'll want to ensure that the hair around your dog's private areas is still cut short, even if you're keeping the body hair slightly longer.
4. Yorkie Poo Lamb Cut
Now, if you like the idea of the puppy cut and teddy bear cuts because you want to keep the body hair relatively short, but are obsessed with your Yorkie Poos shaggy, fluffy hair in the face region, you can opt for the lamb cut.
With the lamb cut, you'll keep the main body hair relatively short, making it easy to groom and brush yourself, but maintain noticeable length on the head, ears, paws, and legs.
Dog owners who love to cuddle with their Yorkie Poos tend to appreciate this hairstyle because it is still relatively easy to maintain, but it ensures their Yorkie Poos stay super soft and cuddly.
5. Yorkie Poo Shaved/Summer Cut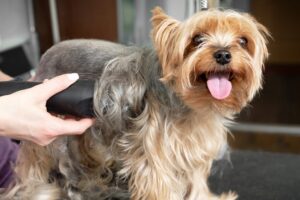 The Yorkie Poo shaved cut, also known as the summer cut, might not be the most attractive cut in the eyes of many dog owners, but it is perfect for the warmer seasons for two main reasons. One is that keeping your Yorkie Poo completely shaved is more comfortable for the Yorkie Poo, which is the most important consideration for dog owners. A super short cut ensures they won't get too hot running around on sweltering and sunny days.
An additional reason is that owners tend to be quite busy and active in the summers, and a shaved cut is super easy to achieve and maintain, saving them time and hassle.
Related: Best Summer Cuts For Golden Retrievers.
6. Yorkie Poo Kennel Cut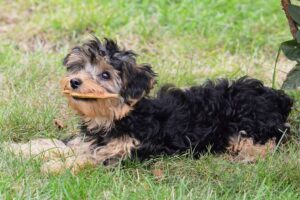 Last but not least, the Yorkie Poo kennel cut is the best haircut for your puppy if you appreciate the summer cut for its ability to keep your dog cool but don't like the completely shaved look around the face.
You will shave the entire body, legs, and paws as short as possible but maintain a slightly longer length in the head and ear areas. This way, the overall look will resemble a teddy bear cut but shorter.
How to Groom Your Yorkie Poo Properly At Home
Yorkie Poos are a dog breed that is generally easy to take care of by yourself, but if you've never groomed your dog, here are a few tips to help you get started.
Related: Are Yorkie Poos Hypoallergenic?
1. Get the Right Tools
You'll need several tools and products before you start grooming. It's not a good idea to start without all the appropriate items. Otherwise, you may find yourself in the middle of grooming unable to take the next step. Get the right tools to save yourself the stress and your dog a strange look.
You'll need a brush for grooming and daily maintenance, a comb for detangling and fluffing up the hair, dog clippers for cutting the hair, and scissors for cutting and finishing the final look.
Now, suppose you want to take it up a notch. In that case, you can get a quality detangling spray to make the brushing and combing easier on yourself and your puppy, nail clippers for trimming their nails, and ear cleaning utensils, especially for ear-infection-prone Yorkie Poos.
Of course, if you don't already have good dog shampoo, you'll want to get that as well. Finally, for the perfect finishing look, you'll want to make sure that different lengths of hair look blended, so getting dog shears will be extremely helpful. This is especially important for the teddy bear cut, the lamb cut, and the kennel cut.
Related: Best Brooms For Dog Hair and Best Dog Grooming Kit.
2. Brush Your Dog's Hair Well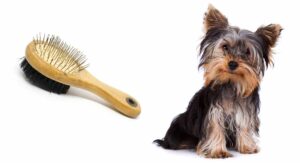 It's not a great idea to pick up your Yorkie Poo as is and begin cutting their hair straightaway. To achieve a clean, well-groomed final look, you'll need to make sure to wash and brush your dog's hair before starting the haircut process. Blow drying your dog may also be required – check with the instructions on your clippers for more information.
Start by brushing your dog's hair with a high-quality small dog brush. Brushing your dog's coat will rid the hair of tangles and knots, which is crucial for good maintenance and makes the haircutting process more manageable.
An additional benefit of brushing is that it helps distribute your dog's natural oils from its skin throughout its hair, promoting softness, natural shine, and overall hair health. Brush the underside of your dog's body first, then the middle of its body, its tail, and the top of its head. Finally, finish by brushing the top of their body, and you're good to go.
Related: Best Brushes For Doodles and Best Brushes For Wavy Dog Hair.
3. Wash Your Dog's Hair Thoroughly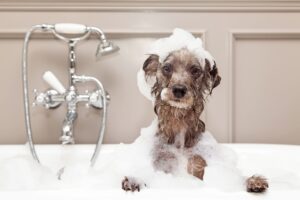 Bathing is a vital step in the grooming process that should not be skipped. Using good, high-quality dog shampoo, you'll get your dog's hair and lather them up as if it was your hair. Be sure to get all the spots. It may seem difficult to reach certain areas, but they are the most important to clean because they collect and trap dirt the most.
4. Watch Hair Cutting Tutorial Videos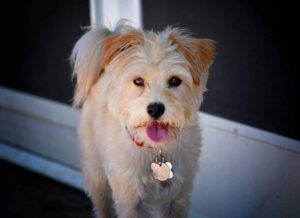 If this will be your first time cutting your dog's hair and you're feeling anxious about it, choose the style you'd like to achieve, then watch a step-by-step tutorial video. Watching someone else do the cutting first can ease your concerns and give you more clarity about angles to cut, how to hold your dog correctly when cutting, how short you'd like the hair, and more.
You can also prepare by reading articles about the basics of cutting a Yorkie Poo's hair. This will be relevant regardless of which specific style you are doing. The fact of the matter is that getting additional help is not a bad thing. It will save you time, energy, and mistakes to learn from other people first.
5. Trim Nails and Clean Ears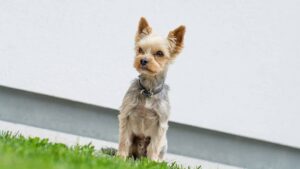 If you want to fully groom your dog to keep him healthy, clean, and safe, trimming your dog's nails and cleaning your dog's ears are crucial steps to take in the grooming process. Adding this to the grooming routine will prevent your dog from feeling pain and getting toe and ear infections.
Related: Does it Hurt When You Cut The Quick and How Long Should Dog Nails Be?
Conclusion For The "Best Types of Yorkie Poo Haircuts with Pictures"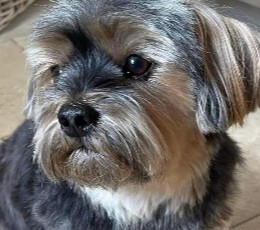 Choosing your favorite type of Yorkie Poo haircut and following these tips will ensure your Yorkie Poo looks and feels fantastic in no time. If you're choosing to take a DIY approach, make sure you have all the necessary tools in place before you begin!
For more guides similar to this list showing the types of Yorkie Poo haircuts, you can check out these other articles from our team at We Love Doodles:
If you find these types of Yorkie Poo haircuts interesting and incredible, you can learn more about grooming your companion by watching "Grooming a Yorkie Poo" down below: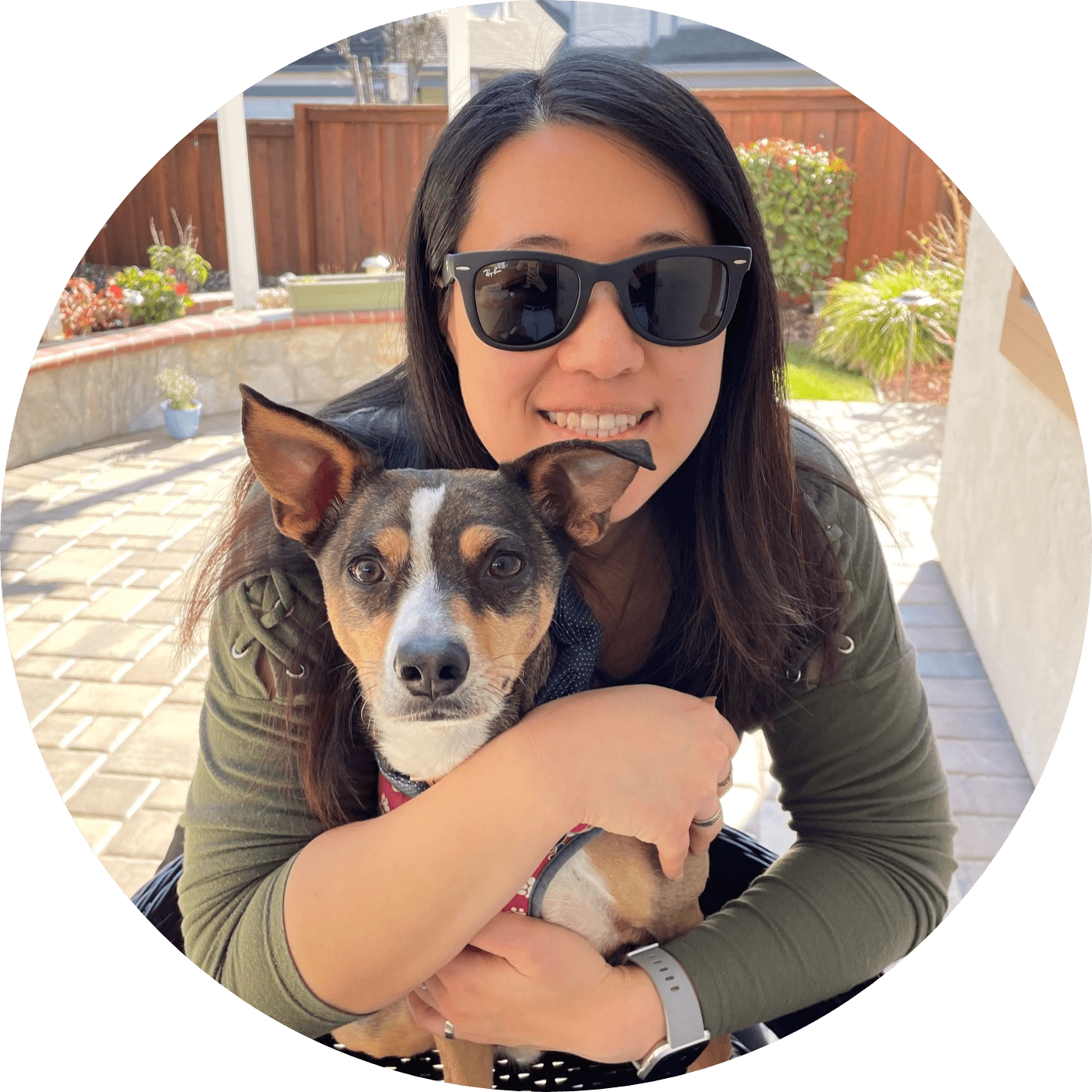 Dr. Sabrina Kong graduated from the Royal Veterinary College in England in 2016 and has been working at a small animal clinic in Northern California since then. She grew up in the Bay Area and got her bachelor's degree from Cal Poly San Luis Obispo. She also became a Certified Canine Rehabilitation Practitioner through a program at the University of Tennessee.
When she isn't in the clinic taking care of her four-legged patients, she enjoys traveling and trying new foods with her friends and her three-legged dog, Apollo. She adopted Apollo from her clinic when he was a puppy with numerous health issues. Dr. Kong truly cares about taking care of animals.