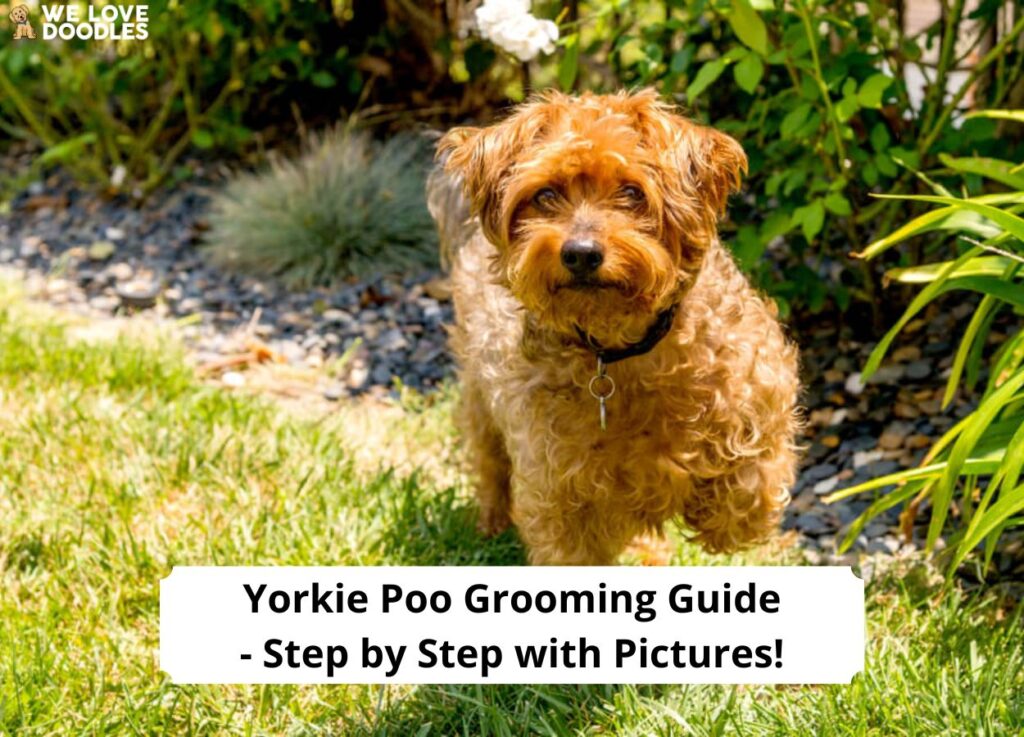 If you want your Yorkie Poo to have a clean, cozy, and aesthetically pleasing coat, grooming is a must, and we'll cover everything you need to know in this guide.
A Yorkie Poo's coat can vary in style and kind because it is a hybrid dog created by crossing a Yorkshire Terrier with a Toy Poodle. As a result, you must be mindful of the sort of coat your Yorkie Poo has when it comes to Yorkie Poo grooming.
We'll go through the various hair kinds and all of the factors to consider so you can keep your dog looking its best.
Before you scroll down this Yorkie Poo grooming guide, check out: Are Yorkie Poos Hypoallergenic? (2023) and Best Yorkie Poo Dog Food (2023).
The Yorkie Poo Coat
A Yorkie Poo's coat can vary a lot, whether it's curly, poker-straight, or wavy.
These coats not only have various qualities, but they also have extremely different outward appearances. As a result, the Yorkie Poo grooming requirements will change depending on the coat. Coats can come in a variety of colors as well, depending on their genetic makeup. Apricot, black, black and white, red and white, tan, or tri-colored are just a few examples.
Let's take a closer look at the various Yorkie Poo coats:
Curly
Your Yorkie Poo will exhibit more Poodle DNA if its coat is curly. Normally, this coat has to be trimmed or shaved every four to six weeks.
Poker Straight
Your Yorkie Poo will exhibit more of the parent Yorkshire Terrier DNA if its coat is poker straight. This coat is smooth and fine, and it doesn't need as much upkeep. Trimming may be necessary every six to eight weeks.
Wavy
A Yorkie Poo that falls somewhere in the middle is one with the wavy coat. The frequency of trimming or shaving will depend on the dog, as will the rate of hair growth.
In either case, this breed's coat is frequently smooth and velvety. Since neither style of coat is known to shed, this breed qualifies as hypoallergenic. Because of this, your house won't have a lot of loose or dead hair. They are therefore perfect for owners who have allergies.
The growth of your Yorkie Poo's coat will require regular brushing, perhaps daily or several times each week. This will prevent the coat from matting or tangling, no matter the coat type.
Yorkie Poo Grooming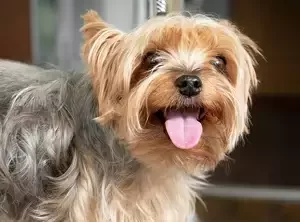 Regular grooming will strengthen your relationship with your Yorkie Poo. Additionally, it will make them feel more at ease, make them appear better, and give you a chance to examine them for any problems.
Follow these steps below for a successful Yorkie Poo grooming.
Step 1: Gather the Supplies
There are certain basic supplies you will need if you plan to groom your Yorkie Poo yourself. Dog-friendly shampoo, a brush, nail clippers, and dog hair trimmers are things you'll probably need to get. Other things, including a hairdryer and towels, should be lying around the house.
Shampoo
You must get a shampoo specially made for dogs. These make sure that the chemicals frequently found in shampoos made for people do not bother or cause rashes on your dog.
Brush
The Yorkie Poo breed responds best to a slicker brush. It quickly removes mats, knots, and tangles without being harsh or damaging to your dog.
Nail Clipper
You may manage your dog's nails with nail clippers. And again, you'll need clippers made especially for dog nails. The best ones will include a safety feature to prevent you from accidentally trimming your dog's nails too short.
Dog Trimmers/Shavers
You can maintain the hair on your Yorkie Poo's body by using dog hair trimmers or shavers. The best ones are those with low vibration to prevent stressing out or inducing fear in your dog.
Step 2: Prepare to Groom
Finding a suitable spot in your house to groom your dog is the prime objective of this step. In any case, you should spread out some towels on the floor or around the grooming area to catch all the dirt. Keep a second towel on hand for you to dry the dog afterward.
Step 3: Examine your Yorkie Poo
Examine your dog thoroughly, and completely before you start. Keep an eye out for any lumps, bumps, dry spots, hair loss, or other abnormalities that your vet should know about. You must be cautious while brushing or grooming around these.
Step 4: Brush Your Yorkie Poo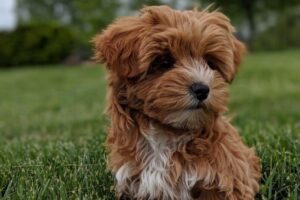 Begin by brushing your dog's face with your slicker brush. Remove any knots that may have formed by carefully brushing them out. Typically, this occurs in the beard region. The legs, back, and belly of your dog should be the next areas you focus on.
Always concentrate on one area at a time; this will keep your dog quiet, and relaxed, and help you work out knots. After that, start at the base of your dog's coat and brush all the way down.
Daily brushing is required for this breed. In fact, it's even better to brush them multiple times daily. When brushing your dog, be firm but careful and watch out for any symptoms of pain.
Step 5: Bathe Your Yorkie Poo
You can begin bathing your dog after you've properly brushed him. Start by wetting your dog's hair everywhere across its coat with lukewarm water. The simplest method to do this is to submerge your dog in a sink or bathtub. Make sure your dog's entire coat is soaked as you pour water over him.
It may help to run your fingers through his coat to make sure the water reaches the undercoat. Take extra care when it comes to the water's temperature. Keep the water lukewarm. Next, lather some dog-friendly shampoo on your fingers before running it through your dog's hair.
As you start with their head, avoid getting the shampoo in their eyes, ears, or mouth. Start with the legs and work your way up to the remainder of the body. Make sure to massage the product throughout the entire coat, getting as deep down as possible.
After this, you should rinse the shampoo with lukewarm water. Once more, start with the head and work your way down your dog's body. You may use your hand to speed up the soap removal process.
Last but not least, after bathing your dog, you should dry his hair. You may use a towel or cloth for this. Just carefully wipe out any extra water from the coat. Another good idea is to spread out a few towels and let your dog stand on them. This will catch the mess when they want to shake the water out of their coat.
Once your dog is dry enough, you may either use a hairdryer on his coat or allow the rest of his body to dry naturally (especially in the summer). Make sure the towel has at least partially dried them. If you decide to use a hairdryer, make sure it is set to low so as not to hurt your dog.
Step 6: Clean the Ears
Your Yorkie Poo's ears need to be cleaned regularly. This will help in reducing the accumulation of wax and debris, both of which can irritate your fur baby. To do this, gently wipe your dog's ears using some clean, fresh cotton buds. Avoid going too far or frightening your dog.
Step 7: Trim the Nails
You must hold your Yorkie Poo closely when trimming their nails to prevent wriggling or attempts to flee. Go through each nail on each paw one by one using a pair of dog-friendly nail clippers. To avoid the remainder of the nail snapping, remove a tiny portion of the nail at a time, and make sure to cut quickly.
In general, cutting from below the nail is simpler and makes it easier to see what you're doing. Avoid cutting the "quick"; it is live tissue, and if you do, your dog will bleed and be in pain.
Step 8: Clean Your Yorkie Poo's Teeth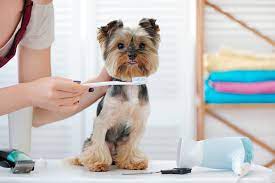 Brushing your dog's teeth will help prevent poor breath discomfort while they eat. You may provide your Yorkie Poo with chewable dental-cleaning treats.
Alternatively, you may buy a toothbrush and toothpaste that is safe for dogs and manually brush their teeth. When you try to do this, some dogs may start to squirm, so it may take some time for them to settle down and become accustomed to it.
Never use human toothpaste since it contains fluoride, which is hazardous to dogs. Last but not least, make sure your vet examines your dog's teeth at every appointment.
Shaving/Trimming Your Yorkie Poo
You typically have two choices when shaving or trimming your Yorkie Poo: you can either do it yourself or bring them to a professional dog groomer.
Although it might be pricey, based on where you live and who your closest groomer is, a professional groomer will save you time and effort. Additionally, not all groomers are knowledgeable about Yorkie Poos and may find it difficult to give you the haircut you want.
Therefore, it's essential to discuss possible styles with the groomer in advance if you do decide to go. Make sure you select a groomer who is properly qualified. Even better, look for someone who has knowledge of the Yorkshire terrier and Poodle breeds.
Alternatively, you can trim or shave your dog by yourself. Make sure to use electric clippers made specifically for dogs. Some basic guidelines for trimming your Yorkie Poo are below.
Face
Remove extra hairs between the eyes and the nose using scissors. Cut the hair with scissors till you can easily view your dog's eyes. Make sure there are no longer ends by cutting underneath and along the side of the muzzle with scissors. Cut around the ear's outline with scissors.
Body
Trim your dog's neck from each side going from the chin to the chest by using a 1″ clipper head. Use the exact same clipper head over your dog's whole body, along with their backs and the back of their necks.
To trim their legs, use clippers or scissors with a longer blade. Grab your dog's paw, flip it over, and then use scissors to clip the hair around the pads. With your scissors, cut a circle around the foot and place it down.
Tail
Your dog's tail should only be cut using scissors. This is so that he has longer hair there than on their body. The tail should be carefully cut and blended with the rest of the body using scissors.
Frequently Asked Questions
How often do Yorkie Poos need grooming?
Aim to groom your Yorkie Poo every four to six weeks.
What is a puppy cut for a Yorkie Poo?
To achieve the puppy cut, trim your Yorkie Poo so the hair on the head and face are one inch and the hair on the body is half an inch.
Can I bathe my Yorkie Poo once per week?
Bathing your Yorkie Poo anywhere from once a week to once every three weeks is fine.
Conclusion for "Yorkie Poo Grooming Guide"
Last but not least, Yorkie Poos are affectionate dogs with stunning coats when they are groomed and taken care of. As our guide shows, Yorkie Poo grooming and brushing are crucial because they shed little.
Apart from this, you'll also need to keep an eye on their nails, teeth, and ears. While brushing your Yorkie Poo could seem challenging at first, you will quickly notice that they have become used to it. They'll even start to relish the care and love that their grooming session brings.
For more articles similar to this Yorkie Poo grooming guide, check out:
If you find these Yorkie Poo grooming steps helpful, you can learn more by watching "Grooming a Yorkipoo" down below:
Garrett loves animals and is a huge advocate for all Doodle dog breeds. He owns his own Goldendoodle named Kona. In addition, he volunteers at the Humane Society of Silicon Valley, where he fosters dogs and helps animals. Garrett enjoys writing about Doodles and believes that dogs can teach humans more about how to live than humans can teach a dog.
Why Trust We Love Doodles?
At We Love Doodles, we're a team of writers, veterinarians, and puppy trainers that love dogs. Our team of qualified experts researches and provides reliable information on a wide range of dog topics. Our reviews are based on customer feedback, hands-on testing, and in-depth analysis. We are fully transparent and honest to our community of dog owners and future owners.