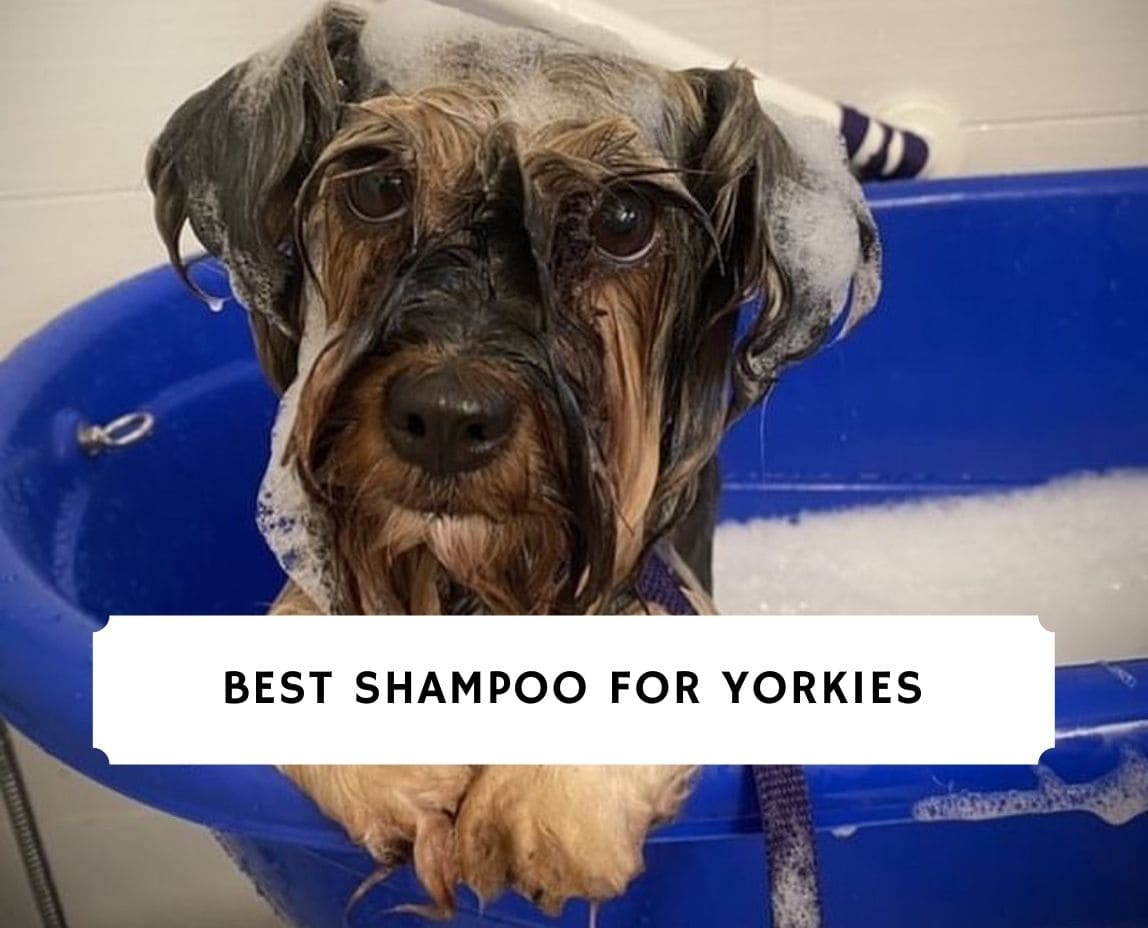 For regular use, skin sensitivities, best grooming practices, and everything in between, we break down our favorite Yorkie shampoos. Dog grooming shampoos come in a wide variety of formulas with a specific purpose. For example, you might use hypoallergenic shampoo on a Yorkie with sensitive skin. At the same time, another pet parent may opt for a deodorizing shampoo to help with their Yorkie's stinky coats.
Today's best shampoo for Yorkies ranges from basic to all-natural, medicated, and even those that double as conditioners. To complete this review, we've included the best shampoo and conditioner for Yorkies and a dry Yorkie shampoo for those in-between days that your pup may not be looking that great. 
We've also included the best shampoo for Yorkies video on how to groom your furbaby at home. Per our team, the overall consensus for the best new organic shampoo for Yorkies was the recently launched We Love Doodles 4-in-one pet shampoo. But just because it's our top pick doesn't automatically make this shampoo a quick fix for all Yorkshire Terrier skin and coats. 
We've broken this review to include more than an essential dog shampoo for Yorkies. Our team examined the best dry skin shampoo, the most affordable if you're a multi-pet household, and more. Our takes on the entire top picks for all Yorkie coats and skin types include shampoo for every Yorkie household. Here's the takeaway:
How do we pick the best shampoo for Yorkies?
When it comes to finding the best shampoo for Yorkies, there are a few things you'll want to keep in mind. First, consider what type of coat your Yorkie has. Is it dry and prone to tangles? Or is it oily and prone to flaking? We'll delve into Yorkie coats and skin types as well.
Yorkie individual needs
One of the best ways to determine which shampoo is right for your pup is by looking at their individual needs. We spoke to numerous Yorkie pet parents to learn more about their most preferred brands. We also tried them out and tested scents, consistency, ingredients, and price.
Reviews
We examined reviews and even tried out shipping to see if shampoos arrived without leaking. Although some of you may prefer a combination shampoo, conditioner, or detangler, we've added in our reviews a few shampoos that are specifically designed to perform just one task.
Eco-friendly & sustainable packaging
We're big on eco-friendly, natural products like Burt's Bees with no harsh chemicals, but we also understand that sometimes a little more is needed to help with common dog's skin issues which we'll discuss in this buying guide.
In a rush? Here are the top picks!
Product
Best Overall
We Love Doodles Shampoo
Runner Up
Oliver's Choice Shampoo
Best For Yorkie Puppies
Burt's Bees Puppy Shampoo
Image
The We Love Doodles 4-in-1 organic shampoo and conditioner is the perfect product to help your Yorkie look good and feel great. It's designed for low shedding dog breeds like the Yorkshire Terrier that need a high-quality shampoo. We like this shampoo for Yorkies because it's a time saver. It keeps your dog's fur soft, clean, and less tangled with one easy solution. There's no need for numerous products saving you time and money. 
The 4 in 1 formula will clean not only your dog's coat but also condition, detangle, and add shine. This product is safe for dogs six weeks and older. This is a new certified organic formula made that's eco-friendly. It has no parabens, sulfates, formaldehyde, alcohol, or synthetic dyes. 
How to use it?
Wet your Yorkies coat thoroughly with lukewarm water. Apply shampoo to your palms, work into a lather, and then apply to the coat. Let sit for 3-5 minutes before rinsing thoroughly. Reapply and lather again. If you have a super dirty pup, rinse. Use a light conditioner to detangle and add shine if needed.
Features
Certified organic ingredients
Vet approved
Lavender and chamomile
Eco-friendly
Formulated and tested in the best facilities.
4-in-1 dog shampoo that cleans, conditions, detangles, moisturizes
Suitable for all dog breeds 
No parabens, sulfates, formaldehyde, alcohol, or synthetic dyes.
Made in the US
Customer Review
"Our dog has sensitive skin, and we've tried so many different shampoos trying to find one that doesn't irritate her skin. This one is perfect! It's gentle and smells great. We will be buying this again."
Because of its formulation, this shampoo was our top pick for sensitive Yorkie skins. The shampoo uses a coconut-based surfactant as a natural cleanser that is soap and detergent free. This product contains aloe to help combat skin infections. It's crafted with aloe that has antibacterial, antifungal, and anti-inflammatory properties. It also includes oatmeal that soothes the skin and shea butter, an excellent moisturizer for the coat. And as you can guess, it's cruelty-free, hypoallergenic, and biodegradable. 
This is an all-natural dog shampoo that works well for Yorkies with itchy or irritated skin. The formula also helps eliminate dandruff and has a cookie oatmeal scent that's pleasant and not overwhelming. This shampoo will leave your Yorkie's coat clean, soft, and smelling great. This shampoo can be used on Yorkie puppies and adult dogs and leaves coats soft and luxurious. 
Oliver's Choice is undeniably one of the best hypoallergenic, all-natural, eco-friendly, and cruelty-free dog shampoos out there, and you can use it as often as you like without worrying about it drying out your dog's skin and coat. It also has a thick consistency even when using a small amount, so you don't have to keep adding more. It's also easy to rinse off, so if you have a dog that doesn't enjoy bath time, you won't need to do endless rinses. 
Keep in mind that it's best to take your Yorkie to your veterinarian for a complete check-up, as with all severe skin conditions. Even the best dog shampoos won't eliminate a skin health issue. 
Features
Pleasant scent
Clinically formulated pet shampoo for Yorkies
Crafted with oatmeal, aloe, and shea butter 
Includes lanolin to soften and add shine
Eco-friendly, cruelty-free, and hypoallergenic
Affordable for multi-pet homes
Naturally derived and biodegradable for less pollution
Crafted specifically for itchy and sensitive skins
Customer Review
"This is a great product! I liked the look of the package. It doesn't jump out at you, but it seems sincere, kind, and appropriate for a beloved pet. I would not call it the SMELL of the shampoo. Smell gives a negative connotation! I say the lovely aroma of the shampoo makes it seem sweet and warm and lovely for the pups that are lucky enough to get a bath in it!
The aloe vera, the oatmeal, and the shea butter? What more could you want? It is wonderful for a dog who has itchy skin in any way, and it seems to soothe them tremendously. Plus, they give you a feeling they are as inviting as a sugar cookie! Who doesn't love the aroma of sugar cookies? You do not need to use a lot of the shampoo since it is very thick and goes a long way. Your dog will be a winner with this lovely homespun shampoo!"
Best Budget Yorkie Shampoo
If lime verbena and coconut remind you of fun summers by the beach, this is your shampoo. Wahl's oatmeal shampoo for dogs is packed with coconut and lime verbena for a fresh summer scent and some deep moisturizing that soothes dry, itchy skin. Your dog will be feeling great in no time! 
Although this shampoo is formulated for dry skin and itch relief, it can also be used regularly on regular coats. We like this shampoo for Yorkies because it's deep cleaning and gentle. We found that when using this formula, it rinsed off quickly and allowed for a fast bath time. This product is PEG-80 free. This product has over 16,400 positive reviews and made grooming a breeze. So we would get every pet shampoo in this line to have them around for all benefits and switch them around.
Note: Polyethylene glycol (PEG) is a humectant – used to help the skin retain moisture, but it can also cause skin irritation. PEG-80 is a penetration enhancer allowing other chemicals to cross the skin into the bloodstream.
How to use Wahl pet shampoo?
We decided to put the Wahl shampoo to the test to see if it does work for all types of Yorkie coats. We tried various products from the line, including oatmeal, puppy, 4-in-1, odor control, and shed control. Per our team, we found that the overall consensus was that each product was great, though a few of us preferred the oatmeal lime verbena formula. 
You can use this on all your dogs at home, and it also relieves itchy or sensitive skin. There is also no "wet dog" smell after a towel dry, and then wash leaves your pup very shiny and clean. Here's how to use this pet shampoo for Yorkies as per Wahl's instructions:
Saturate your pet's coat with warm (not hot water)
Apply a small amount to coat (not a lot because it's very concentrated)
Work shampoo into a foamy lather
Rinse off well with warm water. (more on the cooler side than warm)
As with all pet shampoos, similar to human shampoo, we found that applying the shampoo directly to your hands and working it into a lather first before applying it to your dog's coat allows for hair less susceptible to damage and a shinier coat. 
If you apply it to your dog's coat before foaming it up, you're using too much shampoo, and it will result in a less shiny coat that may be limp with no sheen. The shampoo fragrance will also be stronger than if you lathered up the shampoo first, using less. You'll also have an easier time rinsing your pup because you've used less shampoo.
Features
pH balanced, alcohol-free, paraben-free
PEG-80 free 
Crafted with oatmeal, coconut, lime, aloe, and lemon verbena. Moisturizes dry skin and provides itch relief
24 ounces with 70% more baths
Best budget shampoo for multi-pet homes
Large product line
A WAHL pet grooming product
Good value for the money
Customer Review
"We've ordered this shampoo several times and have been extremely satisfied. We have two small dogs, both with sensitive skin, and this item works very well and doesn't irritate their skin. It has a nice clean but not overwhelming scent, and it's thick and concentrated and works really well to eliminate doggie odors. One of our dogs is a 5.5 lbs. rescue who is very nervous, especially at bath time…this shampoo doesn't bother his eyes. We've tried numerous brands, and this is our "go-to", especially for the price.
Best Eco-friendly Yorkie Shampoo
The Wash bar Natural Dog Soap Bar is a bar of soap specifically formulated for dogs. It's crafted with natural ingredients and essential oils that help clean your dog's coat, soften it, and fight off allergies and itching. We like this natural soap bar for Yorkies because washing your dog with a bar gives you a free hand to hold your dog, and there are no spills. 
This is made in New Zealand from 100% natural ingredients. Two 3.5oz bar delivers the equivalent washing of 40.4fl.oz of liquid pet shampoo, saving you money. The takeaway from this soap bar is that you can use it on dogs with sensitive or itchy skin. 
There are no synthetic nasties like parabens, sulfates, synthetic fragrances, or colors. It can also be used on puppies, rabbits, guinea pigs, hamsters, calves or horses, and many other animals. And best of all, you get the benefits of Manuka oil that leaves skin and coat soft and clean. This is another biodegradable product that comes in a cardboard box.
How to use this soap bar?
This soap bar is meant to be used on dogs and cats. To use:
Wet the pet's fur and then rub the bar directly onto their fur.
Work into a lather and then rinse thoroughly.
Avoid contact with the eyes. If irritation occurs, discontinue use and consult a veterinarian.
This soap bar is biodegradable and contains natural essential oils, shea butter, and coconut oil to help keep your pet's fur clean and soft.
Features
100% natural ingredients
Crafted with Manuka oil for irritated skins and skin allergies
Natural anti-itch dog shampoo helps to soothe dry dog skin
Affordable
No chemicals
Eco-friendly, biodegradable and cruelty-free
Two 3.5oz bar delivers the equivalent washing of 40 oz. of liquid pet shampoo.
Value for money pet product
Climate Pledge Friendly product
Customer Review
"I love this bar soap for our pup. He is a medium-sized Aussie cattle mix who loves to roll in the dirt, play outside, AND sleep in bed with us. The soap lathers up great and leaves him smelling wonderful.
As a bonus, we moved into a new home with a huge yard with a resident skunk, which he met last week. My partner washed him a few times with this soap, and he went from freshly skunked to pleasant in an hour. We were surprised that he only had trace amounts of skunk after being washed!"
Best Exfoliating Shampoo for Yorkies
This is an exciting product because it is a plant-based shampoo bar instead of liquid soap. It makes it more convenient to use and won't leak in your bag or leave water everywhere like regular soap. This product uses natural essential oils and other plant-based ingredients to help soothe and moisturize your pet's skin while keeping them clean and healthy. Wondercide is another cruelty-free grooming product that's biodegradable and eco-friendly. Best of all, each shampoo bar comes with a cedarwood holder.
Wondercide features four plant-based formulas, of which our favorite one is neem bark and patchouli. What's so terrific about this brand is that they use the highest-quality essential oils and other safe plant-based ingredients. The four formulas include:
Aloe vera (hypoallergenic).
Geranium (skin protection).
Neem bark (exfoliating).
Oatmeal homey for that extra moisturizing kick.
So if you are looking for an all-natural, vegan, eco-friendly, and biodegradable pet shampoo that will leave your furbaby smelling fresh and looking great, we highly recommend this product!
How to use the Wondercide soap bar?
 We found that the best way to use the Wondercide bar was to first thoroughly wet your pet with lukewarm water and then rub the bar onto your pet's belly, neck and feet areas. If your Yorkie is suffering from hot spots, skin sensitivities, or insect bites, you can lather the coat and massage for a few minutes, then rinse well with lukewarm water.
Features
Freshly ground neem bark is an effective, gentle exfoliant
Crafted with natural essential oils and other plant-derived ingredients.
Gentle shampoo bar that features four plant-based formulas
Eco-friendly and vegan
Plant-based dog shampoo bar
Free of toxic chemicals
No artificial colors, dyes, fragrances, parabens, phthalates, and sulfates.
Made in the US
A cruelty-free pet grooming product
Best Shampoo For Yorkie Puppies
Burt's Bees for Dogs Care Plus+ Dog Grooming Supplies – Natural Dog Shampoo and Conditioner, Dog Conditioner, Puppy Shampoo, Dog Ear Cleaner, Dog Lotion for Dog Paw, Pet Dog Wash is an excellent product for your Yorkie. 
This natural dog shampoo and conditioner is made with oatmeal, coconut oil, and shea butter to help cleanse, moisturize, and protect your pup's skin and coat. Plus, it's pH-balanced for dogs and free of sulfates, parabens, phthalates, artificial fragrances, and color. It is made with natural ingredients and is safe for your pet. 
And yes, we recommend this brand because it's another eco-friendly, vegan pet product that's priced well and that works, allowing for optimal sheen and skin and coat health regardless of which Burt's Bees shampoo you use on your pet. This product features over 6,400 positive reviews and is another must-have for puppy pet parents.
How to use it?
Wet your dog's coat and massage the shampoo gently into their fur. Rinse thoroughly and then apply the conditioner. Leave it on for 3-5 minutes before rinsing. Use this shampoo and conditioner with Burt's Bees Puppy Shampoo and Conditioner for best results.
Features
Eco-friendly
Uses 80% post-consumer recycled bottles
Contains coconut oil
Shampoo formulated specifically for puppies
Gently cleanses and hydrates
Affordable
Made in the US
Cruelty-free pet product
Best Yorkie Waterless shampoo
"Where has this been all my life! I have two Yorkipoos they have long Yorkie hair on top and curly thick poodle hair underneath making it very difficult to keep them from tangling. They are four years old and I have tried everything to help with this problem. The first time I used this I was able to just brush through their hair it was simply amazing I will purchase this again, and I would recommend it to anybody who has dogs with fine or thick curly hair! Thank you for making such a great product, and it smells wonderful too."
If you have a pet with sensitive skin or want an easy way to keep your furry friend clean without water, the John Paul Pet oatmeal dry foam is worth checking out. This foam shampoo contains all-natural ingredients like aloe that help soothe and moisturize dry and itchy skin while also leaving your pet's fur feeling soft and clean. 
It is pH balanced, free of parabens, and cruelty-free, so you can feel good about using this product on your furry friend. And best of all, it is made in the USA, so you know that you are getting a high-quality product backed by a company that cares about its customers. This highly concentrated botanical formula requires less product than other brands.
How to use it?
To use the John Paul Pet oatmeal waterless foam shampoo:
Pump a small amount of the foam into your hand.
Rub hands together evenly distributing foam, massage into dry fur, avoiding eyes and ears.
Brush through fur periodically until the coat is completely dry.
For added hydration and manageability, opt for the Oatmeal Conditioning Spray after shampooing. This product can also be used on cats.
With regular use, you should notice softer, healthier fur and less itching and dryness in your pet. This product features over 2,000 positive reviews.
Features
Highly concentrated botanical formula
Waterless pet shampoo
Contains addon for sweet almond fragrance
pH balanced for pets
Vegan and eco-friendly
Specially formulated to help water mix with oil and dirt
Affordable
Made in the US
A portion of proceeds from each sale is donated to animal and wildlife organizations
A John Paul pet grooming product
An extensive array of pet grooming products to choose from
The Yorkshire Terrier
The feisty Yorkie originated from the UK and is part of the UKC and AKC's Toy Group. The Yorkie was originally bred to control the rat population in mines and cotton mills in Yorkshire. This small breed features square proportion sand and a high head carriage. The skull is small and flat, with a muzzle tapered with a small black button nose. 
The AKC describes this breed as "Beneath the dainty, glossy, floor-length coat of a Yorkshire Terrier beats the heart of a feisty, old-time terrier. Yorkies earned their living as ratters in mines and mills long before they became the beribboned lapdogs of Victorian ladies." This adorable dog breed has a life expectancy of up to 16 years and is still one of the most popular dog breeds.
Yorkie Coats
The Yorkie coat is distinctive and long, glossy and silky. It's parted down the center of the back and hangs straight to the floor when not clipped. The long hair on the head is usually parted or tied in a cute bow. The muzzle hair is long and blends into the chest hair. 
Pups are born black and tan, and by the time they reach two, they have their adult steel blue and tan coloring. The courageous Yorkie is a high-maintenance dog breed when it comes to grooming. We've included a video on how to groom a Yorkie.
How to groom a Yorkie – Do it yourself dog grooming?
Frequently Asked Questions
What is the best shampoo for Yorkies?
There is no one "best" shampoo for all Yorkies. Each dog's coat and skin type may respond differently to various shampoos, so it's important to experiment to find the right one for your pet. 
Many owners find that hypoallergenic or oatmeal-based shampoos work well for their Yorkshire Terriers, as they help to soothe itchy and irritated skin. 
Additionally, using a shampoo specifically formulated for small breed dogs may be helpful, as these tend to be gentler on your dog's delicate coat and skin. Ultimately, the best shampoo for Yorkies works well for your pet and helps keep her looking and feeling her best.
Where can I find the best shampoo reviews for Yorkies?
We Love Doodles is an excellent resource for product reviews specifically for Yorkies. You can also check out online forums and chat groups dedicated to Yorkshire Terriers, as owners in these communities are often happy to share their recommendations (and warnings) about various products. Additionally, your vet may be able to recommend some good shampoo options based on your dog's individual needs.
What are some things I should avoid when shampooing my Yorkie?
In general, you'll want to avoid using human shampoos on your Yorkshire Terrier, as these can be harsh and dry on your dog's skin and coat. Additionally, steer clear of anything that contains strong chemicals or fragrances, as these may irritate your dog's skin. When in doubt, opt for a gentle, hypoallergenic shampoo specifically designed for dogs.
Do Yorkies only need to be bathed infrequently?
No, Yorkies require frequent baths to keep their coats looking their best. A good rule of thumb is to bathe your dog at least once every two weeks, depending on his individual needs and lifestyle. However, it's also important not to overdo it, as too much bathing can strip away the natural oils in your dog's coat and lead to dry, irritated skin. When in doubt, consult your vet for advice on how often to bathe your Yorkshire Terrier.
How can I make bath time less stressful for my Yorkie?
Bath time doesn't have to be stressful for you or your dog, as long as you follow a few simple tips. First and foremost, it's essential to choose the right shampoo for your pet and make sure that you are only using the recommended amount. Additionally, try to keep the process quick and positive – talk to your dog in a soothing voice, offer plenty of praise, and use treats or favorite toys to keep him focused on the task at hand. 
Finally, be sure to schedule regular baths for your dog so that he becomes comfortable with the process over time. With these tips in mind, bath time should become less of a chore for you and your Yorkie! ​As you can see, there are many things to consider when choosing the best shampoo for your Yorkie. 
However, by following these simple tips, you can find a product that works well for your pet and helps keep him looking and feeling his best. Bath time should become less of a chore for you and your Yorkie! ​
Other articles you would like:

Claudia Bensimoun is a writer who specializes in dog content and veterinary topics! Aside from writing for We Love Doodles, Claudia also writes for other major dog blogs like Fido Friendly, Animal Wellness Magazine, and the United States Dog Agility Association (USDAA). She has a ghostwritten over 50 different dog e-books. Her passions include animal welfare, veterinary research, and wildlife conservation.
Why Trust We Love Doodles?
At We Love Doodles, we're a team of writers, veterinarians, and puppy trainers that love dogs. Our team of qualified experts researches and provides reliable information on a wide range of dog topics. Our reviews are based on customer feedback, hands-on testing, and in-depth analysis. We are fully transparent and honest to our community of dog owners and future owners.