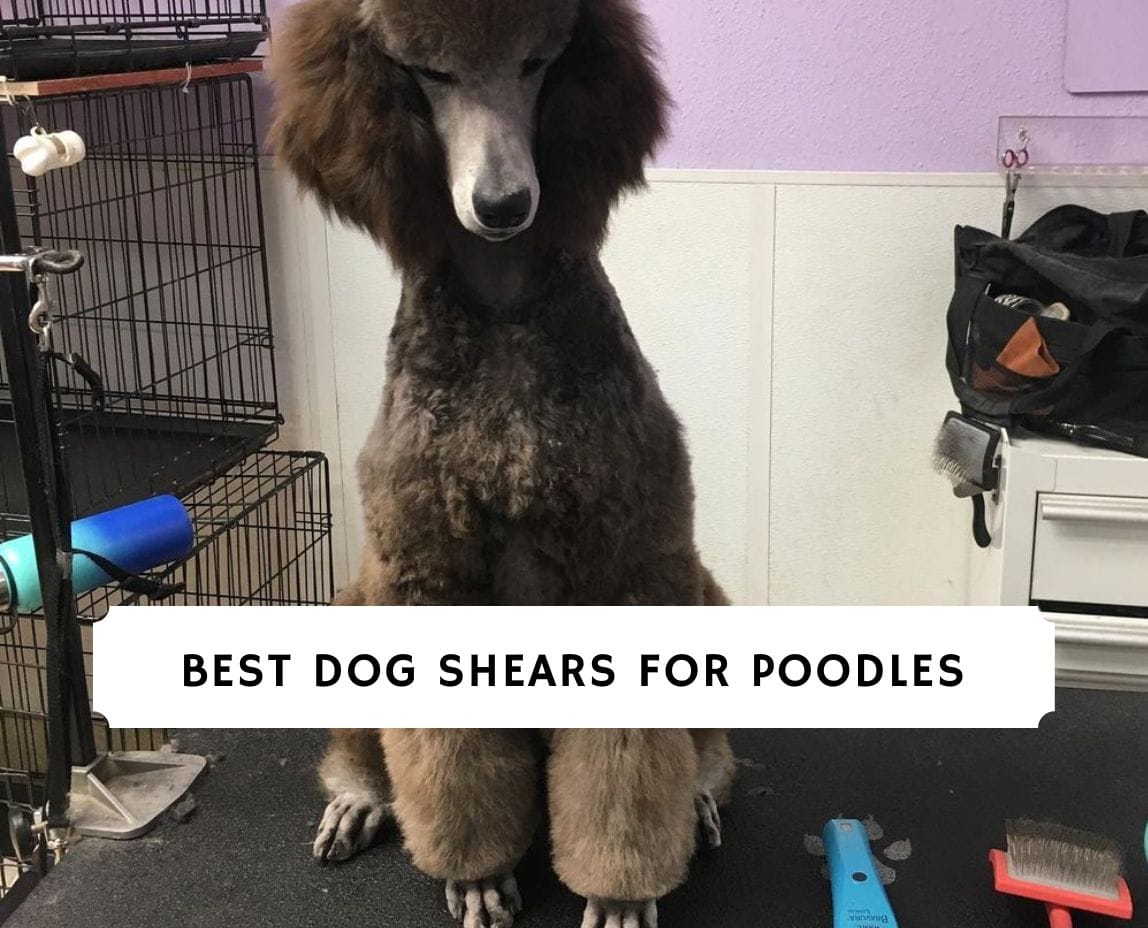 The Poodle is the national dog of France and is called the Caniche, or "duck dog." Poodles have been bred in many sizes, and the three varieties recognized by The American Kennel Club (AKC) are Standard Poodles, Miniature Poodles, and Toy Poodles. All three varieties share a common ancestry and characteristics. 
In this buying guide for the best dog shears for Poodles, we recommend six of the best scissors for this popular breed. We looked at how easy each pair of dog shears were to use and if they were crafted with anti-slip handles for all-day use for reduced hand fatigue.
We also examined the blades and each brand's cutting superiority and safety.
But first, one of the most important things to remember is how grooming products like shampoos and slicker brushes affect the overall quality of your trims. Grooming products like all-natural detangling dog shampoos can make the grooming process much easier for both you and your Poodle. 
So don't forget to give these Poodle grooming products a try-out to help with coat upkeep along with some great shears for trimming.
Product
Best Overall
We Love Doodles Dog Grooming Kit
Runner Up
HASHIMOTO Curved Scissors
Editor's Choice
Gimars 6 in 1 Professional 4CR Stainless Steel Dog Shears
Image
The We Love Doodles dog grooming kit comes with 3 different types of shears as well as a grooming comb for an extremely low price. It comes with a curved dog scissor, thinning dog scissor, and straight shear so you can groom your Poodle any way possible.
Additionally, these dog shears are extremely sharp and durable since they are made of stainless steel. The ergonomic handles also make it easy to grip and trim your Poodles hair.
They also offer a 100% satisfaction guarantee. If you're not happy with these dog shears, you can get a refund. If you've always wanted to groom your Poodle at-home, then we highly recommend you check out this dog grooming kit.
Features
Affordable, at-home dog grooming kit
Sharp stainless steel
Long scissors that make grooming easy
The HASHIMOTO Curved Scissors for Dog Grooming are perfect for professional Poodle groomers, but they come at a price. With a 6.5-inch blade, these scissors allow you to get close to your dog's skin for a precise trim. 
These dog grooming shears are one of the best and last for a long time. The blade is crafted from Japanese Hitachi 440C stainless steel allowing for optimal sharpness, hardness, smoothness, and durability. 
They are also handcrafted and quality-checked to ensure that they are sharp, hard, smooth, and durable. We like these because they have over 3,000 positive reviews and have handles that are ergonomically designed for comfort and control. The handle allows you to hold the shear comfortably, with the blades curving inward and outward.
The blades are made of high-quality stainless steel for durability. These scissors are also lightweight at 4,02 ounces making longer grooming sessions much easier on the hand and wrist.
Features
Over 3,000 positive reviews
Crafted from Japanese Hitachi 440C Stainless Steel
Lightweight at 4.02 ounces
6.5 inches
Assorted styles and sizes available for all dog breeds and grooming needs
The scissor kit includes:
Two straight scissors
One thinning scissor
One curved scissor
One grooming comb
One storage case included 
This is a basic entry-level dog grooming kit for Poodles if you're attempting some light at-home grooming. We like these shears because they have rounded tips which makes it harder for you to accidentally poke your dog.
Additionally, the scissors are on the smaller side, which makes it easy to trim around your Poodle's eyes, paws, and feet. 
Features
9,900 positive reviews
Four fun color options
Adjustable screw for tightness
4CR stainless steel blades for durability and sharpness 
Ergonomically designed handles
Scissor sound eliminator
Pet Magasin pet thinning shears are a professional grooming tool with a toothed blade that is perfect for thinning your pet's coat. The shears are made of high-quality stainless steel and have a comfortable ergonomic handle that is easy to use. The blades are sharp and precise, making them perfect for detailed grooming. This product has over 6,900 positive reviews.
The thinning shears are a great way to keep your pet's coat looking its best. The toothed blade is perfect for thinning out thick or matted fur, and the sharp blades make it easy to get a precise trim. The ergonomic handle is comfortable, and the shears come with a 2-year warranty and 100% money-back guarantee.
Features
Best value for money dog scissors
Left or right-handed use
Japanese stainless steel that's durable
Includes a finger rest
Over 6,900 positive reviews
Comfortable ergonomic handles
Lily's 6.5-inch right-handed pet grooming scissor is made of high-quality stainless steel. The tips of the blades are rounded for safety. This scissor is ideal for trimming your pet's fur. These are made from high-quality 4CR stainless steel and have a unique blade grind for optimal cutting performance. 
It also has rounded tips to avoid grooming mishaps. This product has over 2,000 positive reviews and has a central designer blue screw that can be adjusted manually.
The takeaway with these Poodle scissors is that they're long-lasting, durable and lightweight at 5.29 ounces. The razor-sharp edge provides effortless shaping and finishing for all coat types.
Features
Crafted with high-quality 4CR stainless steel
Affordable
Over 2,000 positive reviews
6.5 right-handed round tip pet scissors for all coat types
Lightweight at 5.29 ounces
These straight dog shears are one of the best for at-home Poodle grooming. Andis is one of the most popular brands of pet grooming tools on the market. Andis is a company that has been making high-quality pet grooming products for over 20 years, so they know a thing or two about what works best for keeping pets looking their best. All their grooming scissors for dogs are crafted with high-quality stainless steel. The curved 8-inch shear is designed for curved surfaces such as a Poodle's head.
The Andis Premium Pet Grooming scissors are right-handed or left-handed, crafted with stainless-steel blades to provide you with superior cutting. The new line of Andis premium pet grooming tools features professional and ergonomic features that are perfect for at-home grooming. 
The Andes Poodle grooming line features dog combs, clippers, two-sided brushes, and other de-shedding tools. The straight scissors are lightweight at 1. 59 ounces. They have anti-slip handles and are crafted with features to make home grooming so much easier and more professional. We like these because soft-grip finger inserts and oil are included for maintaining cutting performance and maximizing comfortability.
Features
Professional grade for heavy use
Different sizes, styles, and dog shear scissor options for Poodle grooming
Best for professional and at-home grooming
High-quality grooming tools with dog shear options
Cryogenically tempered high-quality stainless steel for durability
Affordable for multi-pet homes
Ergonomic offset handles
A superior Andes dog grooming scissor shears for Poodles
The Poodle
Poodles are known for their intelligence and trainability and are known for their distinctive appearance, curly coat, and "Poodle clip." Poodles are active and energetic dogs, and they require regular exercise.
Regarding grooming, Poodles require regular brushing and combing to prevent mats and tangles, and they also need to be clipped or shaved every few months. And while they can be trimmed with clippers, many pet parents prefer to use pet clipping scissors together with the We Love Doodles Poodle slicker brush and Poodle dog shampoo to give their Poodles a more natural look.
Poodle coat
All three types of Poodles, Miniature, Toy, and Standard, have the same type of coat: fluffy. The American Kennel Club( AKC) describes the Poodle coat as curly: of naturally harsh texture, dense throughout.
The coat is corded: hanging in tight even cords of varying length; longer on mane or body coat, head, and ears; shorter on puffs, bracelets, and pompons. 
Poodle clips
The AKC adds that "A Poodle under 12 months may be shown in the "Puppy" clip when discussing Poodle clips. Poodles 12 months or over must be shown in the "English Saddle" or "Continental" clip in all regular classes. 
In the Stud Dog and Brood Bitch classes and a non-competitive Parade of Champions, Poodles may be shown in the "Sporting" clip. A Poodle shown in any other type of clip shall be disqualified. "A Poodle a year or under can be shown with a "Puppy Clip" with a long coat.
The AKC adds that there is a pompon on the tail, and shaping is permissible via shaping the Poodle coat. The English Saddle clip is another popular Poodle clip. The AKC adds that if you're showing your Poodle, you can clip, the face, throat, feet, forelegs, and base of the tail are shaved, leaving puffs on the forelegs and a pompon on the end of the tail. "
The hindquarters are covered with a short blanket of hair except for a curved shaved area on each flank and two shaved bands on each hind leg. The entire shaven foot and a portion of the shaven leg above the puff are visible. The rest of the body is left in full coat but may be shaped to ensure overall balance."
Whereas in the Continental Poodle Clip, the clip entails the tail's face, throat, feet, and base being shaved. The hindquarters are shaved with pompons (optional) on the hips. The legs are shaved, leaving bracelets on the hind legs and puffs on the forelegs. There is a pompon on the end of the tail. The entire shaven foot and a portion of the shaven foreleg above the puff are visible.
 The rest of the body is left in full coat but may be shaped to ensure overall balance."
Additionally, if you're a big fan of the Sporting Clip, then a Poodle can be shown with the face, feet, throat, and base of tail shaved, leaving a scissored cap on the top of the head and a pompon on the end of the tail.
The rest of the body and legs are clipped or scissored to follow the dog's outline, leaving a short blanket of coat no longer than one inch in length. The hair on the legs may be slightly longer than that on the body. In all clips, the hair of the topknot may be left free or held in place by elastic. 
The AKC explains that with all the Poodle clips, the hair is only of sufficient length to present a smooth outline. "Topknot" refers only to hair on the skull, from stop to occiput. This is the only area where elastic bands may be used.
General Guidelines of Poodle cutting scissors
Poodle grooming scissors are designed to make it easy to groom your Poodle. Many pet scissors are available, but not all will work well on Poodles. Here are some general guidelines to help you choose the right scissors for your dog:
Choose scissors that are made of high-quality Japanese steel. This will ensure that the scissors are durable and will last a long time.
Look for scissors that have comfortable ergonomic handles. This will help you avoid fatigue. When choosing a pair of dog scissors, you need to consider the type of coat your Poodle has. If you have a Standard Poodle, look for scissors designed for thick coats. If you have a Toy Poodle, look for scissors designed for thinner coats.
The type of coat will also dictate the type of blade you need. If you have a Standard Poodle, you will need a blade that is serrated or has teeth. This will help you to avoid any snagging. If you have a Toy Poodle, you can use a blade that is smooth.
Choose scissors that are easy to use. This means that they should be lightweight and have a comfortable grip.
Make sure the scissors you choose are sharp. A dull pair of scissors will make grooming more difficult and can even damage your dog's coat.
Be sure to read the instructions or watch a video before using any grooming shears. This will help you to understand how to use them properly.
When purchasing Poodle grooming shears, it is important to keep these guidelines in mind. By doing so, you can be sure that you are choosing a pair of scissors that will work well on your dog.
FAQ'S Best Dog Shears for Poodles
What are the best shears for Poodles?
The best shears for Poodles should be used with the We Love Doodles detangling and dematting shampoo to help with a professional grooming look. The ingredients are sourced from the U.S with soothing lavender and chamomile to promote health and wellness.
We like to use the Andes Poodle shears with the We Love Doodles slicker brush and the We Love Doodles USDA-certified organic Poodle shampoo. The slicker brush from We Love Doodles features two sizes: small and large for all Poodle sizes, and features 50% longer, denser, and softer pins compared to other professional brands – each pin is approximately 1 inch long. There is also a lifetime warranty on all products!
What grooming tool should you use on a Poodle?
The best dog grooming tools should be used with an -all-natural Poodle shampoo and conditioner like the We Love Doodles pet shampoo for all dog breeds. 
The best Poodle grooming tool is the We Love Doodle gentle slicker brush featuring small and large sizes and an eco-friendly wood handle. 
The long pin slicker brush from We Love Doodles grooms and massages to keep a healthy coat. This increases blood circulation and leaves your dog's coat soft and shiny.
How do you care for grooming shears?
Maintain your animal clippers
Conclusion For The Best Dog Shears For Poodles
There's nothing quite like having the right grooming tools at home when grooming your Poodle. When used together with natural shampoo conditioners like the We Love Doodles 4-in-1 organic dog shampoo made especially for Poodle mixes, this helps combat static electricity, all the while adding luster and brush ability. Your Poodle will have a healthy coat that is protected from environmental elements.
Using the right tools, like the We Love Doodles slicker brush, will also help to keep your Poodle's coat looking its best. This particular slicker brush for Poodles is excellent for regular brush-outs and removing tangles and mats. It's also great for use on Poodles with sensitive skin, as the tips of the bristles are rounded.
Having the right tools at home for grooming your Poodle will make the experience more enjoyable for you and your dog. With the right products, you'll be able to keep your Poodle's coat healthy and looking its best.

Claudia Bensimoun is a writer who specializes in dog content and veterinary topics! Aside from writing for We Love Doodles, Claudia also writes for other major dog blogs like Fido Friendly, Animal Wellness Magazine, and the United States Dog Agility Association (USDAA). She has a ghostwritten over 50 different dog e-books. Her passions include animal welfare, veterinary research, and wildlife conservation.
Why Trust We Love Doodles?
At We Love Doodles, we're a team of writers, veterinarians, and puppy trainers that love dogs. Our team of qualified experts researches and provides reliable information on a wide range of dog topics. Our reviews are based on customer feedback, hands-on testing, and in-depth analysis. We are fully transparent and honest to our community of dog owners and future owners.