There's nothing more adorable than a long-haired dog with a perfectly clipped coat. Dog breeds will have varying coat textures and lengths. Some breeds are curly-coated, like the Poodle, Bichon Frise, and Komondor. However, every dog breed will have specific grooming needs which are based on their type of coat.
Companion dogs are groomed for hygiene and convenience, while show dogs are groomed for specific guidelines that enhance how closely they conform to a particular breed standard. In this review, we're going to discuss how you can save time and money with our top picks of the best clippers for long haired dogs. Trips to the groomers can end up costing a fortune, which is why so many pet parents decide on purchasing one or two pairs of high-quality clippers.
Dog breeds that don't shed much won't need as much maintenance apart from a quick trim every few weeks and regular grooming. Unless you desire the showy look of a precision-cut show dog, you don't need to visit the groomer for a dog haircut. Home clipping is a breeze once you get the hang of it, and soon your puppy will adore all the attention he gets from you.
In a rush? Here are the top picks!
Product
Best Overall
Oster Clipmaster
Runner Up
Andis UltraEdge
Budget Pick
Wahl Professional
Image
If you're looking for stress-free grooming, the Wahl Professional Animal Thick Coat Pet Clipper is excellent for all-over grooming and heavy-duty use, including mats and complete shave downs for dogs, cats, and others animals with thick coats.
This is the perfect dog clipper perfect for clipping the Australian Shepherd, Golden Retriever, Goldendoodle, Great Pyrenees, Labradoodle, Poodle, Pekingese, Pomeranian, and other thick pet fur.
We like these because Wahl has been around for close to 100 years. They're well known for their high-quality human and pet clippers. Even equestrians are crazy for these!
Features
2-speed professional clipper designed to glide through thick dog coats with ease.
Includes Wahl's #7F ultimate competition Series blade for optimal clipping performance and fast, smooth, and safe clipping.
It weighs only 12. 9 ounces.
Kit includes the thick coat corded clipper, blade, Blade oil, Cleaning brush, and instruction booklet.
Designed for comfort and easy to use
Priced well
Low vibration
The Oster Pro 3000i Clipmaster is cordless, allowing you the freedom to clip anywhere. It features a powerful 3,000 SPM motor for versatile grooming of dogs, cats, horses, and all livestock. This clipper is compatible with all Oster A5 detachable blades and will cut through thick dog fur. This model comes with a size 10 CryogenX blade.
Oster is a well-known brand and is an established leader in home appliances, pet care, and personal care. Their products feature superior performance and are designed to last. The Oster Pro 3000i is one of our favorite clippers for long-haired dogs because it can be used on all coats and the entire body, eliminating the need to switchblades. The motor type is also universal and features five colorways, and can operate for over two hours without losing power.
Features
Lithium-ion battery with a 2-hour charge
3,000 SPM motor for thick coats
Includes Cryogen-X Blade ( high-carbon steel blade)
Includes battery& charging stand
Cordless heavy-duty clipper with an included battery charging stand
One-year warranty
Compatible with numerous Oster blades
With over 2500 positive ratings, the Wahl Professional Animal Bravura cordless clipper kit has so much to offer. Besides being easy to use, this top-notch dog clipper is priced well with the 5-in-1 blade adjusting between sizes #9, 10, 15, 30, and 40, offering a convenient variety of cutting lengths. You'll notice that some of the other clippers on our list only come with one blade and you'll have to buy separate attachments. This clipper for long hair features five trending colorways that include berry, gunmetal, turquoise, pink and purple.
If you're a multi-pet household, these are perfect for goats, horses, and all dog breeds with thick fur. The Bravura is suitable for trimming the horse's bridle path, ears, muzzle, and fetlocks and trimming show cuts for goats, pigs, and cattle. The blades are extremely sharp and it has multiple use cases.
Features
A 5-in-1 blade that allows for a lightweight cordless clipper that's easy to use
A rechargeable lithium-ion battery has a 90-minute cordless run time of cool running, low vibration, and quiet operation.
The battery charges up in 60-minutes
It measures 7 inches long, weighs 8.8 ounces.
Includes Wahl's one-year limited professional warranty
Made in Hungary with German high-quality precision blades
The Cyrico 5 Speed Dog Clippers is a 5-speed heavy-duty professional pet clipper that's priced well. This clipper has a rechargeable 2200m A Li-ion battery and features an LED screen to clearly show speed, power use, oil, and cleaning. This is the cheapest dog clipper for long hair dogs on our list, but it still cuts through thick and matted hair. 
The motor is also quiet, so there's no stress while clipping. This comes with a ceramic, stainless steel blade to easily tackle thicker coats with all dog breeds. There is a 3-hour charging time for a 240-minute run. The only downside is that this is a white-labeled product that comes from China. It doesn't have a major name brand to support the product.
Features
The LED screen indicates when the blade needs cleaning.
 Cordless & cord both available options when clipping.
 Turbo 5-speed power to clip all coats from 5000 RMP to 7000 RMP.
 4 hours of clipping time with a 3-hour charge
 Auto shut off protection when the blade is overloaded (protects electronic component)
The Andis UltraEdge Super 2-Speed Detachable Blade Clipper is available in 5 colorways in vivid green, burgundy, blue, purple, orange. This clipper for long haired dogs is cool and runs quietly. What's great about this clipper is that it works for all coats and dog breeds – including larger dog breeders. It also has a detachable blade design for ease of changing and cleaning.
The Ultra Edge features a two-speed rotary motor for performance that pros require. What we like about this model is the shatterproof housing and the Strokes per Minute are 3400 and 4400. This model has a two-speed rotary motor with a 14-foot power cord. The blades are detachable, and the clipper was easy to use for prolonged periods because it was lightweight.
Features
Perfect for all coats and breeds.
Detachable blade for easy cleaning and changing
Priced right
Lightweight with fun color options
4′ heavy-duty cord for ease of movement around 
The Oster Golden Clippers features over 1000 positive ratings. These are versatile clippers with two-speed switches. There's a two-speed motor with 2,700 SPM, Lo and 2,100 SPM. These clippers work well with dog breeds that have thick or matted fur. They're super popular because they feature a universal rotary motor that yields over 2,100 SPM (strokes per minute).
Another perk with these dog clippers is that they're chew-proof and provide a resilient housing that protects the motor. The Oster Golden Clippers is an excellent choice for precise and regular grooming. These clippers are priced right and are compatible with all Oster A5 detachable blades.
Features
A powerful universal motor
Ensures fast clipping of thick coats and tough mats
2-Speed Settings with the low speed at 2,100 SPM & high at 2,700 SPM
1 Year Warranty
Includes 10 Blade
Made in the US (foreign & domestic parts)
Priced well
Although this model doesn't have as many reviews as the others, the Oster Volt is a cordless, lightweight clipper that does its job well. It's compatible with all the Oster A5 detachable blades, including the wide blades. Whether you want to trim a dog's face, paws, or around their body, this is a great grooming clipper.
We like these because it runs for 2 hours straight on the lithium-ion battery and is one of the most powerful cordless dog clippers around. It comes with a complete kit and is capable of cutting through tough matted fur. Some of the other cheaper product blades will actually get stop working with thick fur.
Suitable for livestock, dogs, and all pets, the Oster is another favorite brand in the pet industry because of its reliability. The really outstanding feature with these clippers is that it stays cooler longer.
Feature
Powerful magnet motor
Lithium-ion battery
High-torque single speed motor at 2,400 SPM
Detachable battery system
Works with all Oster A5 detachable blades
Works well with matted & thick coats
Weighs 15oz
Rotary motor type
Grooming Requirements for Long & Silky Coats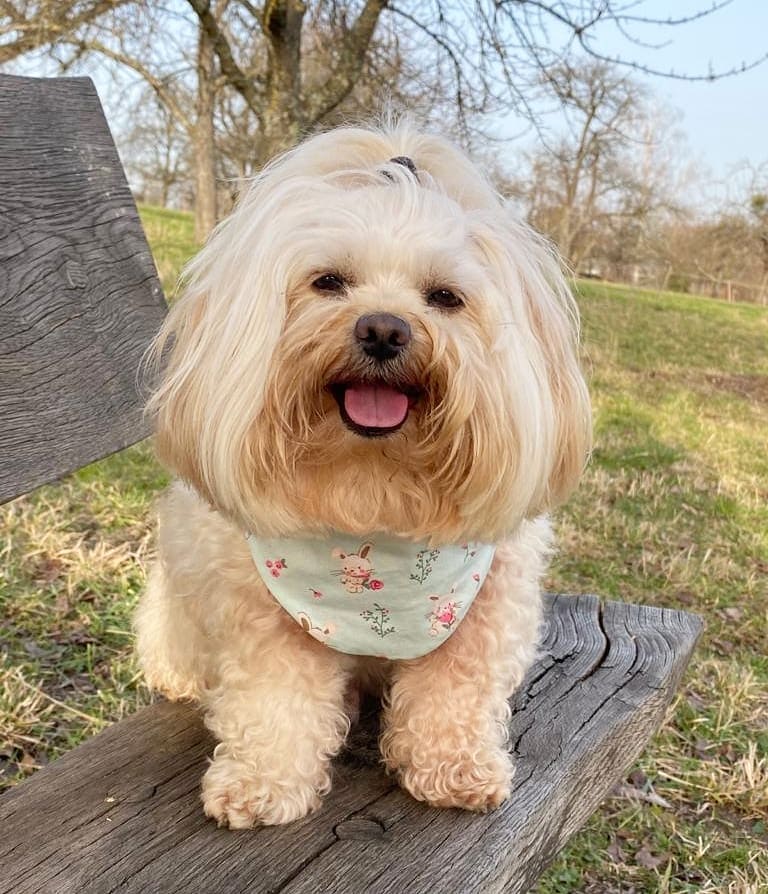 The grooming requirements for breeds with long and silky coats are not as easy as for dogs with short coats. Long-haired cuts need to remain tangle-free with daily brushing. Dogs with long and fluffy coats and breeds with undercoats need more frequent brushing and regular bathing, which is why many pet parents decide to try out different types of clippers to save time and money in the long run. We spent hours researching the best clippers for long-haired dogs. Our criteria are based on battery longevity, motor efficiency, durability, comfort, and price point.
How to Choose the Best Dog Clippers for Long Haired Dogs
If you're a pet parent to a long haired dog, grooming may be difficult at times. Especially with Doodle dogs like Goldendoodles, this breed has beautiful thick coats and considered a non-shedding dog breed. Regular grooming and dog clippings are essential to keep your dog looking good and preventing matts.
Coats may differ with long hair dogs and some coats will be curly, smooth, wavy, or straight. Professional grooming for a long hair dog may set you back as much as $75 to $100+ each time you have them clipped professionally. They also need clipping every 6-8 weeks which can cost you a lot of money. If you feel that you're able to trim your dog, it's essential to have the best clippers. Here's what you need to consider when choosing the best clippers for your long hair dog.
The varying brands of clippers and blades
Corded or cordless
Detachable clipper blades sizes & edgings
Durability and vibration
 Battery life
Available speed options
 Price
Weight & ergonomic design
Different Sizes of Clipper Blades
Clipping your dog allows you to choose a style that you want. The most common cut is the Teddy bear cut or Poodle cut, yet numerous other haircuts would work for your long hair dog. Most dog clippers have detachable blades that allow for cleaning, sharpening, and changing.
Some blades can be used between dog clipper manufacturers enabling you to choose the best blades for your clipper or switchblades when clipping different parts of the body. The #10 blade is the most commonly used blade for dog clippers because it works on different dog breed coats and is an extremely versatile blade. They are also affordable and range from $25 to $35.
You'll need to keep in mind that the lower the blade number, the shorter your dog's coat will be. With a #10 blade, you'll end up with 2mm of fur on your puppy's body. Stay away from the #30 or #40 because these are used for pre-surgery clips at the veterinarian, and Goldendoodles don't need these blades.
Letters in Front of Blade Clipper Numbers
You're probably wondering what these mean. If there's an F in front of the number, that means full blade and will give your dog a finished look. If your long haired dog has a coat similar to a Golden Retriever, the best blades are 5F or F.
On the other hand, if your long haired dog has coarse hair that looks like a Poodle look, you should consider using #3, 4, or 5, and formatted coats a 7F. Scissors work to trim your dog's legs, underbody, and tail. Dogs with Poodle-type fur on their faces, feet, and tail base do well with a #10 or #15.
Blade Materials
The most popular blade materials on long hair dog clippers are stainless steel or ceramic. There are also other materials like chrome, titanium, carbon, and silver. The take with chrome blades is that they don't rust, and the carbon-infused blades are sharper edge for longer.
Keep in mind that silver dog clipper blades feature antimicrobial properties. Dog clipper blades need to be sharpened regularly. If you maintain your blades, you'll end up using them for a more extended period. Blades need to be washed, dried, and oiled after each clipping. Opt for high-quality clipping blades and maintenance kits that come directly from the manufacturer.
Steel blades are cost-effective but may not stay as sharp for long. They also heat faster and maybe a problem on sensitive skins. The most crucial take here is to stop clipping once the blades heat up and use the cooling spray when needed. You would need to do the same even when using the clippers on livestock.
How to Look After Your Clippers?
The cooling spray is essential when clipping dogs, horses, and livestock. Don't start clipping your puppy without having this nearby you. This is because blades heat up quickly, and the spray cools them down so that you can use them for long stretches.
You'll need to stop clipping if your clippers get hot; otherwise, you can burn your dog's skin. Blade lubricant and cleaner are necessary for blade maintenance, but after using the lubricant, you should wipe off the excess oil to prevent blade clogging.
You can also use the soft cleaning brush to clean the blade from excess dog fur accumulating inside the blade and clipper head. If you have a problem with your clippers, you can get a replacement from the manufacturer for different parts of the clipper.
Oftentimes, you can send over your clippers and get a replacement or a free repair. To purchase the right pair of clippers for your Goldendoodle, you'll need to compare the price, motor and blade durability, weight, power source, warranty, and accessories.
Conclusion for Best Clippers for Long Haired Dogs
Keeping your furry best friend's coat well-groomed and healthy means no hanging eye hair or overheating during the hot summer months. A good pair of dog clippers can save you plenty of money and time. It may take you a few tries before you get the hang of clipping your dog, but it will soon become really simple. Keep in mind that you'll need to clean your clippers after each use and oil the blades every few months.
 The most important thing to keep in mind is that you'll need to check your blades to ensure that your clippers don't get hot. Lastly, look for a long-lasting battery. If you invest in a dog clipper, you'll find these a return on investment, most especially during COVID.
Professional dog clippers allow you to do a professional clipping in the comfort of your home, allowing your dog to feel comfortable during the hot summers.
As you can see, there are a few essential features to look out for when choosing the best dog clippers for your Goldendoodle. Wahl, Oster, and Andis are the top brands when it comes down to quality.
Other articles you would like:
Garrett loves animals and is a huge advocate for all Doodle dog breeds. He owns his own Goldendoodle named Kona. In addition, he volunteers at the Humane Society of Silicon Valley, where he fosters dogs and helps animals. Garrett enjoys writing about Doodles and believes that dogs can teach humans more about how to live than humans can teach a dog.
Why Trust We Love Doodles?
At We Love Doodles, we're a team of writers, veterinarians, and puppy trainers that love dogs. Our team of qualified experts researches and provides reliable information on a wide range of dog topics. Our reviews are based on customer feedback, hands-on testing, and in-depth analysis. We are fully transparent and honest to our community of dog owners and future owners.