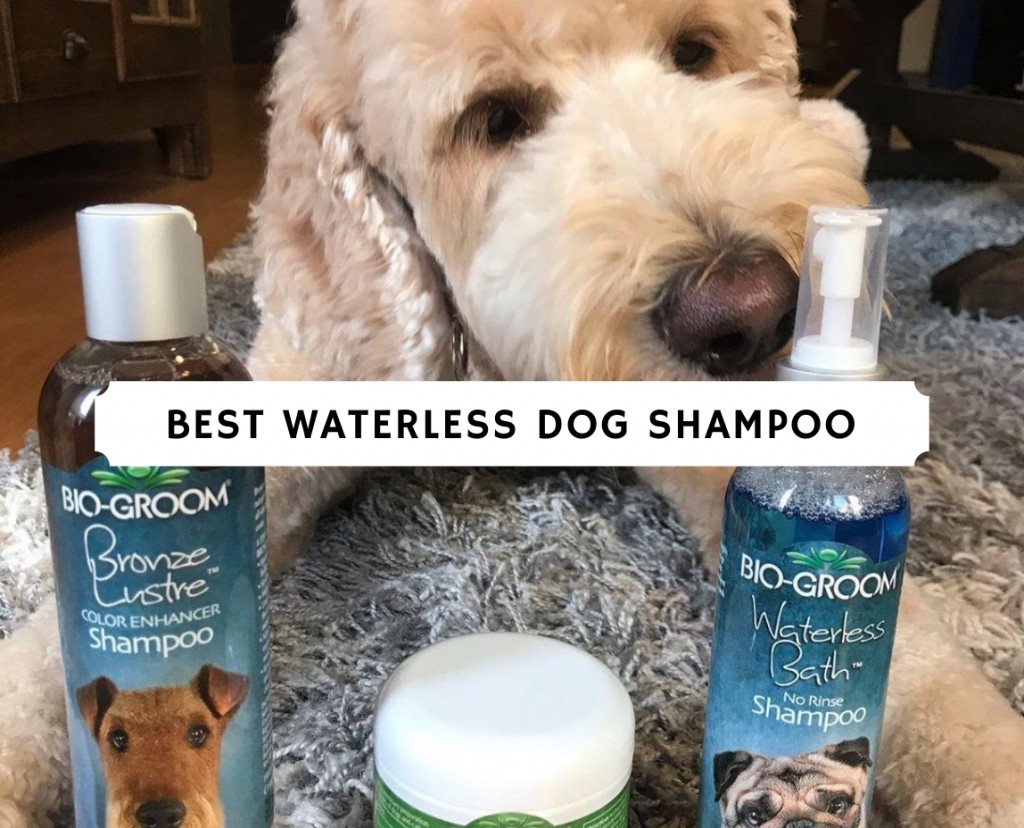 Does your dog tend to get really stinky really quickly? Seriously! Bath time was just a few days ago and already your dog stinks from running around the dog park or rolling in the dirt. It's too early to bathe them again already or send them to the groomers so what do you do about it? You don't want to try out your dog's skin and cause them to itch all day long.
Many people turn to waterless dog shampoos for situations such as this. Waterless dog shampoo works very similarly to what humans use as dry shampoo. It can spruce up your dog's coat and help alleviate odors to tide them over until the next bath time.
There are a lot of waterless shampoos for dogs out there, as well as concerns as to which ones are the safest to use for your pet. We've got you covered! We've dug into the information and narrowed down the market to present you with the 7 best waterless dog shampoos on the market.
Today, we will focus on these top shampoo choices and let you know just what there is to love about them. We're quite sure you won't be disappointed with your options!
What is Waterless Dog Shampoo?
First, let's cover the basics. What exactly is waterless dog shampoo? A no water dog shampoo is almost like a cleanser. Some of these shampoos come in spray form while others are a foaming shampoo that you rub into your dog's coat.
These shampoos are great for sprucing up your dog's coat and removing odors in between bath times. They are typically gentle on the skin and coat of your dog and don't cause additional itching. These are not meant to clean the coat so don't think that you can just skip bath time with dog shampoos without water.
Waterless dog shampoo is just meant for sprucing up in between bath times. Think of it as a dry shampoo but for dogs! Waterless shampoo can also be used for puppies.
The 7 Best Waterless Dog Shampoos Reviewed
In these reviews, you will find a detailed description of each waterless dog shampoo. We will let you know just what to expect with each product and even share a list of the pros and cons so you can get a quick feel for each item as well. We've actually tested several of these no water shampoos on our Goldendoodle.
In a hurry? Here are the top 3 picks:
Image
The Bodhi Dog Waterless Dog Shampoo is one of our favorites as far as waterless shampoo for puppies goes. It's pretty affordable and it is super gentle on your dog's skin. This is a somewhat new product but there are still plenty of rave reviews and information about the product.
This is a veterinarian-approved formula. It is non-toxic and it is made with natural extracts to be gentle and soothing for your dog. There is no rinsing required at all who makes it extremely easy to use. This waterless shampoo was designed for dogs but it is gentle enough that it can also be used on cats and other pets. It's also a great waterless puppy shampoo.
This awesome shampoo won the 2020 Family Choice Award for pet products. It comes in lavender, lemongrass, or oatmeal (plain) scents. With this gentle spray-on shampoo, your dog's coat will be shiny and smooth as well as manageable and soft. It deodorizes and smells delightful!
This no-rinse dog shampoo is made in the USA. It works instantly and requires little effort on your part. Simply spray it on and use a towel to wipe your dog down. Alternatively, you can brush your dog to rub the deodorizer in. The company also offers a 100% satisfaction guarantee or your money back because they believe in their product.
Most negative reviews about this product just mention that it doesn't clean, which is not what waterless dog shampoos are designed for.
If your dog is prone to sensitive skin or is a breed that tends to have irritated skin, this could be a great option for you. This oatmeal waterless shampoo is a foaming shampoo that soothes and moisturizes dog skin and fur when used. This is also a great waterless shampoo for puppies due to it's ingredients.
It's specifically formulated to work with sensitive skin and is an oatmeal formula. The ingredients are gentle and the shampoo has a light, nutty smell. There are no parabens in this formula. It is cruelty-free and economically-friendly which makes it the best waterless dog shampoo on our list.
This waterless shampoo has won a number of awards out there. Some of the awards include the Editor's Choice Awards from Pet Product News, Humane Corporate Award from the Humane Society of the US, Fido Friendly best pet products, and multiple eco excellence awards in pet grooming products.
This is made from the same creators as the human Paul Mitchell line. It is made in the USA in order to control the quality of the product. You simply rub the foam into your dog's coat and massage it in then brush your dog to remove oil and dirt. It also can be used on puppies.
As humans, many of us have heard of and raved over Bio Silk products. Well, guess what? You can use Bio Silk for your dog. You can purchase this in a single-pack, a dual-pack, or even a bundle. They have a whole line of luxurious silk therapy for dogs and puppies.
These products are made in the USA and they have been labeled the best waterless dog shampoo on the market. They're highly-rated and also pretty affordable as well. It's good for all dogs and all types of coats.
This waterless shampoo for dogs is a simple spray-on formula that is soothing to dry and itchy skin. It provides natural moisture for your dog's skin and coat. It's very easy to use. You just spray it on your dog or puppies coat and it does the cleaning. You can also spot clean or spray it all over.
After you spray it on, massage it into the coat and then brush through the coat for the best results. There are no parabens or artificial colors in this formula.
This waterless pet shampoo can be used daily if needed. It's got one of the better sprayers as far as spray-on waterless pet shampoos go. This waterless pet washing system is designed for cleaning, cleansing, and conditioning your dog's fur. It is a safe waterless shampoo for puppies, dogs, and cats.
Our favorite scent is the sweet lavender scent but you can also get the oatmeal scent or fresh scent as well if you're not a fan of floral notes. You can get this in a 1 or 2-pack option. It's highly-rated across the board and effective waterless dog shampoo.
The ingredients in this product are natural, which means they will be gentle on your dog's skin and coat. It is infused with aromatherapy to give your dog a clean and refreshing scent when used. In addition, it is gentle on their skin and also provides moisture to reduce itchiness.
You simply spray on, massage into your dog's coat, and use a towel or rag to wipe them down to finish. This helps clean and deodorize effectively.
Here is another great, highly-rated option for your dog, puppy, or cat. This is simple and effective with a sprayer that never fails you. This formula is designed for deodorizing, cleaning, and shining your dog's coat in between bath times.
This is a simple spray and wipe formula that will leave your dog smelling fresh and clean. It is completely plant-based so there are no harmful ingredients to worry about. You can also wash your dog's face but you should not spray it directly on their face. Spray a cloth and then wipe their face.
Begley's Natural is advertised for dogs and cats but it is also safe and effective for rabbits, ferrets, hamsters, guinea pigs, and more. It's even a great waterless puppy shampoo. They use only the best ingredients in this, for your pet and for the air that you breathe. This product is made in the USA and is a high-quality product.
It is available in a few different scent choices. To use, you simply spray over your dog's coat and then use a damp cloth to rub it into the fur and wipe them down, effectively removing odors and dirt.
Here is another spray-on waterless shampoo that is effective for both dogs and cats. This is a pH-balanced shampoo that is gentle and tearless which means you can also use it on puppies. This requires no water and is simple and easy to use. It has a good sprayer that will work effectively and easily.
This is a simple option. If you don't want all the fuss and scents and options, this could be the best waterless dog shampoo. The active ingredients in this product are tea tree oil and vitamin E, which makes it gentle and natural with a lot of great benefits.
This one does take slightly more effort to use than some of the others but it is still waterless. You need to spray your pet's coat until it is pretty damp. You then massage the soap in until it foams slightly like soap. From there, you should dry with a towel and then brush your pet as well for the best results.
This option is great for spot cleaning stains and dirt, freshening up between baths, deodorizing, and gentle needs. There are no parabens for artificial thickeners in this product.
Burt's Bees has a reputation for having gentle products that are natural and made for soothing and profound results. This is a dry dog shampoo and it is great for all dogs. The formula cleans and soothes your dog's coat.
This is an unscented option but it is infused with apples and honey so it may have a light and simple scent that will help with deodorization. You can purchase it in a 1, 2, or 3-pack. This product uses wholesome ingredients. It is nourishing and gentle which makes it great for puppies as well.
This is pH balanced no-rinse shampoo for dogs. It has a cruelty-free formula and is formulated with no sulfates, fragrances, or colorants. You can use this waterless shampoo for boosting the shine of your dog's coat, nourishing their skin, and then cleaning and deodorizing as well.
This is suitable for all dogs and puppies and is veterinarian-recommended and safe as well. It's a simple spray that is easy to use. You simply spray on and then brush through or wipe off with a damp cloth.
How to Choose a Waterless Dog Shampoo
Not all waterless dog shampoos are the same. There are a few things you should know before you buy. This will just help you make an informed decision and ensure that you are getting a waterless shampoo that is worth your money.
These aren't terribly expensive but you are paying for a product that says it works so let's look at a few specific things that could impact your decision in the end.
Spray Bottle
Ok, here's the thing. Some of these sprays come in a bottle with a spritzing sprayer. Sometimes, those sprayers work great, and sometimes they don't. You want a good, quality sprayer or you might totally not even be able to use your shampoo!
Be sure your waterless shampoo comes in a spray bottle or else have a spray bottle that you can use for this type of thing. This just makes the process so much easier when applying the shampoo to your dog or puppy.
Skin-Type Compatibility
Some dogs have sensitive skin by nature and others can be bothered by various shampoos. Check the ingredients to know whether or not the shampoo is gentle and compatible to be soothing for your dog's skin.
Look for a waterless dog shampoo that specifically states it works for sensitive skin or works for a particular breed if needed. Pay attention to the packaging, the recommendations, the reviews, and the ingredients.
Deodorizing
Most of the time, the purpose of using waterless shampoo is because your dog stinks. Let's be honest, a stinky dog is hard to handle. You might be using the waterless dog shampoo for some spot cleaning but, the general consensus is that no water dog shampoo is used to deodorize.
So, when you're looking at the options, look at the scents. Also, be sure to take a look at whether or not the shampoo you purchased is also deodorizing. Not all of them are deodorizing so pay attention to the details.
When you're trying to clean up the smell in between baths, you will want to be sure it is deodorizing.
Features
Look for the options that have other uses.
Here are a few things that you may want to consider.
Smell
Cleanliness
Application
Long-lasting
Waterless Dog Shampoo Vs. Normal Shampoo
Waterless dog shampoo and normal shampoo are not the same and they do not work the same.
While waterless dog shampoo does clean some, but it is not actually designed to clean. It is primarily designed to deodorize and refresh. A dog shampoo without water is not meant to replace a full bath. It is simply meant to fill in between bath times or help out when you have a pet that maybe can't be bathed for some reason.
No water dog shampoo can help to refresh your dog's coat, effectively remove oil and odors. The truth is it doesn't clean your dog's coat. You should simply be aware of that ahead of time. If you expect it to replace a bath, you will be disappointed.
Normal dog shampoo does a full cleaning and deodorizing process. It also requires water and potentially wrangling your pet in order to achieve bath time. Bathing significantly dries out your dog's skin so you can only really give them a bath once a month or so.
Options are great in the right circumstances. Both normal dog shampoo and waterless dog shampoo each serve a purpose. Normal shampoo gives you a deep clean while waterless shampoo is best used as a refresher.
Conclusion for Best Waterless Dog Shampoo
Waterless dog shampoo can certainly be effective in those times when your dog has that stinky dog smell but you simply don't have time for a bath or it is too soon for a bath. Any of the options we've shared here will be great and effective shampoos to help you keep your dog smelling and looking fresh!
Don't stress about a stinky dog. Get some of the best waterless dog shampoos to have on hand when you really need it.
Other articles you might like:
Garrett loves animals and is a huge advocate for all Doodle dog breeds. He owns his own Goldendoodle named Kona. In addition, he volunteers at the Humane Society of Silicon Valley, where he fosters dogs and helps animals. Garrett enjoys writing about Doodles and believes that dogs can teach humans more about how to live than humans can teach a dog.
Why Trust We Love Doodles?
At We Love Doodles, we're a team of writers, veterinarians, and puppy trainers that love dogs. Our team of qualified experts researches and provides reliable information on a wide range of dog topics. Our reviews are based on customer feedback, hands-on testing, and in-depth analysis. We are fully transparent and honest to our community of dog owners and future owners.