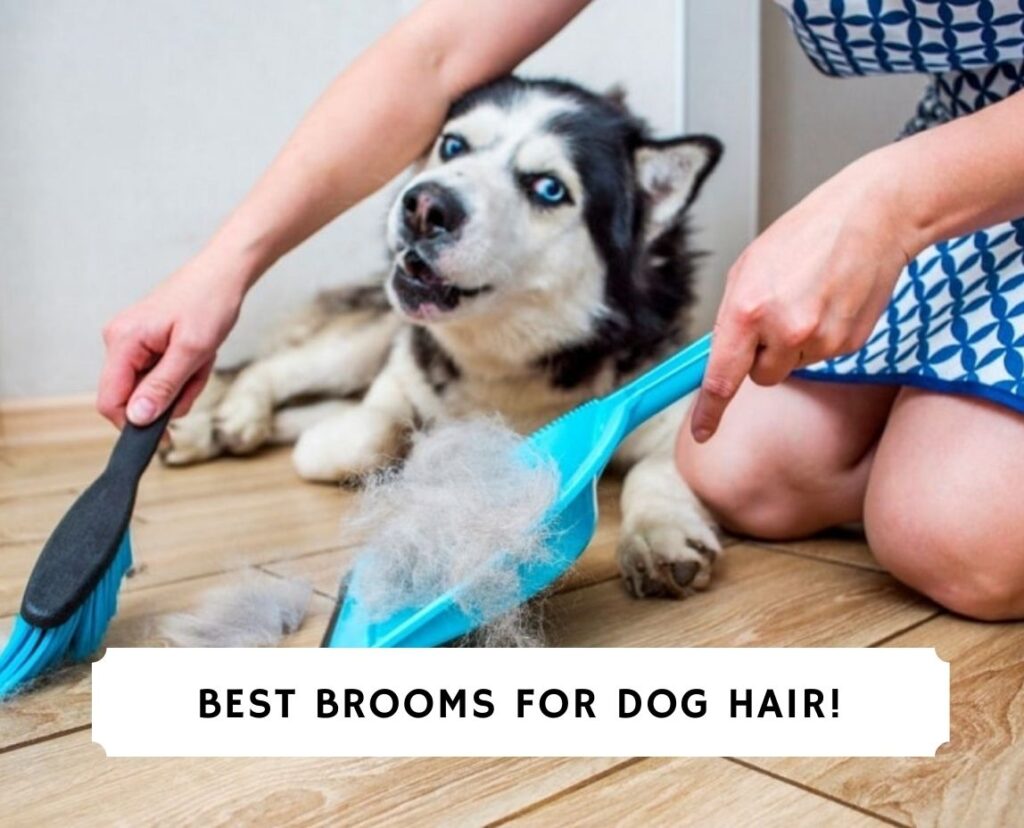 We all know that a dog is man's best friend, and you wouldn't change your precious dog for the world.
There are times, however, when striking a balance between a tidy house and your puppy companion can be a challenge – especially if you have a dog prone to shedding or one with lots of long fur.
Not only can dog hair make your home look unsightly and untidy, but it can also cause issues for those who may suffer from breathing issues such as asthma or other conditions.
Dog hair on your clothes is also not the most approved look for the office, and it can be difficult to keep the mess under control when you have a million and one other things to take care of.
Fortunately for you, we have the solution. Our team of experts has put together the best brooms for sweeping dog hair and an extensive buyers guide to help you make a perfect choice.
Get ready to embrace a picture-perfect home, and ensure that dog hair mess is a thing of the past with our comprehensive guide!
In a rush? Here are the top picks!
Product
Best Overall
LandHope Push Broom
Runner-Up
FURemover Broom for Dog Hair
Best Broom + Dust Pan
O-Cedar Pet Pro Broom
TreeLen Broom and Dustpan
Image
Broom Product Reviews
For the ultimate all-in-one dog hair remover, this FURemover broom should be your number one choice – it can do pretty much everything except take your dog for a walk.
The telescopic broom handle has a five feet range, allowing you to access all those tricky-to-reach places with minimal effort. Additionally, the bristles are made of a tough, firm rubber that easily lifts hair from the fibers of carpets, smooth hardwood floors, or slick tiles, making this an ideal option if you have multiple floor coverings throughout the house. We especially like this broom for dog hair on hardwood floors.
The blade reaches twelve inches in total, allowing you to cover large amounts of ground at a time, and can be rinsed with warm, soapy water after each use to keep it in great condition.
As an added bonus, the head of the broom can be detached from the handle at any time, allowing you to get into every nook and cranny, including hard-to-reach areas beneath radiators, along baseboards, and in the very corners of the carpet, leaving your home clean, tidy and free from dog fur.
Lightweight, versatile, and easy to use, this Landhope broom ticks every box. The handle is fully adjustable and can be taken from 31.5 inches right up to an impressive 54 inches, making this perfect for a range of heights – there is no excuse for your kids to duck out of the chores now!
The adjustability means that it is also easy to reach corners and edges, ensuring that every inch of your floor is spotlessly clean and free from fur.
The use of rubber bristles means that hair and dust are gathered easily and reduces the risk of your neat pile blowing away as soon as there is a breath of wind. This is one of the best brooms for dog hair on tile or hardwood floors since it's easy to glide.
The long teeth also allow you to pull up hair from deep within the carpet, raking it up in a way that most vacuum cleaners just cannot manage. Not only will your carpets and rugs look clean on the surface, but you can relax safely knowing nothing is lurking beneath.
In addition to offering a fast and easy way to eliminate dog hair, the Landhope broom has the added advantage of functioning as a squeegee, and this adds resistance to the water, which will help your broom last for years to come without having to worry about the risk of mold or mildew – even if you have to endure the dreaded wet dog smell.
Enjoy two quality products in one handy solution with the TreeLen broom and dustpan set, which can help you care for your pet hair problem with minimal effort – all while saving the planet.
If you love your pet, chances are high that you care about the other animals and creatures inhabiting our planet and want to do your part to reduce the destruction humans carry out.
The TreeLen set is cleverly constructed from recycled bottles, allowing you to keep your home clean and hair-free while boosting your eco-credentials and doing your bit for the planet.
The brush is soft, smooth, and easy to use, making it the perfect fit for hardwood floors, as there is no risk of scratching or other damage.
In addition, the soft bristles will not pick up or absorb water, eliminating the annoying issue of spreading dust, dirt, and hair across the floor while cleaning. The set also comes with a built-in comb and scraper, which can also be used to bring your rugs and carpets up to standard, making this a versatile, flexible purchase that offers excellent value for money especially if you need a broom for hardwood floors or tile.
One of the major advantages of the TreeLen set comes from the convenience; you can sweep the hair into the pan quickly and easily, saving you valuable time, effort and energy.
If you live in a home with sharp corners, awkward edges, and curious crevices, the O Cedar is the ideal broom to keep your floors clean and free from dog hair.
The unique "V" shape is designed to ensure maximum contact with the floor, allowing you to get into tight corners and annoying angles to pick up each and every hair – fans claim that 99% of all grime, dust, and dog hair can be picked up with just one sweep, and this is a serious time saver.
The advantageous design also extends to the unique bristles; rather than a single line of bristles, the O Cedar has two lines of defense: the first is a set of firm, black bristles which are designed to pick up any larger pieces of debris or thick, stubborn hair, and a second, softer set, which pick up anything left behind to leave your floor squeaky clean after just one sweep.
As an added bonus, the bristles are built to last and feature an ability to "remember" their previous shape. This allows them to spring back into place once you have finished sweeping rather than remaining bent at awkward angles.
Once your hardwood floors or tile are swept, you can easily add the debris to the dustpan in a fast, hands-free motion thanks to a step-on design, and antistatic technology means that you can transfer your trash to the bin with one tap, without the worry that someone will open a door and let in a breeze.
Reduce your workload without compromising on cleanliness with this quality broom from Mr. SIGA, specially designed to remove pet hair in a fast, effective and effortless manner.
The bristles of this dog hair broom are made from flexible rubber, which offers both flexibility and durability. These can easily rake through the pile on a rug or carpet to pick up hairs trapped deep below and glide smoothly over hardwood or tiled floors to leave them smooth and spotless without the risk of damage.
The handle comes in at an impressive 62" in length, constructed of four sections, and these can be adjusted and locked in place in any way you desire, allowing you to obtain the perfect length and weight for your needs.
This also reduces the amount you will need to bend and stretch while allowing you to get the desired results. As a bonus, the broom for dog hair also comes with a free microfiber cloth that clips to the main body – this is perfect for a final once-over when the hair has been removed from your floors.
The broom is also easy to clean and maintain – when you are finished, simply use warm water and soap, and allow it to air dry, ready for your next cleaning session. It's the best broom on our list if you're sweeping dog hair off of the carpet.
Buyer's Guide for the Best Broom for Dog Hair
Now that we have taken a look at some of the top options on the market, we have also worked to ensure that you have the information you need to make a confident, informed decision, which will prove to be the best possible option for your home and your pet. 
Adjustability
It is important to pick a comfortable broom for you to use and maneuver around the house, and this usually means opting for a model that is easy to adjust.
Take some time to consider the length of the handle and whether it can be made taller or shorter as desired – the last thing you want is to spend hours bending and stretching to clean your house.
Not only is this uncomfortable, but it can also result in long-term injuries and damage over an extended period.
Material
The material of your broom is another very important consideration, especially if you are concerned about staying as eco-friendly as possible. As a general rule, rubber is one of the best materials for picking up and removing dog hair, especially from carpets.
Unlike plastic, rubber has a greater weight and density, allowing it to grip and grab even fine hairs more easily. Rubber will also produce less static than plastic or other materials, helping your freshly swept pile to stay in place while you transfer it to a bin.
Many of the options we have taken a closer look at blend practicality, durability, and green credentials by using recycled objects to create their rubber brooms, and this is a great way to enjoy the best of both worlds.
Floor Type
Not all brooms are created equal, and some openly admit that they are more suitable to a particular surface than others. When making your selection, consider the materiality of your home – do you have mostly hardwood floors, tile, or soft, thick carpet? Do your rugs have a deep, thick pile, or are they relatively shallow?
The answers to these questions will dictate the best dog hair broom for your needs; for a fully carpeted house, you will need a broom with long, tough bristles able to penetrate a dense material. However, a broom with softer options may be more suitable for a house with mostly hard floors.
The material of your floor, tile, or carpet will also impact the type of bristles you choose. If your floors are quite soft and delicate, opt for something designed to minimize damage and scratches. Once again, a softer bristly would be a smart option here.
Dog Breed
Another important consideration is the breed of your dog or dogs, as this will determine the quality and type of hair they have and how much they are likely to shed.
Some larger breeds, such as German Shepherds, Huskies, or long-haired Collies, will shed a lot more than a short-haired Chihuahua and so will need a tougher, more durable brush to deal with this.
For smaller dogs or those that do not tend to lose too much fur, you can invest in a more lightweight, possibly softer broom.
The number of dogs you have will also play a part here – the more dogs, the more hair, and so the higher the quality of the broom you will need to invest in.
Ease of Storage
This is a feature that is all too often overlooked but plays an important role in your choice of a broom.
Consider the ease with which your broom and any other items such as dust pans can be packed away and stored when not in use.
Some models will come with a hook, allowing them to hang neatly in a cupboard or on a wall, while others may fold up and out of sight to save space. Whether you are strapped for space or have plenty of storage, keeping your broom in an accessible yet tidy place is a key element to consider.
Frequently Asked Questions
What types of floors can I use a dog hair broom on?
As we have seen from the options we have explored, there are different types of brooms for different floors. It is important to consider the nature of your floor coverings before making your selection to ensure that you purchase a suitable match.
Why do I need a dog hair broom?
A dog hair broom allows you to remove dog hair from your floors and carpets, keeping your home clean, tidy, and comfortable for those who may be allergic to fur or suffer from breathing issues such as asthma. In addition, a dog hair broom will allow you to enjoy these benefits without the risk of damaging your floors.
Which is better: a dog hair broom or a vacuum cleaner?
While a vacuum cleaner can pick up some dirt and debris, they typically lack the ability to go deep into the pile and pick up hair embedded there, and this can result in dull carpets. A dog hair broom ensures floors are cleaned down.
How often should I clean with a dog hair broom?
Ideally, you should spend a little time cleaning each day – just ten minutes every day will prevent hair from building up and stop this from becoming a large job.
Garrett loves animals and is a huge advocate for all Doodle dog breeds. He owns his own Goldendoodle named Kona. In addition, he volunteers at the Humane Society of Silicon Valley, where he fosters dogs and helps animals. Garrett enjoys writing about Doodles and believes that dogs can teach humans more about how to live than humans can teach a dog.
Why Trust We Love Doodles?
At We Love Doodles, we're a team of writers, veterinarians, and puppy trainers that love dogs. Our team of qualified experts researches and provides reliable information on a wide range of dog topics. Our reviews are based on customer feedback, hands-on testing, and in-depth analysis. We are fully transparent and honest to our community of dog owners and future owners.