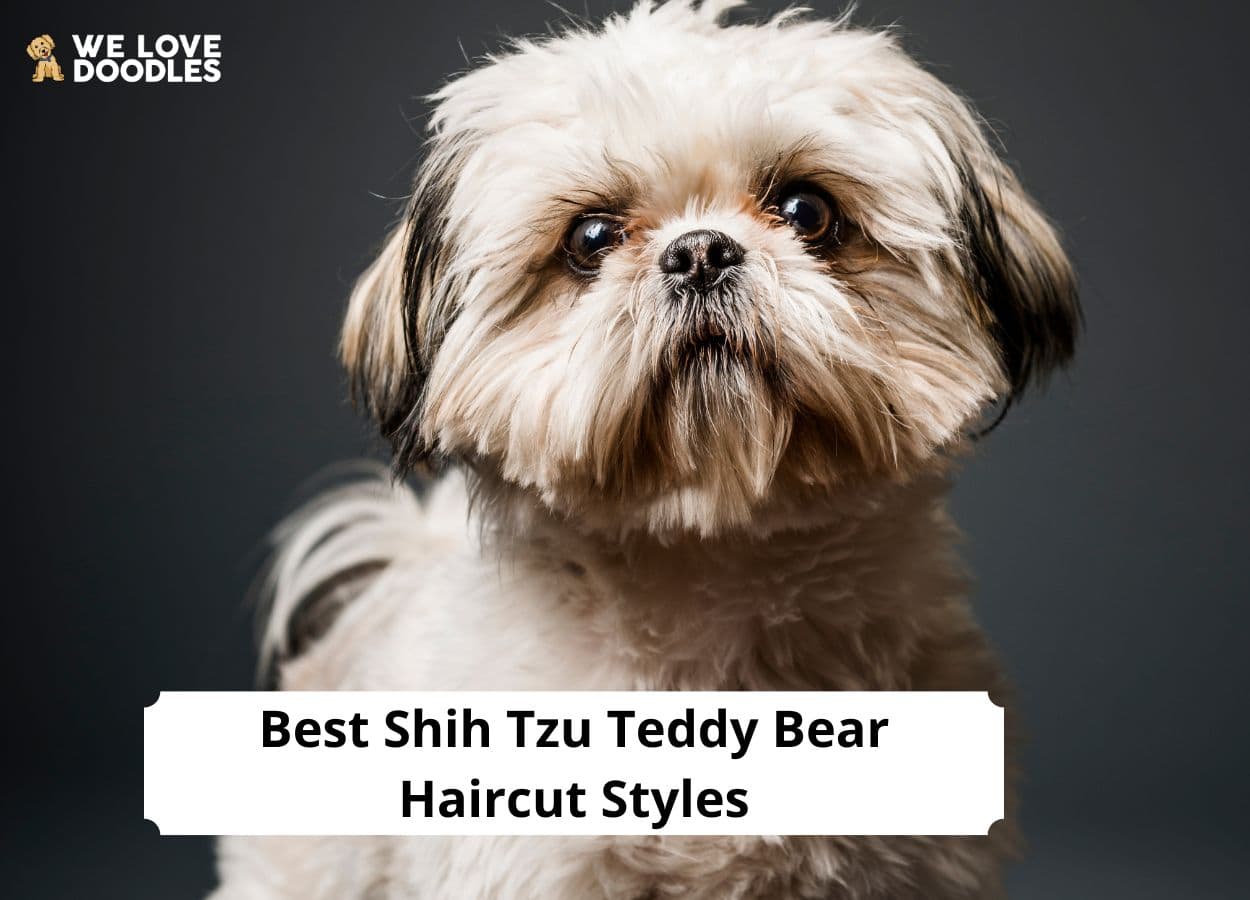 If you're searching for the best Shih Tzu teddy bear haircut styles, you've come to the right place. Shih Tzus are small dogs who are playful and affectionate. These dogs are outgoing and lightweight, making them easy to handle and move around.
Shih Tzus get no taller than 10 inches and weigh up to 16 pounds, but some may be as slim as nine pounds. Although small, a Shih Tzu will offer your family anywhere from 10 to 18 years of memories and adventure.
Shih Tzus are perfect family pets and love to spend time with family members, children, and other animals in the home. However, choosing the best haircut for these dogs can be challenging since they have such stunning, versatile locks.
Never fear, though. Plenty of other haircuts can make your Shih Tzu comfortable, especially the teddy bear cut. Read on to learn more about Shih Tzu haircuts, teddy bear cuts, and grooming information about your Shih Tzu.
Before you scroll further down this list of Shih Tzu teddy bear haircut styles, you can check out these other dog-related grooming guides from our team at We Love Doodles: How Long Does Dog Grooming Take and Best Dog Grooming Shears.
What Kind of Hair Does a Shih Tzu Have?
Shih Tzus are famous for their luxurious, sometimes curly and sometimes straight, hair. These dogs can grow their hair long and are significant players in nearly every dog show or competition. Shih Tzus have fast-growing hair that will need frequent brushing and trimming.
Although a small challenge to care for, these dogs can be dolled up in nearly any fashion, making them perfect candidates for home with children who love to play with hair and dote on dogs.
When kept short, Shih Tzus will have curly locks that will make them look like lambs, ponies, or teddy bears. These dogs have hair slightly similar to that of Poodles and are just as versatile.
More Shih Tzu-Related Guides: Maltese vs. Shih Tzu Dog Breed Comparison and Best Shih Tzu Rescues For Adoption.
What is a Teddy Bear Shih Tzu Haircut?
A teddy bear haircut is one of the top choices among Shih Tzu owners. This haircut is perfect for Shih Tzus because this dog breed is small and has thick, curly hair when kept short. Shih Tzus with a teddy bear cut may be nearly indistinguishable from a teddy bear when laid among these stuffed animals.
A teddy bear cut keeps your dog's hair short but not so you can see its skin. This haircut will prevent the need for constant or daily brushing, meaning you'll have more time for play and adventuring.
A teddy bear cut will keep the hair about your Shih Tzu's ears long while shaving some of the hair around your dog's body. This haircut will accentuate the roundness of your dog's head to make them look sweet and innocent, even when they're getting into trouble.
More Shih Tzu-Related Guides: Best Shampoos For a Shih Tzu and Best Dog Brushes For a Shih Poo.
Why Should You Choose a Teddy Bear Cut For Your Shih Tzu?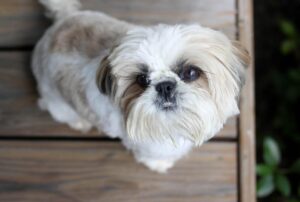 A teddy bear cut is beneficial for many reasons, but the first is that it keeps your dog clean. This haircut will keep your Shih Tzu hair short, meaning you won't have to brush so much, and dirt won't be able to stick to as much of it. Teddy bear cuts usually mean shaving off a lot of hair on your Shih Tzu's underbelly, meaning easy and mess-free potty time.
A teddy bear cut is best for puppies and dogs experiencing a relapse in potty training and house training. This haircut will also mean you have greater access to your dog's skin, making tick and flea checks much easier.
More Shih Tzu-Related Guides: Best Vacuum Brushes For Dogs and Best Scissors For Grooming a Shih Tzu.
Giving Your Shih Tzu a Teddy Bear Cut
You can give your Shih Tzu a teddy bear cut at home using an online tutorial and the right tools for the job. Doing this haircut at home can save you tons of money and provide you and your dog with a bonding experience.
Adopt the Right Tools
You'll need a pair of clippers, scissors, and a comb to give your Shih Tzu a teddy bear cut at home. These tools can help you make uniform cuts around your dog's body, allowing them plenty of comforts.
Clippers are a perfect tool because they are safe, won't pull on your dog's hair, and have a softer sound than clippers made for humans. Acclimate your dog to your tools by allowing your Shih Tzu to sniff around the items for a few minutes. This exposure can help ease canine anxiety and make your dog calmer.
More Shih Tzu Product Recommendations: Best Dog Brushes For Tangles and Best Brushes For Wavy Dog Hair.
Train Your Dog
Teaching your dog verbal commands is one of the first steps to ensuring you and your precious puppy have a safe bonding experience. Teach them to follow the commands for sitting, lying down, rolling over, and staying in one spot.
Your dog may be wiggly. Be prepared for this wiggly nature by using blunt scissors that won't hurt your dog, especially when trimming the area around its face.
More Shih Tzu Product Recommendations: Best Shock Collars For Dogs Barking and Best E-Collars For Aggressive Dogs.
Other Stunning Shih Tzu Haircut Styles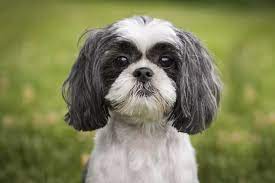 If you feel like experimenting with other Shih Tzu haircuts, teddy bear-like puppy cuts, or learn how your Shih Tzu can look with a little trimming, plenty of Shih Tzu haircuts are waiting for you. Read on to learn more about the haircuts that look similar to a teddy bear cut.
1. Puppy Cut
The puppy cut is the closest haircut to the teddy bear cut. These haircuts bear a similar resemblance, aside from the amount of hair left on the head and neck. The puppy cut has less hair around these areas but will ensure your Shih Tzu keeps its iconic fluffy ears.
This haircut will make your Shih Tzu look like a puppy no matter their age and will likely make them the most comfortable. A puppy cut is also ideal for senior dogs who have trouble using the bathroom in their old age. Puppy cuts usually keep the underbelly and back leg area short, so any messes are easily cleaned.
2. Summer Cut
A summer cut is another haircut for your Shih Tzu that will look much like a teddy bear cut. This haircut is usually short and offers the dog plenty of breathing room. A summer cut can look different depending on the dog.
Dogs with undercoats will likely not have as short of a summer cut as those with short hair and no undercoat. With this haircut, your Shih Tzu will look innocent and lamb-like, except for their flat and manicured ears.
3. Long Ear & Tail Cut
The long ear and tail cut will mimic a puppy cut but leave your dog's ears long and fluffy. You can expect your Shih Tzu's tail to be equally as fluffy. Some owners prefer their Shih Tzu to have a slim and sleek tail with this haircut, but the possibilities are endless. Ask the dog groomer handling your puppy to trim the tail and ears to your desired length.
4. Medium Puppy Cut
A medium puppy cut is like the typical one, except that it keeps a longer length that you can appreciate from afar. This haircut will accentuate your Shih Tzu curls without forgoing cleanliness.
5. Lion Cut
The lion cut is one of the most fun haircuts on any dog. This haircut works well on Poodles, Goldendoodles, and hybrid dogs. However, plenty of other medium-haired dogs look like the ferocious lion with this haircut, and Shih Tzus are one of them.
This haircut will keep a thick and long mane about your dog's head, neck, and chest area while trimming and cutting the rest of the hair to make your dog look stunning and regal. Some owners prefer their Shih Tzu to maintain a small puff at the end of their tail to complete the lion-like look.
6. Ponytail Cut
The ponytail cut is among the most popular Shih Tzu haircuts and looks similar to the teddy bear cut in its loveliness and innocence. However, this haircut relies on having a long set of hair that trails nearly to the floor with a gathering of that long hair atop your Shih Tzu's head. This haircut can have multiple ponytails, complete with bows, but likely won't accommodate more than two or three.
7. Lamb Cut
A lamb cut is another teddy bear-like haircut and will make your dog look innocent and frolicky. This haircut will keep your Shih Tzu ears fluffy and full of mimicking how a lamb looks while roaming on the farm. This haircut will also give the rest of your dog's body trim and allow their hair to curl and make them look sweet and innocent.
Frequently Asked Questions: Shih Tzu Teddy Bear Cut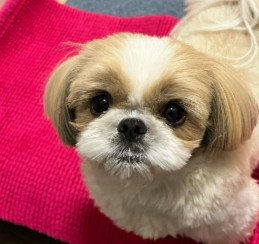 Choosing the best haircut for your Shih Tzu can be tough, but these answers can help you make a choice that best suits you and your precious puppy.
Do Shih Tzus Shed?
Shih Tzus don't shed, making them a perfect companion to families who struggle with allergies and sniffles. However, they must have their hair trimmed often to maintain a healthy coat.
Are Shih Tzus a Dirty Dog Breed?
Shih Tzus are not an overly dirty breed. These dogs prefer to be clean and enjoy keeping themselves manicured. However, when a Shih Tzu hasn't had a haircut in a few weeks, they may accidentally get dirty with mud, dirt, and pee.
How Often Does a Shih Tzu Need to be Groomed?
A Shih Tzu will need to be brushed every day or every other day, and this dog breed needs bathing once a month. These dogs will also need a haircut and a nail trim every six to eight weeks.
What Is The Difference Between a Puppy Cut and a Teddy Bear Cut?
The teddy bear cut works better with dogs with curly hair, although it will still work. The biggest difference is that the teddy bear cut will keep more hair about the head and neck area, making the head look larger.
How Long Does a Teddy Bear Cut Last?
A teddy bear cut will last about six to eight weeks but may last longer or shorter, depending on how fast your dog's hair grows. Your Shih Tzu may need to enter a dog grooming salon sooner to manicure its coat and touch up the haircut.
Conclusion For the "Best Shih Tzu Teddy Bear Haircut Styles"
Shih Tzus are stunning dog breeds who are intelligent, curious, and affectionate. These dogs can have many different haircuts and hairstyles, but one of the best is the teddy bear cut.
Not only are Shih Tzus the perfect size for a teddy bear cut, but they are also easy to manicure and maneuver. Shih Tzus look like stuffed toys when they get a teddy bear cut, making them look much more adorable than usual.
These dogs will need frequent grooming, bathing, and brushing. Typically, a Shih Tzu needs a haircut every two months to keep them clean, manicured, and healthy. These dogs likely need to be brushed daily or every other day.
Shih Tzus can have straight hair when their coat is grown out enough, but most have curly hair, especially trimmed, making them perfect candidates for a teddy bear cut or a haircut that looks similar.
For more guides similar to this list of Shih Tzu teddy bear haircut styles, you can check out these other content from our team:
You can learn more about giving your Shih Tzu dog a teddy bear cut by watching "Trimming a Teddy Bear Face" down below:
Garrett loves animals and is a huge advocate for all Doodle dog breeds. He owns his own Goldendoodle named Kona. In addition, he volunteers at the Humane Society of Silicon Valley, where he fosters dogs and helps animals. Garrett enjoys writing about Doodles and believes that dogs can teach humans more about how to live than humans can teach a dog.
Why Trust We Love Doodles?
At We Love Doodles, we're a team of writers, veterinarians, and puppy trainers that love dogs. Our team of qualified experts researches and provides reliable information on a wide range of dog topics. Our reviews are based on customer feedback, hands-on testing, and in-depth analysis. We are fully transparent and honest to our community of dog owners and future owners.