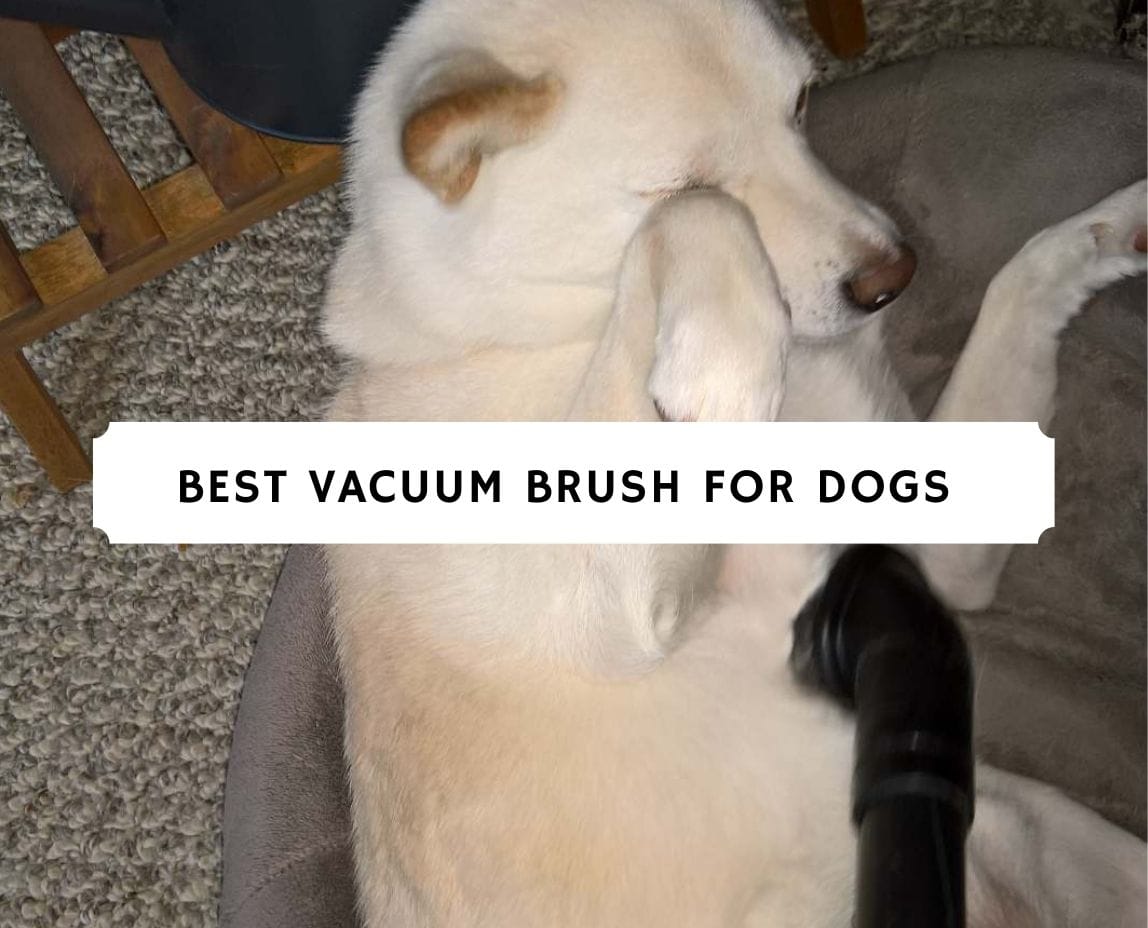 This buying guide for the best vacuum brush for dogs will help you narrow down the options to find the best one for your home. We'll also provide some tips on how to use it effectively.
Vacuum brushes for pet hair come in all shapes and sizes. Some are designed for specific types of vacuums, while others are more universal. There are even some that come with attachments for different types of surfaces. Pair them with a cordless vacuum for pet hair, and you'll be ready to go!
When it comes to choosing a vacuum brush for dogs, there are a few things you need to take into account. The first is the type of vacuum you have. Some brushes are designed specifically for certain types of vacuums, so it's essential to get one that will work with yours.
Finally, think about the type of surfaces in your home. You'll want a brush designed for that if you have mostly hardwood floors. But if you have a mix of hardwood and carpet, you'll need something to handle both. Depending on what you decide to purchase, some features will be beneficial in grooming your furbaby and your home.
Now that you know what to look for, here are our top picks for the best vacuum brush for dogs:

Product
Best Overall
Dyson Groom Tool
Runner Up
Gforest Pet Vacuum Grooming Brush
Editor's Choice
Penn-Plax VacGroom Pet Grooming
Image
The Dyson Groom Tool is our top pick overall because it's long-lasting and durable. It's specifically designed for use with Dyson vacuums, and it does a fantastic job of picking up pet hair on both hardwood and carpeted surfaces. Releasing the button retracts the bristles and sucks the hair into the vacuum.
The Dyson works well on furniture and has a detachable brush head on different surfaces. It's specifically suitable for medium or long-haired dogs and also comes with a grooming bag that collects all the loose hair, making it easy to clean up after your dog. This product features over 1,800 positive reviews and is also available with a cleanup kit.
Features
Adjustable bristle length
No button or dials
O.E.M. authorized part
0.25 Pounds
364 Slicker bristles positioned at 35 degrees
Over 1,800 positive reviews
This versatile attachment can be used on almost all vacuum brands for complete pet grooming and shedding control. The powerful suction of your vacuum pulls in loose hair, dander, and dirt, while the soft bristles work to remove dead hair and undercoat gently. This kit works with all circular intake channels. The Vacgroom Pet Brush combs your pet's coat while the vacuum sucks up all the loose hair and dander. 
The result is a clean, healthy pet with less shedding around your home. This fits any vacuum cleaner with a circular intake channel, making it nearly universal and adaptable for attaching to most vacuum units. 
The three interchangeable combs come in different lengths, giving you the best opportunity to handle your pet's various needs by helping with flea, tick, leaf, burr, pollen, dander, and other general debris removal.
The Penn-Plax VacGroom Pet Grooming and Shedding Vacuum Attachment Kit has everything you need for complete pet care. The kit includes the vac head, four attachments, a crevice tool, and an instruction booklet.
It's everything you need to keep your pet looking and feeling great! This product has over 5,400 positive reviews. The Penn-Plax works with most vacuum units, including models of Shark, Dyson, Hoover, Bissell, Shop-Vac, Kirby, and Rainbow. 
Features
Affordable
Improved video on how to use
Good suction power
3 Interchangeable combs
26″ long, reinforced extension hose
The Gforest Pet Deshedding Attachment is the perfect tool for keeping your pet's coat healthy and free of shedding hair. It removes loose hair from your pet's undercoat without damaging the topcoat. The Gforest Pet Deshedding Attachment is made with high-quality stainless steel blades designed to be gentle on your pet's skin. The hose cuff or wand should be no more than 2″ but bigger than 1 ¼". 
The ergonomic handle makes it easy to hold and use, and the attachment can be used on both short and long-haired pets. The Gforest Pet Deshedding Attachment is a must-have for any pet owner who wants to keep their pet's coat healthy and free of shedding hair. 
We like this vacuum brush kit because it is one of the most affordable options on the market, and it does an excellent job at removing shedding hair from your pet's coat. This product has over 1,200 positive reviews.
Features
Affordable
Universal kit
Black, lightweight plastic material
Features a unique release mechanism that allows for easy discharge of trapped fur 
Durable, soft rubber bristles on the pet brush
Over 1,200 positive reviews
The Furminator FurVac is another top pick. This fur vac improves the health and hygiene of pets and keeps your home clean as well. The vacuum head is detachable for easy cleaning, and the vacuum itself is bagless. 
You can also use this vacuum on upholstery and in the car. This FURminator DeShedding tool must be purchased separately and is compatible with internal vacuum diameters of 1-3/8″ to 1-7/16. We like this product because it cuts deshedding time in half. The Fur Vac has over 4,500 positive reviews.
Features
A FURminator pet grooming product
Over 4,500 positive reviews
Compatible with internal diameters of 1-3/8″ to 1-7/16″
Comes with two attachments
It fits most vacuum brands
FURejector button
The Neatbot P1 Pro is a professional-grade pet grooming tool that quickly and easily removes 99% of pet hair, dander, and other allergens from your dog or cat. This is a low-noise design with a variable three-speed fan that you can adjust. This de-shedding tool kit removes loose hair and tangles easily. It also distributes natural oils through your pup's coat to make their hair healthy, shiny, and soft.
It comes with five proven grooming tools to ensure your pet looks its best. The Neatbot P1 Pro is the perfect tool for keeping your pet well-groomed and free of allergies. This product is best for labs, beagles, bulldogs, and other short-hair breeds and has over 1,200 positive reviews.
The Neatbot P1 Pro Pet Grooming Kit & Vacuum Suction comes with:
A powerful vacuum suction that removes 99% of pet hair, dander, and other allergens
Five proven grooming tools: a shedding blade, an undercoat rake, a slicker brush, a comb, and scissors
A storage case to keep your tools organized and protected
Features
It comes with five grooming tools with an adjustable clipping comb
Strong vacuum suction
Low noise design
All-in-one grooming tool kit 
Crafted with fine-tooth stainless steel bristles
Sharp stainless steel blade
Over 1,200 positive reviews
Are you looking for a powerful and versatile cordless pet grooming vacuum? Look no further than the Vacuyahu 3 in 1! This unique pet grooming vacuum comes with a patent dog attachment perfect for cleaning up after your furry friend. It also includes a detachable hand vac for spot cleaning and a crevice tool for hard-to-reach areas. In addition, this product features a vacuum pressure vacuum up to 20KPa.
It's specially designed for dense, slender, and soft pet hair. We like this kit because of the push-button type reverse shaving and the de-shedding mechanism that allows you to complete the adsorption and collection of hair with one finger.
The Vacuyahu 3 in 1 is perfect for any pet owner who wants a reliable, easy-to-use cordless pet grooming vacuum. We like this pet brush vacuum because it's so versatile – perfect for cleaning up after your cat or dog and great for spot cleaning around the house. It also features a 2-stage HEPA for filtering more than 99.99% of dust, pet dander, and pet parasites. It also comes with a spare pre-motor filter.The Vacuyahu 3 in 1 is a must-have for any pet owner!
Features
Affordable
Lightweight at 5.06 pounds
HEPA Filter and brush
5 stage filtration
Charging time:5H
Specifically designed for pets
Stainless steel pet brush
High-speed brushless motor up to 100K R.P.M.
60 minutes' runtime
What Are Dog Vacuum Brushes?
Dog vacuum brushes are accessories attached to a vacuum cleaner to help remove pet hair from surfaces. There are various types and sizes of dog vacuum brushes available, so choosing one compatible with your particular vacuum cleaner model is essential. 
Dog vacuum brushes can shorten grooming time and allow you to groom your pet with ease. They will remove excess loose hair from your dog right into the vacuum keeping your home and furniture clean and hair-free.
Frequently Asked Questions
Do you need a dog vacuum brush?
While vacuum cleaners do an excellent job of removing pet hair from surfaces, they can sometimes leave behind a lot of fuzz and dust. A dog vacuum brush is a must for dogs that shed. It can help you keep your home clean and hair-free. Opting for the correct grooming products is essential because you'll need to choose the right brushes for your pet's coat to avoid harming their skin.
How long do vacuum pet brushes last?
High-quality vacuum pet brushes can last several years if properly maintained. However, cheaper models may only last for a few months.
Do vacuum pet brushes come with a warranty?
Yes, some vacuum pet brush manufacturers offer a warranty on their products. This usually covers defects in materials and workmanship.
What are the different types of vacuum pet brushes?
The different vacuum pet brushes include handheld, cordless, and canister vacuum cleaners.
Which vacuum pet brush is the best for shedding dogs?
The Furminator FurVac and the Dyson are some of the best vacuum pet brushes for shedding dogs. They feature a detachable vacuum head for easy cleaning, and the FURminator is also compatible with the FURminator DeShedding tool.
Other articles you would like:

Claudia Bensimoun is a writer who specializes in dog content and veterinary topics! Aside from writing for We Love Doodles, Claudia also writes for other major dog blogs like Fido Friendly, Animal Wellness Magazine, and the United States Dog Agility Association (USDAA). She has a ghostwritten over 50 different dog e-books. Her passions include animal welfare, veterinary research, and wildlife conservation.
Why Trust We Love Doodles?
At We Love Doodles, we're a team of writers, veterinarians, and puppy trainers that love dogs. Our team of qualified experts researches and provides reliable information on a wide range of dog topics. Our reviews are based on customer feedback, hands-on testing, and in-depth analysis. We are fully transparent and honest to our community of dog owners and future owners.