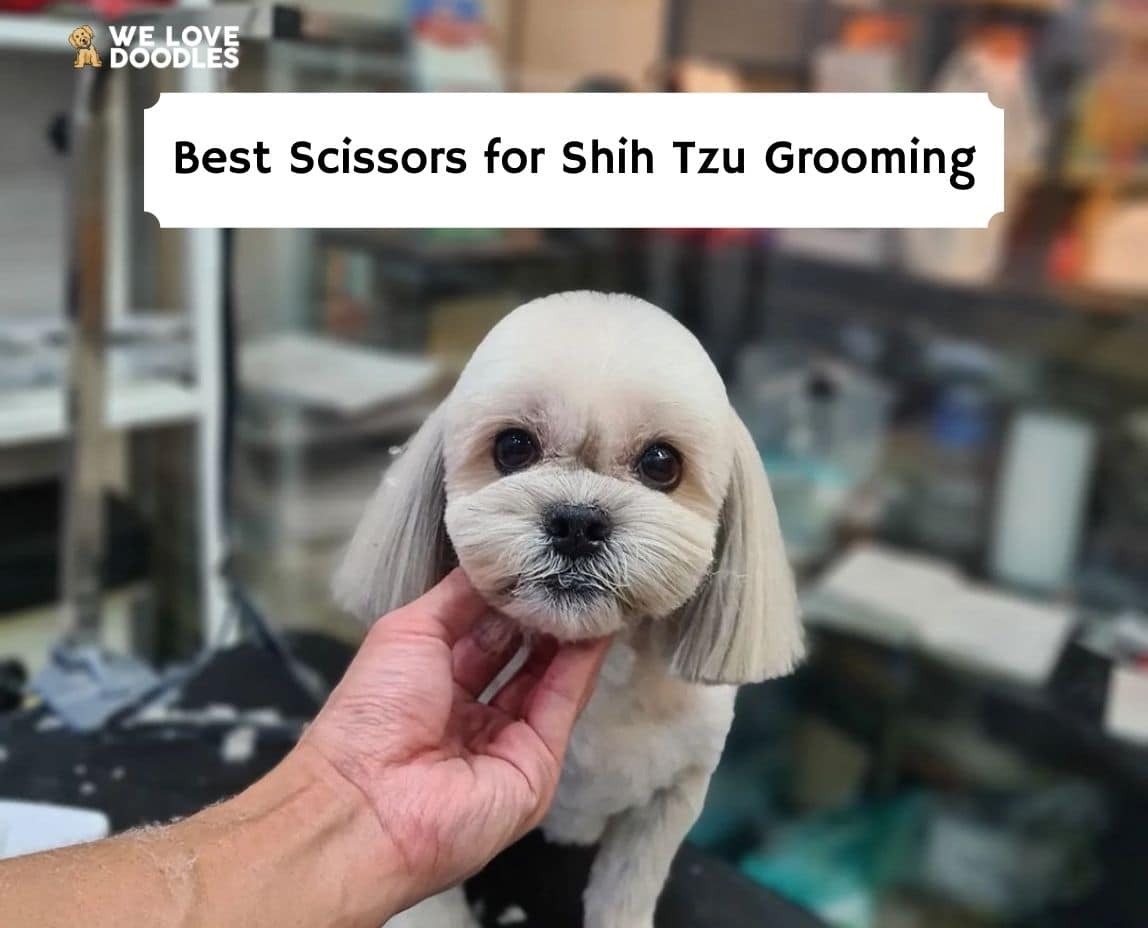 The best grooming scissors for Shih Tzu's are an excellent investment for any pet parent. A good pair of small breed grooming scissors will help you create the best image of your small friend, so if you want to be sure that your Shih Tzu dog grooming scissors meet all the requirements, you should keep reading this buying guide.
We've compared the most popular brands of grooming scissors for Shih Tzu's and made our Top 6 list of the best products. Here you will find everything from the most expensive grooming scissors to cheap but still very efficient and high-quality Shih Tzu dog grooming scissors.
In a rush? Here are the top picks!
Product
Best Overall
Chris Christensen Shears
Runner Up
Lily's Pet Scissors
Budget Pick
Boshel Dog Grooming Scissors
Image
Grooming A Shih Tzu
The affectionate Shih Tzu, also known as 'lion dog,' is a small toy breed that needs regular grooming. The dog's long coat is similar to fur, and the Shih Tzu has a flowing mane around his neck. This breed has a coat that comes in many colors and needs plenty of attention. There are few pups as beautiful as the Shih Tzu when well-groomed.
The American Kennel Club (AKC) adds that a Shih Tzu needs daily grooming with a good quality wire brush with flexible pins. The coat should be layered so that you can reach the skin. They add that this breed needs a bath every three to four weeks to keep the coat clean and that the mustache and topknot need to be combed daily. The corner of the eyes needs to be gently cleaned with a damp cloth. 
To keep your Shih Tzu's eyes healthy and free of infection and irritation, it's necessary to trim the hair on top of the head short or keep it tied up in a topknot. The AKC explains that "if you don't want to have to spend time on your dog's coat, the Shih Tzu can look adorable when clipped into a "puppy trim" by a professional groomer.
The best pair of scissors for Shih Tzu grooming should be suited for thick hair. If you are looking for something to take care of the tangle, choose a product that also detangles. Sometimes it is better to buy a set that contains more than one item to save some time and money.
Grooming your Shih Tzu regularly is essential for this particular breed to prevent matting or tangling. Mats can irritate the skin, and the moist and stuffy conditions beneath the mats and tangles can allow the skin to be more prone to bacterial or parasitic infections.
Grooming a Shih Tzu's long hair can be tricky, but it is essential for the health and longevity of their coat. To avoid dryness or tangling, use conditioning brushes when brushing them instead if you want more manageable locks!
The long, flowing coat of the Shih Tzu needs a lot of care. They are small dogs with long hair that can get mats if you don't brush regularly. Care must also be taken to ensure that all hair is kept away from the eyes and mouth.
If your Shih Tzu has matting, it's best to remove them with electric clippers and not scissors to avoid cutting the skin underneath. Your Shih Tzu should have regular bathing with a pet shampoo to maintain healthy skin and shampoo.
That said, it's essential to keep in mind that excessive bathing can irritate and dry the skin and hair. Dogs with long or shaggy coats need daily grooming to keep their coats from becoming matted.
If you want to buy only the best grooming scissors for Shih Tzu's, we suggest you look at this model from Chris Christensen. The main advantages of these dog shears are that they are made from high-quality materials and provide comfortable usage. 
These scissors will allow you to create professional cuts and haircuts in your home, but they are recommended for experienced groomers. We like these for Shih Tzu's because they are made from 440C Japanese steel, which is one of the best materials for making grooming scissors. These are well-designed, high-quality dog grooming shears at an affordable price range. Here's the takeaway:
Features
440C Japanese steel

 Dog scissors shears for hybrid working/finishing.

 Rose gold titanium finish

 A Chris Christensen product

 A high-quality pet grooming scissor
If you're looking for a budget-friendly option, these dog shears from Boshel are the best alternative. They have a solid stainless steel body and comfortable handles made from PP plastic. 
The price of this model is very affordable, but they still provide excellent quality, so if you're looking for cheap dog grooming shears, you can't miss this one. Boshel features an ergonomically designed handle, which provides excellent comfort to the user. The blade of these shears is sharp enough for almost any coat type, and they are well-suited for long coats, thick undercoats, and wiry hair.
Features
Micro-serrated blades. set includes smaller pair of scissors with micro-serrated edges for detailed grooming in a deep blue color.

One smooth blade scissor pair had for all over body clipping

Rounded scissor tips for optimal safety when clipping

Crafted with top-grade stainless steel
These Shih Tzu dog grooming scissors work well for precision cutting by pros and at home Shih Tzu pet parents. With this dog grooming scissor kit, you get two pairs of Shih Tzu grooming scissors. Here's the takeaway:
 Large Size- For trimming body fur (7″ Hx3.5″W) 

 Small Size- To work safely around the ears, nose, face, and paws (6″ Hx3.5″W)
The blades are durable stainless steel and have rounded tips to avoid injury when cutting the hair. Unfortunately, these models are relatively inexpensive, but they still provide excellent quality. They are perfect for grooming short coats, and you can even use them for longer coats if you don't mind some stray hairs left. 
They are ergonomically designed to be comfortable and easy to use, but they aren't recommended for professional groomers. When using these at home and professional pet grooming scissors, you should do the following for optimal comfort while clipping. Here's the takeaway:
 For optimal steadiness while trimming, place your thumb and ring finger in the holes. 

Use your index and middle fingers to support the Shih Tzu pet grooming scissors. 
Features
Set of two ideal for all-purpose professional & at home Shih Tzu dog grooming (large 7″ & small 6″ size)

Sharp & durable thinning scissors

Affordable

High-quality that's durable

Over 1,700 positive reviews

Pre-sharpened fine rounded edges cut the thickest fur

Coated stainless steel blades create a non-stick, smooth surface

Compact & easy to travel with

Suitable for thick coats

The small size works well for small dog breeds.
"The set is very nicely packaged, comes with the Cordless Shaver, which is very easy to hold in hand and super quiet and not as vibrating as other shavers. My little Shih Tzu does not like anything too noisy or vibrating. It has a dial on it to switch from different shaving lengths, making it easy to change if necessary without changing the blade. It also comes with four other size blades if needed. It came with a beautiful pair of scissors, a nice weight and sharp. Excellent for detailing the paws and tail and face and ears. The comb is long and strong, and very useful. It also came with a small brush to clean the blades off and a small vial of blade oil, and, course, the charger. I could not be happier with this product. It exceeded all expectations, and the price was right. I got it in two days and have used it 3x since. Bravo! I would highly recommend this shaver."
This Shih Tzu dog grooming kit features clippers and dog grooming scissors. The Oneisall cordless hair trimmer is powerful but gentle. The quiet motor and low vibration ensure your pet stays relaxed during grooming. 
Also, the Oneisall rechargeable battery allows you to groom your dog without worrying about the cord. This is a good dog clipper for the Shih Tzu and other dog breeds. It runs quiet and smooth to ensure your furbaby does not get stressed out while using the pet clippers. 
It also comes with everything you need, including two attachment combs (3mm and 6mm) for various grooming needs. In addition, the Oneisall rechargeable cordless pet clippers are suitable for wet or dry use.
We like this Shih Tzu dog grooming kit because the pet clippers and dog grooming scissors run quietly and smoothly to ensure your Shih Tzu does not get stressed out while being groomed. The Oneisall cordless pet clippers are powerful but gentle. The quiet motor and low vibration ensure your pet stays relaxed during grooming. Also, the low battery indicator reminds you to recharge the hair trimmer when it runs out of power.
Having both the Shih Tzu clippers and scissors in a dog grooming kit only makes sense and allows for an easy grooming experience. This grooming kit comes with four different size guards, a metal comb, really sharp scissors, oil, and a cleaning brush and charger. This product features over 53,800 positive reviews.
Features
Affordable

Five color options: navy, gold, red, silver & white

Shih Tzu and all dog breed clippers plus scissors for fast grooming

Detachable & washable blade

Cordless designed clippers

Low noise, safe & durable

Over 53,800 positive reviews

Reputable pet brand
"I'm very pleased with the quality of these scissors. We've never had the curved ones before or the texturizing. We groom our Maltese at home, so all of these scissors come in handy. The curved scissors are perfect for around the face and are nice and sharp and comfortable to the hand. The texturizing scissors are great for the final finish after the initial grooming. We use them all. Very happy we found this set of scissors at such a reasonable price."
The MAOCG dog grooming kit features over 1,000 positive reviews on Amazon. The safety round tip pet clippers are premium quality Japanese stainless steel with titanium coating for reduced friction and exceptional durability. The high carbon alloyed steel ensures that the blades are sharp even after frequent use. 
We like these for the Shih Tzu because they are made with high-quality material to ensure it lasts long. They're also very affordable at under $23, and suitable for professional grooming use and home grooming. 
The Shih Tzu dog grooming shears set comes with straight scissors×1, thinning scissors×1, up-curved scissors×1, down-curved scissors×1, comb×1, nice zippered storage case×1, cleaning cloth×1. The kit also comes with a pet nail clipper & nail file.
Features
Scissors crafted with high-end 4CR stainless steel

Suitable for detailing, trimming, thinning

Features a round blunt tip that allows you to cut your pets safely 

A muffler pad between the handles allows for quiet grooming for noise-sensitive pets

Ergonomic design
"Not bad for the price. I'm a professional groomer and bought these as a backup for the holidays. I was pleasantly surprised at how well they worked. For the price you can't beat it."
Lily's Pet Grooming Shears are made of high carbon stainless steel, which is more durable and sharper. The blades are constructed with 6CR stainless steel high carbon stainless steel and are titanium coated for durability and style. We like these because all the cutting tools come with razor sharp edges which help in the detailing aspect as well. You also get a complete scissor grooming kit for your pup.
This kit includes the following:
 7.0″ Cutting scissor,7.0″ Thinning scissor,7.0″ Curved scissor point up,7.0″ Curved scissor point down, Grooming Comb and scissor case that are constructed of stainless steel and come with finger-rest for extra control and comfort. The shafts of these shears have been constructed with hollowed-out stainless steel to reduce weight. 
The handles have a groove, so they can easily be pulled through hair without snagging or pulling. They feature complete stainless steel construction, are durable, functional, and very strong. The scissors are great for both left and right-handed groomers. Lily's Pet Shears are also rust-proof, but if your shears do get rusted, you should use a little WD-40 to clean the blade before using it. This product features over 1,000 positive reviews and comes in 4 colorways: purple, black, blue & gold.
Features
Affordable

Right-handed professional pet grooming scissors

Complete Shih Tzu grooming kit

Crafted with 6CR stainless steel

Quality tested 

Finger rest for optimal control while grooming.
Frequently Asked Questions
How often should I get my dog scissors sharpened?
That depends on how often you use the blades. It likely doesn't need sharpening if they're only used for one session. One thing to note is that cutting through fur/hair that tends to tangle in blades (before getting cut off) may require more frequent blade replacement. 
The reason for this is that the blades get clogged with hair, which causes them to dull more quickly and can cause pulling of the fur/hair you're working on. Once a blade has been sharpened 3-4 times, it will yield a very short shaving surface and may be time to replace it.
How do I know when to replace the blades?
If you're having difficulty cutting or it is pulling at your pet's skin in spots, then chances are the blades have become too dull. 
On average, one blade should last 4-6 sessions of use before needing replacement. While this may vary depending on the type and length of fur/hair you're cutting and how often you use the blades, it's essential to know that a sharp blade is easier to cut with and causes less stress on your pet.
How do the rounded tips on grooming shears help?
As a pet owner, chances are you're probably using a pair of grooming shears that have sharp blades with a pointed tip. This may not be the ideal situation as sharp tips can cause puncture wounds on your pet's skin, causing scratches and cuts if not properly handled & used. The rounded blade tips allow for less stress as they won't puncture the skin of your pet while you're working.
What is a clear coat?
The "clear coats" on a pair of grooming shears are there to protect the blades from wearing down prematurely. They also add shine and smoothness to the look of your grooming shears. Finally, for scissors that have been sharpened, it's essential to keep the clear coats on to protect and prolong their life and performance.
What is a point of balance that I should be looking for when purchasing grooming shears?
The point of balance on your grooming shear can vary depending on preference. In general, you want to look for a slightly adjustable mechanism so that you have the opportunity to adjust your shears to your own "preference" of weight and feel.
We will often suggest that you start with a pair of grooming shears with a heavier bottom section of the handle to be more easily maintained and used since it is harder to maintain control with lighter scissor heads.
How do I know if my blades are too dull?
If you're having difficulty cutting through fur/hair and it's not coming off quickly, then chances are the blades need sharpening. If there is a lot of pulling or an excess amount of resistance when cutting, chances are your blades need sharpening. 
One way to test if they're dull is to slide the blade against another surface (table, arm, etc.) and see if it catches any material as you pull the blade across it. If it does not catch anything one way or the other, then chances are the blade is dull.
Do I need to purchase new blades each time they're sharpened?
No, you do not have to replace the blades with every sharpening. Instead, the blades can be resharpened several times before replacement. As mentioned in previous questions, on average, one blade should last 4-6 sessions of use.
How do I know what size grooming shear I should get?
It entirely depends on the brand and their purpose. For example, if you're only grooming small pets (i.e., cats, ferrets), then chances are a smaller blade will work for you. But if you're grooming large animals (i.e., horses, cattle, donkeys), then you will need a longer blade to allow easier access and movement throughout the body of your pet.
Is there such a thing as too many grooming shears?
No, it's always good to have everything you need at home to groom your Shih Tzu properly! Grooming shears tend to come in different sizes and styles. It's necessary for someone to have multiple pairs of grooming shears because you will eventually need them. For example, a pair of 5″ shears, 6″ shears, and 7″/8″ shears are ideal for most people to have in their grooming kit.
Do Shih Tzu's need special grooming scissors?
Yes, grooming shears for Shih Tzu's are traditionally shorter. This is because you don't want to expose your dog's skin to the blade too much when cutting hair. After all, it will be more painful and cause discomfort for your pet, leading to anxiety when getting groomed.
Are there any special techniques I should know when grooming my Shih Tzu?
Yes, we recommend getting a professional groomer to show you the proper techniques to properly groom and care for your Shih Tzu. They will teach you what tools and methods they use and give you recommendations for the products they prefer. This way, you can ensure that your pet has a great experience throughout the grooming process!
Should a Shih Tzu be shaved?
No, a Shih Tzu should only be clipped if they are experiencing matting or have medical reasons for shaving. Hair helps keep their body warm during the colder months of the year, so it is best to leave their coats on. You can always consider getting them an adorable sweater or coat to help them out during specific days throughout the winter if you need to clip them.
What are some tips to remember when grooming a Shih Tzu?
Make sure you brush their teeth regularly, clean their ears regularly, do not cut the hair between their pads of feet, and keep nails trimmed regularly. Also, keep an eye out for any changes in behavior or physical appearance – it is always better to be safe than sorry!
Can a Shih Tzu be groomed at home? 
Depending on your expertise and how comfortable you are with grooming; you can groom a Shih Tzu at home. If you have the tools and knowledge of how to do so, we recommend giving it a try. Keep in mind that there will be some trial and error – each breed has its own unique needs for grooming and care.
What is the best way to keep a Shih Tzu groomed?
Once you've learned how to trim your Shih Tzu's fur properly, we recommend that you do it every month so as not to overwhelm yourself! It is always better than trying to do it every week because you might not keep it up or get too busy at one point. 

Claudia Bensimoun is a writer who specializes in dog content and veterinary topics! Aside from writing for We Love Doodles, Claudia also writes for other major dog blogs like Fido Friendly, Animal Wellness Magazine, and the United States Dog Agility Association (USDAA). She has a ghostwritten over 50 different dog e-books. Her passions include animal welfare, veterinary research, and wildlife conservation.
Why Trust We Love Doodles?
At We Love Doodles, we're a team of writers, veterinarians, and puppy trainers that love dogs. Our team of qualified experts researches and provides reliable information on a wide range of dog topics. Our reviews are based on customer feedback, hands-on testing, and in-depth analysis. We are fully transparent and honest to our community of dog owners and future owners.