One of the defining features of the Pomeranian is the fox-like face, which has a distinctive curl. These dogs are also distinguished by their unique and fluffy double coat, which comes in different colors, although a rich orange is the most prevalent. With such a luxurious coat, it is no doubt that Pomeranians require frequent grooming.
There are different haircuts for Pomeranians available, but the fox face is one of the most popular. So, what's a fox Pomeranian haircut? And how do you go about doing it? Keep reading to find out these answers and more!
Before you scroll down to this guide about Fox Pomeranian haircut, check out these other articles: Why Do Pomeranians Bark a Lot? (2023) and Can Pomeranians Swim? (2023).
What Is A Pomeranian Fox Cut?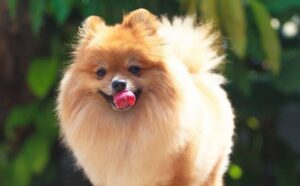 The fox Pomeranian haircut is a functional and adorable haircut for these dogs. This cut aims to give your dog pointier ears and a more angular face by trimming their fur in a triangular shape.
The Pomeranian coat would typically be kept short, leaving the tail wild to mimic that of a real fox and complete the look. This adorable cut will leave passersby wondering whether you are walking with a real fox or a Pomeranian dog.
What Are the Advantages of the Fox Pomeranian Haircut?
The fox Pomeranian haircut has many benefits for your dog. If you are trying this cut for the first time, here are some advantages.
It's Adorable
This haircut is perfect for owners who are constantly on the go, such as those living in cities. The fox Pomeranian haircut adds to the breed's overall cuteness and accentuates the Pomeranian's natural features. Your dog will also adore all the attention this haircut brings them.
It Offers the Perfect Combination of Form and Function
What you get with this haircut is a very cute dog look that is not too overwhelming or high-maintenance. It has the fox face but does not cover up its body, allowing you to show off your dog's coat and that beautiful curly tail.
This cut will also keep your dog cool during hot summer days. Since the coat is trimmed down to a shorter length, the heat produced by your Pomeranian could easily escape through the skin. You can therefore be confident that your pet will always be comfortable.
The Perfect Cut for Shows or Competitions
Do you want your pup to stand out? For owners of dogs participating in shows and competitions, doing the fox Pomeranian haircut is perfect for them.
It offers a look that is not overly complicated to replicate. But it is unique enough to get the attention of judges and other contestants.
It Is Easily Reversible
If you don't like what you did the first time and want to give your dog a different dog cut, then there is no need to worry because the fox Pomeranian haircut is easy to reverse. All you have to do is to cut off the fur on the tail and ears. The whole process would take about 15 minutes.
If a groomer gave your dog this haircut, you can simply let it grow back out. When this haircut grows out, your dog will still look tidy.
It Gives Your Pomeranian a Playful Look
Your Pomeranian is playful by nature, and with this haircut, you will display this attitude prominently because of the fox face. This haircut is not only adorable, but it also adds to your dog's overall personality.
What Are the Drawbacks to the Fox Pomeranian Haircut?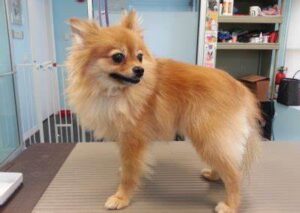 We have already discussed the many benefits of getting your dog this haircut. However, before you go ahead and do it, there are some drawbacks that you have to take into consideration first.
It Requires Regular Upkeep
If you do not keep your dog's fur trimmed down to a shorter length, there will be a lot of fur hiding on the dog's tail and legs. It might make your dog look messy and unkempt, especially when it is hot. Eventually, you may want to return to the fox Pomeranian haircut and cut your dog's fur again.
This Haircut Requires Some Knowledge
You would have to do a lot of research on how to do this haircut before you can start doing it on your pet. To avoid injuries, you must read up about grooming your dog at home and take extra care.
It would help if you carefully trim the ears and tail. If you are not careful, you might accidentally trim off too much fur, resulting in a different look than the one you are trying to achieve.
It Is Expensive
Fox Pomeranian haircuts are not an everyday type of haircut, and as such, you will have to spend money as your dog's coat grows back.
If you want to maintain this haircut, but can't achieve the look at home, you will need a professional groomer to do the job for you. This cut is not as cheap as the typical short haircut for Pomeranians since it requires special training and a lot of practice to achieve perfect results.
How to Do a Fox Cut on a Pomeranian Haircut
Now that you understand the pros and cons of this haircut, you may be wondering how to achieve it on your dog. Below is a step-by-step guide to help you appreciate the before-and-after fox Pomeranian haircut.
Step 1: Start With a Trim on the Rest of the Body
The first step to getting the fox face Pomeranian haircut involves trimming your dog's coat to a shorter length. This step ensures you can easily trim your dog's tail and ears at a later stage.
You can start by clipping the coat close to your dog's body, but don't shave it all down.
All you need in this first step is a pair of normal clippers and a comb to assist you in combing out the fur.
Step 2: Trim the Neck
The next step is to trim down the hair on your dog's neck. You will want to leave it a little longer than the rest of the body to bring out the perfect fox face effect. We recommend using scissors and a comb to style the neck.
Step 3: Trim the Ears
The ears are a vital part of this haircut, and you want to do it right to achieve the pointed ears you want. The first thing that you want to do is to expose your dog's ears and clean them to get rid of excess oil and dirt. For this, use a slicker brush to eliminate any oil or dirt that may have been clogging your dog's ears.
Then use the brush to remove any excess fur accumulated in the ear. Any excess fur left on the ears will look messy if not removed carefully.
After you have cleaned and brushed your dog, you can use the trimmers to achieve a clean shape for your dog's ear.
Step 4: Trim the Tail
With the tail, you need to ensure the base is well-trimmed. Then you can remove any dirt that may have accumulated using a comb. Remember, you should not trim the rest of the tail because it needs to remain fluffy to replicate the fox look.
If you want to keep your dog's tail fluffy for a long period, you should give it special attention. Do this by regularly grooming the tail with a slicker brush. It will help ensure that you remove any excess fur that may have been accumulating. This step is crucial since the tail is more prone to getting matted and dirty.
Step 5: Give Your Pomeranian a Nice Comb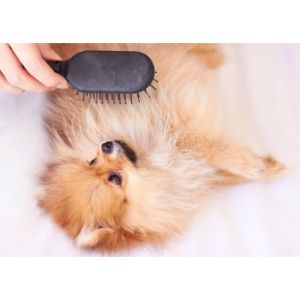 After trimming your dog's ears and tail, you can move on to the fifth step, which involves giving your Pomeranian a nice comb. You want to ensure it is well combed out to give it a fluffy look and feel. Combing also assists in removing any excess fur that you missed during the trimming process.
Once you have completed the process, remember to regularly brush and wash your dog. Trim their coat every few days to keep the look tidy.
Frequently Asked Questions
You might still have questions about the fox Pomeranian haircut. Below, we have answered some common questions.
How do you achieve the fox face look?
To nail the fox face look, you must trim your dog's coat to a shorter length. You can start by cutting it close to the body so it will be easier to trim down your dog's ears and tail. Do not cut the coat shorter than an inch over the body, but don't leave any bulk either.
Why does my Pomeranian look like a fox?
If you've taken your dog to the groomer recently, your dog may look like a fox intentionally. Groomers achieve this fox-like look by keeping the tail natural and trimming your dog's body.
Why does my Pomeranian have a fox face?
The fox Pomeranian has a wedge-shaped face and a furry body. The fur on their body mimics the appearance of foxes, making it look like they have a fox face and body.
Can Pomeranians be cut short?
Not all Pomeranian dogs are suitable for the fox Pomeranian haircut. You need to ensure that your dog is already growing a thick coat before you can attempt to give it this type of haircut. If you live in a cold climate, your dog may also need the extra warmth its coat provides.
Will Pomeranian fur grow back after shaving?
If you have shaved your dog's fur off to achieve the fox Pomeranian look, you should know that the fur will grow back. But some dogs can even take a very long time to grow their fur back naturally.
When should I get my Pomeranian cut?
There is no exact time when you should get your Pomeranian cut. This cut will depend on the type of coat that your Pomeranian has and how you want your dog to look.

Your dog will need a thick coat to achieve a fox-like look. The thicker the coat, the easier it is to bring out the fox effect with this haircut. However, it is just a matter of preference, and you don't need to follow the one-size-fits-all approach.
Conclusion for "Fox Pomeranian Haircut"
The fox Pomeranian haircut is a fantastic choice if you want something unique and original. It works well for dogs who are playful and active because it accentuates their natural personality.
As mentioned, to achieve the perfect fox look for your dog, you must trim the coat first. This method ensures that it is not too long and a little bulk is left on the body to look fluffy and fox-like.
Don't forget to check out other Pomeranian haircut ideas before you commit to this one. If you are unsure which would be a good fit for your dog, you can always ask a professional groomer.
For more guides similar to the fox Pomeranian haircut, you can check out these other articles:
If you find this Fox Pomeranian haircut interesting, you can learn more about grooming your companion by watching "Full coated Pomeranian haircut" down below:
Garrett loves animals and is a huge advocate for all Doodle dog breeds. He owns his own Goldendoodle named Kona. In addition, he volunteers at the Humane Society of Silicon Valley, where he fosters dogs and helps animals. Garrett enjoys writing about Doodles and believes that dogs can teach humans more about how to live than humans can teach a dog.
Why Trust We Love Doodles?
At We Love Doodles, we're a team of writers, veterinarians, and puppy trainers that love dogs. Our team of qualified experts researches and provides reliable information on a wide range of dog topics. Our reviews are based on customer feedback, hands-on testing, and in-depth analysis. We are fully transparent and honest to our community of dog owners and future owners.