Our buying guide will help you choose the best shampoo for your Miniature Schnauzer. We'll also recommend a few of our favorite products. But first, here's the takeaway.
The Miniature Schnauzer is part of the UKC/AKC Terrier Group and sports a double coat with a short undercoat that is salt and pepper, black, or silver and black. The heavy arched eyebrows, beard, and whiskers are distinctive, making this one of the most recognizable breeds. 
This is an intelligent, spunky, obedient dog breed with an alert expression. The Miniature Schnauzer is gentle with children and will get along well with other animals if socialized at a young age.
The American Kennel Club (AKC) adds "The Miniature Schnauzer, the smallest of the three Schnauzer breeds, is a generally healthy, long-lived, and low-shedding companion. Add an outgoing personality, a portable size, and sporty good looks, and you've got an ideal family dog." The typical Miniature Schnauzer is alert and spirited yet obedient and easily trainable. This is a friendly, intelligent, and willing-to-please dog breed that is highly reactive to sounds and movement. 
Here are our top 7 picks for the best shampoo for Miniature Schnauzers:
There are many great shampoos on the market specifically designed for Miniature Schnauzers. 
Good pet shampoos contain natural ingredients such as oatmeal, almond oil, and aloe vera to soothe and nourish your dog's skin and coat. Some are also tearless featuring safe, eco-friendly ingredients for dogs with sensitive skin.
When selecting the best shampoo for your Miniature Schnauzer, it is essential to consider your dog's individual needs and sensitivities. Many shampoos are designed specifically for dogs with sensitive skin, so it is good to consider this when selecting a pet shampoo.
The best way to find the perfect shampoo for your Miniature Schnauzer is to experiment with a few options until you find one that works well for you and your dog. If you have any concerns about a particular shampoo, consult your veterinarian or a professional dog groomer before using it on your dog.
In a rush? Here are the top picks!
Product
Best Overall
We Love Doodles Shampoo
Runner Up
Chris Christensen Dog Shampoo
Best For Schnauzer Puppies
OUAI Fur Bébé Pet Shampoo
Image
Best Overall For The Miniature Schnauzer
We Love Doodles 4-in-1 Dog Shampoo, Conditioner, and Detangler is a must-have for mini Schnauzers because it was specifically created for hypoallergenic and nonshedding dog breeds. In the shampoo formula, it also contains detangler which will keep mats and tangles out of your dog's coat and make future grooming sessions easy. This shampoo has been used by professional dog groomers around the United States and just recently listed on Amazon in May 2022.
The shampoo is made with natural and certified organic ingredients that only clean your dog's coat, but are also gentle on your dog's skin. It won't dry out your dog's coat or irritate their skin. It also helps to restore your dog's coat and give it a shiny and "just groomed" look after a bath.
The dog shampoo is also designed, tested, and made in one of the largest pet factories in the United States. It uses only the highest quality ingredients that are safe and effective for your dog. There's also a 100% satisfaction guarantee so if you or your dog aren't happy, you can get a full refund. We highly recommend that you try it out.
Features
Affordable dog shampoo option

Best new pet shampoo

Lavender and chamomile formula

No parabens, sulfates, formaldehyde, alcohol, or synthetic dyes

Certified organic ingredients

Veterinarian approved

A United States pet grooming product
The Spectrum One Coarse and Rough Coat Shampoo is perfect if your dog has a thick curly or wiry coat that tends to get dry and tangled over time. Unlike other shampoos, Spectrum One uses all-natural ingredients to gently clean, soften, and moisturize your dog's hair without stripping away natural oils or leaving behind residue.
This is our top pick for Miniature Schnauzers and does not compromise coat texture. This is best when used with the Spectrum One conditioner to increase the coat density. It repairs damaged coats while providing volume and texture and allows for thick, full, and springy Schnauzer coats.
Using this shampoo will help maintain your dog's coat's crisp texture and prevent matting while also keeping their skin healthy and hydrated. Plus, it's made in the USA with only the highest quality ingredients, so you can be sure you're giving your dog the best possible care.
Features
Affordable

Designed for coarse and rough coats. 

Dilutable up to 8:1

Restores a crisp spring to the coat

A Chris Christensen pet product

Maintains the crisp texture you need

Made in the US
Ouai's Fur Baby Shampoo is a beautiful mix of coconut oil, jojoba protein, and shea butter to moisturize your pet's skin and coat. It's also tearless, so you don't have to worry about hurting your little one's eyes during bath time. It's also a gentle, vegan pet wash that can be used on all your furry friends. 
We like this shampoo because it's made with moisturizing, protective ingredients and the same fragrance used in OUAI's shampoos and conditioner. It contains notes of Italian lemon, turkish rose, jasmine sambac, and white musk. 
The ingredients include aloe vera, which conditions fur, rambutan seed extract to help protect fur from pollution while hydrating the skin underneath, and hydrolyzed vegetable protein to improve fur strength and elasticity to fight breakage. 
Lastly, it includes panthenol which adds a shiny finish. This is a vegan, eco-friendly pet shampoo perfect for any Miniature Schnauzer.
Features
Vegan formula

Free of sulfates, parabens, phthalates

No animal testing

pH balanced for pets

Includes aloe vera, vegetable proteins, rambutan seed extract, and panthenol
As a bestseller in dog shampoo on Amazon, Rocco & Roxie's Soothe Oatmeal Shampoo is excellent for all kinds of dogs with dry and itchy skin. The oatmeal and aloe in the shampoo work together to soothe your pup's skin and relieve itchiness. 
The shampoo is also hypoallergenic and free of harsh chemicals, perfect for dogs with sensitive skin. The shampoo also contains argan oil, which leaves your dog's coat looking shiny and healthy. This is a safe and natural pet shampoo with no masking dyes, no drying alcohols, and no parabens that can mess up a dog's endocrine system. 
Features
Three formulas with two size options

All-natural hypoallergenic, calm, no-tears formula

Crafted with rosemary extract for optimal skin and coat health

Includes aloe vera that soothes and moisturizes

Added chamomile for skin elasticity and texture

Affordable
Best Medicated Pet Shampoo
Paws and Pals pet shampoo and conditioner is a 5-in-1 oatmeal formula that cleans, conditions, detangles, moisturizes, and controls odor. It is made in the USA with a medicated clinical vet formula and is best for dogs, cats, and other pets with dry, itchy skin. 
This 20 oz. bottle will keep your pet clean and smelling fresh while relieving their dry, itchy skin. This is a tear-free and soapless formula that helps relieve symptoms of allergies, hot spots, and dry skin and clean, deodorize, and soften your pet's coat. This shampoo is 100% soap-free.
Features
Affordable

Includes rosemary, oatmeal, and sweet basil

Medicated clinical vet formula wash 

Crafted with aloe vera for sensitive skin

Contains essential oils

Veterinarian recommended
Best Budget Sampoo and Conditioner
This natural, two-in-one formula can be used as a dog shampoo and conditioner. It's made with ingredients like aloe vera, oatmeal, and mint to soothe your pup's skin and coat.
The formula includes aloe vera gel, the essence of lavender and mint, tea tree oil, sage, and chamomile extract. Other ingredients include a coconut shampoo base, nettle extract, rosemary extract, wheat protein extract (natural deodorizing agent), vitamin E, and vitamin C. Plus, it's free of sulfates. 
The lavender and mint give it a gentle, calming scent. This all-natural shampoo has a bottle made from eco-friendly bamboo. Additionally, all Cloud Star products are made in the USA. This product has over 3,700 positive reviews.
Features
2-in-1 pet wash cleans and moisturizes 

Made with a coconut base, aloe vera, and vitamin E to nourish the skin

Calming lavender mint fragrance

Ingredients include herbs and botanical extracts like rosemary, mint, sage, and tea tree oil.

Affordable for multi-pet homes

Numerous formulas are available to choose from

Made in the US
Wash Bar is an eco-friendly, vegan, all-natural soap bar perfect for all dog breeds and life stages. This Climate Pledge Friendly pet grooming product works well for pet vacays and camping trips. It's available as two 3.5oz bars and delivers the equivalent washing of 40. 4fl.oz of liquid pet shampoo.
The soap is made with organic ingredients and effectively removes dirt, oils, and odors from your dog's coat. It also helps to soothe irritated skin and promote healthy coat growth.
Wash Bar is the perfect solution for busy pet parents who want to give their pups a thorough, gentle bath without worrying about plastic bottle waste or harsh chemicals. The all-natural soap bar is ideal for dogs with sensitive skin, and it's incredibly easy to use – rub it on your pup's coat and rinse clean! It's also perfect for smelly dogs. This product has no synthetic nasties like parabens, sulfates, synthetic fragrances, or colors. 
Features
Climate Pledge Friendly 

Includes Manuka oil 

Plastic-free

Affordable

Suitable for pet vacays and camping trips with Fido

100 % natural ingredients

Sustainable and biodegradable
How to bathe your Miniature Schnauzer?
Dog bathing with a professional groomer.
Grooming a Schnauzer.
Schnauzer Coat Type
The Schnauzer has a distinct beard and thick, wiry coat. The Miniature Schnauzer's coat is the same as the standard but with a softer undercoat. Their coat colors can be solid black, pepper, and salt (a mix of black and silver hairs) or black and silver. The Miniature Schnauzer is an independent breed that is lively, alert, and loyal to their owner. 
The double coat consists of a hard, wiry outer coat and a close undercoat. The AKC explains that" The head, neck, ears, chest, tail, and body coat must be plucked. When in show condition, the body coat should be of sufficient length to determine texture" The coat should be fairly thick but not silky. 
How to choose the best shampoo for your Schnauzer?
When it comes to shampooing your Miniature Schnauzer, you want to find one that is gentle on his skin but effective in removing dirt and odors. 
The best shampoo for this breed needs to be tear-free and won't cause dryness or irritation. As a pet parent, you will know when it's time to wash your Schnauzer based on how he smells, the condition of his coat, and if he's been rolling around in something stinky.
Frequently Asked Questions About Schnauzers
How do you make a Miniature Schnauzer happy?
There is no one definitive answer to this question, as every miniature Schnauzer is different and has different needs. However, some key tips for making your miniature Schnauzer happy include providing him with plenty of exercise and mental stimulation, ensuring regular grooming and baths to keep him clean and comfortable, and providing him with a safe and loving home environment. Miniature schnauzers are also very social creatures, so another great way to keep them happy is by ensuring he has regular contact with other people and animals.
What is the best way to groom a Miniature Schnauzer?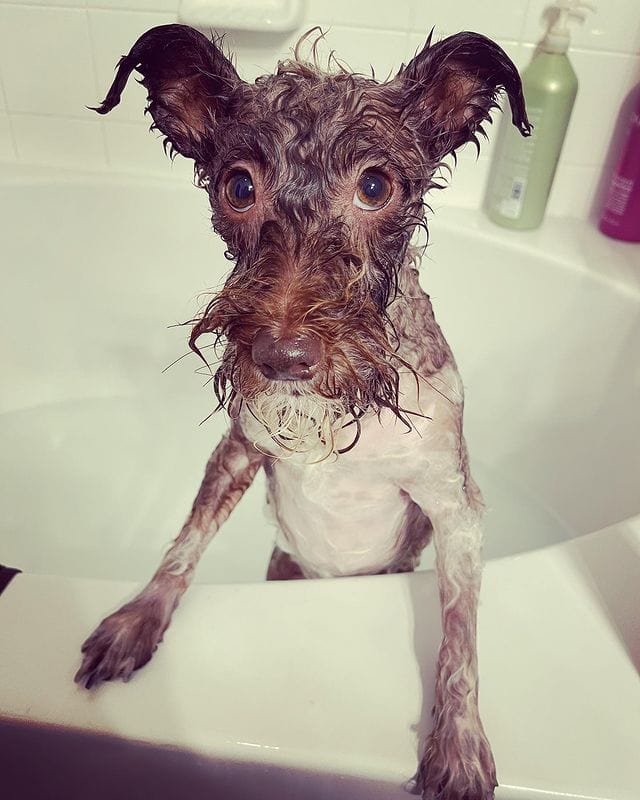 The best way to groom a miniature schnauzer will vary depending on his coat type. However, all miniature schnauzers should be brushed regularly with a soft-bristled brush to remove any dirt or debris from their fur. They should also be given regular baths using a mild shampoo for dogs, and their nails should be trimmed regularly. If you are unsure what grooming routine is best for your miniature Schnauzer, consult with a professional groomer or veterinarian.
How often should a Miniature Schnauzer be bathed?
Miniature Schnauzers should typically be bathed regularly, depending on their individual needs and level of outdoor activity. Dogs that spend a lot of time outdoors or have particularly active lifestyles may need to be bathed more frequently, while those that live mainly indoors and are less active may only need to be bathed once or twice a month. You should consult with your veterinarian or a professional groomer to determine the best bathing schedule for your Miniature Schnauzer.
How much exercise does a Miniature Schnauzer need?
Miniature schnauzers are relatively active dogs, and as such, they require a moderate amount of exercise to stay healthy and happy. They should be taken on daily walks or runs and given plenty of opportunities to play and run around in a safe, enclosed area. If possible, mini schnauzers should also be given access to a backyard or other outdoor space to explore and get some fresh air.
What are some common health problems associated with Miniature Schnauzers?
Some common health problems associated with miniature schnauzers include ear infections, skin conditions, allergies, hip dysplasia, hypothyroidism, and eye or vision issues. If your Miniature Schnauzer experiences any of these health problems, it is important to consult with a veterinarian to get proper treatment or help manage the condition. 
Additionally, ensuring that your miniature Schnauzer is up to date on all required vaccinations and preventative medications can help keep him healthy and reduce the chances of illness or infection.
What is the best shampoo for a Miniature Schnauzer?
There is no single best shampoo for a Miniature Schnauzer, as the type and frequency of bathing will depend on your dog's individual needs and coat type. However, there are several high-quality shampoos like the We Love Doodles 4-in -1 dog shampoo. These are specifically formulated for dogs and can help keep your Miniature Schnauzer's skin and coat healthy and clean. 
Some popular options include shampoos that contain aloe vera or other natural oils, medicated washes for dogs with sensitive or irritated skin, or those designed specifically to repel fleas and ticks. There's even our favorite pick- the eco-friendly, vegan soap bar that's perfect for pet travel and beach days.
Other articles you would like: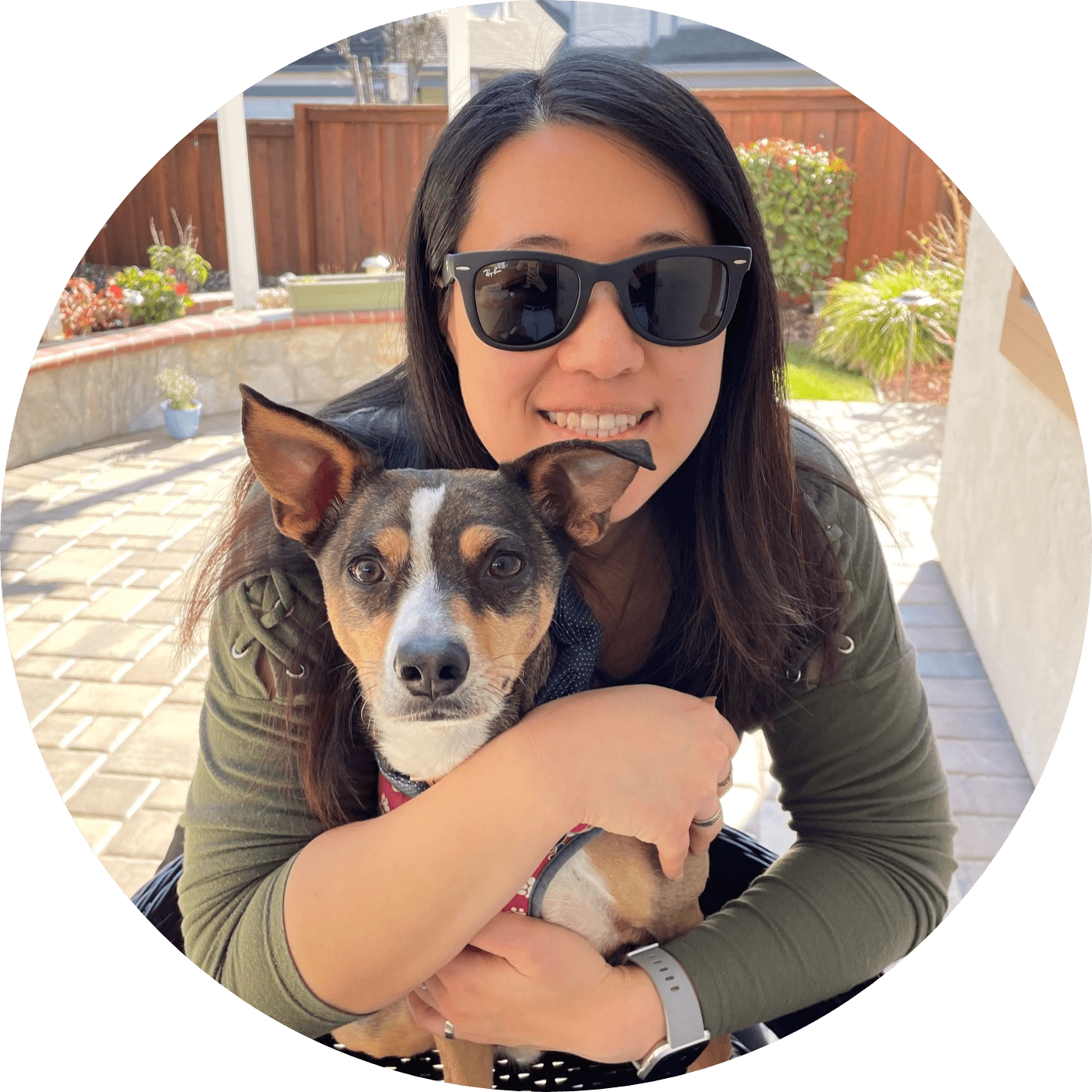 Dr. Sabrina Kong graduated from the Royal Veterinary College in England in 2016 and has been working at a small animal clinic in Northern California since then. She grew up in the Bay Area and got her bachelor's degree from Cal Poly San Luis Obispo. She also became a Certified Canine Rehabilitation Practitioner through a program at the University of Tennessee.
When she isn't in the clinic taking care of her four-legged patients, she enjoys traveling and trying new foods with her friends and her three-legged dog, Apollo. She adopted Apollo from her clinic when he was a puppy with numerous health issues. Dr. Kong truly cares about taking care of animals.