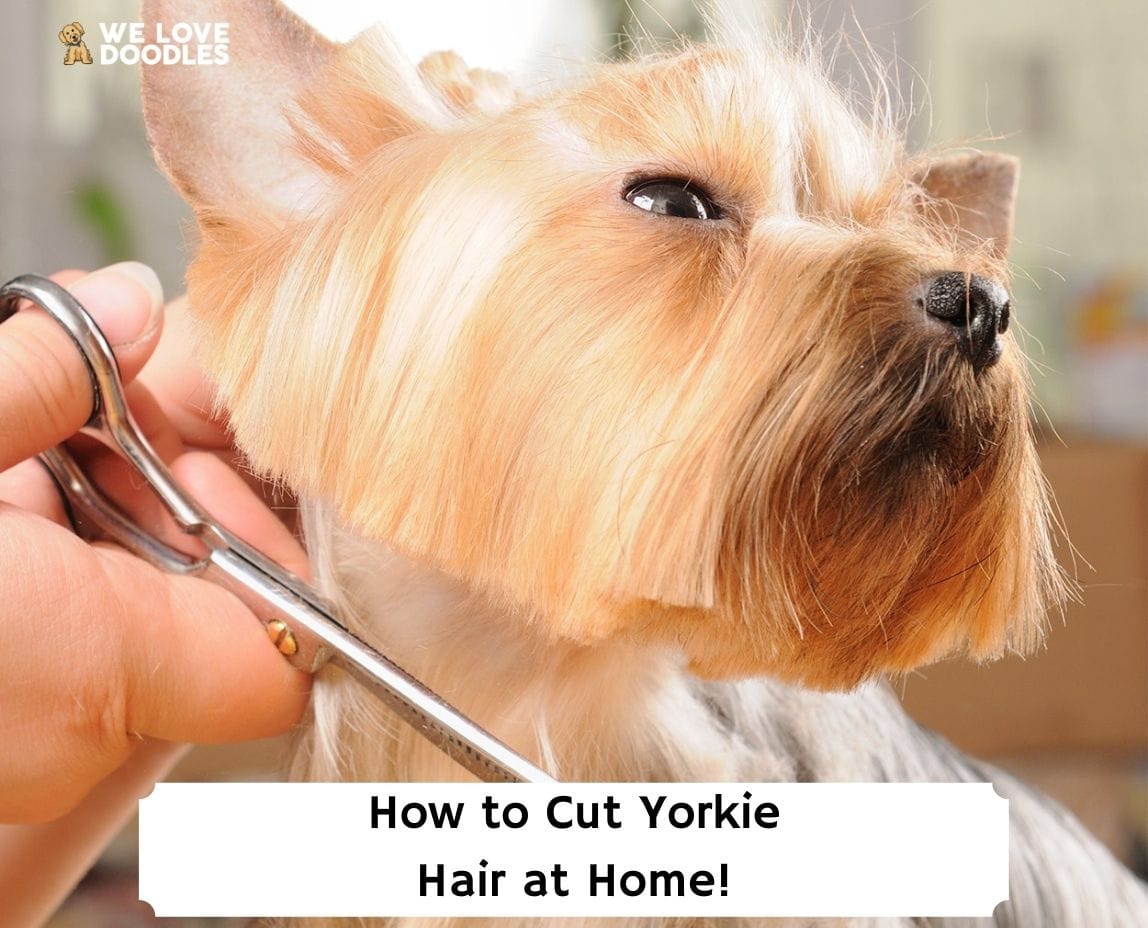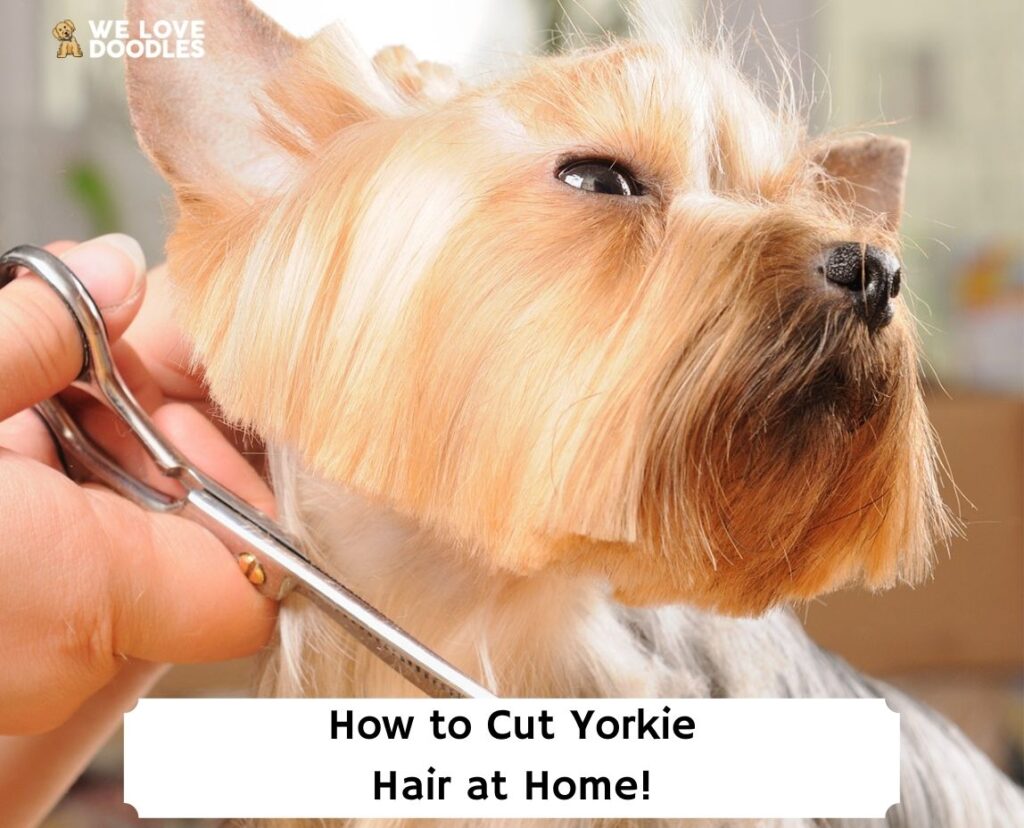 Cutting your Yorkie's hair at home can be a daunting task if you've never done it before. However, with the right tools and instructions, you can give your Yorkie a great at-home haircut!
Before you begin cutting your Yorkie's hair at home, you will need to have the proper equipment. This includes a pair of sharp scissors, clippers, a comb, and a brush. Continue below to read our step-by-step guide on how to cut your Yorkies hair at home. We groom our dog regularly so we've collected a ton of tips and pointers to help you.
Steps to Cut a Yorkie's Hair at Home

Wash their hair
Let hair dry completely (or use a blowdryer)
Brush
Use clippers on body
Don't forget feet and potty areas
Complete the face
Brush again
You can either watch this video or read the instructions below:
Wash the Yorkie's Hair
Before you give your dog a haircut or trim, it's important to wash their hair. Dog shampoo or baby shampoo works great. Wet their hair, then lather the shampoo, and scrub it in. Rinse the shampoo and towel dry.
If you try to cut dirty hair, the blade on the clippers will get caught and won't cut properly. It is also vital for their hair to be dry before cutting it, or your clipper won't grip the hair. You can let their hair air-dry, or hold a blow dryer at a distance.
Brush Out the Hair Before Grooming Dog At Home
Make sure to brush out the dog's hair before you cut it. The clippers will grip the hair more and won't get caught in mats.
There are a lot of different brushes for dogs. We recommend using a slicker brush for a Yorkie. When brushing, don't go over the same place too many times. This can irritate their skin or create brush rash.
If the hair is messy, the clippers won't be effective. Once the hair is brushed, you can start using the clippers!
Start Cutting Hair
When cutting a Yorkie's hair at home, it is important to cut the body hair first. This is because the body hair is shorter than the hair on the face. Cutting the face hair first can result in an uneven cut. You don't want the face to end up being shorter than the body.
Use the Clippers
When using clippers on a Yorkie's hair, start at their neck and work your way down. Keep the clipper moving in the same direction that the hair is growing. The clippers need to be moving at all times. The hair will be choppy if you pause or stop.
There is a flappy piece of skin between the leg and body, known as the tuck-up. It is important to note because even professional groomers sometimes cut this spot. When you reach the tuck-up, don't apply pressure to the clippers. This will help prevent nicks or injuries.
When using the clippers, make sure to switch out your blade often or take it off. Too much time with the clippers on or too much friction will cause heat. If the blade heats up too much, it can hurt your dog. To test the temperature of your blade, rest it on the inside of your wrist. If it feels warm, it is time to let it cool off.
Back Brush the Hair
When cutting the dog's hair, use the slicker brush to back brush. You do this by brushing opposite to the direction of hair growth. This will show any hair you might have missed and if it is uneven. Run the clipper over the spot you back brushed.
Back brushing is extremely important. Failing to back brush is one of the most common grooming mistakes. People wonder why the hair looks uneven, especially as it grows back. Forgetting to back brush is usually the answer.
Don't Forget the Feet
The legs and feet are as important as the body. There are many different types of haircuts. We recommend keeping it simple. Do this by cutting the legs and feet the same length as the body.
The clippers won't be able to get all the hair from one angle. Make sure to move around to ensure access to various angles! A good technique is to lift one of their legs and take the clippers underneath to the opposite side.
Don't forget to back brush on the legs too! Again, this is an important step. When you finish back brushing, use the clippers to even out what you missed.
Don't forget to trim your pup's potty areas! Waste can get caught in these spots if left too long. To ensure your Yorkie's hygiene, you'll need to perform this sanitary trim.
Check out for more: Best Types of Maltipoo Haircuts! and Best Types of Cockapoo Haircuts!
Finishing Touches
When you have finished brushing your Yorkie's hair, use the comb to section out their hair. Start on one side of their body and work around until each side falls in a natural direction.
Once this is complete, brush your Yorkie's hair in the direction that you would like their hairstyle to be. This will help it to lay flat against its skin.
This step is crucial because it helps show any missed hairs or unevenness.
How to Cut the Hair on the Yorkie's Head
First, comb your dog's hair, then cut off any excess hair around the outside of their ears using scissors. Next, use the clippers to cut their hair around the neck. Make sure to carefully use the scissors to trim the hair around their eyes so they can see.
Brush the hair towards their nose. The scissors should be parallel to the dog's nose. This will create a straight line. Be careful not to get the scissors too close to their eyes.
When trimming their ears, be aware of the different ear shapes. Dog ears are easy to hurt or cut. Cuts on ears take the longest to heal. Dogs shake their heads often, so they reopen injuries. The best way to trim the ears is to take your clippers and follow the outline of their ear.
One of the hardest spots to cut hair is around their eyes. Many dogs, especially Yorkies, tend to have eye discharge and tear stains. It's best to clean around their eyes and tear stains carefully during the bath. A clean face will be easier to trim and will support your dog's health.
Look at what beard styles you want. This research will help you know how to shape them. Whether you keep it long or short, try to keep it as even as possible. After their face is done, your Yorkie's haircut is complete!
Pick the Length
When cutting your Yorkie's hair, choose your desired length. You can have the hair trimmed very short or leave their natural hair length.
Using a blade without a guard comb will result in a short haircut. If you would like to leave more length, select an appropriate guard comb.
Brush downward as you go for a smooth finish. The blade length or guard comb will determine the length of the hair. To cut the hair shorter, use a shorter blade number.
Repeat this process until your Yorkie has no excess hair besides its head or tail. Brush them thoroughly again, and they're done!
Extra Grooming Tips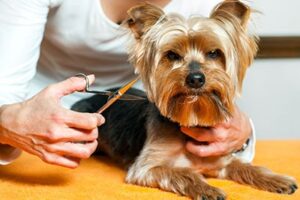 While cutting your Yorkie's hair, be careful not to pull too hard on any hairs. Yorkies have delicate skin. If you pull too roughly on their hair, it can cause redness, irritation, or cuts.
Also, be careful not to cut their hair too short. Trying to make the hair even after cutting it too short will only result in uneven clumps. Their hair will look unnatural and unattractive if cut too short.
If you are looking to trim your Yorkie's hair between visits to the groomer, you may want to ask the groomer for advice. Groomers cut hair all day, every day. They are an excellent source of information when it comes to how to cut your Yorkie's hair.
Cutting your Yorkie's hair at home can be a daunting task, but it is not impossible. With the right tools and some practice, you can give your Yorkie a fresh new haircut. Remember to always take your time and be careful when cutting your dog's hair. If you have any questions or concerns, consult with a professional groomer.
Finally, remember to be patient with yourself. Cutting dogs' hair isn't easy. Groomers put in hundreds of hours to become professionals. It takes practice, but by following this guide, you can give your Yorkie a great at-home haircut!
Where To Buy Grooming Supplies
You can find grooming supplies anywhere. If you are new and won't be cutting your Yorkie's hair often, Amazon is a great place to start. But if you want higher-end grooming supplies, we recommend Ryan's Pet Supplies online. This online store has beginner supplies and professional supplies. It will suit your needs regardless of your grooming level.
Chewy is also an ideal option for grooming supplies. Browse different online shops, read reviews, and find what best suits your needs.
Conclusion for How to Cut Your Yorkies Hair at Home
Cutting your Yorkshire Terrier's hair is a difficult task if you've never done it. Hopefully our guide on how to cut your Yorkies hair help you groom your puppy! Let us know if you have any questions as we also groom our dogs regularly.
You will also like:
Garrett loves animals and is a huge advocate for all Doodle dog breeds. He owns his own Goldendoodle named Kona. In addition, he volunteers at the Humane Society of Silicon Valley, where he fosters dogs and helps animals. Garrett enjoys writing about Doodles and believes that dogs can teach humans more about how to live than humans can teach a dog.
Why Trust We Love Doodles?
At We Love Doodles, we're a team of writers, veterinarians, and puppy trainers that love dogs. Our team of qualified experts researches and provides reliable information on a wide range of dog topics. Our reviews are based on customer feedback, hands-on testing, and in-depth analysis. We are fully transparent and honest to our community of dog owners and future owners.