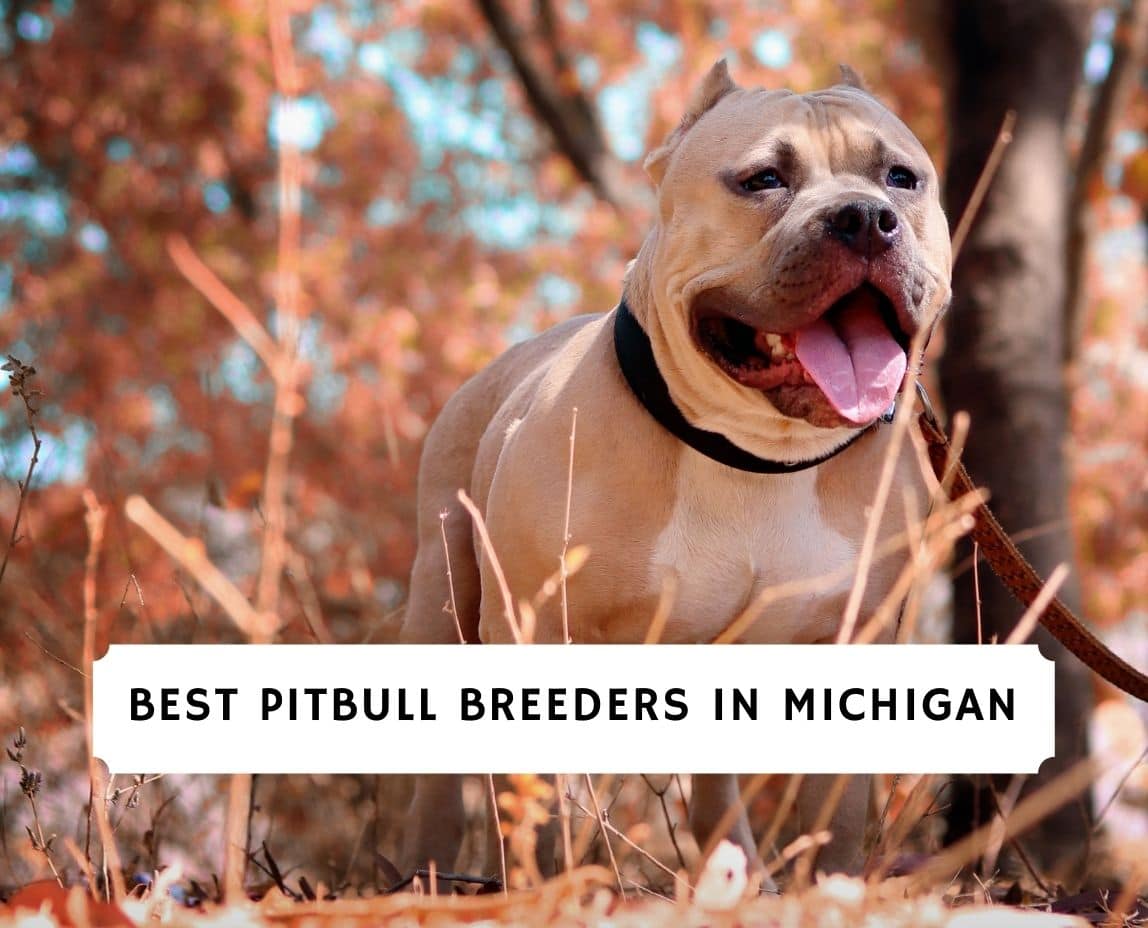 Here's what you need to know if you're searching for Pitbull breeders in Michigan. When you decide to add a new puppy to your family, the most important thing to do is find a reputable breeder that puts the health and temperament of the breed first.
Finding the right breeder not only ensures you receive a healthy puppy but also gives you a valuable resource to turn to as your puppy grows. If your heart is set on a Pitbull, then you have a few different breeders to explore.
The term "Pitbull" encompasses four different dog breeds, so you will need to find which one fits your family best. Here we offer an introduction to the Pitbull breeds, tips on finding a reputable breeder, and a list of some of the top Pitbull breeders in Michigan.
Before scrolling down this list of Pitbull breeders in Michigan, check out these recommendations: Best Cane Corso Breeders in Michigan and Best Rottweiler Breeders in Michigan.
Meet the Pitbull Before Our List of Michigan Breeders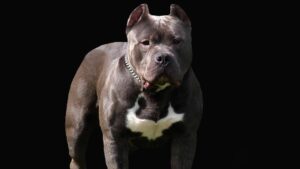 The term "Pitbull" is a generic term used to describe a type of dog breed. Four unique AKC/UKC breeds are considered Pitbull-type breeds. The American Pit Bull Terrier, American Staffordshire Terrier, Staffordshire Bull Terrier, and the American Bully.
These popular dogs account for an estimated 20 percent of the dog population in the United States. While they often get a bad rep, they make wonderful household companions, service dogs, therapy dogs, and K9 police dogs. Pitbull breeds began by breeding Bulldogs and Terriers.
This breeding began in the early 19th century in England, with the idea to create working dogs to herd, manage, and protect livestock. Unfortunately, because of their strength, these dogs were often used in the sports of bull-baiting and dogfighting, which contributes to their bad reputation and their name.
Because of this, many cities have breed-specific legislation that bans the breed, so be sure to check your local area before getting a new puppy. When you decide on a Pitbull puppy, it is vital to research the four different breeds to see which one fits your family best. Here we take a closer look at each breed.
American Pit Bull Terrier
The American Pit Bull Terrier is the tallest and most athletic Pitbull-type breed, standing between 17-19 inches tall and weighing between 30-90 pounds. He has a stocky, muscular build with a short, smooth coat in a variety of colors.
This breed is recognized by the United Kennel Club as its breed, but not by the American Kennel Club. The American Pit Bull Terrier has a playful temperament and a strong desire to please its human family, especially children.
However, it does have a high prey drive, and early socialization with other dogs is essential to help it learn to restrain potential aggression. Suppose you are considering an American Pit Bull Terrier. In that case, you will need to invest the time to properly train and socialize your new dog to help overcome its natural stubbornness and bossiness. They need someone who offers firm, yet gentle consistent discipline.
American Staffordshire Terrier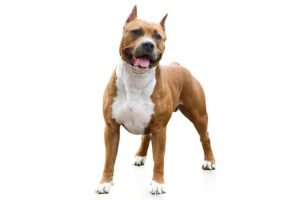 Standing slightly shorter than the American Pit Bull Terrier, the American Staffordshire Terrier stands between 17-19 inches and weighs between 55-70 pounds. They are a stubborn, tenacious, and fearless breed that loves their human family.
They are knowledgeable, and training is typically easy, but they still need a firm hand and early training and socialization, especially with other pets. The American Staffordshire Terrier is an AKC-recognized breed.
Staffordshire Bull Terrier
The Staffordshire Bull Terrier is a breed that gives its all in everything it does. When properly trained, this breed is exceptionally obedient, courageous, and affectionate. In many cases, these dogs have never met a stranger and love people, especially children.
As with other Pitbull breeds, they require proper training at an early age and a strong human pack leader to provide regular guidance. Also, as with the other Pitbull breeds, these puppies love to chew, and their strong jaws can easily tear through vinyl toys, so toys designed for super chewers are necessary and will help keep your puppy from chewing things they shouldn't.
This breed is smaller than the previous two, standing between 13 and 16 inches and weighing between 20 and 40 pounds. The Staffordshire Bull Terrier is an AKC registered breed.
American Bully
The American Bully is a relatively new breed originating in the United States between 1980 and 1990 and was not recognized by the UKC until 2013.
This breed results from carefully mixed breeding to include the American Staffordshire Terrier, American Pit Bull Terrier, American Bulldog, Olde English Bulldog, and the Bulldog.
This breed mixture creates a bright, well-behaved, fun-loving dog that is more tolerant of other dogs than the other bully breeds. However, as a Pitbull breed, this breed is often put under the same breed-specific legislation as the others, so always check your community's restrictions before looking for a puppy.
The American Bully comes in various size types: Pocket, Standard, Extra Large, Extreme, and Classic. They can range in height from 13-21 inches and weigh between 70-120 pounds.
Why Finding a Reputable Pitbull Breeder in Michigan is Important
When you decide to add any puppy, it is essential to find a reputable breeder. Unfortunately, this is especially true with Pitbull breeds as they are very popular with puppy mills, where breeding does not consider the health and well-being of the dogs and puppies.
These dog breeds can be prone to significant health concerns, such as hip or elbow dysplasia, mange, and eye issues. A reputable breeder DNA tests their breeding dogs to help rule out potential genetic health conditions, helping to ensure your puppy is healthy from the start.
In addition, a reputable breeder starts socialization early, helping to jumpstart your puppy's training and working to create an excellent canine family member.
Look for breeders that raise the dogs in the home with the family and have the parents on-site with them. This allows you to see their temperament and how they interact with others. Ask about health testing and if the puppies come with a health guarantee.
Pitbull Puppies For Sale in Michigan
When it comes to looking for a Pitbull breed, you have a lot of options. Here we have highlighted some of the top Pitbull breeders in Michigan and the surrounding areas, offering an example of the potential different breeds.
Pitbull Product Recommendations: Best Shock Collar For Pitbulls and Best Dog Food With Vitamins and Minerals.
1. Howard's Working American Pit Bull Terriers
Owner Howard S. Burgess has been raising and training American Pit Bull Terriers since the 1980s and, in addition to breeding, trains and titles dogs in Schutzhund, Weightpull, Conformation, Agility, Obedience, Tracking, UKC Dogsports, and Irondog events.
They focus on promoting the dog breed and that these dogs are happy, healthy, athletic, and playful. While they only breed occasionally, they are always available to answer any breed questions and refer you to other breeders with available puppies that they trust.
They are good-standing members of the Mid-Michigan Working Dog Group Schutzhund Club, the National American Pit Bull Terrier Club, America's Working Pit Bull Terrier Club, and more.
Howard's Working American Pit Bull Terriers Details
2. Southwest Detroit Kennels
Southwest Detroit Kennels is a small family breeder that breeds American Pit Bull Terriers, focusing on health, temperament, strength, and loyalty. They have a maximum of three litters a year, producing blue, blue fawn, and chocolate, red and black puppies.
They take great pride in their dogs and puppies and strive to provide healthy, happy puppies that make wonderful family pets. In addition, they are available to answer any questions you have about the breed and its breeding program.
Southwest Detroit Kennels Details
3. Pandemonium K9
Pandemonium K9 is a family breeder with over 25 years of breeding and showing experience with French Bulldogs and Staffordshire Bull Terriers. Their focus is on promoting the breed standards and producing healthy puppies with a good temperament. All their puppies come with a 1-year health guarantee.
Pandemonium K9 Details
4. Royalty Bully Kennelz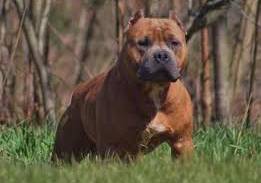 Royalty Bully Kennelz is an American Bully breeder with Elkhart, Indiana, Edwardsburg, Michigan, Farmland, Indiana, and Quebec, Canada. They raise award-winning Bullies and are proud members of the American Bully Kennelz Cub, The Bully Registry Company, and the United Kennel Club.
They have a strong love for all their breeding dogs and strive to ensure all their puppies are placed in loving homes. All their puppies receive veterinary health checks, are up to date on vaccinations and deworming, have their ears cropped, are microchipped, and come with ABKC paperwork.
Royalty Bully Kennelz Details
Conclusion For The "Best Pitbull Breeders in Michigan"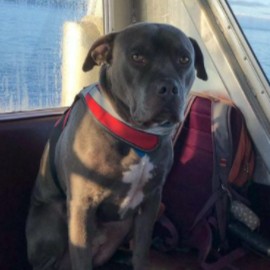 Finding the right Pitbull breeder in Michigan isn't always an easy task. However, we hope this list will do your search for a Pitbull puppy sooner than ever. There are many great Pitbull breeders out there in Michigan.
You'll have to do in-depth research to know who you're dealing with. Our team at We Love Doodles wish you the best on your journey for a Pitbull puppy.
For more content with mentions of the Pitbull dog breed, you can check out:
Learn more about the Pitbull dog breed by watching "Types of Pitbulls" down below: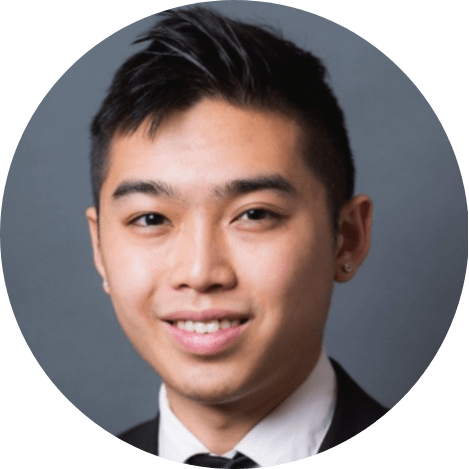 Andy is a full-time animal rescuer and owner of a toy doodle. When he's not saving dogs, Andy is one of our core writers and editors. He has been writing about dogs for over a decade. Andy joined our team because he believes that words are powerful tools that can change a dog's life for the better.
Why Trust We Love Doodles?
At We Love Doodles, we're a team of writers, veterinarians, and puppy trainers that love dogs. Our team of qualified experts researches and provides reliable information on a wide range of dog topics. Our reviews are based on customer feedback, hands-on testing, and in-depth analysis. We are fully transparent and honest to our community of dog owners and future owners.