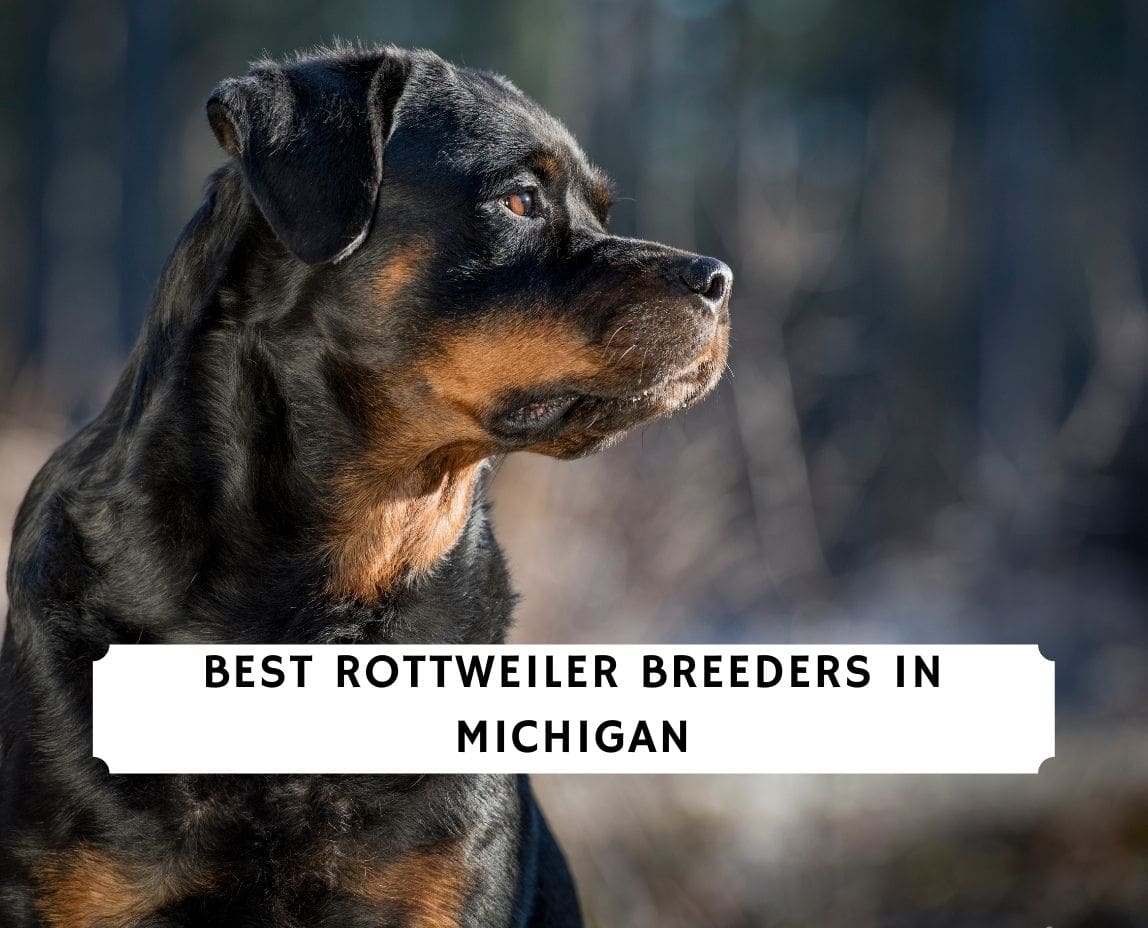 If you're searching for the best Rottweiler breeders in Michigan, then here's what you need to know. Rottweilers are among the first dog breeds to be used as police and military dogs.
They do well as family guard dogs and companions. However, if you're not an experienced dog owner, you should consider getting a breed that isn't as strong and intense as a Rottweiler. This breed requires experienced care from someone active enough to meet their high exercise needs.
Before scrolling down this list of Rottweiler breeders in Michigan, check out these other recommendations: Best German Shepherd Breeders in Michigan and Best Boxer Breeders in Michigan.
Rottweiler Puppies for Sale in Michigan
If you believe you're perfect for a Rottweiler, you'll need the services of an ethical breeder. Here's is a list of the top Rottweiler breeders in Michigan.
Rottweiler Product Recommendations: Best Dog GPS Trackers
1. PuppySpot's Rottweilers for Michigan
Since you're searching for Rottweiler breeders in Michigan, then it's worth taking a look at PuppySpot. PuppySpot isn't an individual breeder but a dog marketplace filled with many Rottweiler puppies. Rottweiler puppies listed on the platform are all available, which means that you can choose what you like.
The breeders on this platform are all strictly screened to smooth the process, and your Rottweiler will be safely shipped to your home in Michigan. Before you continue on your search for a Rottweiler breeder in Michigan, check out the link below.
PuppySpot Details
2. Rivertown Rottweilers
If you are looking for a place to purchase a quality German Rottweiler puppy in Michigan, you should try Rivertown Rottweilers. This breeder is located in Cheboygan and home to many amazing puppies.
Backed with numerous years of experience, you can rest assured that Rivertown Rottweilers will give you a quality puppy. In addition, they ensure that all their parent dogs come from excellent bloodlines to ensure that all customers go home with a healthy companion.
If you want to purchase any of their puppies, you must pay a $500 deposit. This breeder always has many potential adopters lined up in demand of puppies, thanks to their good reputation.
Once you complete your purchase, they will provide you with a litter certificate. Your Rottie will also come with a 2-year health guarantee and AKC registration.
The team here makes sure that all the puppies are potty-trained and well-socialized before going to their forever homes. You can have them ship our puppy to you, but they will require an additional charge for that.
Rivertown Rottweilers Details
3. Ridge Rottweilers
Located in Parma, Michigan, Sarah is the Rottie lover and ethical breeder behind Ridge Rottweilers. She found that there are only a few ethical breeders around.
So, she started breeding to fill the gap. All the Rottweiler puppies at Ridge Rottweilers are healthy and happy. This breeder only selects adult dogs with a 50-year bloodline history for breeding.
This way, they maintain the quality of their pets. All the breeding stock in this kennel are OFA health tested, as the breeder is very selective when picking dogs. They focus on health and temperament when breeding.
Ridge Rottweilers Details
4. Von Jagielo Rottweilers
With over 18 years of experience in breeding, Randy Jagielo and his wife Jeri produces some of the best Rottweilers in Michigan. They started the business after getting their first Rottweiler from an animal shelter and falling in love with the breed.
Von Jagielo has been in the business for many years and only breeds top-quality European Rottweilers. They import their breeding stock directly from Europe or select them out of European lineage.
This breeder only selects parent dogs that are OFA tested and have champions in their pedigree. The dogs here have their tails intact, but they will grant your request if you want yours cropped.
Von Jagielo Rottweilers Details
5. Vom Lincoln Haus Rottweiler
Vom Lincoln Haus is home to many beautiful German Rottweiler puppies. Located in Sheridan, Michigan, the breeder has been in business for many years. They aim at producing intelligent puppies with excellent temperaments and good looks.
The staff members at Vom Lincoln Haus are always eager to satisfy their customers with their adorable puppies. All breeding stock here comes the champions' bloodline and is AKC registered.
Their puppies are health tested and raised with love and are socialized from an early age. All their Rottweiler puppies come with a health guarantee to protect against genetic defects. In addition, the breeder offers lifetime support for their customers throughout their puppies' lives.
If you want your puppy delivered or shipped to you, they will require you to pay an additional charge. However, please visit the Vom Lincoln Haus website or call them to kick off your puppy adoption journey.
Vom Lincoln Haus Rottweiler Details
6. Parson Haus Rottweilers
Parson Haus Rottweilers are known for producing high-quality Rottweiler puppies in Lapeer, Michigan. They have an exceptional team of staff dedicated to enhancing the Rottweiler breed. Their primary focus when breeding is health, good temperament, and socialization.
All their breeding adults come from the German lineage. This breeder only produces 1 or 2 litters per year, which means they have enough time to care for all their puppies.
Parson Haus Rottweilers Details
7. Von Fields Rottweilers
Based in Grand Blanc, Michigan, Von Field is one of the most ethical Rottweiler breeders you will come across. Tyson, a passionate Rottie lover who breeds for conformation, health, and sound temperament, is owned and run.
This breeder has been in the business of raising quality Rotties for over twenty years. Nothing gives them more joy than sending their little ones to new homes.
All their puppies come health checked and well vaccinated. Their parent dogs are always health tested. Before you go home with a puppy from Von Field, you will need to pay a deposit of $500. The puppies here come with a health certificate and AKC registration.
Von Fields Rottweilers Details
8. Von Earl Rottweilers
Von Earl is one of the most ethical Rottweiler breeders you will find in Michigan. They aim to provide perfect standard Rottweiler puppies through proper health testing. In addition, this breeder strives to satisfy all its customers by producing their next best pals.
Their breeding program has raised many pets that are well socialized, healthy, and well-behaved. However, if you want to purchase your dream puppy from Von Earl, they will require you to make a down payment of $250.
Once you make the payment, they will add you to their waitlist. If you want to pick a puppy from a litter, you must pay a $500 deposit. This breeder only produces 1 or 2 liters per year.
Von Earl Rottweilers Details
9. Gowenhaus Rottweilers
Gowenhaus is one of the best places to get a purebred Rottweiler puppy in Michigan. They have an excellent breeding program that aims to provide the finest Rotties in the world. As a result, their dogs possess beauty, workability, soundness both mentally and physically.
Although a few misconceptions are going on, this breeder believes that Rottweilers are the most affectionate and loyal family companions. The breeding stock at Gowenhaus comes from some of the best workings and show canines.
They mainly import their dogs from European countries. All the mutts here are trained and socialized with humans, noises, and animals early. If you want to purchase a Gowenhaus Rottweiler, feel free to contact them.
Gowenhaus Rottweilers Details
10. Alten Weise Rottweilers
Located in Fife Lake, Michigan, this small family-owned Rottweiler breeding kennel is highly ethical in its business. They aim to better the Rottweiler breed by producing puppies that meet the breed's standard every year.
All their parent dogs come from the best European or German champion bloodline to ensure that they produce perfect puppies. In addition, this breeder studies the dogs' bloodlines and pedigree before breeding to produce healthy litters.
All the dogs here eat premium dog food to maintain their physical condition. They are also up to date on worming and vaccination. If you want to know more about Alten Weise Rottweilers, feel free to visit their website.
Alten Weise Rottweilers Details
11. Rottweilers Royal
Last on the list of Rottweiler breeders in Michigan is "Rottweilers Royals." This small breeding program aims to produce high-quality Rottweiler puppies for people looking to adopt them.
Located in Gladwin, the kennel is owned by Deborah Whitsel, who fell in love with the breed after purchasing her first Rottweiler puppy in 1999. It didn't take long before she started raising them as a business.
This breeder focuses on temperament and health when breeding. They only produce a few puppies every year, which gives them enough time to care for their little ones.
If you want to purchase their puppies, you will pay a $200 deposit. Your dream puppy will come with a 28-month health guarantee and microchip. In addition, they ensure that the puppies receive their first puppy shot, deworming, and have their dew claw removed.
Rottweilers Royal Details
Conclusion For The "Best Rottweiler Breeders in Michigan"
Strong, intelligent, and affectionate, the Rottweiler is an excellent companion and guardian to their humans. If you're sure you have the perfect lifestyle for owning a Dottie, you should purchase one. However, make sure you go through a trusted breeder. Our list of top Rottweiler breeders in Michigan will help you find one.
For more articles with mentions of the Rottweiler dog breed, you can check out:
Learn more about the Rottweiler by watching "Rottweiler – Dogs 101" down below: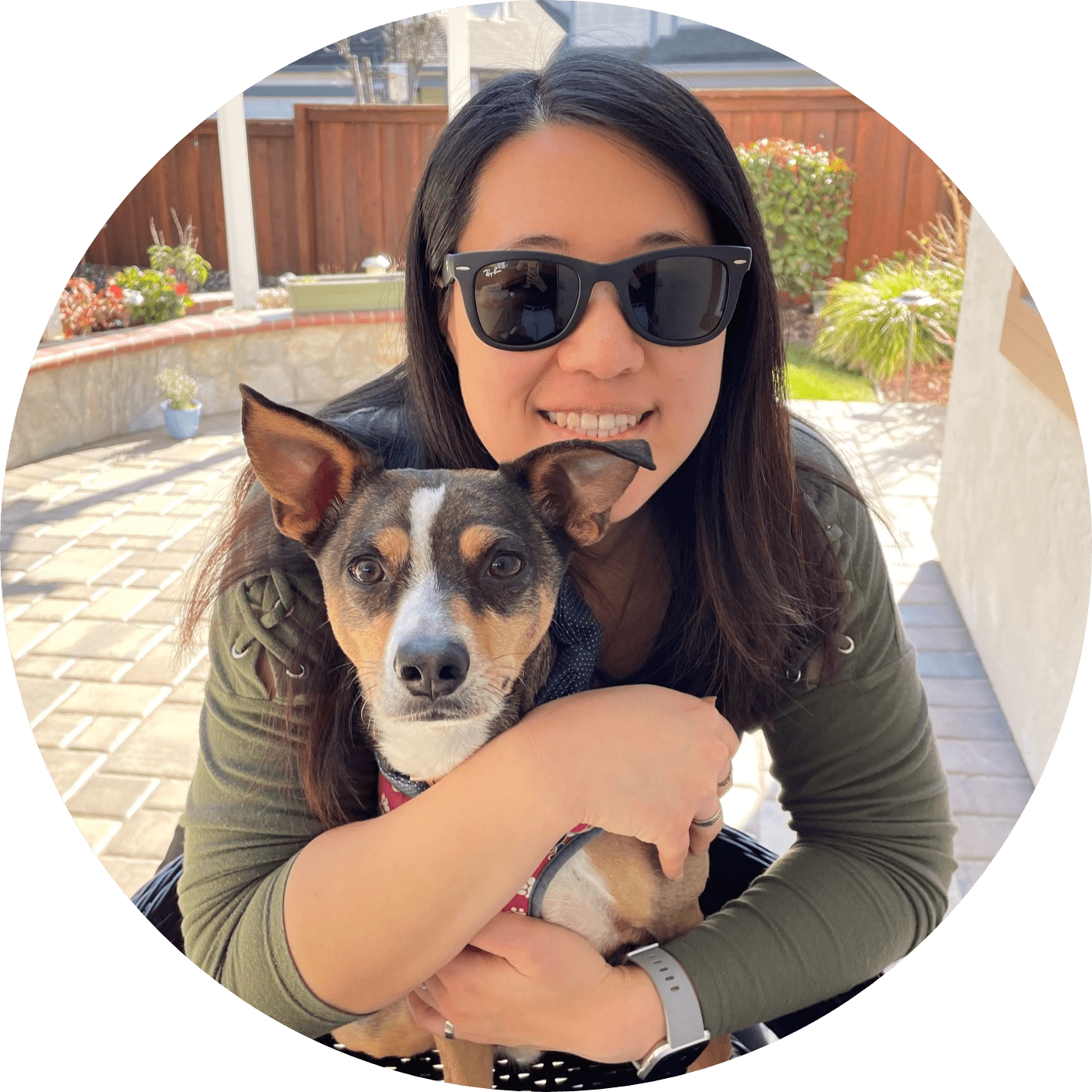 Dr. Sabrina Kong graduated from the Royal Veterinary College in England in 2016 and has been working at a small animal clinic in Northern California since then. She grew up in the Bay Area and got her bachelor's degree from Cal Poly San Luis Obispo. She also became a Certified Canine Rehabilitation Practitioner through a program at the University of Tennessee.
When she isn't in the clinic taking care of her four-legged patients, she enjoys traveling and trying new foods with her friends and her three-legged dog, Apollo. She adopted Apollo from her clinic when he was a puppy with numerous health issues. Dr. Kong truly cares about taking care of animals.