Pitbulls have a bad reputation for being big, scary, and aggressive, though most of that is just a misconception and stereotype. Pitbulls are big dogs with an even bigger personality. They are incredibly strong and energetic, intelligent, loving, loyal, and highly trainable. With the right environment, care of their owners, and the help of technologies such as a shock collar Pitbulls can be a great pet, companion, and watchdog.
Like other dog types, Pitbulls can be stubborn and full of energy and with their strength and size. This may make them hard to control and even harder to train. When used appropriately, shock collars are proven to be an effective tool when training your Pitbull. This is because a shock or remote training collar uses negative stimulus in the form of shock, vibration, or beeps to correct and control your dog's impulsive behavior such as incessant barking, jumping, or loitering.
Shock collars, also known as e-collars, offer convenience, flexibility, and ease of use to professional dog trainers and pet parents alike. They are an efficient, cost-effective, and less stressful alternative to get your dog's attention and teach them commands. Today, we will review the best shock collars for Pitbulls.
Shock Collars for Pitbulls Reviewed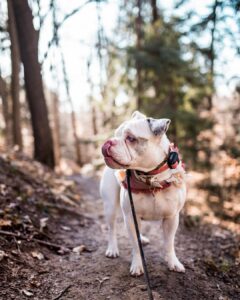 Looking for a high-quality shock collar for your Pitbull but don't have the luxury of time to do the research? Here's a summary comparison table of all the most popular e-collars that we tried! Shock collars were evaluated based on the training modes, remote range, durability, functionality, price, and their suitability to your Pitbulls.
Product/Brand
Pet Resolve
SportDog SportTrainer SD-575
Dogtra 1900S WETLANDS
GARMIN Delta Sport XC
EDUCATOR ET-400
Image
 
Amazon Rating
4.8 ★
4.6

★

4.6

★

4.5

★

4.6

★

Recommended Dog Weight
Over 15 lbs.
Over 8 lbs.
Over 35 lbs.
Over 8 lbs.
 Over 5lbs.
Water Resistance

✔  

✔

✔

✔

✔

Remote Range
¾ mile

(~1320 yards)

500 yards
¾ mile

(~1320 yards)

¾ mile

(~1320 yards)

¾ mile

(~1320 yards)

Training Modes
3
3
3
3
3
Shock Levels
10
10
127
36
100
Expandable to no. of Dogs
Up to 3
Up to 2
–
Up to 3
–
 
BUY NOW!
BUY NOW!
BUY NOW!
BUY NOW!
BUY NOW!
PROS

CONS

Can control 3 dogs at the same time; 3-dogs compatibility

Incredible value for your money

Good battery life
Extra-long prongs for great contact
Removable Shock Mode
Robust design
Built-in memory function
One-size fits all collar
Lightweight collar

Not suitable for smaller dogs weighing less than 15lbs.
Pet Resolve training collar is a real cost-effective training tool perfect for dogs of different breeds and temperaments including Pitbulls. This shock collar offers many features that are usually found in more expensive products. By offering only top-quality products and excellent customer service, Pet Resolve guarantees that you are getting great value than what you actually paid for.
Pet Resolve shock collar offers exceptional features and an easy-to-use robust design that is perfect for first-time pet parents or professional trainers alike. It is equipped with a no standby mode which means the system is always "on" and can easily correct your Pitbull's behavior instantly. The shock collar also has flashing lights for LED Night Mode fit for night walking or training, an anti-bark mode to easily correct excessive and loud barking, plastic prongs to remove shock mode if desired, and extra-long prongs for great contact and sensitivity.
This e-collar for Pitbulls comes with three basic modes: shock, vibration, and beep with adjustable levels of intensity from 1-10. It is also with a built-in memory function that can save previous settings and connections there's no need to reprogram the bark collar every time you turn it on. Additionally, this Pitbull training collar is 100% waterproof (remote splash-proof) with an impressive remote range of around ¾ miles ideal for outdoor activities to match your dog's high energy and temperament.
There is also a high-capacity rechargeable battery with a 2-hour quick charge so training time is not interrupted. Multiple pet owners only need to purchase extra collar receivers because the remote can be expanded to train up to three dogs at once. The package includes a remote transmitter, collar, USB charger, spanner and prongs, test light, receiver (with a night-light and anti-bark mode), lanyard, a USB lead, and free training clicker to encourage positive reinforcement. This is the best shock collar for Pitbulls in terms of value and performance.
KEY FEATURES
3 training modes: vibration, shock, beep
Adjustable 10 levels of correction
Has ¾ mile remote range
LED Night Mode
No STANDBY Mode- Always Ready to Go!
Anti-bark Mode
Rechargeable battery with 2-hour quick charge
100% waterproof
Has a buckle type closure
With free training clicker and lanyard
PROS

CONS

Suitable for larger dog breeds; 8 pounds or larger with neck sizes 5″ – 22″
Mid-range price
Customizable levels of correction
Long-lasting battery with quick charge
Easy to use. Blind operation design
Fully submersible receiver and remote

Remote range is poor and inadequate compared to other brands
Can train only 2 dogs with 1 remote
Design flaw: problems with the dog selection button. The numbers are small and keys toggle rather than select a specific collar
The SportDOG® Brand SportTrainer 575 is built with ease of use in mind. It has a bright and large OLED screen that is easy to read and an intuitive button design that is easy to control and big enough to be operated without a glance. The OLED screen displays dog selection (for multi-dog function), static stimulation level, and battery status. It offers 10 levels of both continuous and momentary static stimulation, each with low and mid-level ranges, as well as vibration and tone modes that can easily be customized and adjusted to fit any situation, dog's temperament, and sensitivity. While this shock collar was originally intended for hunting and working dogs, it is still a great tool to get to train your Pitbulls who are also often energetic and stubborn.
This shock collar is designed for dogs 8lbs or larger with necks measuring 5" to 22".  It has a medium remote range of 500 yards and is completely waterproof and submersible up to 25 feet ideal for outdoor activities. Additionally, the receiver can last 50-70 hours while the transmitter will last 20 to 40 hours of use per two-hour recharge.
The e-collar can be expanded to train up to two dogs by simply purchasing an extra collar receiver. Do note that the dog selection buttons easily toggle to the other dogs rather than select a specific collar. Pet owners need to learn how to use it otherwise it may cause more harm than good to your Pitbull.
The package includes a remote transmitter with a removable antenna, a receiver on a 3/4″ collar strap, power adaptor, standard and long contact points, lanyard, and a quick Start Guide.
KEY FEATURES
3 training modes: 'Pager (vibration), 'Nick' or 'Constant ' (shock) , 'Tone' (beep)
10 stimulation levels
Choice of continuous or momentary static simulation
500-yard range
Easy-to-read OLED screen with low battery indicator
Rechargeable lithium-ion battery with 2-hour quick charge
DryTek® waterproof and submersible to 25 feet
PROS

CONS

Ergonomic design
Fit for larger dog breeds over 35 pounds with neck sizes 8″ – 26″
Non-slip grip transmitter
Precise control
With safety features

1-dog system only; not the best for multiple dog owners
Can't add more collars; need to purchase another model
 Pricey
The Dogtra 1900S Wetlands remote training collar has proven to be durable and is a reliable choice for new pet parents or professional trainers alike and is ideal for hunting, obedience, and sports training. It features a slim and sleek camouflage collar that is ergonomically shaped to your dog's neck to ensure comfort and mobility. The e-collar is designed to fit dogs over 35 pounds and neck sizes between 8-26 inches and is for all breeds from mild to the most stubborn of temperaments which is great for a Pitbull. It also offers a 3/4 mile remote signal range and IPX9K certified waterproof collar and transmitter that can withstand extreme heat, water pressure, and any demanding conditions.
This shock collar can operate in 3 modes of correction (shock, constant shock, and a high-performance vibrate) and over 127 power levels of stimulations fit for safely training even the most sensitive of dogs. It is equipped with an easy-to-read LCD screen display to monitor stimulation and battery levels, a rheostat dial to control precision, a shut-off once button for safety, and a checkered non-slip transmitter for a better handgrip. This shock collar also comes with a quick charge battery, a very efficient splitter cable to charge both the transmitter and collar at the same, a protective carrying case, and a PetsTEK training clicker to encourage positive reinforcement.
One downside of this electronic collar is that it is made for a one-dog system only. You can't upgrade and add more collars later but have to purchase another model for that purpose. For multiple pet owners, the 1902S has the same features but can be expanded into 2 dogs instead of one.
The Dogtra brand also highly recommends that the collar not be worn for more than 2 hours per day in the first month and up to 10 hours most in the succeeding weeks to avoid burn marks and other skin irritations and training could be enjoyed by both pets and their owners. The package includes a collar receiver, collar transmitter, battery charger, splitter cable, test light, gear bag, owner's manual, and PetsTEK training clicker.
KEY FEATURES
Camouflage collar and transmitter
Remote range of up to ¾ mile
Rheostat/Volume Dial with precise stimulation levels 0-127
Three training modes: Nick, Constant, and Vibration Only
LCD screen display with low battery indicator
Checkered design for better grip
Safety Shut-off button
2-Hour Quick Charge Batteries
IPX9K Waterproof rating for both dog collar and receiver
PetsTEK Training clicker for positive reinforcement
PROS

CONS

 Titanium contact points to avoid skin irritation
Blunt stimulation
Ergonomic design
Waterproof and shock-resistant

Poor battery life
Not durable for its price
Misleading remote range, less than advertised
1-dog system only; not the best for multiple dogs
The ET-400 Mini Educator training collar is packed with a lot of innovative features that make it one of the most effective and safe shock collars on the market. It provides 100 adjustable levels of stimulation including "Blunt" and "Pavlovian Tone" and boost levels of 0-60 to help effectively improve your dog's behavior and control even the most stubborn breeds like Pitbulls. The blunt stimulation is a strong tapping sensation that is similar to a vibration rather than a painful shock which is less stressful to the dog but is still as effective.
The Pavlovian Tone is another unique feature of the ET-400 shock collar. When the button is held down, a 1.5-second tone is heard by the dogs followed by stimulation unless the button is released. It teaches your dog to associate the tone with a simulation and quickly respond to it instead. Additionally, the e-collar also has a lock and set feature that reduces the chances of accidentally changing the level or mode of corrections.
This shock collar is also known for its unique ergonomic and intuitive "stopwatch" handheld design that is small, easy, and convenient to operate, carry and store allowing pet owners to watch their dogs closely at all times. It has a medium-range that reaches ¾ miles for greater control of dogs of over 5lbs, neck sizes of 6-30 inches, and is used for training small and big dogs alike. Additionally, the shock collar is fully waterproof and shock-resistant which is perfect for backyard, park, hunting, or similar field training.
The Mini Educator is equipped with a ready-to-cut durable biothane collar with titanium contact points to avoid redness and skin irritation. The contact points are also available in different sizes and lengths for increased sensitivity for all breed types. The transmitter is also equipped with a remote-controlled LED night light, a built-in lost transmitter beeper to locate the receiver without difficulty, and easy to read LCD screen. This unit also comes with a PetsTEK dog clicker which encourages training and correction through positive reinforcement.
Like the Dogtra 1900S Wetlands shock collar, this unit is fit for a 1-dog system only. Another model must be purchased if planning on training multiple dogs. Another drawback of this training collar is that it may not be as durable as expected for its high price and the remote range might be less than advertised as well. The package includes waterproof miniature collar receiver and floating remote, 2 sets of contact points (5/8" and ¾"), biothane collar, contact point removal tool, dual battery charger, owner's manual with training tips, lanyard, and PetsTEK training clicker and whistle.
KEY FEATURES
For dogs as small as 5lbs
3 modes of correction
100 different levels of static stimulation with "Lock and Set"
Adjustable STIM booster button (1-60)
Tone-STIM mode for "Pavlovian" training
Mini ergonomic "stopwatch" handheld design transmitter
Blunt shock, not sharp
LCD display with backlight
2-hour quick charge batteries
Lost Transmitter Beeper
Remote controlled night light
¾ mile signal range
100% waterproof and remote that will float on water
Durable Biothane collar strap
PetsTEK Training clicker for positive reinforcement
PROS

CONS

Interchangeable long and short contact points
Integrated Bark Limiter
Slim and compact design
Train up to 3 dogs simultaneously

High price point
Weak shock setting
Not as durable as it should be for its price
The range is less than advertised (spotty at 30-50 yards )
The Garmin Delta Sport XC is a simple yet effective dog training system, especially for Pitbulls. The transmitter is ergonomically designed to require only one hand to operate with easy-to-use 3 action buttons with side buttons and a digital display that lets you switch between training configurations and dog selection being trained. It allows you to choose the best training option suited for the situation, environment, dog breed, or dog temperament.
This shock collar offers 3 training modes: stimulation, tone, and vibration, and 5 additional correction configurations for different behavioral issues. It has 36 levels of adjustable continuous and momentary stimulation which is great for most medium to large size stubborn dogs like Pitbulls. It also features a built-in fully customizable BarkLimiter with advanced bark correction that recognizes the difference between wanted and unwanted barks and vibrations eliminating false and over-correction.

Unlike its predecessor, the Delta Sport XC now supports simultaneous bark and train modes which means that training modes can be activated while the collar is set in BarkLimiter mode. Its slim and compact design is built for outdoor reliability. The e-collar is IPX7 waterproof certified and covers ¾ mile range and can be used to train up to three dogs simultaneously with the purchase of extra collars. It includes quick charge batteries for both transmitter and collar for up to 80 hours of run time after being charged and removable and replaceable long and short contact points optimized for all breeds, coat lengths, and sensitivity.
The major complaint on this bark collar is on durability for its price. This collar isn't great for long-term use, especially since Pitbulls are rugged and will drag the collar around. However, most Pitbulls can't be adequately trained in a few months with a shock collar. Another downside is the signal range also is reported to be less than what the brand claims.
The package includes Delta Sport XC Dog Training Device, Delta Sport XC handheld controller, ¾" collar strap, charging clip, long and short contact point set with wrench, USB cable, AC adapter, lanyard, and owner's manual.
KEY FEATURES
Built-in BarkLimiter with Advanced Bark Correction

Easy to read LCD display

3 mode of correction with 36 levels of stimulation 

5 additional correction configurations

¾ mile remote range

Exchangeable long and short contact points

Intuitive 3-button operation with digital display

Expandable up to 3 dogs (with purchase of additional collar)

Rechargeable batteries for both collar and transmitter with approximately 60-80 hours run time

IPX7 Water-resistant 
What to consider if you are looking for the best shock collar for Pitbulls?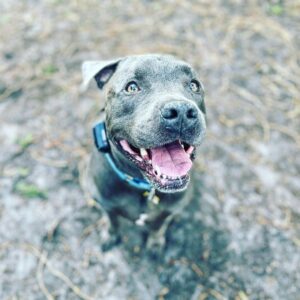 Before deciding what shock collar to get for your canines, take time to familiarize yourself and examine the key features of each item closely. Pay attention to the following factors when purchasing a shock collar for your Pitbulls:
Range. Choose a shock collar with a strong remote signal even in long distances so your Pitbulls can wander around off-leashed freely in a safe environment like your backyard. You always want to make sure the remote connects with the collar.
Training modes, intensity levels, and functionality.  Make sure the shock collar is equipped with the training modes and functions that best suit your dog's needs. Intensity levels should easily be adjusted as necessary. Pitbulls tend to become used to shocks over time, so you'll want to buy an e-collar that is adjustable and has many different levels.
Collar size. The shock collar should be ergonomically shaped to your dog's neck prioritizing comfort and mobility. If the metal prongs don't touch your dog's skin, then the shock functionality won't work properly. Making sure the e-collar size is correct is very important!
Material and durability. Ensure that the shock collar is manufactured to withstand your dog's power and strength and that it can last for a long time. Also check if the training collar is made from materials that are safe to use, possible skin irritations and allergies should be considered and accounted for.
Other important features to consider are water resistance, battery life, multi-dog compatibility, affordability, and product reviews among others.
Conclusion for the Best Shock Collar for Pitbulls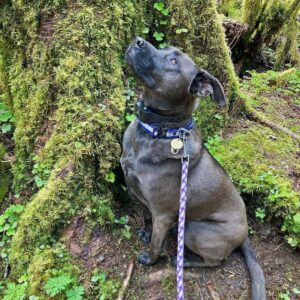 Finding the best shock collar for Pitbulls is definitely a significant task every dog parent of this breed needs to consider. Shock collars do work but like any training tool, the user experience varies and the result depends on usage. When properly used e-collars will not harm your dog while training. There is an abundance of products available in the market, you will find something suitable for you and your dog's needs. Also do remember that prioritizing positive reinforcement training in the form of treats, affection, and rewards is still highly encouraged and always recommended when using a shock collar. We hope this review will help you and other Pitbull owners get started in the right direction.
Other articles you would like: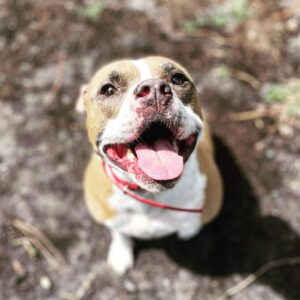 Garrett loves animals and is a huge advocate for all Doodle dog breeds. He owns his own Goldendoodle named Kona. In addition, he volunteers at the Humane Society of Silicon Valley, where he fosters dogs and helps animals. Garrett enjoys writing about Doodles and believes that dogs can teach humans more about how to live than humans can teach a dog.
Why Trust We Love Doodles?
At We Love Doodles, we're a team of writers, veterinarians, and puppy trainers that love dogs. Our team of qualified experts researches and provides reliable information on a wide range of dog topics. Our reviews are based on customer feedback, hands-on testing, and in-depth analysis. We are fully transparent and honest to our community of dog owners and future owners.