Pitbulls are sweet, energetic, and adorable dogs that love their family. They love to be outdoors and enjoy the fresh air. As a pet parent to this awesome dog breed, you are responsible for providing them with a safe, healthy, and fun environment.
Dog kennels are highly suitable for Pitbulls because they provide plenty of room to play, exercise, and can remain outdoors in a safe environment. You can also use large kennels indoors, but they are typically set up outside a backyard.
The following list is the best dog kennels for Pitbulls that are made with high-quality premium materials that are durable, long-lasting, and designed to keep your dog safe.
In a rush? Here are the top picks!
Image
The Lucky Dog outdoor heavy-duty welded steel kennel measures 6 feet high x 8 feet long x  4 feet wide with features a covered roof. It's honestly one of the best dog kennels for your Pitbull at a very affordable price. You can see all of our Lucky Dog Kennel reviews in a popular article that we wrote. The summary is that Lucky Dog creates some of the best outdoor kennels that are not only durable but also allows your Pitbull to exercise.
The Lucky Dog kennel has wire mesh and silver bars that are welded and coated to prevent any sharp edges from harming you or your Pitbull. It's also treated with corrosion and rust protection to prevent damage over time.
The waterproof cover roof is a heavy-duty and high-quality material that protects your dog from the snow, sun, rain, and other debris. The roof cover is also UV protected and prevents peeling, fading, ripping, and cracking. If you think that your Pitbull needs some extra shade or protection from the elements, then this dog kennel with a roof is a great pick.
The elastic cords that secure the roof to the steel crate are sturdy and stretch perfectly to keep the roof cover in place during harsh weather. This indestructible dog crate for Pitbulls is heavy-duty and long-lasting. Moreover, it's easy to set up and comes with pre-assembled modular panels. You don't even need any tools to assemble this awesome dog kennel.
This strong and durable dog kennel features a heavy-duty frame that is made of construction grade steel. Your Pitbull don't be able to chew their way out of this crate like they would a normal wire mesh kennel. In addition, the steel is corrosion-resistant and does not contain any toxins that will harm your dog.
This dog kennel is extremely long-lasting and very difficult to damage. It features two lock safety buckles that prevent even the smartest dogs from escaping. The double door is strong and withstands multiple attempts to escape. The size of the door is ideal for adult Pitbulls and the top door is excellent for interacting with a Pitbull puppy.
This dog kennel comes with four rotating locking casters that makes it easy to move the kennel from place to place. Whether you want to keep this kennel outside or inside is entirely up to you. In addition, this kennel for Pitbulls comes with a plastic tray that is easy to slide out and clean. If you have a Pitbull that isn't house trained or a litter of Pitbull puppies, the tray is extremely convenient to use.
The dog kennel is easy to assemble and comes with all of the hardware you need to get the job done correctly. Full assembly only takes between 3 to 5 minutes to complete. The overall dimensions for this dog kennel are 41.5 inches long x 30.5 inches wide x 37 inches high. The only downside of this dog kennel for Pitbulls is that it is heavy in weight. 
This heavy duty dog crate is of premium quality and is made from reinforced steel construction. It's designed to prevent aggressive attempts at escaping or chewing. The sturdy metal frame stays in place and withstands the harshest attempts to escape.
The double door design allows your Pitbull to go in and out of the kennel with ease. The door latches provide exceptional security for your pet. In addition, the metal frame is non-toxic and is treated with multiple layers of coding that prevents scratches, scuffs, corrosion, and rust.
The four wheels allow you to move this dog cage for Pitbulls from one destination to another quickly and easily. You can also choose to remove the wheels to keep the kennel in place. Keep in mind that steel kennels are relatively heavy so we always recommend leaving the wheels on and locked in place. Lastly, this dog kennel is easy to assemble and comes with all the hardware you need to complete the process.
This outdoor dog kennel measures 4 feet 6 inches high x 4 feet long x 4 feet wide and comes with a roof cover. When the cover is not installed the height is 3 feet 6 inches. This is another dog kennel from Lucky Dog that has an affordable price point for Pitbull owners.
The kennel is easy to assemble and is set up in minutes because the panels are modular and it comes with easy instructions. Modular panels are useful because you can essentially conform this kennel into any shape that you desire.
The durable roof cover protects your Pitbull from harsh elements including rain, snow, and direct sunlight. The dog cage is made from 100% commercial grade steel and stands firm. The fully welded joints do not have any sharp edges so you don't have to worry about your Pitbull getting hurt if they try to escape. Lastly, this dog kennel has a double powder coating to prevent rust and corrosion.
This indoor and outdoor dog kennel for a Pitbull has a sturdy structure and is highly durable. It's constructed with heavy-duty rust-resistant metal. The strong metal resists scratches and other damage from your dog.
Moreover, the dog kennel includes eight panels that are easy to assemble and create rectangular, octagon, or square shapes that are best suited for your dog. The panels are modular so you can connect them in any shape that you desire.
This expandable dog kennel provides plenty of room for your Pitbull to play and exercise in a contained area. No tools are needed to assemble the kennel and it's easy to set up quickly. When unassembled it collapses quickly and stores in small places.
Are you looking for a heavy-duty dog cage for Pitbulls? If so, this is the one you need! It features a spacious interior that is surrounded by a strong and durable chain link fence. It makes it easy to create a pet-friendly play area so your Pitbull can exercise outside in the fresh air.
The frame is made with steel and galvanized metal. While the steel is strong and durable, it's also light enough to move around from one side of your property to the other. If you want to anchor this kennel to the ground then you will need to purchase stakes separately.
You will feel confident that your dog is secure and safe with this awesome Pitbull crate. The protective covering is a water-resistant tarp that is UV resistant. The tarp does not peel, fade, crack, or rip over time. The elastic cords that hold it in place are durable and long-lasting. Additionally, the design of the pitched roof allows water, leaves, light snow, and debris to run off the edges without getting your dog wet.
This tall dog crate is excellent for outdoor use and provides your Pitbull with plenty of ventilation. Your dog will remain safe inside of the high-quality steel barrier.
It's easy to set up and provides assembly instructions that allow you to assemble the entire kennel in just a few minutes. The panels also come down quickly when needed which is highly beneficial when you are in a rush and want to move this kennel around.
The rust-resistant metal is long-lasting, durable, and it withstands your dog scratching and attempting to escape. The waterproof tarp is made of heavy-duty high-quality material that is UV protected. This means you don't need to worry about the top of the tarp fading or cracking over time.
The shape of the roof is pitch style which allows rain, leaves, debris, and light snow to run off the edges. You will never find water or debris accumulated on the roof to clean up.
This dog crate for Pitbulls is made with high strength wire gauge. The durable metal frame has an epoxy coating finish that makes the entire structure rust and corrosion-resistant. It's designed to withstand harsh elements and climates without fading or becoming damaged. This dog kennel is designed for long-lasting use. For the price, you can't really go wrong with this kennel for your Pitbull.
This strong and durable movable dog kennel is great for Pitbull puppies. It is constructed with premium-grade quality steel. The solid frame is heavy-duty and designed to keep your Pitbull puppies safe and comfortable.
It features two doors that allow your energetic dog to go in and out with ease. The front door has two slide-bolt latches that lock it into place and prevent your dog from escaping.
In addition, the four wheels make it easy to move around from one location to the other. The wheels also lock into place to prevent the crate from rolling around. If your dog is highly energetic while in the crate, you have the option to remove the wheels and allow it to stand in place.
The steel frame and bars have a multi-layer coating that protects it from getting rusted, faded, and corroded. This means that you can use this dog kennel outdoors and indoors.
It's easy to clean by placing the crate outside and hosing it down. The complimentary tray is rust and stain-resistant and does not retain pet odors. Honestly, this kennel is great for Pitbull puppies or if you have a new litter of dogs.
How to Choose a Dog Kennel for Pitbulls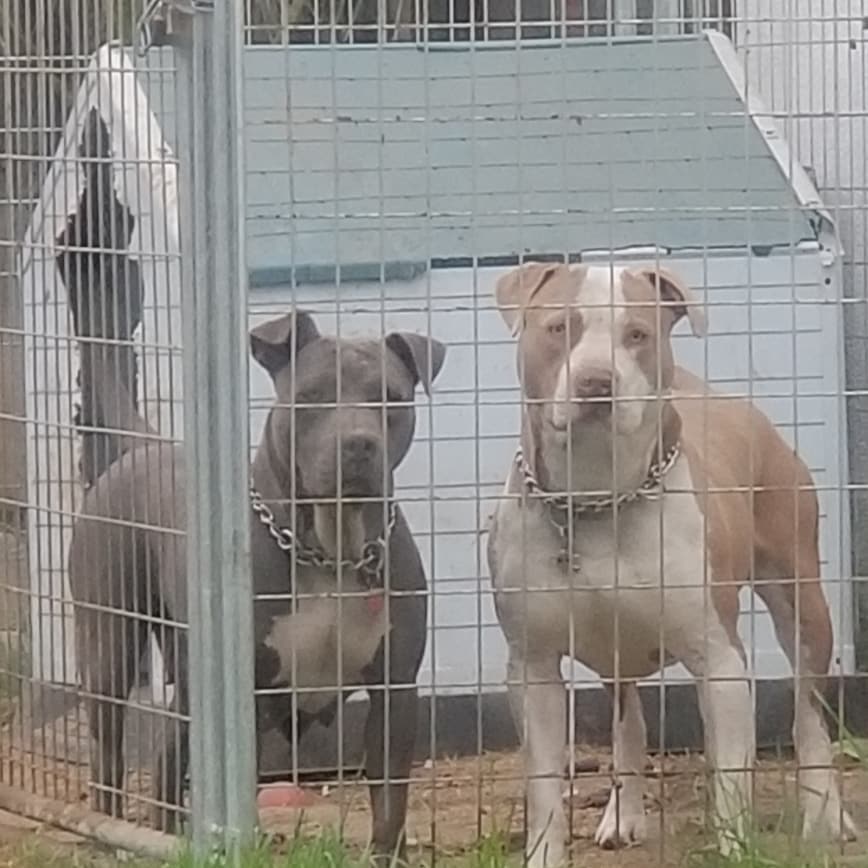 Your Pitbull deserves the best of the best and all of the dog kennels mentioned on the list above are high quality and long-lasting. You can definitely feel confident keeping your dog safe with any of the candles on the list.
Indoor or Outdoor Use
When choosing a dog kennel for your pet you first need to determine if you need it for indoors or outdoors. This decision is usually based on whether your dog likes to stay inside or outside the most.
Every dog is different so you will know what your dog's specific needs are by observing their preferences. If your dog likes to be indoors and outdoors, it's wise to invest in an easy to take down and set up kennel. Also, the kennels with wheels make it easy to roll the crate inside and outdoors as needed.
Does your Pitbull try to escape their kennels or crates?
Another helpful tip for choosing a dog kennel for your Pitbull is to determine if they are an escape artist or not. This means if your dog has abilities to unhook their current crate or forcefully push themselves through the door to escape they will need a dog crates that features secure latch locks. In addition, some Pitbulls can easily chew their way out of thin mesh wires. In these situations, you will need to invest in a thicker steel dog kennel.
Do you need a kennel with a roof?
Dogs that like to spend their time outdoors but are sensitive to the sun and other harsh elements are ideal candidates for the dog kennels that come with a tarp or roof.
All of the tarps mentioned on the list of highly durable and designed so they do not crack, fade, tear, or become damaged by weather elements. The overall design of the roof features a pointed design so rain, snow, loose leaves, and other debris slide off of the roof surface onto the ground without bothering your dog.
The special design of the roof also prevents any water or debris from accumulating and saves you time because it doesn't require any cleaning.
What size dog kennel should I get for a Pitbull?
When choosing the size of the kennel for your Pitbull, it's best to measure them first. When measuring your dog have them either stand up or lie down on their side all stretched out. Measure from the tip of their nose to the tip of their tail first, then measure from their back above their shoulder straight down to the tip of their paw. This measurement will give you an idea of how large you need the crate to be.
Keep in mind the kennel or crate needs to be larger than your dog's measurements and allow them to stand up without hitting their head on the ceiling as well as lay down and stretch out without feeling cramped.
If you are choosing a dog kennel for a full-size adult Pitbull, chances are you will find the perfect fit that will last them for years to come. However, if you have a Pitbull puppy, you may want to consider investing in the full-size kennel because they will grow rapidly. A good rule of thumb is to take the average weight of the parent dogs to determine how big your Pitbull puppy will grow. Next, you want to choose a kennel that will adequately suit their size.
Dog Crate vs. Dog Kennel for Pitbulls
You might be wondering what the difference is between a dog crate and a dog kennel. The words are often used interchangeably but there is a slight difference in the actual product. A dog crate usually has a handle for carrying or wheels to roll it to another location quickly and easily.
There are a variety of crates that feature removable wheels on the list for you to choose from. A crate is excellent if you want to keep your Pitbull in a small cage-style environment indoors.
The list above also includes plenty of options for dog kennels. These options are the ones that have tall standing steel metal wire fences and a tarp for the roof. These kennels provide your dog with plenty of space to play and exercise while being protected from the elements. A dog kennel is usually used outdoors but some pet parents decide to use it indoors as well.
Where to Place a Dog Kennel in Your Yard
As mentioned earlier, dog kennels are usually used outdoors in homes and businesses. Kennels need to be placed in a safe area on the property. Since most kennels come with a tarp you can place the kennel anywhere on the property because the tarp provides protection from the elements.
On the other hand, if you decide to not use the tarp on the top of the kennel, you need to place the kennel under a tree or shaded area. It's okay if there's some sunshine for a portion of the day but the majority of the day your dog needs to remain in the shaded area to prevent heat exhaustion.
A dog kennel or dog crate is essential to the well-being of your Pitbull. Pitties are often mischievous and wander out of the gate or escape from an enclosure that you have set up. If your dog is the ultimate escape artist from your backyard, it's time to invest in a high-standing dog kennel that has secure latches to prevent them from getting out.
Pitbull puppies might not need a large environment unless they are highly energetic and enjoy playing outdoors. Otherwise, a heavy-duty dog crate is ideal for a growing Pitbull puppy.
An excellent way to save money is to purchase a dog kennel or crate for a full-size adult Pitbull and allow your pup to grow into it gradually. Otherwise, you will be purchasing a crate for the size of your puppy and just a few months later another crate for a growing dog.
Some dogs are afraid of crates and kennels when they first see them in their home or yard. The best thing to do is to allow your dog to become familiar with the crate or kennel before placing them inside, an excellent way to do this as to make them part of the entire process.
For example, when the box arrives with the kennel pieces and hardware inside behave extra excited so your dog thinks it's something fun. As you put the kennel together talk to your dog and tell them it's their new toy and the crate is for them! Most dogs at this point will become excited and eager to check out the Kennel.
As soon as you finish assembling the kennel allow your dog to naturally inspect it by smelling and walking around it. Leave the door open so your dog can feel comfortable going inside at their own will.
 If your dog is hesitant to go inside the crate, it's best to put a few of their favorite toys inside and leave the door open to encourage them to go in as they please. The same technique also works well if you place a few treats inside of the kennel as well. The goal is to let your dog know this is a safe environment for them to play and exercise.
Conclusion for Best Dog Kennels for Pitbulls
Pitbulls require a lot of space to run and exercise outdoors. Dog kennels for Pitbulls provide an enclosed area to keep your dog safe but also gives them space to run around in. Keep your dog safe with a strong, durable, and long-lasting kennel by making your choice from our list today!
Other articles you might like:
Garrett loves animals and is a huge advocate for all Doodle dog breeds. He owns his own Goldendoodle named Kona. In addition, he volunteers at the Humane Society of Silicon Valley, where he fosters dogs and helps animals. Garrett enjoys writing about Doodles and believes that dogs can teach humans more about how to live than humans can teach a dog.
Why Trust We Love Doodles?
At We Love Doodles, we're a team of writers, veterinarians, and puppy trainers that love dogs. Our team of qualified experts researches and provides reliable information on a wide range of dog topics. Our reviews are based on customer feedback, hands-on testing, and in-depth analysis. We are fully transparent and honest to our community of dog owners and future owners.