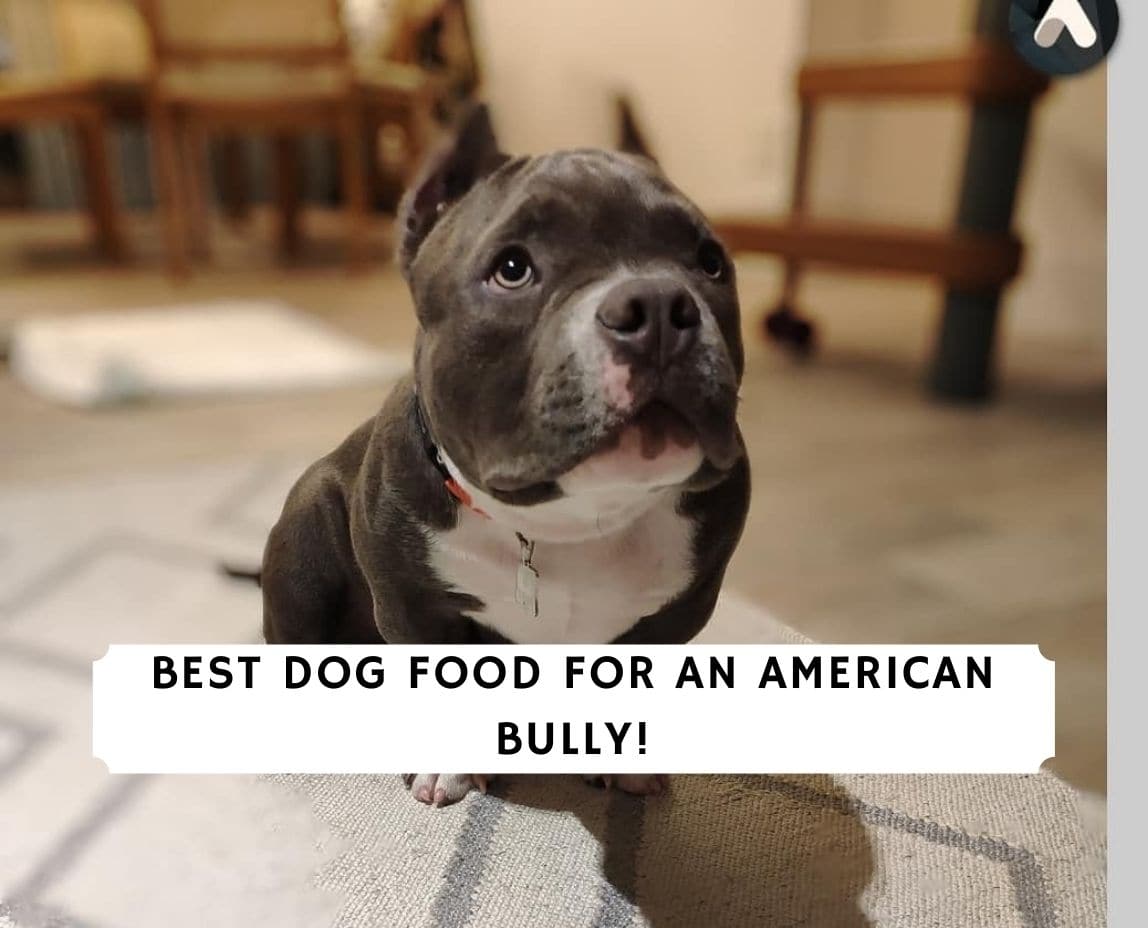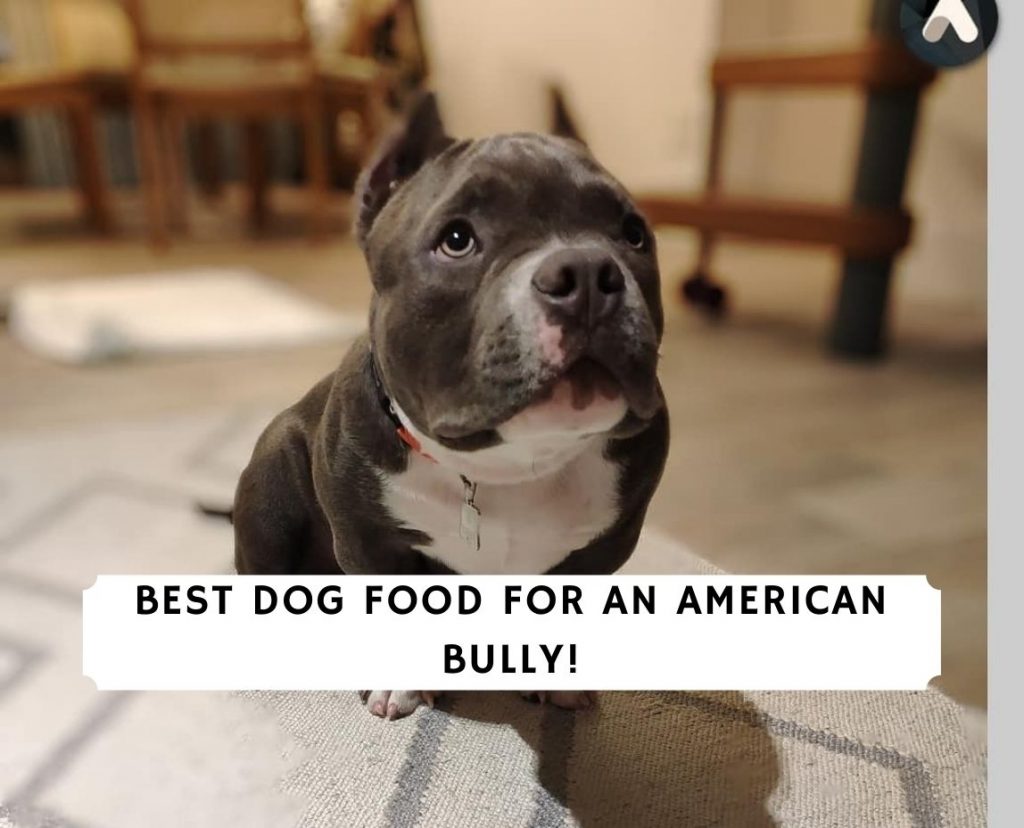 Let's face it! Purchasing the right dog food for your American Bully can be difficult. With so many brands around, choosing high-quality, nutrient-packed dog food for an American Bully means that you need to understand more about nutrition. Feeding high-quality dog food helps with the following:
Controlled growth during puppyhood
Optimum calcium levels
Musculoskeletal disorders
The most important tip with dog food is to feed for the correct life stage and to follow the guidelines for feeding puppies, adult, senior, lactating females, and so forth. Your best bet is to work with your veterinarian to ensure that your furry best friend has no underlying health issues and that if you're thinking of switching dog food, you do so gradually and with a well-balanced dog food formula.
In this blog, we're going to discuss diet and supplements, and how maintaining a healthy weight with exercise and good dog food can keep your American Bully healthy. Your dog also may be able to beat osteoarthritis, diabetes, and other health issues that American Bullies are prone to.
You'll notice that you'll trigger healthier growth and healing by making nutritional changes to your dog's food. If your American Bully is aging, overweight, or has chronic health problems, you should consult with your veterinarian to discuss ideal weight and the best dog food for an American Bully.
First, we will share our top 5 choices for the best dog food for an American Bully. After these choices, we'll start with an overview of dog food ingredients and AAFCO regulations. We'll then highlight critical nutrients that you'll find in the very best food for the American Bully.
We've reviewed dozens of dog food brands and narrowed our list to 5 of the best dry dog foods for your American Bully.
In a rush? Here are the top picks!
Product
Best Overall
Victor Classic
Best for Bully Puppies
Wellness Core
Image
Here are The Top Five Best Dry Dog Foods for the American Bully
This is a US-based dog food manufacturer that's out of Texas. It's a formula for active dogs in all life stages that's available in four sizes. With over 2,829+ positive Amazon ratings, Victor Classic Hi-Pro is crafted with a nutrient-dense formula packed with premium-quality beef, chicken, pork, and fish meals. This is beneficial for the American Bully that needs high-quality protein levels, like growing puppies and pregnant or nursing Bully females.
The formula also features vitamins, minerals, essential fatty acids, protein, and amino acids. In addition, this formula is made with Viktor's scientifically advanced, proven VICTOR Core ingredients to promote healthy immune and digestive systems for bully dogs.
It also promotes optimal digestibility and is made from gluten-free grains. Keep in mind that the Viktor Classic Hi-Pro Plus Dog Food, regardless of the formula, all carry core Viktor ingredients, which include the following:
Selenium yeast
Mineral complexes
Prebiotics
Probiotics
The label analysis indicates that crude fat content is at 20%, crude protein at 30%, and crude fiber at 3.8%. This is one of the perfect dog food for bully breeds with high protein and fat contents.
Features
Gluten-free
Supports gastrointestinal & digestive health
Crafted with gluten-free grains
Features dried seaweed meal.
A good formula for high-performing active working dogs
Best Bully Dog Food for Sensitive Stomach
If your Bully has digestive issues, finding good dog food may be difficult. After consulting with your veterinarian and getting a proper diagnosis, you should also inquire about proper nutrition for a sensitive stomach. Food sensitivities can be caused by allergies or food sensitivities and switching to the right dog food can be beneficial.
Diamond Care for Sensitive Stomach is a family-owned US-based manufacturer. It's also a reasonably priced dog food for an American Bully. This dog formula features chicory root which is great for adult dogs with sensitive stomachs. Here are the top 5 ingredients in this dog food:
Potatoes

Egg product

Potato protein

Tomato pomace

Chicken fat (preserved with mixed tocopherols)
In addition, the chicory root, which is rich in inulin, is a soluble dietary fiber. It also contains taurine, an amino acid good for optimal heart health. Lastly, there are chelated minerals that are chemically attached to a protein. This formula may be beneficial for dogs with excessive gas, gastrointestinal upsets, and digestive issues. These are all common health issues in the American Bully dog breed.
Features
Limited ingredient diets

Insoluble fiber

Guaranteed probiotic strains

Antioxidant formulas

Grain-free formulation

Omega fatty acid blend

Fiber blend

No artificial flavors, preservatives, or coloring
A fast favorite with over 17,221 positive Amazon ratings, Blue Buffalo has deboned chicken as its first ingredient. It features essential proteins and carbohydrates to help meet adult Bullies high energy needs. This dry dog food also features Omega 3 and 6 fatty acids to promote a shiny coat and healthy skin. The average protein content runs at 24%, with a mean fat level of 16%. This is an adult dog food only, so that it would be one of the best dog foods for adult Pitbulls. 
This formula contains BLUE's exclusive Life Source Bits – a precise blend of antioxidants, vitamins, and minerals carefully selected by holistic veterinarians and animal nutritionists, to support immune system health, life stage requirements, and a healthy oxidative balance. The first five ingredients include the following: Deboned Chicken, Chicken Meal, Brown Rice, Barley, Oatmeal. 
Blue Buffalo offers 23 dry dog food formulas in the Life Protection product line. As with any dog food brand, follow dog food recalls via the FDA. It would help if you did this regularly, regardless of the dog food brand you're feeding your Bully.
Features
BLUE contains no chicken (or poultry) by-product meals
No corn, wheat, soy, artificial flavors, food coloring, or preservatives
Cold-formed to preserve the potency
Antioxidant-rich ingredients
Features fish oil for skin and coat health
Many of us are still opting for grain-free dog food for our Bullies, but it's still necessary to follow up on dilated cardiomyopathy and grain-free dog food. 
 The FDA explains that "Dilated cardiomyopathy is recognized as a genetic condition in dogs, typically in large or giant breeds, such as the Doberman Pinscher, Great Dane, or the Irish Wolfhound. It is also seen in Cocker Spaniels associated with taurine deficiency. It is believed to be less common in small and medium-breed dogs. We suspect that cases are underreported because animals are typically treated symptomatically, and diagnostic testing and treatment can be complex and costly to owners." 
 We need to keep in mind when choosing a dog food for an American Bully that it needs to meet the dog's nutritional demands and that it needs to provide complete and balanced nutrition. That said Taste of the Wild is a high protein dry dog food that is perfect for bully dogs.
 With over 4,562 positive Amazon ratings, this dog food is packed with healthy ingredients. The first five ingredients listed are salmon, ocean fishmeal, sweet potatoes, canola oil, and salmon meal. You'll find no filler ingredients or artificial flavors in this dog food.
Features
Smoked salmon is the first ingredient.

Features combination whole grains like sorghum, millet, quinoa, and chia seed (high-protein)

Formulated to AAFCO and FDA requirements

Made with no corn, wheat, or filler

Crafted with proprietary probiotics

Made in the U.S.
If you want your Bully puppy to be on a grain-free puppy formula, Wellness Core Natural Dry Dog Food offers a puppy formula that contains probiotics, salmon oil and also features calcium and phosphorus for optimal teeth and bone development during puppyhood. This is our top pick for the best American Bully puppy food.
All the ingredients are gluten-free, and there is no added beet pulp, which can be a stool- hardener. The first five ingredients are deboned chicken, chicken meal, turkey meal, potatoes, and peas. As a holistic brand free of hormones and steroids, Wellness Core Natural is also devoid of any meat by-products. All the Wellness formulas include fresh fruits and vegetables, which are great as cancer-fighting foods for your Bully puppy.
Features
Added fruits and veggies like blueberries, papaya, and kelp
Supports gastrointestinal and brain health
No corn, fillers, or wheat
Chicken and turkey as the first ingredients
Gluten-free ingredients
No beet pulp
The American Bully
The American Bully is a mix between the American Pitbull Terrier and the American Staffordshire Terrier. The UKC adds that "The body is close-coupled, with a broad, deep chest, and well-sprung ribs. The chest may be wider than it is deep but free from exaggeration. The fore chest does not extend forward much beyond the point of the shoulder. The back is wide, strong, and firm. The topline is level and straight. The croup slopes slightly downward to the base of the tail. The loin is wide and short." 
The Bully is a popular companion breed despite his rugged appearance. The UKC explains that this breed has a gentle and friendly demeanor.
The American Kennel Bully Club (ABKC) gives a good description of this breed's four sizes.
The American Bully is great with children and friendly with strangers and other dogs. The American Bully Kennel Club (ABKC) explains that shyness and human or dog aggression is unusual for this breed.
Before bringing a new dog home, you should do all the research possible to ensure that you have the right home environment for your new furry best friend. Other pets in the household also need to be taken into consideration. 
When choosing a family dog, look at kid-friendly dog breeds like the Bully so that you'll be successful in achieving a lifetime of positive interactions.
High-Quality Dog Food Formula for Bullies
The protein requirement in dog food is difficult to determine because many factors affect it. You'll need to consider protein quality, amino acid composition, diet energy density, activity level, and nutritional status involving the protein requirement.
If a lower quality protein is fed, the protein requirement can be as high as 20% of M.E. You'll also need to keep in mind that growing animals have a higher protein requirement. Today, AAFCO requires that all dog diets have 18% protein for maintenance and 22% protein growth and reproduction.
Common Ingredients That Bully Dogs Are Allergic To
According to AKC Chief Veterinary Officer Dr. Jerry Klein, "True food allergies may not be as common as people think, True food allergies result in an immune response, which can range in symptoms from skin conditions (hives, facial swelling, itchiness), gastrointestinal signs (vomiting and/or diarrhea) or a combination of both. In some rare cases, a severe reaction resulting in anaphylaxis can occur—similar to severe peanut allergies in humans," American Kennel Club. 
The most common ingredients in dog food that dogs are allergic to are the following:
Chicken
Lamb
Soy
Gluten
Rabbit
Dairy
Gastrointestinal problems like inflammatory bowel disease (IBD) are often triggered by food allergies or intolerance. 
Antigens, which are proteins in a dog food diet, could be the culprit and could stimulate an immune response that results in the intestines' inflammation.
How to Choose a Dog Food for an American Bully?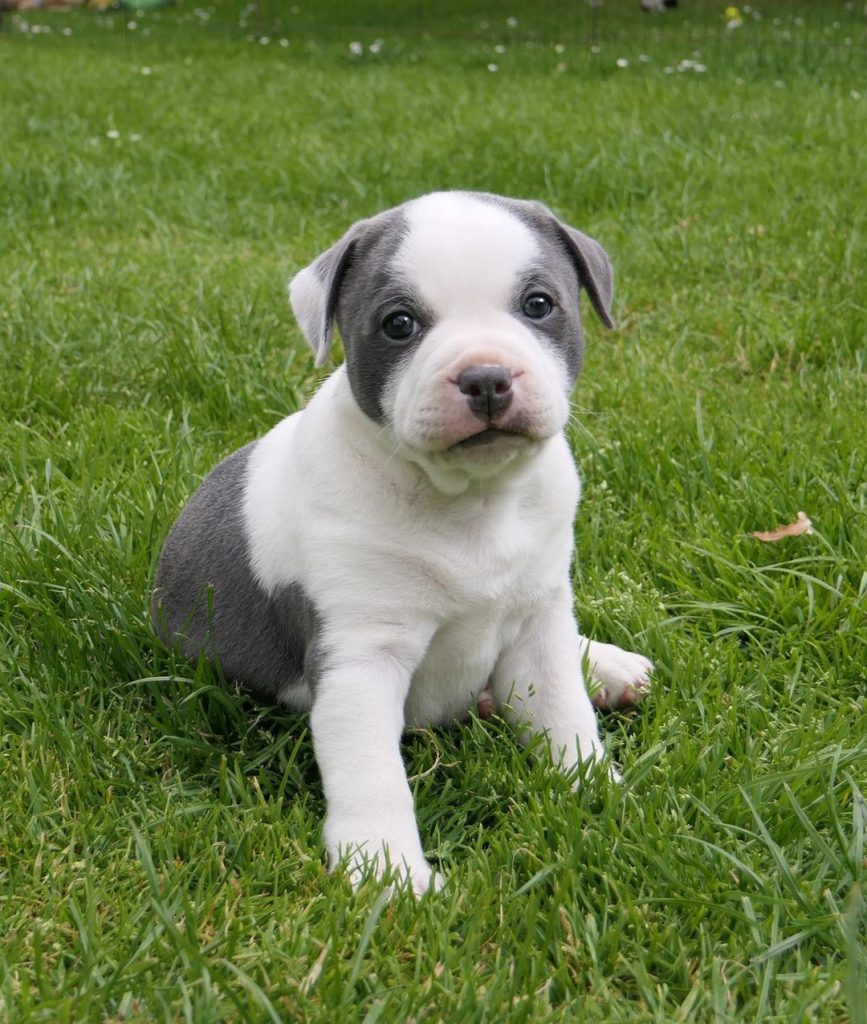 If you're like all of us, you'll want the best dog food for your Bully at an affordable price. Ideally, you'll want your furry best friend to consume a nutritious and high-quality diet that will help maintain optimal health and give your dog the energy he needs to be active.
If your Bully is prone to allergic dermatitis or IBD, you'll need to consult with your veterinarian about which diet works best.
The best dog food for Bullies are made with the most straightforward and most nutritious ingredients. Look for high-quality ingredients such as whole meats, fruits, vegetables, and grains, and take heed of the different macronutrients like proteins, fats, and carbs. 
Here's what you need to look for when choosing high-quality dry dog food for a Bully:
Dog food formulas should contain no artificial flavors, colors, or preservatives such as propylene glycol.
Diets should include whole foods instead of processed foods.
They should also use real meat instead of meat meal. This is important.
Organ meats are also beneficial to dogs.
Look out for by-products such as organ meats, which are fine, but no non-meat parts.
There should be a good source of calcium in the dog food formula.
The formulas should contain vegetables for fiber and nutrients such as flavonoids.
Diets need to be tested using AAFCO feeding trials or by formulation to meet AAFCO nutrient profiles.
There must be specific quality control measures to assure consistency and quality of all ingredients used and the end product.
All dog food diets should be complete and balanced.
The dog food formulas should indicate what life stage it is intended for.
AAFCO provides nutrient profiles for all different life stages, all but one, the senior geriatric dog.
All dog food formulas must meet the AAFCO profiles for all life stages and must meet the minimum nutrient levels for growth and adult maintenance in dogs.
A reputable and knowledgeable dog food company with the highest quality control measures must make the dog food formula.
Puppies should only eat a puppy food formula and should always be fed a puppy formula.
Large breed pups like the Pitbull or German Shepherd need to be on a large breed puppy diet to ensure correct growth and no growth abnormalities.
Formulas should contain antioxidants, Omega 3's, healthy ingredients, and a balanced diet for the appropriate life stage.
Nutrition and Canine Cancer
Dietary changes can positively impact your dog's health and may be able to prevent as much as 30% to 40% of all cancers. If you remove harmful foods that negate functional foods and nutrients' positive input, you can help balance your dog's immune system and reduce radical damage. You can do this by adding the following ingredients to your Bully's daily diet:
Yellow-orange veggies
Cranberries
Blueberries
Medicinal mushrooms
Prebiotics like spirulina
Probiotics
Omega-3 fatty acids
Vitamin D, C, E, Q10 & B12
Green leafy veggies
Here's what you need to combat every day when you have a Bully:
Environmental toxins
Pesticides
High glycemic index (G.I.) carbs which trigger cancer mutations & high levels of insulin
Fluoride accumulates in bones and may result in cancer.
Feed the Right Proportions of Veggies & Meat
A basic dog's diet consists of 17% to 25% animal protein, usually 50% to 75% meat, and 25% to 50% high calorie cooked veggies if you're home cooking for your furry best friend. If you're opting for commercial dog food for your Bully, here's what you need to know.
Supplements Count
At first, it may be difficult to remember but get used to giving supplements to your Bully throughout puppyhood. Reach out and consult with your veterinarian about any supplements and nutrition options that you have in mind. The first step is to know the differences between a high-quality supplement and those that have little value. You should provide basic supplements and ask your vet about dosages. Examine the following:
Calcium
Vitamins & minerals
Omega-3 fatty acids
Dry Dog Food for an American Bully
Kibble today is still a fast favorite among all dog parents. That's because it's easy to feed, travel with, and there are so many brands to choose from. Unfortunately, not all dog food brands are equal. 
Some are made from low-quality ingredients and may even yield harmful ingredients or substances like flavoring, artificial coloring, by-product-meals, and even additives. Some brands may have unhealthy carbohydrates and also may not have enough nutritional value. 
Inferior dog food ingredients may contribute to your dog's bad health later on. Instead of opting for these cheaper dog food brands for your Bully, you should opt for dry dog food diets made from whole meats, minerals, vitamins, veggies, and fruits. There are also plenty of other alternatives like wet dog food, frozen raw pet food, and even freeze-dried or dehydrated or air-dried raw pet food for optimal health benefits.
Additionally, your Bully may be prone to hip dysplasia and joint issues, so you're going to have to feed him correctly from puppyhood with a puppy food specifically formulated for the puppy stage. It's important to feed your puppies and adult American Bully consciously at all times. 
This is because food is the foundation of life, and what you feed your Bully will affect how prone he may be to disease in years to come. You'll need to get your Bully used to eat high-quality dog food that is free of additives, preservatives, flavoring, and basically all "artificial" ingredients. Now let's explore some great dog food brands. 
Keep in mind that your Bully needs to consume healthy fats and enough protein every day together with various fruits and veggies. You can also use fruits like red apples as treats and the following fruits and veggies so that your Bully gets additional nutrients.
Blueberries
Broccoli
Carrots 
Mangos
Pomegranates
Sweet potato
Green beans
Watermelon
Conclusion for Best Dog Food for an American Bully
By feeding a high-quality dog food formula and exercising regularly, you'll also be preventing obesity. There are many life-threatening diseases linked to obesity like diabetes, and you could shorten your dog's lifespan considerably if he's obese. Keeping your Bully active with lots of outdoor exercises is important for health.
If your American Bully is overweight, consider a veterinary consult and a weight loss plan with a body score chart to help you. When choosing the best dog food for your American Bully, you should look for added L-carnitine, a supplement that helps promote weight loss and maintain lean body mass. L-carnitine aids in transporting fatty acids throughout the body for energy and should be supplemented to help with weight loss and fatty acid oxidation.
Other articles you will be interested in:
Garrett loves animals and is a huge advocate for all Doodle dog breeds. He owns his own Goldendoodle named Kona. In addition, he volunteers at the Humane Society of Silicon Valley, where he fosters dogs and helps animals. Garrett enjoys writing about Doodles and believes that dogs can teach humans more about how to live than humans can teach a dog.
Why Trust We Love Doodles?
At We Love Doodles, we're a team of writers, veterinarians, and puppy trainers that love dogs. Our team of qualified experts researches and provides reliable information on a wide range of dog topics. Our reviews are based on customer feedback, hands-on testing, and in-depth analysis. We are fully transparent and honest to our community of dog owners and future owners.