Are you looking for the best Pitbull rescues in Arizona? Search no further, as we have reviewed and compiled a list of Arizona's best places to adopt this dog breed. The Pitbull is a friendly and loving dog. There have been many misconceptions about this dog in the past; they don't always have the best reputation!
However, with adequate training, love, and attention, Pitbulls have proven to be one of the best companion animals. In addition to being great company, these dogs are very protective. They are also very friendly with kids, as they were once referred to as the "Nanny Dog."
Many of these dogs end up in shelters because their owners were not prepared for them, are deceased, divorced, financially unstable to care for them, or some other reason.
By adopting, you are giving these dogs a second chance at life. Fortunately, many rescue organizations in Arizona save and find the best homes for them. Without further ado, here are the best places to adopt a Pitbull in Arizona.
Before you scroll down this list of Pitbull rescues in Arizona, you can check out these other dog rescue shelter recommendations from our team at We Love Doodles: Best Cocker Spaniel Rescues in Arizona and Best Greyhound Rescues in Arizona.
Find a Pitbull Rescue Shelter Near Me in Arizona
Our team at We Love Doodles created this list of the best Pitbull rescues in Arizona to help you find a compatible companion to introduce into your home.
Pitbull Product Recommendations: Best Toyota 4Runner Dog Barriers and Best Plaque Removers For Dogs.
1. Standing Proud Pitbull Rescue
Located in Mesa, Arizona, Standing Proud Pitbull Rescue is one of the most prominent Pitbull rescue organizations in the United States. It is a non-profit organization focused on the rescue, rehabilitation, and adoption of Pitbulls within its community. Standing Proud Pitbull Rescue is also a well-known advocate for this dog breed.
The organization educates the public about Pitbulls and their unique needs. They teach people about this breed's health and nutritional needs and how best to care for them. In addition, they strongly promote spaying or neutering and encourage all pet owners to alter their companions to help curb the pet overpopulation crisis.
They also practice what they preach by spaying or neutering all their rescued dogs before adoption. If you are looking for healthy and well-socialized Pitbulls to add to your family, you can rely on this rescue organization. They pay close attention to the health and overall well-being of their dogs.
All rescued dogs are medically attended to and treated for any known illness or disease. Dogs come to this rescue organization from shelters, the street, pounds, and other rescue agencies. Most of these dogs are healthy but are not up to date on vaccines until taken into the shelter's care.
Standing Proud Pitbull Rescue ensures all the rescued dogs are up-to-date on vaccinations and dewormed before adoption. Additionally, Standing Proud Pitbull Rescue strives to be a resource to their community to combat the negative misinformation spread about this dog. They help Pitbull owners build better relationships with their dogs to prevent the need to surrender them.
Standing Proud Pitbull Rescue is managed by volunteers and is funded by donations, adoption fees, and community support. They also have an online store selling accessories like shirts, caps, and other items to raise money for the dogs. Besides adoption, there are other ways you can support them. Ask the shelter team how you can help!
Standing Proud Pitbull Rescue Details
2. Mayday Pitbull Rescue
Mayday Pitbull Rescue is a responsible rescue organization on a mission to rescue sick, injured, homeless, and abandoned Pitbulls. The organization is locally, nationally, and internationally recognized. They receive dogs from various welfare groups in and around the state.
Mayday Pitbull Rescue is the last chance for many Pitbulls in the United States. Many groups reach out to them to save Pitbulls that are not placeable elsewhere because they will take on dogs that others will not. They do a great job of taking in these dogs and rehabilitating them.
All rescued dogs are rehabilitated and given the best life possible. The organization starts by ensuring the rescued dogs are healthy and sound. All sick and injured dogs are given the medical care they deserve before being placed in foster care.
They conduct various health tests, including a heartworm test, to unveil any underlying health condition and treat them accordingly. After the treatment, they ensure the dogs are brought up to date on immunization, dewormed, and microchipped before adoption.
All rescued dogs are placed in foster homes, receiving much needed and deserved attention, love, and care. While in foster care, proper socialization and training are provided to prepare the dogs for their new families. However, not all dogs in this shelter's care are adoptable due to their physical condition.
Those dogs that arer able to join new families are fully prepared for household life and are matched with the most appropriate homes. The shelter uses a cautious screening process and you may be asked a series of interview questions or be scheduled for a home visit. Spend some time with your dog before you commit to permanent adoption.
Since its inception, Mayday has rescued, rehabilitated, and rehomed more than 400 Pitbulls that were previously considered unplaceable. In addition to saving and placing Pitbulls in loving forever homes, this organization educates people about responsible pet ownership and the impact of spaying or neutering pets.
Mayday Pitbull Rescue Details
3. Crazy Pitbull Lady Rescue
Crazy Pitbull Lady Rescue is one of the most reputable Pitbull rescues in Arizona. This non-profit, foster-based pet rescue focuses on the rescue, treatment, and placement of Pitbulls and mixed bully breeds.
Located in Phoenix, Arizona, Crazy Pitbull Lady Rescue has been rescuing and rehoming this dog breed for over a decade. The organization has a lot of experience with Pitties and will go the extra mile to place them in loving homes forever. You can rely on them for both puppy and adult Pitbulls; they have a separate section for puppies under one year that are fully ready for adoption.
The shelter's online dog and puppy list isn't always kept current so feel free to contact the team to discuss available dogs. Dogs come to the shelter from high-kill pounds, the street, animal welfare centers, and other rescue organizations. After receiving these pets, the organization places them under vet care and monitors their health for a few days.
Funded by donations and adoption fees, this organization can provide standard medical care for all rescued dogs, including:
Vaccination
Deworming
Microchipping
Heartworm test/preventative medicine
Preventative medications
Their adoption fees vary, depending on the dog's age and other conditions. In addition to providing medical care, Crazy Pitbull Lady Rescue ensures the emotional and behavioral needs of the dogs are met before adoption.
All dogs are temperament-assessed, and those with behavioral issues undergo thorough behavioral training before adoption. In addition, all dogs are pre-socialized and trained for an easy transition to their new homes.
Crazy Pitbull Lady Rescue Details
4. Pittie Me Rescue
Next on the list is Pittie Me Rescue. It is one of the oldest and most reputable rescue organizations in Arizona. Pittie Me Rescue is a small volunteer-based shelter and they strive to educate the public on the misunderstood stigma placed on this dog breed.
In addition to educating the public, this rescue organization continually preaches the importance of spaying or neutering dogs, as it helps reduce the issues associated with pet overpopulation. Pittie Me Rescue also advocates for responsible ownership of these amazing, smart, beautiful, and athletic dogs.
Before adoption, all rescued dogs are:
Spayed or neutered
Vaccinated
Microchipped
Dewormed
Pittie Me Rescue works with many foster homes in the state. It is a 100 percent foster-based organization; there is no physical location where you can meet the dogs. All rescued dogs are placed in foster homes for a minimum of two weeks before being listed for adoption.
Their foster parents work toward making the dogs better companions by running them through various behavioral and training exercises. The organization takes behavioral and temperament assessment seriously and ensures all dogs are evaluated and in perfect condition before adoption.
Dogs diagnosed with temperament issues are held back from placement until they're given the attention they need. In addition, the team will ensure all dogs are adopted into the right homes by conducting thorough and careful screenings. After completing the online application form, you must wait for approval.
Once your application is approved, a volunteer will contact you and schedule a meeting date. You will meet, greet, and spend some time with the dog. If the match is a good fit, they will schedule a home visit to check if your home is suitable for raising a Pitbull.
The last step of the adoption process is to foster the dog for two weeks. The trial period is to determine if you are compatible with the dog and vice versa. If there is a compatibility issue within the trial period, you can return the dog and get paired with another.
Pittie Me Rescue Details
5. Valley of the Sun Dog Rescue
Last on our list of the best Pitbull rescues in Arizona is Valley of the Sun Dog Rescue. Valley of the Sun Dog Rescue is a family-run, all-breed pet rescue and adoption center. American Staffordshire Terriers and American Pitbulls are their focus, and they work with fosters and volunteers across the state. Dogs are accepted regardless of their physical condition.
They rescue maimed, sick, injured, unwanted, homeless, and abandoned dogs, and most pups are saved from high-kill shelters in the area. Valley of the Sun Dog Rescue also accepts dogs surrendered by private citizens.
Valley of the Sun Dog Rescue's ultimate mission is to save, provide necessary medical care, foster care, and find loving forever homes for dogs. After the rescue, they have all the dogs vaccinated, dewormed, and spayed or neutered before finding them a new home.
Valley of the Sun Dog Rescue also strives to increase public awareness about the humane, gentler side of a bully-breed dog. Once their health needs are met, the dogs are rehabilitated, re-socialized, and trained before adoption. They also provide after-adoption support, always available to assist you through your Pitbull-raising journey.
Valley of the Sun Dog Rescue Details
Frequently Asked Questions
Before you apply to bring a Pitbull home with you, take a look at the most frequently asked questions we receive from our readers.
Are Pitbulls aggressive?
In short, they can be. Pitbulls have been known to attack – children, other dogs, and smaller animals in particular – and can become aggressive. A lot of this behavior, however, is due to the dogs' treatment before arriving at the shelter. A firm hand in training will be absolutely necessary, and if you're a first time dog owner, the Pittie may not be right for you.
Speak with the shelter team before you bring home your dog, and be sure everyone in your family is on board with the adoption. Teach children to handle dogs properly to further reduce the instance of aggression.
How much exercise does a Pitbull need?
A lot. You should plan to exercise your Pittie for an hour or two every day. Take your dogs on walks or jogs, let them run around in a dog park, or just play fetch out in the yard. Pitbulls don't love to swim, but they're game for pretty much any other form of exercise you can think of.
Are Pitbulls legal in Arizona?
Yep! Arizona does not ban dogs based on breed, so the pups are perfectly legal. However, you'll want to check with your HOA bylaws or your lease agreement to ensure that the dogs are permissible in your neighborhood or home.
Furthermore, you may run into difficulty enrolling your Pitbull in doggy daycare or while attempting to board him. Many facilities have breed restrictions, so be sure you read the fine print before trying to bring your dog to social events. Even dog parks may have restrictions; read the rules before you go!
Conclusion For The "Best Pitbull Rescues in Arizona"
Our list includes some of the best Pitbull rescues in Arizona, but you likely have shelters near your home with available Pitties, too!
Do your research before you bring a dog home. Find out about his history and about the care he received while at the shelter. A healthy Pitbull will need training, too, before he becomes a full-fledged family member.
For more guides similar to this list of Pitbull rescues in Arizona, you can check out these other dog rescue shelter recommendations from our team:
Before you adopt a Pitbull companion from a rescue shelter in Arizona, you can learn more about this dog breed by watching "Proof that Pitbulls Are Big Babies" down below: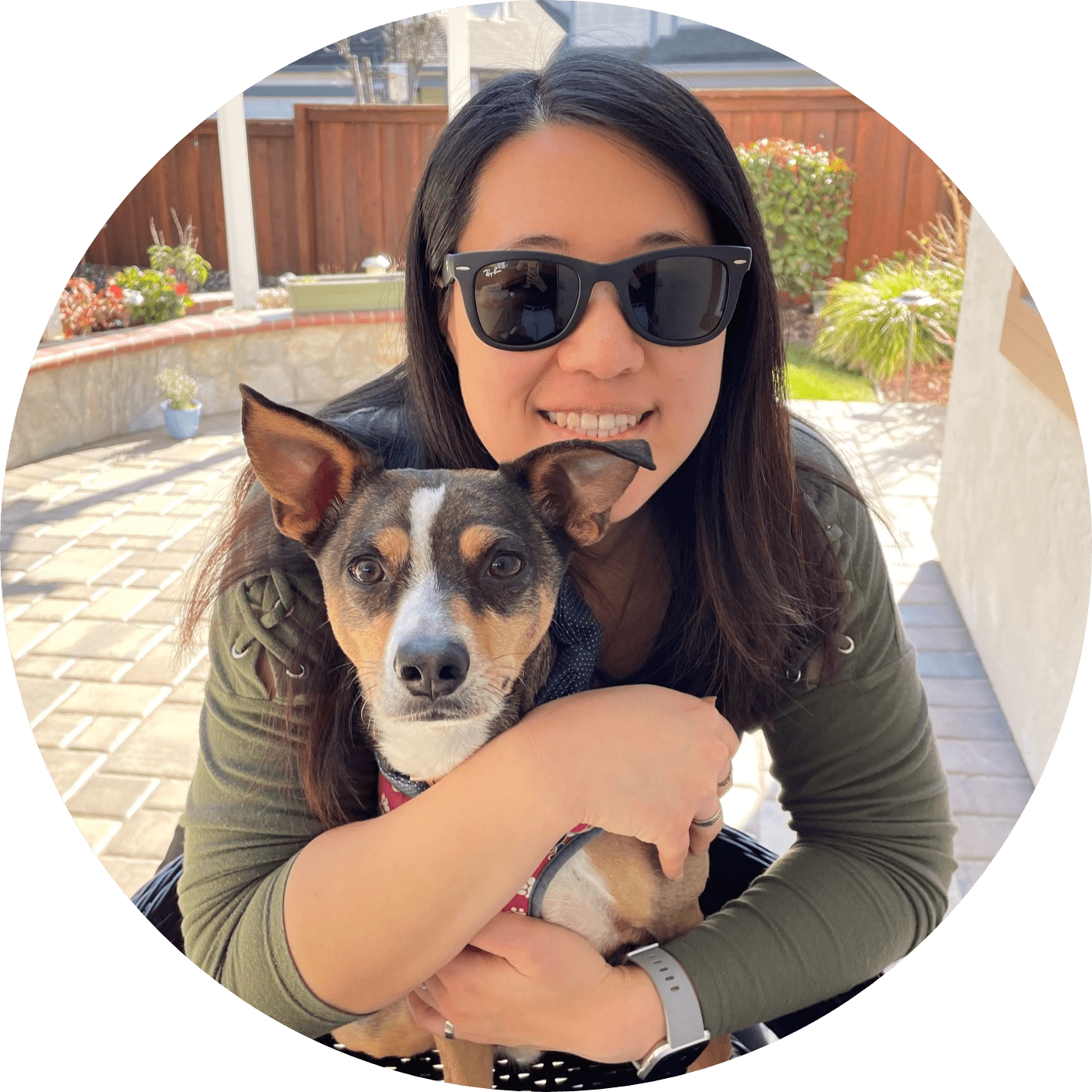 Dr. Sabrina Kong graduated from the Royal Veterinary College in England in 2016 and has been working at a small animal clinic in Northern California since then. She grew up in the Bay Area and got her bachelor's degree from Cal Poly San Luis Obispo. She also became a Certified Canine Rehabilitation Practitioner through a program at the University of Tennessee.
When she isn't in the clinic taking care of her four-legged patients, she enjoys traveling and trying new foods with her friends and her three-legged dog, Apollo. She adopted Apollo from her clinic when he was a puppy with numerous health issues. Dr. Kong truly cares about taking care of animals.