This article is the perfect guide if you are looking for free Pitbull puppies in the United States. We have a list of great Pitbull groups offering free puppies and an incredible world-renowned rescue that you can also check out.
When looking for a free puppy, you will need to make a conscious effort to vet the source of the free puppy. It means that you cannot rely solely on the Facebook group or listing where you see the advertisement for the puppy.
The group or platform that displays the listing will not take responsibility for anything advertised. Studying the breed and knowing the breed standard for Pitbulls can help you distinguish between healthy and ill-bred ones. The American Kennel Club is an excellent place to start your research.
The American Kennel Club does not recognize Pitbull as a specific breed but as an umbrella term for many different breeds, including Pit Bull Terrier, the Staffordshire Terrier, the Staffordshire Bull Terrier, and the American Bulldog. Let us look at some places to start your search for a free Pitbull puppy.
Before you scroll further down this guide, "Where Can You Get Free Puppies," you can check out these other Pitbull-related articles from our team at We Love Doodles: Best Pitbull Rescues in the United States For Adoption and Pitbull Great Dane Information, Facts, and Images.
1. Foster a Puppy
Fostering a puppy is a great way to have a puppy in your home for free. It is a great way to have a dog if you still decide to own one.
Fostering is a great way to learn what it is like to own a puppy, and the best part is anything you need to take care of the puppy is free, like:
Dog food
Veterinary bills
Vaccination expenses
Microchipping
Flea and tick treatment
We recommend you check reliable Pitbull rescues in your area and apply to become a foster parent. This way, you will get to foster Pitbulls, and if you want to adopt them later on, the rescue will let you do it at a discounted price.
One example of a rescue where you can apply to become a foster is:
North Shore Animal League America – New York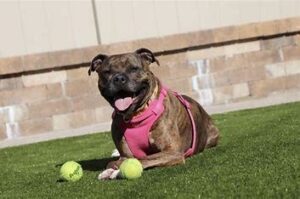 The largest no-kill shelter in the world is a great place to be involved whether you are looking for a free puppy or not. Like other shelters, you will need to follow their fostering process to be considered. If you are interested in fostering, please visit this page and fill out the application.
They are looking for foster families that fit the following requirements:
You must be 21 years or older.
It would be best if you lived in the NY metro area or within a 50-mile radius of the Port Washington shelter.
Must be allowed to have animals in the home.
You must be able to transport animals back and forth between your home and the Port Washington shelter.
North Shore Animal League America Details
2. Social Media
If you are interested in adopting a Pitbull for free, social media is a great avenue to find a free puppy. For example, you can join any Facebook group or follow Instagram pages and create a post that says you are looking for a puppy.
If you are willing to travel, it is best to mention that individuals who do not live in your area will still consider contacting you.
Also, in your post, it is a good idea to mention that you are looking for a free puppy, as in some cases, the puppies featured might not be free. Let us look at some relevant social media pages offering free Pitbull puppies in the United States.
Pitbulls and Bullies Home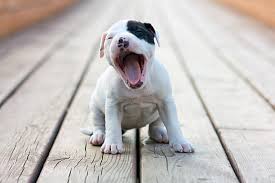 This page was originally named Pitbulls and Bullies for free adoption but changed its name in February 2022. They have a variety of Pitbull puppies up for adoption on their page.
They have a sizeable following, about 7,200 members, and were founded by a Pitbull owner who had a litter they wanted to offer for free to anyone interested. It soon grew into a community of Pitbull enthusiasts.
Rules for the group include:
You must post a picture if you are offering a puppy for adoption.
Everyone should be kind and respectful to each other.
Respect each other's privacy, and what is shared in the group should stay in the group.
No promotions or spam allowed.
No hate speech or bullying is allowed, and members must respect people of other ethnicities, religions, and sexual orientations.
If you bring ten people to the group, you will be considered for an admin position.
Several active posts of individuals have posted puppies for sale in the last 24 hours. You should contact the individuals sooner rather than later.
Pitbulls and Bullies Home Details
Pitbull Puppies for Adoption
This page was created on August 27, 2022, with 1,300 followers. Because it is a relatively new page, you may only find a few posts. But the posts that are featured are all individuals looking for Pitbull puppies.
The rules of the group include three things:
You mention where you are located in your posts.
Mention you are interested in adopting a puppy in your post
Respect the group's privacy and understand that what is shared must stay in the group.
Pitbull Puppies for Adoption Details
Pitbull Puppies
Pitbull Puppies is a Facebook page dedicated to posting puppies available for adoption. They have 3,600 members and are a public group, so their posts are visible to the public. The page is four years ago old and for serious Pitbull puppy owners.
Most posts, if not all, are about individuals looking for loving homes for their Pitbull puppies. Individuals looking for Pitbull puppies can also create posts indicating where they live and what they want for a free puppy. To contact the page owner, you can privately message them.
Pitbull Puppies Details
Pitbull Puppies For Rehoming
If you are looking for a free Pitbull in the United States, please look at Pitbull Puppies for Rehoming. This is a public Facebook page that has 87 members. It was created eight weeks ago and had multiple posts on bullies available for adoption.
You can message the people individually to find out more details. There is no contact information, so the best way to reach out is to message the page privately and ask about their vetting process.
Pitbull Puppies for Rehoming Details
Free Puppies in My Area
Free Puppies in My Area is a great Facebook page you should check to adopt Pitbull for free. They have multiple listings for French Bulldogs on the page that were posted just a few weeks ago. The puppies are dewormed, AKC registered, potty trained, and vet checked.
You can message the owner to find out more about the puppies. The best part of this page is that you can search the listings area-wise. For example, if you live in California, you can look at all the posts in that area.
Free Puppies in My Area Details
3. Online Discussion Forums – Reddit
If you have tried the abovementioned platforms and still need help finding free Pitbulls, try an online discussion forum like Reddit. Reddit is a platform where individuals can post various threads, including posts on giving away puppies.
Most of the posts are from individuals who are searching for trustworthy adopters for their pets. These individuals could be giving away their puppies for various reasons, including relocation, change in financial circumstances, grievance, etc.
Always ask for a zoom meeting to see the puppy before picking it up to ensure you get a healthy and happy puppy. Asking for a health certificate is another great way to ensure the puppy is healthy and not born with any significant genetic issues.
The Reddit Free Pitbulls page completes our list of places to find free Pitbull puppies in the United States. So go on, and contact any of the sites we listed to find your adorable Pitbull puppy today.
More Information About Free Pitbull Puppies in the USA
When looking for a Pitbull puppy, it is essential to remember that even if the puppy does not cost you anything, you will need to foot the expenses for keeping the dog. This means that before you bring your puppy home, you will need to proof your home to make sure it is safe for the puppy.
You will need to invest in a fence for your yard, and you will also need to arrange a crate and dog food and get preliminary vaccinations. The costs of keeping a dog vary with what the dog requires, but if you find it hard to make ends meet, it may not be a good idea to get a puppy right now.
More Pitbull-Related Guides: Dogs that Look Like Pitbulls and What is the Largest Pitbull Breed?
Conclusion For "Where Can Get Free Pitbull Puppies"
Pitbull puppies are adorable, but before you commit, it is essential that you know if the breed is a good match for you and your family. If you are getting the dog for free, it is probably because the owner cannot keep it. In this case, you may not be able to give it back to the owner if you decide not to keep it.
So, if you have small children below six, Pitbulls might not be a good idea. However, if the Pitbull is the right breed for you, there is no Pittie better than a free one. Finding the perfect Pitbull puppy takes work, but with some persistence, you will be able to bring one home soon.
If you find this guide, "Where Can You Get Free Pitbull Puppies," you can check out these other dog-related articles from our team:
Before you begin your search for free Pitbull puppies, you can learn a bit more about this dog breed by watching the "Pitbull – Dog Breed Information" down below: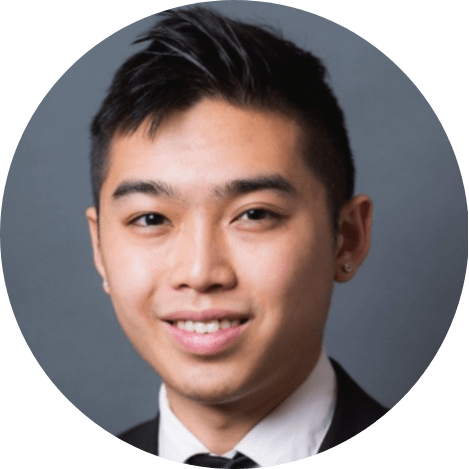 Andy is a full-time animal rescuer and owner of a toy doodle. When he's not saving dogs, Andy is one of our core writers and editors. He has been writing about dogs for over a decade. Andy joined our team because he believes that words are powerful tools that can change a dog's life for the better.
Why Trust We Love Doodles?
At We Love Doodles, we're a team of writers, veterinarians, and puppy trainers that love dogs. Our team of qualified experts researches and provides reliable information on a wide range of dog topics. Our reviews are based on customer feedback, hands-on testing, and in-depth analysis. We are fully transparent and honest to our community of dog owners and future owners.