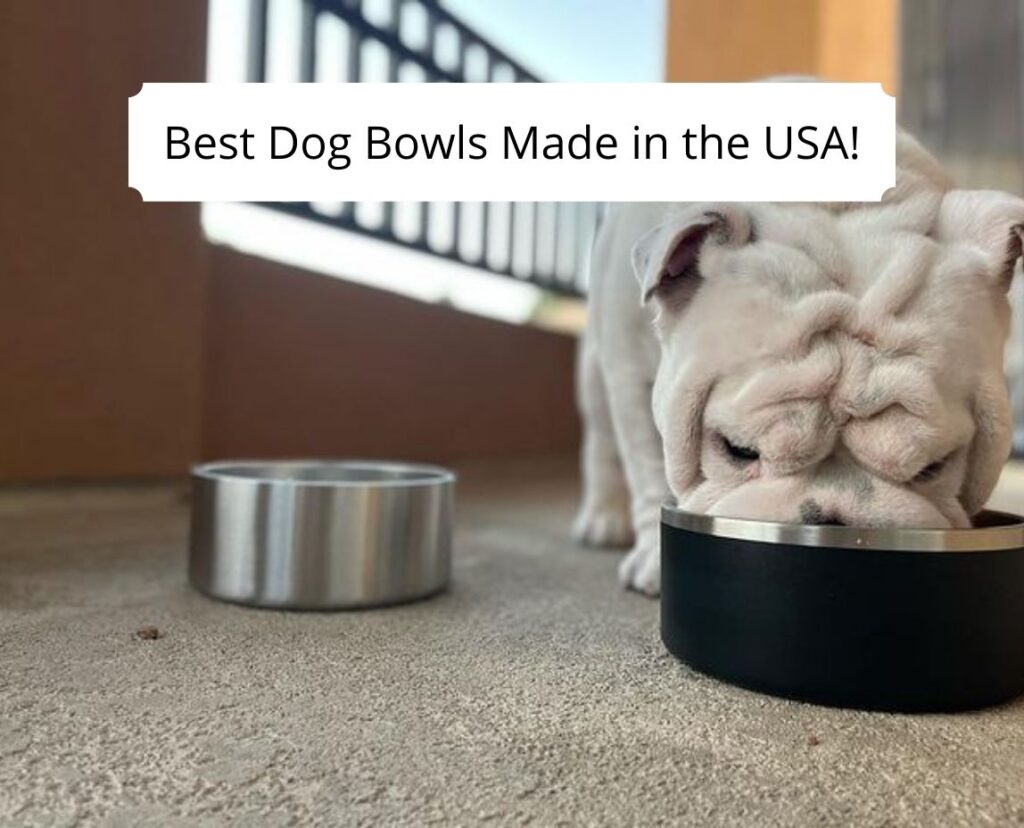 The best dog bowls made in the United States feature high-quality materials and construction. We've researched and tested tons of dog bowls to find high-quality dog bowls made in the U.S.A. and added lots of features about why each bowl is one of our favorite picks! 
Choosing the best dog bowl for your dog is not only challenging but very important so that your puppy can enjoy their food and water.
Our top picks for USA-made dog bowls feature bowls designed to be durable and long-lasting, withstanding even the most enthusiastic eaters. In this review, we're going to give you our top 6 picks for dog bowls made in the United States. The perfect dog bowl is highly individual!
Best Dog Bowls Made in the U.S.A. Reviewed
One of the most important things to consider when choosing a bowl for your dog is the material. Plastic bowls may be challenging to clean and are not very durable. Stainless steel bowls are a popular choice because they are easy to clean and durable, but they can also be heavy and noisy.
Some puppies may not like the sound of clicking against a stainless steel bowl, and they can feel cold to touch. Ceramic bowls are also popular, but they can easily be broken and chipped if dropped or hit by an object.
Types of Dog Bowls Made in the United States
Our guide to the best dog dishes made in the U.S.A. features stainless steel dog dishes. When it comes to choosing the perfect bowl for your dog, there are a few things you need to take into consideration.
Material is one of the essential factors to consider, as different materials can lead to varying types of wear and tear. Stainless steel is a popular option because it's durable and easy to clean. 
Like humans, dogs have different preferences for the types of food and water bowls they'll consume from. For example, you may want a ceramic dog bowl for small breeds or a metal dog bowl for large breeds. Whatever you choose, our guide is here to help!
Stainless Steel Dog Dishes
Stainless steel is one of the most popular materials for pet bowls today. They are crafted to be durable, easy to clean, and relatively inexpensive. Stainless steel dog bowls also tend to be more aesthetically pleasing than plastic or ceramic bowls, particularly if paired with a nice stand! 
With that being said, stainless steel dog dishes cannot withstand high temperatures, so they are not suitable for use in a microwave or oven.
Ceramic Pet Bowls
Ceramic pet bowls are another popular option, as they come in a variety of fun and trendy designs. They are also sturdier than other materials, which may be beneficial if your dog likes to chew on their bowl. However, ceramic bowls are also more prone to breaking if dropped.
Plastic Pet Dishes
Plastic is the least durable material for pet bowls, but it is also the cheapest. It's a suitable option for those on a budget or with a dog that tends to be rough on their dish. We're not that keen on plastic because it's a porous material, so it's more challenging to clean and can get scratched or stained after continued use. It also needs to be nontoxic, dishwasher safe, and easily sanitized.
In a rush? Here are our top picks!
Product
Best Overall
Bergan Elevated Double Bowl
Runner-Up
JJD USA Dog Bowl
Best Value
Platinum Pets Dog Bowl
OurPets Elevated Dog Bowl
Image
The Bergan Elevated Pet Feeder is an attractive addition to any home or decor. Veterinarians recommend elevated feeding for larger dog breeds and barrel-chested breeds that may be prone to bloat.
We like this dog feeder because the legs are removable, allowing you to choose the elevation. The frame features robust and durable steel to provide stability, and the bowls are made of high-quality stainless steel to resist rusting, chipping, and fading. The set features two 2.75-quart/11-cup bowls and measures 15″ x 15″ x 28″. 
These are easy to fill, and the dishwasher-safe bowls make for quick and easy cleanup. Cleaning is a breeze as food doesn't get trapped in nooks and crannies, making it hard to clean with a sponge or brush. All surfaces that come into contact with pet food/water are BPA-free and phthalate-free.
This elevated Feeder is great for larger dogs or multiple smaller dogs. It is also a good choice for pets that eat wet or canned food as the high position helps with digestion. The low stand makes it easy for your pet to reach the food. The Bergan Elevated Pet Feeder is a great way to keep your pet healthy and happy.
The Bergan Elevated Double Bowl Feeder is an attractive, functional, and affordable option for looking for an elevated pet feeder. Here's the takeaway:
Features
Over 1,000 positive reviews

Made in the U.S

Elevated feeding for healthy digesting & to prevent bloat

Affordable

A modern, stylish design 

Removable legs

Food & water bowl combined

X-large size
For all types of dogs and any treatment, the JJD USA dog bowl is here. It's made from premium quality stainless steel with a satin polish finish to make it anti-corrosive/rust-proof. This pet bowl comes in three sizes – extra small, small, or large – depending on your dog's needs. The large dog bowl is perfect for water, food, and treats.
The JJD USA Dog Bowl design ensures that your pet receives the right amount of food every time. The main feature of this product is its elevated design, making it easier for dogs to gobble up their treats or food by minimizing the strain on their neck and spine. It is also made to prevent excess spilling and keep the food clean and fresh.
The JJD USA Dog Bowl is a top-quality product perfect for all kinds of dogs, regardless of size. The bowl features premium quality stainless steel with a satin polish finish, making it rust-proof. 
We like this U.S.-made stainless steel dog bowl because it is a top-quality product perfect for all kinds of dogs and features premium quality double-wall, non-insulated stainless steel to provide a long-lasting dog bowl.
Features
It is crafted from 304 grade 18/8 stainless steel

Affordable & durable

It is rust-resistant so that it can avoid rust spots 

Non-slip base to prevent sliding around

Easy cleaning

Made in the U.S.
Platinum pets embossed non-tip stainless steel cat dog bowls are made in the U.S. and feature over 2,000 positive reviews. The Platinum Pets Embossed Non-Tip Stainless Steel Dog Bowl is an excellent solution for your pet's feeding needs. 
The dish has a unique bubble design that helps keep water off the ground. We like this US-made dog bowl because it features a removable silicone base to help prevent skidding. It's also available in 5 sizes for all dog breeds.
This premium dog bowl is also durable and easy to clean. This non-tip design is crucial for keeping your pet safe while eating. Dogs and cats can easily knock over a regular bowl, spilling food or water everywhere. Here's the takeaway:
Features
Crafted in 18 color options to match any decor

Available in 5 sizes with the X-large size holding 10 cups and the x-small holding .75 cup.

Features over 2,400 positive reviews

One large (6.25 cup/50 oz.) bowl

Nontoxic, stainless steel construction

Affordable for multi-pet homes

Nontoxic

Made in the U.S.A
Amazon Basics Stainless Steel dog bowls are the perfect way to keep your dog hydrated and fed. Their dog bowls are durable stainless steel and have a non-slip base to keep them in place. The etched laser design is easy to clean and will last through many uses indoors and outdoors.
Whether you're at home or on the go, our bowls make it easy to keep your dog happy and healthy. They are dishwasher safe and easy to clean, so you can spend more time playing with your pup and less time cleaning up after them. 
We like these U.S.-made dog bowls because they are composed of high-quality stainless steel that resists rust. All the materials were subjected to rigorous testing. This high-quality stainless steel dog food bowl resists rust, has no odor, is non-poisonous, and is highly durable.
The dog food bowl can store 64 ounces of food, so even the hungriest or thirstiest pet will be pleased. These dog bowls also feature anti-slip rings on the bottom, preventing pets from moving bowls around and effectively reducing noise and sliding.
Features
Designed and Laser Etched in the U.S.A.

Various designs available

Dishwasher-safe 

Affordable

High-quality stainless steel that resists rust

Best pet gift

Sturdier as a result of the more comprehensive design
This wooden dog bowl stand is perfect for medium to large-sized dogs. The unfinished wood allows you to paint or stain it to match your home's décor. The stand is made in the U.S.A. and is very sturdy.
If you are looking for a stylish and sturdy way to hold your dog's food and water bowls, then this might just be the perfect dog bowl holder for you. The wooden dog bowl stand is solid wood with holes drilled into each leg to hold bowls snugly in place.
The total dimensions are 23.75 x 11 x 11 inches with sturdy legs to prevent accidental spills, so it can easily accommodate two food or water bowls. In addition, there is room on the top of the stand to personalize it with your pet's name or a cute phrase.
This dog bowl stand would be perfect for those who want a rustic, natural look in their home. It would also make an excellent gift for a friend or family member who has a new puppy. 
The stand is made in the U.S.A. and comes with assembly instructions included. It should be wiped clean with a damp cloth. We like this dog bowl stand because it is sturdy and stylish.
There is room for two bowls, and the fact that it's made of solid pine means that it should be able to stand up to years of pet use. Here's the takeaway:
Features
Solid pine stand 

Made in the U.S.A.

Comes with two steel 2-quart bowls

Perfect for medium to larger size dogs

Wipes clean with a damp cloth
The Our Pets elevated dog food dish is a great way to keep your pet's food off the floor. It is available in four different sizes so that you can find the perfect one for your pet. The dish is durable plastic and has a non-skid rubber base to keep it in place. It is also easy to clean and dishwasher safe. 
We like this pet dish because it's USA-made and has a 100% satisfaction guarantee. You can also attach any two-liter water bottle making this an automatic water bowl for dogs.
This product has over 9,000 positive reviews and is also an elevated dog bowl, dog water bowl, and pet feeder perfect for all life stages. The Our Pets medium 8″ comfort feeder measures 23″ x 13″ x 8″ and holds 4 cups of dry food in each dog bowl making these great dog bowls for medium-sized dogs.
Features
Elevated dog feeder

Reduces joint stress while eating

Over 9,000 positive reviews

Rust-resistant 

Easy to clean with removable bowls

Available in 3 sizes

Affordable
How to Choose a Dog Bowl Made in the USA?
Size
There are many factors to consider when shopping for stainless steel U.S.-made dog bowls for your dog. First, the most important factor is size. You will want to make sure that the bowl is big enough for your dog to eat and drink from. 
You also need to consider the shape of the bowl. Some dogs prefer deep round bowls, while others prefer shallow or slow feeder dog bowls. Here's the takeaway on general sizing with stainless steel dog dishes.
Extra-large size
Best for extra-large breeds over 90 lbs. 
Large size
Best for medium & large breeds 35 to 90 lbs.
Medium size
Best for small breeds 10 to 35 lbs.
Small size
Best for toy/miniature breeds under 10 lbs.
Quality
Another essential takeaway to think about is the quality of stainless steel. You want to make sure that the bowl is made from high-quality stainless steel that will not rust or corrode. It is also key to ensure that the dog bowl is dishwasher safe so you can easily clean it.
Design
The design of the bowl is also essential. First, you need to ensure that the bowl does not easily tip over and spill water or food everywhere. The best stainless steel dog bowls have a non-skid rubber base to keep them from slipping around your floors.
Pricing
You will want to consider how much you are willing to spend on the bowl. Dog bowls range in price depending on the size, design, and quality of materials used.
Where to Buy Dog Bowls?
You can purchase stainless steel U.S.-made dog bowls at pet stores, feed stores, or online.. We think that reading reviews online is the best way to find a great product to fit your needs.
What are the best dog bowls made in the U.S.A.?
Our top 6 list of the best dog dishes made in the US feature stainless steel with some being elevated to optimize digestion.
Stainless steel dog bowl stands
Dog bowls tend to accumulate a lot of dirt and grime over time. That is why we recommend investing in a stainless steel dog bowl stand that will elevate the dish from the floor and make it easier to clean. A dog bowl stand will also make the dog food look more aesthetically pleasing, and helps to prevent bloat in large chested dog breeds.
The take on stainless steel dog bowls made in the US
A stainless steel U.S. made dog bowl is an excellent investment for any pet parent. The last thing you want to buy for your not-so-little pup is cheap plastic bowls that are not safe or durable enough to keep them from spilling their food or water everywhere. 
With all of the bowls on the market, it can be hard to determine which one is best for your needs. So that's why we put together this 2021 best dog bowl guide to help make your decision easier!
Remember, when choosing stainless steel in the U.S.-made dog bowl, size and quality are the two most important factors to consider. First, be sure to select a bowl that is big enough for your dog to eat and drink from, as well as a bowl that is made from high-quality stainless steel that will not rust or corrode.
If you have any questions about our guide to choosing the suitable stainless steel U.S. Made dog bowls, please feel free to drop us a line on Facebook! We'd love to answer your questions and help you find a bowl that is perfect for your pup.
How to choose a dog bowl?
The best dog bowls made in the U.S.A. should be lightweight and easy to hold. The best dog water and feed bowl's anti-slip base designs will help prevent your dog bowl from sliding across the floor as your dog eats or drinks, and non-skid rubber bumpers on the bottom can keep a bowl in place so it won't be knocked down over by a playful pup.
What to know about dog bowl types?
The best food and water bowl for your dog is the one that they like. If you have a picky eater or drinker, it's probably best to stick with stainless steel bowls since dogs seem to prefer the sound of metal over plastic or ceramic when eating and drinking.
Stainless steel dog bowls are popular because they are durable and easy to clean. But when it comes to finding the best stainless steel U.S.-made dog bowls, not all products are created equal.
The good news is that a few American companies make high-quality stainless steel dog bowls.
Conclusion for Best Dog Bowls Made in the USA
We gave you size great dog bowls that are all made in the United States. In general, use the following criteria to choose your next pet bowl!
Make sure that the bowl is big enough for your dog

Pay close attention to the quality of materials used in making the bowl

Consider design and size when purchasing a bowl
Other articles you would like:
Frequently Asked Questions
What Type of pet feeder is best for my dog?
There are several types of pet feeders on the market today. For example, you can find automatic, elevated, or slow feeder dog bowls in stainless steel, ceramic, plastic, and more. It's best to consider the pros and cons before any purchase is made. 
For example, if your dog is a slow eater, you might want to purchase an elevated feeder to help keep their food off the ground and promote easier digestion. However, if your pet struggles with obesity or has joint problems, an automatic feeder may be the best option to regulate their food intake.
What size dog bowl do I need for my pet?
There are no one size fits all answer to this question. It is best to measure your pet's food bowl or feeder needs based on their weight and breed. The general rule of thumb is that the food dish should be two inches wider than your pet's shoulder width. You can also find elevated dog bowls in different sizes to accommodate small, medium, and large-sized pets.
Do elevated dog bowls Improve my pet's digestive system?
Elevated dog bowls have been around for a while. They are designed to help keep your pet's food off the ground and allow them to eat in a more natural position. Some believe that this reduces the amount of stress placed on your pet's digestive system and improves overall health. While there is no scientific evidence to support this claim, many pet owners swear by elevated feeders for their furry friends.

Claudia Bensimoun is a writer who specializes in dog content and veterinary topics! Aside from writing for We Love Doodles, Claudia also writes for other major dog blogs like Fido Friendly, Animal Wellness Magazine, and the United States Dog Agility Association (USDAA). She has a ghostwritten over 50 different dog e-books. Her passions include animal welfare, veterinary research, and wildlife conservation.
Why Trust We Love Doodles?
At We Love Doodles, we're a team of writers, veterinarians, and puppy trainers that love dogs. Our team of qualified experts researches and provides reliable information on a wide range of dog topics. Our reviews are based on customer feedback, hands-on testing, and in-depth analysis. We are fully transparent and honest to our community of dog owners and future owners.