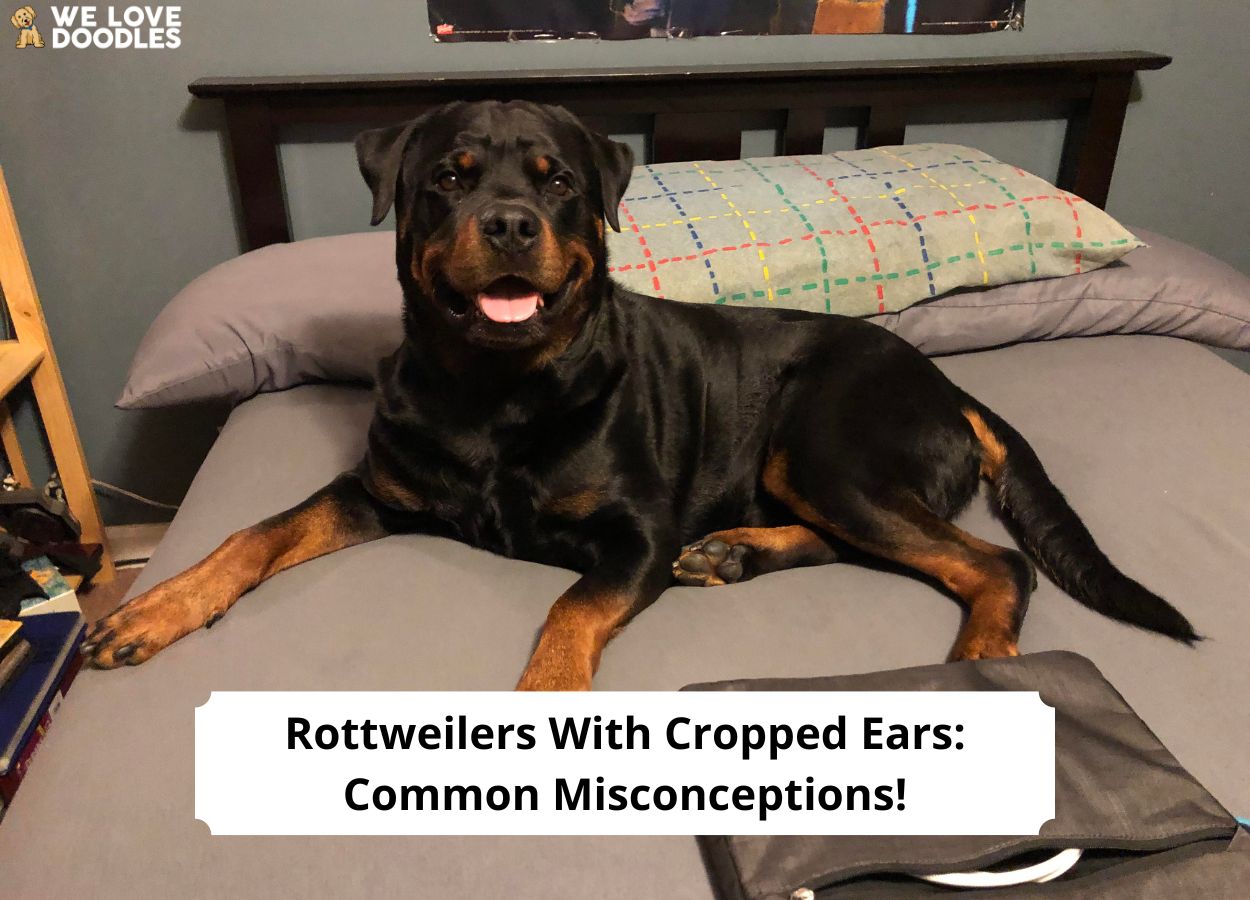 Tail docking, dew claw removal, and ear cropping are three common procedures for many dog breeds. In this guide, we're going to talk about cropped ears, particularly on Rottweilers, and the common misconceptions.
Rottweilers with cropped ears give off a threatening, even aggressive vibe. But there are common misconceptions about the practice. Is it necessary? Is it humane? Let's look at Rottweilers with cropped ears and learn what we need to know about this practice.
Before reading this guide, "Rottweilers With Cropped Ears: Common Misconceptions," check out: Are Rottweilers Dangerous? (2023) and Rottweiler Puppies in Nebraska: Top 8 Breeders.
The History of Ear Cropping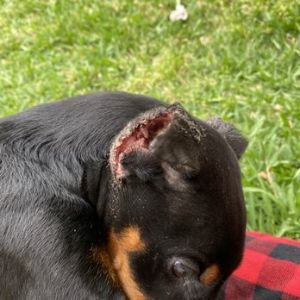 According to the National Institutes of Health, about one-third of dog breeds are subject to ear cropping. So why is this done, and where did the tradition begin?
Well, as you may know, dogs have been used throughout history for fighting. As far back as Roman times dogs were used for this purpose, and those dogs had their tails docked and their ears cropped. This would "protect" the pups.
There are fascinating, yet sad, reasons behind each of these procedures. Let's take a brief moment to look at each.
Tail Docking
Ancient Romans held the belief that, in order to prevent rabies, they should crop a dog's tail tip and parts of his tongue. As discussed, they also docked dogs' tails to prevent them from sustaining injuries in a fight.
Finally, a dog's tail was thought to be used, in large part, for hunting. Poverty-stricken people who were not permitted to hunt owned dogs, and the Romans would see to it that these people's dogs' tails were docked. In this way, they could ensure that the poor stayed poor (or punished) because their dogs would not be permitted to hunt game.
Ear Cropping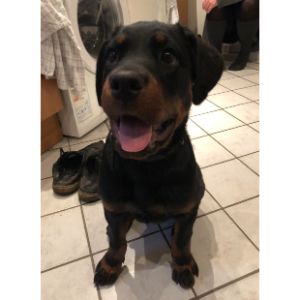 There are a few reasons that dogs have historically had a portion of their ears amputated. One, as mentioned, was to protect pups from injury during dog fights. In addition, their ears were partially amputated to protect them from bites from rats and mice.
Another reason a dog's ears would be cropped was to improve his hearing. Guard dogs like Boxers would traditionally undergo this surgery to allow them to hear better when they served in a position of protection.
Finally, hunting dogs may have had their ears cropped to prevent them from becoming entangled in brambles, thorns, and other obstructions.
Rottweilers With Cropped Ears: Legal Implications
Thinking of cropping your dog's ears? Do your research. In your state or part of the world, this procedure may be illegal or regulated.
This is for good reason — the practice is elective and can even be dangerous. For this reason, states and several countries are beginning to crack down on those who have it performed. Nine United States have regulated the practice, and it's all but banned in five states.
In addition, several countries have banned the practice altogether. Parts of Canada and the entirety of England, Wales, New Zealand, Australia, and some Scandinavian countries have outlawed the inhumane procedure.
If you're a United States citizen, be sure you check with local laws. In most cases, importing a dog from another state or nation is legal, but there may be restrictions in your unique vicinity.
Rottweilers Cropped Ears and the AKC
The American Veterinary Medical Association has taken an opposing stance to ear cropping in dogs. The non-profit organization has determined that there is absolutely no benefit to the procedure and, in fact, it may be harmful.
The American Kennel Club, on the other hand, released a statement expressing disappointment in the decision, and in the fact that they were not consulted. The AKC still considers ear cropping, though cosmetic, to be an acceptable modification for dogs despite the elective and arbitrary nature of the procedure.
Take this information and do with it as you will. However, understand that even if you're showing an AKC-registered dog, ear cropping is not mandatory. You can show — and win — with a dog that still has his body parts intact.
Rottweilers With Cropped Ears: Common Misconceptions
Do you have a Rottweiler puppy, or are you considering adopting one? You may be questioning whether you should have him undergo the surgical procedure. In this portion of our article, we'll take a look at whether you should crop your pup's ears or just leave them alone.
Here are the most common misconceptions about Rottweiler ear cropping.
Ear Cropping is Non-Invasive
Some may liken a Rottweiler's cropped ears to a human's pierced ears. This is simply not true.
The cropping process is invasive and even traumatic to a puppy, and it requires extensive aftercare. This process is in no way like a simple ear piercing — it's more like an amputation.
In addition, your dog will have to undergo general anesthesia. This carries risks of its own, with one in every 2,000 dogs dying as a result of the procedure.
Ear Cropping is Similar to Spaying or Neutering Your Dog
Spaying and neutering are necessities. Altering your dog will protect it from certain types of cancers, uterine infections, enlarged prostate, and other conditions. The practice of spaying and neutering animals is also necessary to keep the population of abandoned and homeless dogs to a minimum.
Ear cropping in Rottweilers serves no such purpose. The practice is cosmetic and serves no medical purpose.
Ear Cropping Improves Dogs' Hearing
To a small extent, this is true. But if your dog isn't on the battlefield or working on the police force, he'll be just fine with natural ears.
Do you hear less when you are wearing a hat, or when your hair is covering your ears? Only a little, right? In a similar way, your dog will only be impacted minimally when his ears are a bit floppy. Cropping his ears provides extremely minimal benefit to the way he hears sounds around him.
Cropping a Rottweiler's Ears Prevents Infection
One of the most adamant arguments made by advocates for the cropping of dogs' ears is that the procedure helps prevent infection. To that, we offer a few points.
First of all, in reality, many ear conditions are genetic. For instance, the German Shepherd (a dog with naturally upright ears) is prone to serious inflammatory and infectious ear conditions. Some ear issues are simply a matter of breed.
Secondly, your dog's ears are floppy for a reason. Your pup's floppy ears help prevent bacteria, moisture, yeast, and other contaminants from entering. Therefore, this argument simply doesn't make sense. Cutting a portion of your Rottweiler's ear off allows these impurities to enter into his ear canal.
Dogs Don't Need Their Full Ears
Dogs can't talk. Instead, they use body language, facial expressions, and — yes — the position of their ears to alert us and other dogs about their emotions, to signal danger, and to communicate in other ways.
When you amputate a portion of your dog's ears, he is less readily able to communicate which can actually be detrimental to his safety. Consider this before you elect to crop your Rottweiler's ears.
Frequently Asked Questions
Now that you know a bit more about the practicality, legality, and other aspects of cropping a Rottweiler's ears, let's take a look at the most frequently asked questions about the process.
Is cropping dogs' ears illegal?
In some cases, yes. Cropping a Rottweiler's ears (or any other breed) is becoming more and more widely recognized as a painful, cruel, and unnecessary practice.

Many, many countries have already outlawed the practice including France, the Czech Republic, Portugal, and Luxembourg.

The United States is beginning to lean more and more toward uncropped dog ears. Check with your local regulations to determine whether the procedure has restrictions where you are.
Why do Rottweilers get their ears cropped?
Historically, ear cropping was a method of preventing injury to dogs in hunting and in dog fights. Additionally, before today's advanced medicine, people thought the procedure prevented infection.

Today, science has revealed these outdated reasons. The procedure is purely cosmetic.
Why is dog ear cropping good?
Rottweiler owners choose to have their dogs' ears cropped for one reason: appearance. The procedure lends the dog a more "alert" and "fierce" look. Otherwise, there is no reason to crop a pup's ears.
What happens to dogs with cropped ears?
Hopefully, should you choose to crop your dog's ears he will still go on to live a long, healthy life. However, complications can occur.

Ear cropping is an invasive procedure, one which can lead to infection. A distorted appearance can result from the surgery, which will lead to more surgeries.

Furthermore, your dog may become more susceptible to bacteria, yeast, and moisture which can cause ear infections and other issues for dogs.

Finally, general anesthesia is required before the procedure is performed. Some dogs don't handle anesthesia well, and death can occur.

Ear cropping is typically performed between nine and 12 weeks when your dog is just a puppy. Certain populations of dogs are particularly unprepared to handle anesthesia, and puppies are one. You are putting your dog at unnecessary risk when you opt into the elective procedure.
How long do dogs' ears stay cropped?
Ear cropping is a permanent modification. However, some dog owners will also splint. Dobermans are one example of this — it's what gives their ears the upright, alert look.

When you splint your dog's ears, you tape them to a splint for as long as months! Your dog's ears are also healing during this time, and your pup will likely miss out on a great deal of socialization. Socializing your dog is an important part of his development, so your dog may suffer emotionally during the three months (or longer) that healing occurs.
Conclusion for "Rottweilers with Cropped Ears"
Whether you have a Rottie puppy or are considering adopting one, you may be curious about the benefits — if any — of ear cropping. Well, this practice has been in place for centuries, and it's now medically unnecessary.
In ancient times, people modified dogs as folk medicine — and to punish the poor. Today, owners modify their dogs mainly for vanity.
Consider all these positions before you choose to crop your Rottweiler's ears. Infection, emotional trauma, inability to communicate, and even death can occur as a result of the surgery, so make absolutely certain that you know the facts before you choose to amputate a portion of your dog's ears.
If you find this guide, "Rottweilers With Cropped Ears: Common Misconceptions" helpful, check out:
Learn more by watching "Rottweiler: The Pros & Cons of Owning One" down below:
Garrett loves animals and is a huge advocate for all Doodle dog breeds. He owns his own Goldendoodle named Kona. In addition, he volunteers at the Humane Society of Silicon Valley, where he fosters dogs and helps animals. Garrett enjoys writing about Doodles and believes that dogs can teach humans more about how to live than humans can teach a dog.
Why Trust We Love Doodles?
At We Love Doodles, we're a team of writers, veterinarians, and puppy trainers that love dogs. Our team of qualified experts researches and provides reliable information on a wide range of dog topics. Our reviews are based on customer feedback, hands-on testing, and in-depth analysis. We are fully transparent and honest to our community of dog owners and future owners.