The American Pit Bull Terrier ranks within the top three most popular breeds in 28 states, so plenty of people want to know where to find Pitbull puppies for sale. Unfortunately, Pitbulls are misunderstood, and often bred for the wrong reasons. The dogs are frequently raised inhumanely and sold cheaply.
Would-be Pitbull owners find themselves in a dilemma. Should they pay what often amounts to thousands of dollars to buy a Pitbull from a reputable breeder? Or should they find a more affordable breeder and risk bringing an unhealthy puppy home?
We aim to help you find a puppy that's both affordable and healthy. If you're looking for a Pitbull under $250, check out the breeders, shelters, and other resources on our list.
Of course, it's your responsibility to make the final call on whether your breeder is acceptable, but this guide will get you off to a great start.
Before you scroll down this guide, "Where to Find Pitbull Puppies for Sale for $250," check out: What is the Largest Pitbull Breed? (2023) and How Long Do Pitbulls Live? (2023).
1. Rise and Shine Pit Bull Rescue
Rise and Shine Pit Bull Rescue is the first place on our list where you can find a Pitbull puppy for under $250. They're a North Carolina-based non-profit that places rescued and rehabilitated Pitbulls, and many of them are puppies!
Currently, this shelter only adopts dogs to families within 90 minutes of Lillington, North Carolina. This is because a home visit and other requirements must be met. If you do live within this area, you can expect to pay just $200 for a Pitbull puppy! If an "older" puppy (over six months old) is acceptable, the adoption fee drops to just $180.
Rise and Shine Pit Bull Rescue works with shelters across the state to bring in dogs that otherwise wouldn't have a chance. For that reason, it may not always be possible to determine the pedigree of your dog. However, they will have seen a vet and will be brought current on shots and wormers before joining your family.
Rise and Shine Pit Bull Rescue Details:
2. K9 Stud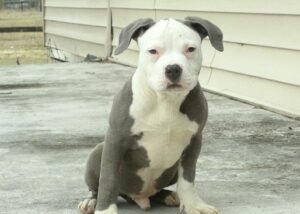 No matter where you live in the United States, you can search for local breeders via K9 Stud. This is a marketplace for breeders to advertise puppies, and while the prices of dogs can vary you can usually find Pitbull puppies for under $250.
Search by breed, then view the available puppies. Locations and prices will be shown beside your dog's picture; click through for instructions regarding how to contact the breeder.
If you're interested, you can also search the site for stud service. This is a great option if you know a local breeder but want to choose the sire for your pitbull puppies. As with puppies, you can search K9 Stud by breed, then narrow by state.
It goes without saying that you should exercise caution when choosing a breeder from K9 Stud. Interview your breeder thoroughly and ask for references. Visit the kennel when possible. Ask to see proof of vet records for the dogs at the breeder, and use your instinct!
K9 Stud Details:
3. Pit Bull Rescue Central
Pit Bull Rescue Central is next on our list of the top spots to find Pitbull puppies under $250. This is a non-profit organization that is committed to helping homeless Pitbulls across the United States find forever homes. In addition, the organization provides community resources to educate the public about responsible pet ownership.
Pit Bull Rescue Central matches humans and puppies in two ways. First, they partner with Pitbull rescues around the country to get the word out about dogs in need of homes. Second, they host a courtesy listing system. Pitbull owners who are trying to sell their puppies, and sometimes adults, list their dogs in the database.
Dogs listed as available for adoption must be spayed or neutered. In other words, Pit Bull Rescue Central dogs may not be used for breeding. As always, be sure you get to know and feel comfortable with your breeder's or adoptive puppy's parent's lifestyle.
While you wait for your perfect puppy to come available, be sure to check out the wealth of information about the breeds on the Pit Bull Rescue Central website. From training a Pitbull and break sticks to spay and neuter education, you can learn quite a bit from the resources.
Pit Bull Rescue Central Details:
4. Adopt a Pet
Adopt a Pet provides an invaluable service to non-profits and dog rescues around the country: they allow them to list available dogs for free! Individual families and private owners may also post on the Adopt a Pet website. If you're searching for a Pitbull puppy of your own, be sure to research who, precisely, you're adopting from.
You can search Adopt a Pet by your location, then select a breed. You'll be presented with pictures of all the adorable Pitbull puppies that are available in your area. Clicking on the picture of your favorite will direct you to more information about the owner, the dog's personality, and basics like the adoption fee.
The amount you'll pay for your dog will vary depending on the source. In many cases, however, you can find Pitbull puppies for sale for as little as $75. Once again, vetting your breeder or shelter is your responsibility. Check records and references before you exchange money.
Adopt a Pet Details:
5. Craigslist
Craigslist is the longest-running advertising platform on the internet. It was launched in 1999 and has grown into a household name. From dogs to dates to dentists, you can find anything you're looking for on the platform — including Pitbull puppies for under $250.
You'll need to find your local Craigslist. You can do that by choosing your state and the closest city to you.
Then, just use the search function to find Pitbull puppies, or choose the "community: pet" section of classifieds and browse. You can use a picture or text view. Contact information for the breeder will be available within the listing.
Craigslist offers a wonderful opportunity to connect with responsible Pitbull breeders and with fellow Pittie lovers. However, literally, anyone can post on the site. Take precautions when meeting the breeder or the individual selling a dog.
Bring a trusted friend and agree to meet in a public place. Of course, a public meeting will not allow you to view the conditions of the kennel. Use your judgment and put your own safety first.
Craigslist Details:
6. Rescue Me!
Rescue Me is a national, non-profit organization that connects homeless dogs with forever families. They don't specialize in Pitbulls — or even just dogs, as other species are available — but they do have quite a few available for adoption at any given time.
We've found that the easiest way to search the site is by breed. Choose a Pitbull from the list of dog breeds and you'll be presented with a map. Clicking on your own or a neighboring state will bring you to a list of the puppies and adult dogs that are in need of a home.
In some cases, you'll notice that a dog has an "urgent" designation. Many of these dogs have been rescued from high-kill shelters and are at risk of euthanasia. Not all adoptable puppies are adults, though! You'll find plenty of Pitbull puppies under $250, and some will even travel to you.
Speak with the current pet owner directly about your dog's history. Each puppy will have a biography with information about his or her personality. You'll also want to determine vet records, whether the dog has been spayed/neutered, and the puppy's agreeability with other pets and with children.
Rescue Me! Details:
Frequently Asked Questions
Are Pitbulls good dogs?
Any dog breed can be "good" or "bad" depending on the individual and the way it was raised. Generally speaking, Pitbulls are excellent family dogs, despite their (unfair) reputation.
What should you expect when raising a Pitbull?
Pitbulls are active dogs that require ample physical and mental stimulation. That means long walks, plenty of playtime, and games will help them be their best.
How can you tell if a Pitbull trusts you?
Telltale signs include a partially open mouth with a relaxed tongue, a soft expression, and a wagging tail. If a dog bows, stretches, or rolls on its back for a belly rub, it likely trusts you.
Conclusion for "Where to Find Pitbull Puppies for Sale for $250"
If it's your family's dream to welcome a new Pitbull puppy into your home, you've likely already done a bit of research. As a result, you probably know that purebred Pitbulls can be expensive.
Choosing a Pitbull puppy that's inexpensive can sometimes come at the cost of his or her health. Well, we've done a bit of research too, and have found breeders, rescues, and others that offer quality Pitbulls at a price that's accessible to your family.
Do your research and take your time in interviewing potential breeders. Use your best judgment in selecting the breeder — and the canine companion — that's right for your family.
If you find this guide, "Where to Find Pitbull Puppies for Sale for $250," helpful, check out:
Before you begin your search for cheap Pitbull puppies, learn more by watching "Pitbull – Dog Breed Information" down below:
Garrett loves animals and is a huge advocate for all Doodle dog breeds. He owns his own Goldendoodle named Kona. In addition, he volunteers at the Humane Society of Silicon Valley, where he fosters dogs and helps animals. Garrett enjoys writing about Doodles and believes that dogs can teach humans more about how to live than humans can teach a dog.
Why Trust We Love Doodles?
At We Love Doodles, we're a team of writers, veterinarians, and puppy trainers that love dogs. Our team of qualified experts researches and provides reliable information on a wide range of dog topics. Our reviews are based on customer feedback, hands-on testing, and in-depth analysis. We are fully transparent and honest to our community of dog owners and future owners.