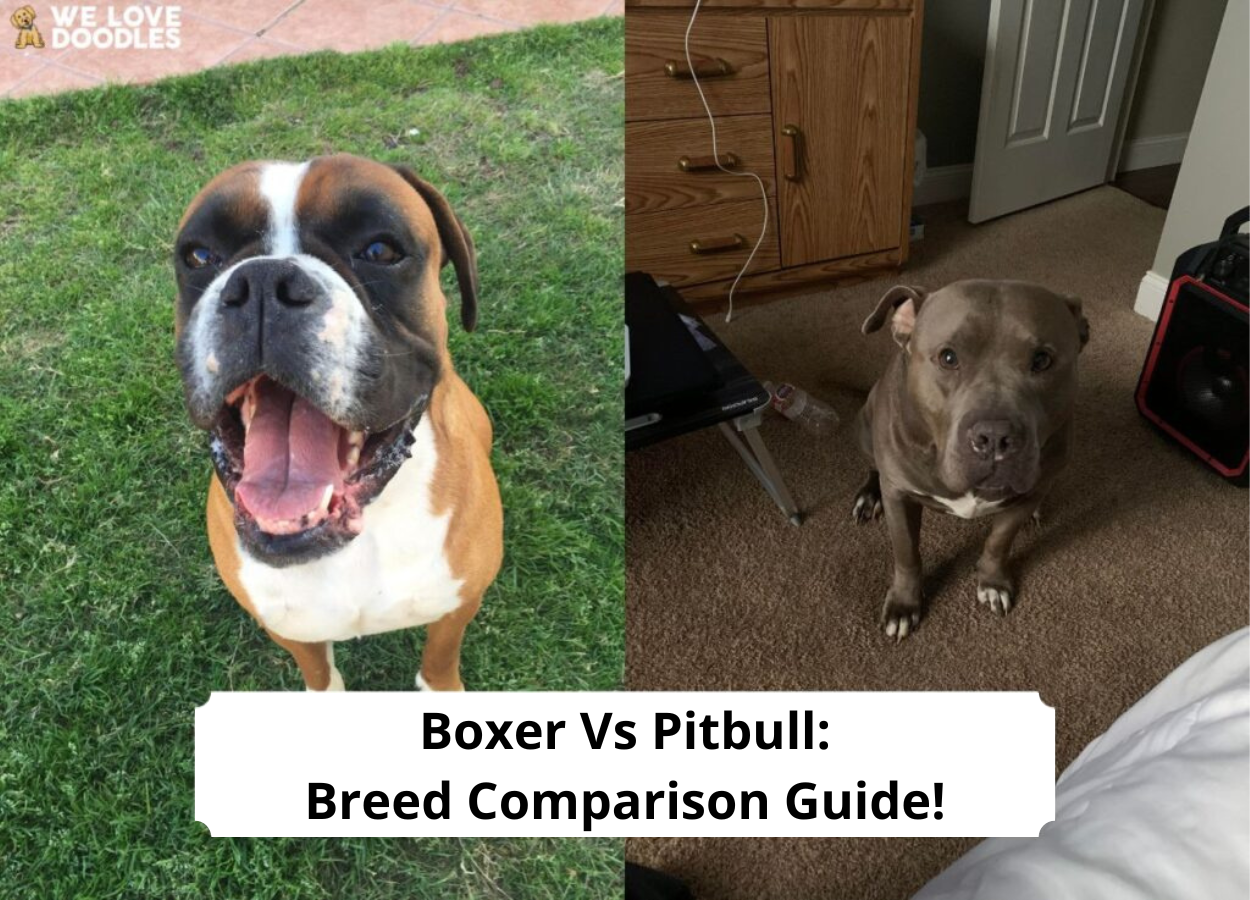 If you're comparing the Boxer vs Pitbull, you're in the right place. These are two great dog breeds to own, they're similar in size, temperament, and appearance, but different in many other aspects.
The Boxer and the American Pitbull Terrier may differ in appearance but share similar temperaments. They are both lively and amusing, bringing endless entertainment to your household. The Boxer is more prone to health issues than the Pitbull, but the Pitbull has more variation in the breed. On the other hand, the Boxer does not carry the "ferocious" reputation that the Pitbull has to endure.
Both breeds make excellent family companions with an abundance of love to offer. Read on to learn more about which species is better for you.
Before reading this dog breed comparison guide, "Boxer Vs Pitbull: Which Is The Better Breed," check out these other dog breed comparison guides from our team at We Love Doodles: Bulldog vs Pitbull and XL Bully vs. Pitbull.
Boxer vs Pitbull Breed History
Although the American Pitbull Terrier and the Boxer have different origins, they are both hunting dogs. As a result, the Boxer was used to hunt big game animals, while the Pitbull's ancestors were employed to catch vermin.
However, the Pitbull was bred and trained for dog fighting over time, which led to its undeservedly vicious reputation. In contrast, people do not perceive the Boxer as aggressive as the Pitbull.
Boxer
The Boxer breed originated in late 19th century Germany, where it was developed by breeding down a more giant and now extinct breed called the "Bullenbeisser," which means "bull biter." The Bullenbeisser was a formidable dog used to hunt wild boar and bulls. It was also known for its incredible strength and protective nature.
As time passed, Germans wanted a more agile and slender dog that could be a loving family pet. So, by crossing the Bullenbeisser with other undocumented breeds, the Boxer came into existence. Its name derives from how it uses its front legs to defend itself and play, much like a human boxer does in the ring.
The Boxer is an intelligent and devoted companion who loves making people laugh. It is often called the "family clown." This breed is currently ranked as the 11th most popular dog breed in the United States by the American Kennel Club (AKC).
American Pitbull Terrier
The term "Pitbull" is an umbrella term to refer to dogs bred from a combination of Terriers and Bulldogs during the 19th-century dogfighting era.
While there are four recognized Pitbull-type breeds, which include the American Pitbull Terrier, American Staffordshire Terrier, American Bulldog, and Staffordshire Bull Terrier, it is typically the American Pitbull Terrier that most people have in mind when they think of Pitbulls.
These dogs originated in 19th-century England for fighting purposes. However, after dog fighting became illegal in 1835, immigrants brought their dogs to America, where the sport continued briefly.
During this time, breeders focused on producing more significant and powerful dogs, which ultimately led to the development of the American Pitbull Terrier.
Despite being trained to fight other dogs, these dogs would not turn on their masters when they entered the ring to stop a fight. When America banned dog fighting, it became apparent that these dogs greatly respected humans.
As a result, people began breeding them to become family companions and continue to be known for their loyalty and affection towards their owners.
Boxer vs Pitbull Appearance
When comparing Boxer vs Pitbull appearance, there are a variety of traits that are similar and many that are different. The Pitbull and the Boxer have distinctive differences in their appearance that make them easy to tell apart but their build is similar.
The Pitbull is smaller, with a male Pitbull measuring 18 to 21 inches in height and weighing 35 to 65 pounds.
In contrast, a male Boxer is much larger, measuring 23 to 25 inches in height and weighing 65 to 80 pounds.
Despite the difference in size, they have similar body shapes with long legs, a square-shaped body, a deep chest, a narrow waist, and a long tail held high. However, the Boxer is more likely to have a docked tail, while the Pitbull is more likely to have cropped ears.
The most distinguishable feature between the two breeds is their face. The Pitbull has a squarer look with a longer muzzle and a broad smile, similar to the Cheshire Cat.
On the other hand, the Boxer has a rounder face with a lower jaw that is longer than the upper jaw, giving him a unique facial shape. Unfortunately, this makes the Boxer a Brachycephalic breed, which sadly comes with respiratory health issues.
Boxer vs Pitbull Temperament
The Pitbull and Boxer have similar temperaments and make great family pets. They are both amiable dogs that enjoy being part of family activities such as playing in the garden, lounging on the couch, or helping with household chores. In addition, they are energetic and playful and can spend hours having fun outdoors.
Despite their reputation, Pitbulls are famous as "nanny dogs" because they are great with children. Although some people believe they are only suitable for families with older children due to their size and energy, many owners have found that they can make wonderful family pets with supervision and proper training.
The main difference between the two breeds is that Boxers can be more reserved with strangers and may bark at them until their owner welcomes them.
On the other hand, Pitbulls are typically friendly with everyone and quick to make friends. Therefore, the Boxer may be better if you look for a guard dog, as they are more suspicious of strangers.
Both breeds have a high prey drive and may chase unknown animals. Therefore, it is essential to socialize them from a young age and provide them with proper training to prevent unwanted behavior.
Exercise
The Pitbull and the Boxer need a moderate-sized yard to run around and play. They are both very active and love to go for walks, hikes, and runs with their owners. In addition, they are both highly trainable and enjoy learning new tricks, so training sessions that incorporate exercise are ideal.
In terms of grooming, both breeds have a short and smooth coat that is easy to maintain. However, brush them weekly to remove loose hair and keep their coat shiny. Also, it would be best to bathe them only when necessary, as over-bathing can strip their skin of natural oils.
Both breeds are prone to specific health issues, so it is essential to keep up with regular vet check-ups and keep them on a healthy diet. The Boxer is more prone to certain cancers, heart issues, and hip dysplasia, while the Pitbull is more prone to skin allergies and joint problems.
Training
Boxer vs Pitbull training is very similar. The Pitbull and the Boxer are intelligent and eager to please their owners, making them relatively easy to train with positive reinforcement techniques such as treats, praise, and playtime. However, because of their high energy levels and strong-willed personalities, they need an owner who can provide them with structure and discipline.
Consistent training and socialization from a young age can help to prevent behavioral issues such as aggression, separation anxiety, and destructive behavior. As with any breed, it's essential to use positive reinforcement training methods and avoid punishment-based techniques that harm the dog's trust in its owner.
Both breeds respond well to training incorporating mental and physical stimulation, such as obedience training, agility, and nose work. They also excel in activities like flyball and dock diving, which can channel their natural athleticism and high energy levels into a productive outlet.
The Pitbull and the Boxer can be well-behaved and obedient family pets with proper training and socialization.
Health
Any potential owner of either breed needs to research and understand the health issues associated with these dogs and be aware of the potential costs of treatment and care. In addition, regular visits to the veterinarian, a balanced diet, and proper exercise can help to reduce the risk of specific health issues and ensure that your dog is as healthy as possible.
Nutrition
It's important to note that the feeding requirements can vary depending on age, weight, activity level, and health conditions. Therefore, it's always best to consult a veterinarian to determine the appropriate feeding plan for your dog.
Generally, high-quality dog food with a balanced blend of protein, fat, and carbohydrates is best for both breeds. It's also essential to monitor their weight and adjust their food intake to prevent obesity.
It's worth noting that both breeds are prone to food allergies and sensitivities, so it may be necessary to try out different brands or formulas to find the right one for your dog.
Grooming
Both breeds are prone to ear infections due to their floppy ears, so cleaning their ears regularly and keeping them dry is essential. In addition, it would help if you periodically conduct nail-trimming and teeth-brushing for your dogs to maintain their overall health and hygiene.
Boxer vs Pitbull Puppy Price
It's worth noting that adopting from a rescue center or shelter can be a more affordable option than purchasing from a breeder, and it also provides a loving home for a dog in need. Adoption fees usually range from $100 to $400, including spaying/neutering, microchipping, and initial vaccinations.
Reputable breeders will charge more for their puppies because they put extensive care into raising healthy puppies. This starts with carefully selecting breeding dogs and testing them for genetic issues, health issues, and more.
Staying away from puppy mills is important because of the proper treatment of the dogs in their care, and is especially important for Boxers because of their tendency toward health issues. Breeders should be knowledgeable about the breed, and their own animals. They should have a clean and not overcrowded facility, and an online presence is a plus.
Sources state that the cost of a Boxer vs. Pitbull varies by the breeder, but Pitbulls may be the more expensive puppy.
Pitbull puppies cost $1,000-$5,000 from a reputable breeder. You may be able to find them as low as $800, but much less than that should be questioned.
Boxer puppies cost $1,000-$2,800 from a reputable breeder. More or less is possible with any breeder, but much less than $1,000 may be a red flag.
FAQs About Boxers And Pitbulls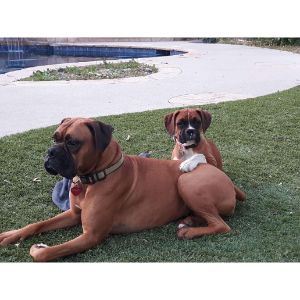 Which is better, Pitbull or Boxer?
It ultimately depends on your lifestyle, preferences, and what you want in a dog. Both breeds have unique traits, personalities, and requirements, and it is essential to research and consider all aspects before deciding. Also, consider adopting a dog from a shelter or rescue center rather than purchasing one from a breeder. The right dog may be one you meet instead of a puppy.
Are Boxers good with Pit Bulls?
Like any breed, individual dogs can have varying temperaments and personality traits, so there is no definitive answer to this question. However, Boxers and Pitbulls generally get along well, as long as they are socialized and trained early to be friendly with other dogs.

It's essential to introduce them to each other in a neutral environment and supervise their interactions until you are confident that they can play together safely. As with any dog, proper socialization, training, and supervision are vital to ensuring that they get along with other dogs, including Pitbulls.
Are Boxers in the bully breed?
Boxers are not generally considered a bully breed. The term "bully breed" typically refers to breeds descended from bulldogs and terriers, such as American Pit Bull Terriers, American Staffordshire Terriers, and Bull Terriers.

Boxers are a separate breed and do not fall into this group because they descend from the Mastiff family. However, like any breed, individual Boxers can vary in temperament, and it's important to socialize and train them properly to ensure they are well-behaved around other dogs and people.
Who is more robust than a Pitbull?
It is challenging to compare the strength of different dog breeds as strength can vary within the same species and have links with size, weight, and training. However, many dog breeds, such as the Rottweiler, Doberman Pinscher, and German Shepherd, are known for their strength.

Additionally, mixed-breed dogs can also exhibit significant strength. It's important to note that while strength is a desirable trait in some working and sporting dogs, it is not necessarily an indicator of a dog's overall temperament or behavior. 
Conclusion For "Boxer Vs Pitbull: Breed Comparison"
When comparing the Boxer vs Pitbull, they are both great dog breeds with unique personalities and traits. They are both high-energy dogs that require lots of exercise and attention, making them ideal for active families. However, they are not suitable for apartment living due to their exercise needs.
Both breeds have their health concerns, but with proper care and regular visits to the vet, they can live long and healthy lives. Grooming requirements for both breeds are minimal, with a weekly brush and occasional bath.
Regarding temperament, the Pitbull and the Boxer are friendly and affectionate dogs, making them great companions for families with children. However, socialization from an early age is crucial, as is firm and consistent training to establish pack leadership.
Regarding the cost of these breeds, the starting price for a reputable breeder is around $800-$1,000, but the Boxer can be more expensive due to its popularity and availability.
In terms of the question of which breed is better, it comes down to personal preference and lifestyle. Both species have unique qualities and characteristics, so research and choosing a breed that suits your family's lifestyle and needs is essential.
Overall, the Pitbull and the Boxer are loyal and loving dogs that make excellent family pets with the proper care, attention, and training.
If you find this dog breed comparison guide, "Boxer Vs Pitbull: Which Is The Better Breed," helpful, check out these other comparison guides from our team at We Love Doodles:
You can learn more about this topic by watching "BOXER VS PITBULL" down below:
Garrett loves animals and is a huge advocate for all Doodle dog breeds. He owns his own Goldendoodle named Kona. In addition, he volunteers at the Humane Society of Silicon Valley, where he fosters dogs and helps animals. Garrett enjoys writing about Doodles and believes that dogs can teach humans more about how to live than humans can teach a dog.
Why Trust We Love Doodles?
At We Love Doodles, we're a team of writers, veterinarians, and puppy trainers that love dogs. Our team of qualified experts researches and provides reliable information on a wide range of dog topics. Our reviews are based on customer feedback, hands-on testing, and in-depth analysis. We are fully transparent and honest to our community of dog owners and future owners.