When it comes to choosing the right dog for you, you may have a lot of options. Depending on your living environment and regular schedule, you may be able to make just about any dog work for your lifestyle and family. On the other hand, you may have a more focused approach to selecting the right size, coat color, temperament, and overall appearance that you like best.
Two popular dog breeds for both families and individuals are the American Bulldog and American Pitbull Terrier. At first glance, it appears as if these breeds are extremely similar. They have appearances that are quite comparable and may even be mistaken for each other.
With the Bulldog or Pitbull, you'll find an energetic and lively dog that can be a joy to be around. However, with such similarities between the two dog breeds, how do you determine which breed is the right option for you? If you're considering getting either an American Bulldog or American Pitbull Terrier, there are some key differences you'll want to take note of as you decide which one to add to your family.
To help you determine which athletic and strong dog is right for you, we share a full comparison of these two breeds. We'll break it down on things like their appearance and temperament, as well as other characteristics that you may want to know before deciding.
Here's a short summary of the main differences between the Bulldog vs Pitbull:
The American Pitbull comes in significantly more coat colors than the American Bulldog.
Bulldogs have a significantly smaller snout than a Pitbull.
Bulldogs have a "bully" face which means that they are usually frowning rather than smiling like a Pitbull. Bulldogs also have a larger jaw than a Pitbull.
The American Bulldog is larger in size than the American Pitbull Terrier.
Pitbulls are generally considered more protective and aggressive than Bulldogs and need higher levels of exercise.
The price of a Bulldog is typically more expensive than a Pitbull.
Other articles you would like: Best Indestructible Beds for Pitbulls and Affordable Dog Foods for Pitbulls.
Pitbull vs Bulldog: Appearance
In a quick glance at either the American Bulldog or American Pitbull Terrier, the two breeds may be eerily similar. Physically, they do share a lot of qualities. They both have very muscular bodies, especially around their shoulders. They also have similar head shapes and pointed triangle-shaped ears. However, there are some key differences between the Pitbull and Bulldog when it comes to their appearance.
Pitbulls can come in a variety of coat colors and different markings. From black to gray to white to tan to many more, their coat colors add to their uniqueness and excitement of a dog that's one of a kind. In fact, according to the American Kennel Club (AKC), there are over 20 different standard coat colors for the American Staffordshire Terrier, also known as the American Pitbull. The coat of a Pitbull is fairly smooth and has a glossy look to it. Additionally, their coats tend to shed slightly, depending on the time of year.
Bulldogs, on the other hand, tend to come in certain colors like brown, red, or black. They may also come in a brindle color, which is irregular streaks of colors on their coat. They also have dark lines around their eyes that can add to their unique appearance. The American Bulldog has coats that tend to be soft and have stiff hairs that can be more prickly. These short coats shed very little, making it much easier to keep the home clean as they prance around.
A key difference between these breeds is the size and shape of their snouts on their head. The Pitbull will have a snout that is about the same length as its skull. Bulldogs, however, have snouts that are shorter than the length of their skull. They also have a mouth that looks like they are frowning or have on a "bully" face. Their jaws are also quite large with a broad muzzle.
The skin on their faces is also different. Bulldogs tend to have slightly more wrinkled skin on their faces and on their cheeks. As a terrier, the Pitbull tends to have more streamlined skin on its face without any wrinkles.
Bulldog vs Pitbull: Size
Despite their similar builds, the size of the Bulldog and Pitbull are quite different. This can be an important factor to consider, especially if living space may be an issue.
The American Bulldog has a larger size than the Pitbull. While the sizes of the dogs may vary, this size difference can either be minor or fairly significant. A male Bulldog has a weight range between 66-130 pounds and a height from 20-28 inches when measured at the shoulders. A female Bulldog is typically slightly smaller in size, with a weight range between 60-90 pounds and a height range between 20-24 inches tall.
The Pitbull may not get that large. The typical weight range for a male Pitbull is just 35-65 pounds and a height that is between 18-21 inches tall when measured at the shoulders. A female Pitbull is even smaller, with a weight range between 30-60 pounds and a height between 17-20 inches tall.
While both of these breeds may be considered medium-sized breeds, their size does have quite a bit of variance. Often, the size of the dog is dependent on the parents as well as its healthy lifestyle.
Related Article: When Do Pitbulls stop growing?
Bulldog vs Pitbull: Temperament
When it comes to the temperament of the Bulldog vs Pitbull, there are several similarities. Both dogs are friendly and energetic. They enjoy being around people and staying social. Both breeds are also very loyal and have innate protective instincts. Additionally, both the American Pitbull and Bulldog are very playful and lively. Both breeds are likely to seek affection from you at any chance they can get.
With their lineages, both the Bulldog and Pitbull have high levels of protectiveness for their people and territory. When they notice something out of the ordinary or sense an upcoming danger, they'll let you know and look to take action.
However, there are also some key differences when it comes to their temperaments. American Bulldogs are considered to be very friendly and are great in family settings. They are also very strong-willed and brave, seeking to lead. They can also be fairly gentle and calm in certain situations, making them slightly less intense and energetic than the Pitbull.
Pitbulls, on the other hand, have a considerable amount of energy that makes them craving activity and exercise. While they are friendly and loveable with their family, they may not get along as well with other animals or pets in the home. This may be due to their lineage of fighting and other aggressive behaviors. Pitbulls are also considered to be more interactive with their family, showing their friendliness and protective instincts.
This difference in energy levels is an important factor to keep in mind as you make the right decision for the right breed for your family and lifestyle.
Bulldog vs Pitbull: Life Expectancy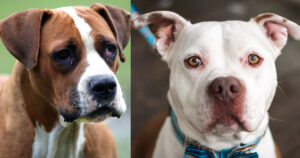 While we'd all want our dogs to live forever, each breed comes with an estimated life expectancy. This lifespan range varies between Pitbulls and Bulldogs. Pitbulls have somewhat of a lower lifespan range that is between 8 and 15 years old. Bulldogs, on the other hand, have a similar lifespan between 10-15 years. While there are dogs that live beyond that time frame, and unfortunately pass away below that life expectancy minimum, knowing the dog's estimated lifespan can prepare you for how long you can expect to keep them around.
Bulldog vs Pitbull: Training
Especially for the Pitbull, early training is essential in raising a friendly and loveable dog. With both the Bulldog and Pitbull having a lot of energy and having a high prey drive, intentional and thorough training and behavioral exercise can stop aggressive behavior before it even starts.
When it comes to training, both the Pitbull and Bulldog can effectively learn new things and improve their behavior.
Pitbulls are known for being very obedient and intelligent. They can be easy to train, especially with a firm hand and confident leadership. Their intelligence is also considered to be above average in ranking among other breeds. This is a characteristic you'll want to take advantage of when it comes to training and teaching a Pitbull new tricks. However, it's important to keep the training sessions short with their high activity level so that they don't lose interest and want to do something else.
Keep in mind that American Pitbull Terriers may not get along as well with other dogs as American Bulldogs. Conducting proper training to limit this aggressive behavior and stop it before it becomes to concerning is an important thing to consider as you train your Pitbull.
American Bulldogs, also, are very intelligent on the other hand, can be a little more difficult to train. They are also very intelligent but may come with a sense of stubbornness. However, their intelligence and strong work ethic make them fairly easy to train and reliable for consistent behavior.
For both breeds, having a strong leader to direct them and show them what's right and what's wrong is essential. As both can have a tendency to be stubborn, it's important that you as the owner display dominance in the relationship. When this is done, both the Bulldog and Pitbull can be very agreeable and quick to please.
Bulldog vs Pitbull: Exercise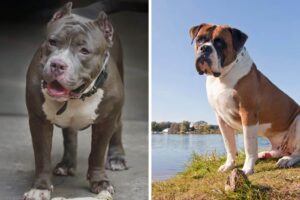 Both the Pitbull and Bulldog are highly active dogs that require a lot of time outside. They need regular and frequent opportunities for exercise in order to stay healthy and be at their best.
Exercise also helps to develop their athletic ability and ensuring they are strong and well-built. Pitbulls should get between 30-45 minutes of exercise every day – that means vigorous exercise of running, chasing, and exerting all their built-up energy. Pitbulls can also find ways to stay active and energetic both inside and outside. However, outside exercise may be more effective and efficient at burning their energy.
The American Bulldog requires a similar amount of time for exercise, while that activity's intensity level may not be as high as for the Pitbull. They also are dogs that may not be as active indoors as they are outdoors. They may need a yard, a park, or other opportunities for green space to be able to run around and enjoy staying active.
For both breeds, the time of exercise is important. Without releasing all their built-up energy, they may be more likely to develop behavioral problems like aggression and irritability. Use exercise and regular activity as a way to keep these negative behaviors in check.
Related Articles: Do Pitbulls have webbed feet?
Bulldog vs Pitbull: Price
For new puppies from a breeder, both of these dogs can come at a fairly high price tag. A Bulldog puppy from a breeder typically costs around $800. However, depending on the lineage and breeder you're able to find, that price can even be much higher.
Pitbulls, on the other hand, are slightly less expensive. Their lineage involves some crossbreeding, which may be an indication of a lower price. Typically, a Pitbull costs around $500, again depending on the breeder and availability.
If that price range isn't within your budget, you may want to consider adopting from a shelter. However, keep in mind that with shelter dogs, you may pose more of a risk of aggressive behavior in both Bulldogs and Pitbulls. Always be cautious about their temperament, aggression, and overall interactions with others as you decide to adopt from a shelter.
Bulldog vs Pitbull: Health Problems
Like all breeds, both the Bulldog and Pitbull are more susceptible to certain health concerns than others. Common health issues that both breeds include hip dysplasia, elbow dysplasia, and issues with their thyroid.
The Bulldog may be more at risk for certain health conditions due to their build and history. These more common problems include things like kidney concerns or bone cancer. Their wrinkled faces may also lead them to be more likely to develop skin irritations and conditions. Especially with American Bulldogs, be sure their skin is well taken care of in all types of weather.
The American Pitbull Terrier also has health problems that they are more at risk for when compared to other dog breeds. These concerns include things like heart disease, allergies, cataracts, or diabetes.
As with all dogs and dealing with health problems, be sure you monitor their general well-being on a regular basis. If you notice anything concerning about their behavior and health, be sure to seek out medical attention as needed.
Conclusion for Bulldog vs Pitbull: Choose the Right Breed For You
There is a lot to love about both the Pitbull and Bulldog. While they differ in size, they are both built with a lot of muscle, displaying their strength and endurance. They are also both very friendly dogs, especially with proper training. Keep in mind that the Pitbull may also have a slightly higher energy level than the Bulldog, an important factor to keep in mind when assessing your own lifestyle.
Both can be great choices for both families and individuals. Use this helpful guide to move forward in your important decision of adding a dog to your home. Chances are, you can't go wrong with either the American Bulldog or American Pitbull.
Check out these other articles:
Garrett loves animals and is a huge advocate for all Doodle dog breeds. He owns his own Goldendoodle named Kona. In addition, he volunteers at the Humane Society of Silicon Valley, where he fosters dogs and helps animals. Garrett enjoys writing about Doodles and believes that dogs can teach humans more about how to live than humans can teach a dog.
Why Trust We Love Doodles?
At We Love Doodles, we're a team of writers, veterinarians, and puppy trainers that love dogs. Our team of qualified experts researches and provides reliable information on a wide range of dog topics. Our reviews are based on customer feedback, hands-on testing, and in-depth analysis. We are fully transparent and honest to our community of dog owners and future owners.